Disappointing Banh Mi from Roll'd Vietnamese Food Sydney CBD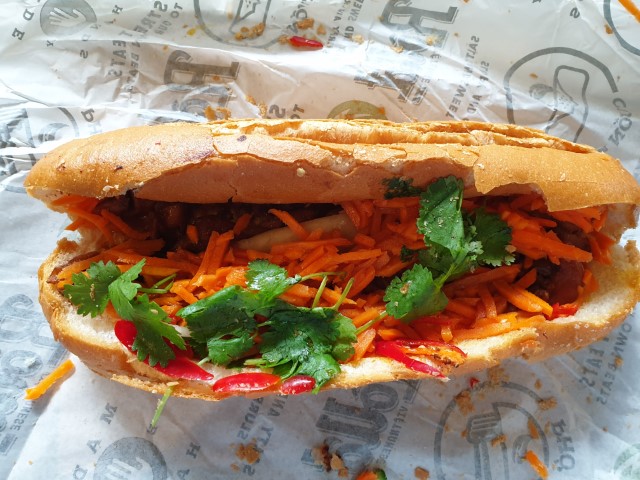 Roll'd Vietnamese Food chain opened a new store within the Westpac Place Food Court on Kent Street in the Sydney CBD in late 2019. I had visited in October 2019 to try their Banh Mi Vietnamese bread rolls and came away very disappointed.
As you will see in this first photo, the bread roll that they used on my first visit was a very plain, soft white bread roll. Nothing like the delightful crispy white bread rolls that Banh Mi are famous for. While the contents of the bread roll had all the flavours you would expect from a traditional Vietnamese Banh Mi, the whole eating experience was spoiled by this boring, soft bread roll.
I went back to give them a 2nd chance as I thought maybe they could have improved. 2nd round of eating their Banh Mi and there definitely was improvement from the first visit. When I opened the Banh Mi, the bread roll looked different. It was still warm as though it had just come out of the oven. It was crispy with flakes of the bread falling off. But this flakiness was very short lived. Strangely, not long after I started eating it, as the bread cooled, the crispy outer shell stopped being crispy and just became a very boring soft bread roll!
Also on this 2nd try, the fillings were disappointing as well. The first couple of bites I could taste all the complex flavours that you get in a Banh Mi. But after the first couple of bites, I noticed that this sandwich was overloaded with carrot which dominated the flavor. Their BBQ chicken was very soggy and didn't have any special flavor to it. So overall a very ordinary Banh mi!
I have been in search of the best Banh Mi in Sydney CBD but sadly as I cannot recommend this Banh Mi, this cannot make it to the Best list! And the prices are up at the very expensive scale. Why pay $9.50 for a Banh Mi when you can walk a little further over to Hunter Connection and get a delicious Banh Mi for $6.
As well as the Banh Mi bread rolls, Roll'd also sell Pho noodle soups, Banh Bao and have a good selection of different types of fresh Vietnamese spring rolls. While I didn't enjoy their Banh Mi, I will go back to try their other Vietnamese food, especially their Pho noodle soup! Let's see if their soup can make it to the Best Pho Noodle Soup in Sydney!
Roll'd Vietnamese Food
Westpac Place Food Court
283-285 Kent St
Sydney CBD
Open Monday to Friday 9am – 4pm, closed on Saturday and Sunday
Website: https://www.rolld.com.au/
Check out the location of the Westpac Place Food Court in Sydney CBD close to Wynyard Train Station