Ribs, Burgers and Beer in Sydney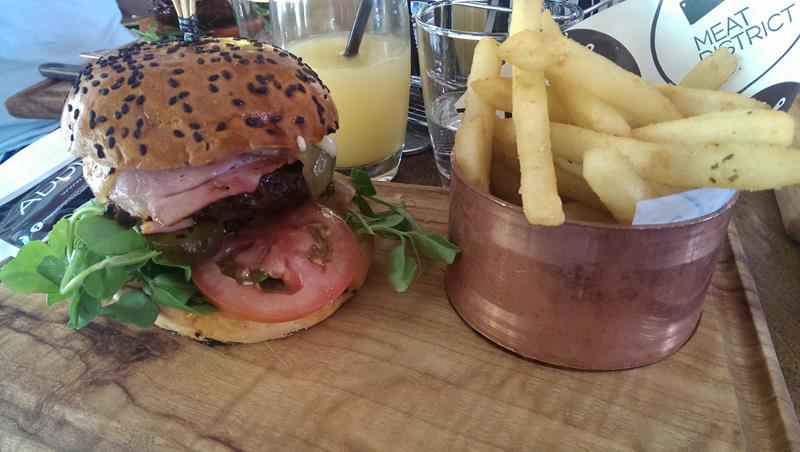 Sydney, like most of Australia, has burger restaurants popping up everywhere. It seems every few weeks a new burger joint opens up in Sydney.
The lastest burger joint to hit Sydney, which opened in late 2014, is the Meat District Co located down on King Street Wharf in Sydney's CBD.
The restaurant specialises in Ribs, Burgers and Beers though I would suggest that the burgers take centre stage on the menu with a huge selection of amazing burgers to choose from.
All the burgers on the menu on the menu at the Meat District Co. are served with 1/2 a pound of natural beef with no hormones, steroids and antibotic free. There are 12 different burgers to choose from the menu and the number 1 burger to try is their signature burger – The American Old Faithful Burger (picture above) which has the 1/2 pound meat patty, a slice of tomato, caramelized onions, pickles, mixed greens and a delicious home made bbq sauce.
The other burgers include a Cheese Burger, Truffle Burger, Chicken Burger, Turkey Burger, South Western Burger, Brie Burger, Surf and Turf Burger, Spider Crab Burger, Salmon Burger and a Vegetarian Burger.
If you can't decide which burger to choose from then the last option on the burger list is the Sliders Flight which is 3 sliders (mini burgers) which include an Old Faithful, Chicken Burger and a very tasty Lamb Pull.
I've been in for lunch twice now, as is just 1 block away from where I work in the city. I had the Old Faithful first time around which is a truly awesome burger. Second time round I went for the slider are 3 awesome burgers together. I started with the mini Chicken Burger which has some delightful crispy chicken, coleslaw and a tasty wasabi mayo sauce. Next I dug into the lamb pull which was sensational. The lamb was so tender and is dripping in divine BBQ sauce. 3rd and last burger was the mini Old Faithful which was just as awesome as the full size Old Faithful I had a few weeks before.
There are several draft beers available on tap, though being a work lunch time I settled for the delicious chocolate milksake which is filled with chocolate syrup topped with whipped cream cream and a scope of icecream. This is not just a $5 milkshake, this is an awesome $6.50 milkshake.
I have yet to try the ribs but will be back soon for sure to try the 18oz half rack of Baby Back Pork Ribs and may have to wash it down with one of those craft beers. There are also a good selection of steaks.
Make sure you get in early for lunch as the restaurant fills up fast, especially Friday lunch times. The best tables are down the back of the restaurant (or the front) with a great view over King Street Wharf.
The Meat District Co is located at:
11 Lime Street
King Street Wharf
Sydney
Ph: (02) 9299 9762
Website: http://www.meatdistrictco.com.au/