Kou Ramen Sydney CBD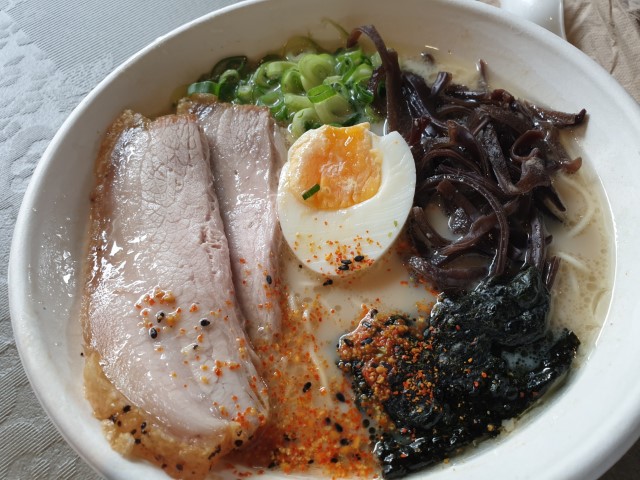 Kou Ramen is a popular lunch time food shop located within the Westpac Place Food court located at 283 – 285 Kent Street Sydney, just down from Wynyard Train Station.
The top menu items at Kou Ramen is of course their classic Japanese ramen noodle soups, with their signature dish the Original Tonkotsu Ramen ($13.50) with the thick pork broth as the base of the soup. With some delicious thick ramen noodles, 2 thick slices of slow roasted pork, topped with sliced shiitake mushroom and sliced spring onion. See below for the full list of ramen soups.
As well as their ramen, they have other tasty Japanese dishes on the menu like the Donburi rice dishes as well as some Korean Bibimbab.
Full menu at Kou Ramen Sydney CBD:
Ramen – all ramen noodle soups are $13.50:
Tori Niku Ramen
Tori Niku Shoyu
Tori Niku Miso
Tori Niku
Vegetarian Shoyu
Vegetarian Miso
Vegetarian Spicy
Tonkotsu Original
Tonkostu Shoyu Ramen
Tonkotsu Miso
Tonkotsu Spicy Ramen
Donburi Dishes
Slow Cooked Marinated Beef Rib $15.50
All the below Donburi dishes are $13.50:
Chicken Katsu
Pork Katsu
Chicken Karagge
Teriyaki Chicken
Yakiniku Beef
Yakiniku Pork
Vegetarian
Chilli Pork
Bibimbab – all $13.50
Bibimbab BBQ Pork
Bibimbab Chicken
Bibimbab Spicy Pork
Bibimbab BBQ Beef
Bibimbab Vegetarian
Kou Ramen
Westpac Place Food Court
283 Kent Street
Sydney NSW 2001
Open Mon – Fri 11.30 – 3pm
Check out the location of the Westpac Place Food Court Kent Street Sydney CBD