Lord Nelson Brewery Hotel – The Rocks Sydney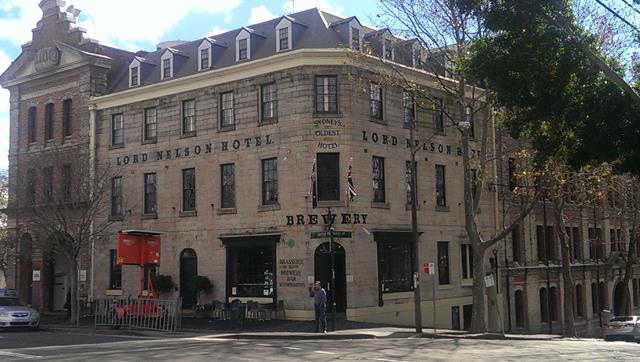 The Lord Nelson Brewery Hotel holds the title of oldest continually licensed hotel in Australia. There are 2 pubs in Sydney that claim the rights to the Oldest Pub in Sydney (The Macquarie Arms Hotel in Windsor which dates back to 1815 and The Fortune of War, opened in 1828) and the Woolpack Hotel in Parramatta which lays claim to the Oldest Licensed pub in Sydney/Australia, with the license being issued by Governor Phillip in 1796.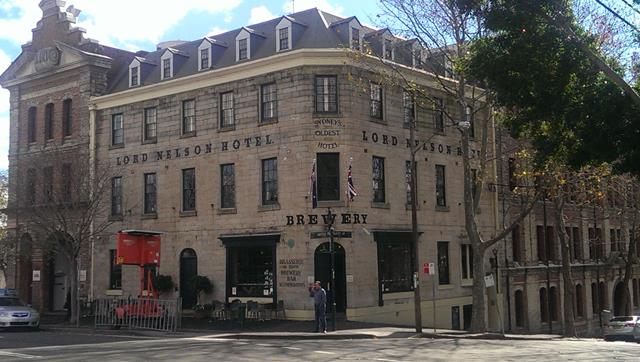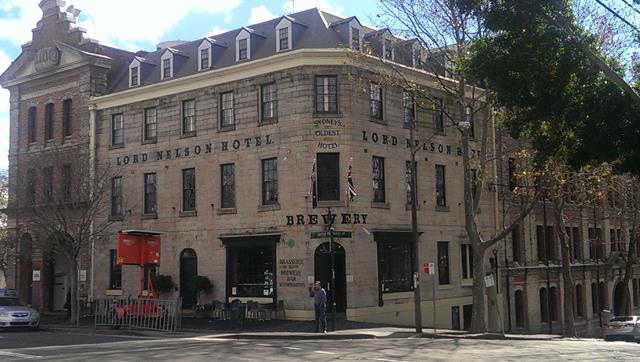 The Lord Nelson Brewery Hotel dates back to 1841, still trading in the original old sandstone building, with the stone blocks cut by convicts.
The Lord Nelson Brewery Hotel definitely holds the title of the oldest Pub brewery, being the first to brew beer on the premises which it still does today, pumping out some fine boutique beers and ales under the Lord Nelson Brewery label.
The pub is still one of the best historical pubs in Sydney. The building is the original 3 story hotel / pub built from large sandstone blocks. Inside may have been restored many times over the 175 year history though the renovations have ensured the inside keeps its historical feel. Inside you will find the old wooden bar with old rope wrapped around the bar columns, hanging from the roof is an old wooden ale barrel, brass lamps and naval flags. All around the walls are historical paintings of Governor Phillip, tall ships and the old times of Sydney.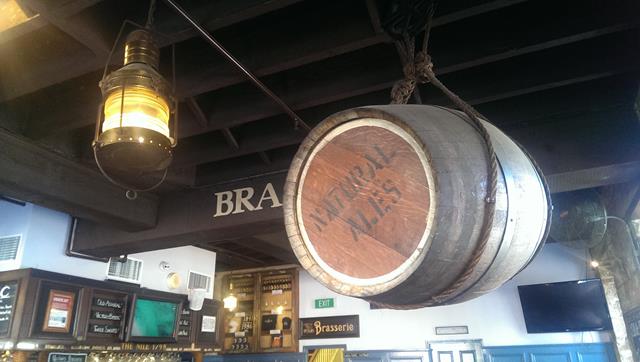 Being one of the best historical pubs in Sydney, they also serve up some of the best pub food in Sydney. In the bar on the ground level there is a bar menu which serves all your standard pub fare like beer battered fish and chips, steak sandwiches, steaks and my old favourite, bangers and mash ($15).
One level 2 of the Lord Nelson in The Restaurant which is a fine dining restaurant serving restaurant style meals. Review for The Restaurant at the Lord Nelson Coming Soon.
The Lord Nelson Brewery Hotel as well as being a pub, still operates as a hotel, with rooms available for tourists and travelers.
I went today for lunch to try their pub food. The menu changes often as I had check their bar menu on their website and saw on the menu the Lamb Kofta with tzatziki greek salad and grilled pita bread. I had already decided on ordering this before I arrived. When I looked at the menu at the bar when I arrived, this item had been replaced with Bangers and Mash which I ordered.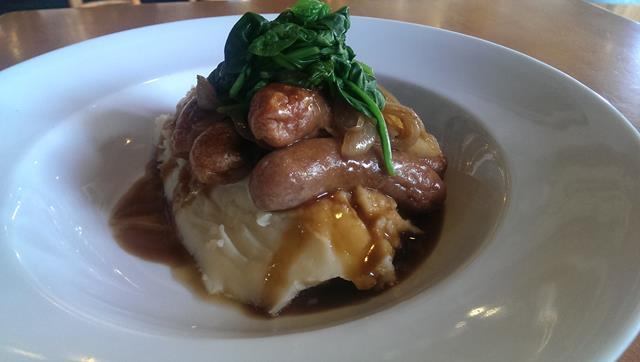 The Bangers and Mash is a delight dish of 4 small, fat Cumberland sausages (the tastiest sausages in the world) served on a large bed of mash potato, gravy, topped with caramelized onions with a pile of green spinach on top. For $15 this was a good deal for such a tasty, hearty meal. Thumbs up to the chef for this excellent dish.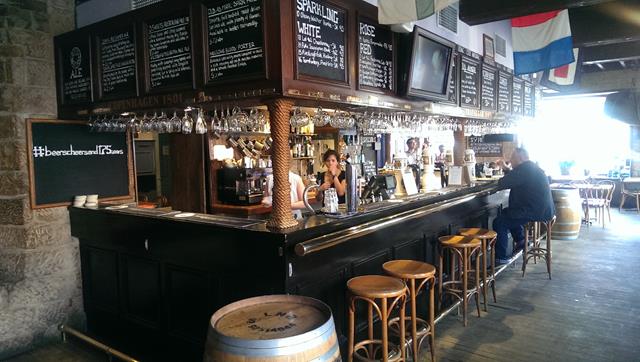 The Lord Nelson Brewery Hotel
19 Kent Street
The Rocks
Sydney
Ph: (02) 9251 4044
Website: http://www.lordnelsonbrewery.com/
Check out the location of the Lord Nelson Brewery Hotel

Check out the most popular Sydney articles: