Woolpack Hotel Parramatta – Oldest Licensed Pub in Sydney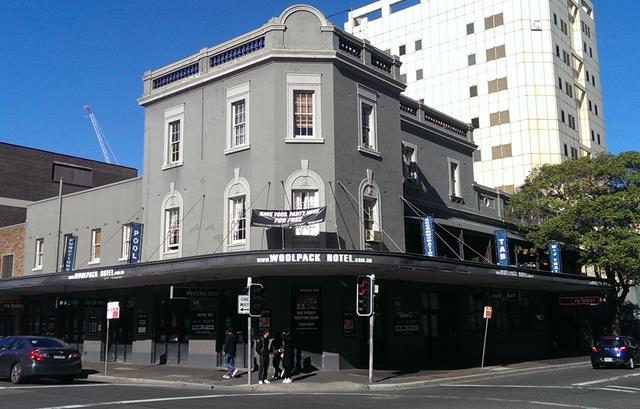 The Woolpack Hotel in Parramatta holds the honor of being the oldest licensed pub in Sydney (and Australia) as the license for the Woolpack Hotel was one of the first 10 pub licenses issued by Govenor Phillip in May 1776. The Woolpack cannot be classed as the oldest pub, as the pub building was originally built across the road from it's current located. The Woolpack is the only pub which still holds one of those original 10 licenses issued.
The original pub was built across the road in 1798 and was called the Freemasons Arms Inn. It was in 1821 that the pub was renamed to the Woolpack Hotel as Parramatta was where the wool industry began in Australia and there were many warehouses close by that packed the wool into bales for shipping.
Around 6 years ago, The Woolpack Hotel had a major renovation. Although the outside of the hotel still looks like an old historical building, the interior is a shiny new, modern Sydney pub.
During the recent renovations a new additional to the pub is the new bistro. Before the renovations this pub used to serve Thai food but the menu has changed and now serves your standard pub food including great Wagyu Beef Burgers, steaks, ribs, Chicken Schnitzel and they also have a Kids menu serving fish and chips, Kids nuggets and Bolognaise. I went in recently in September 2022 and had their Wagyu Deluxe Burger ($18) which is one of the best burgers I have eaten in Parramatta. Such a big juicy burger with good quality Wagyu beef patty, bacon, tomato, crispy lettuce and a nice tangy burger sauce.
The bistro at the Woolpack Hotel is open 11:30am-9:30pm Monday to Saturday / 11:30am-8:30pm Sundays
Woolpack Hotel
19 George Street
Parramatta
Ph: 9635 8043
Website: woolpackhotel.com.au
Check out the location of the Woolpack Hotel Parramatta