Halal Restaurants in Parramatta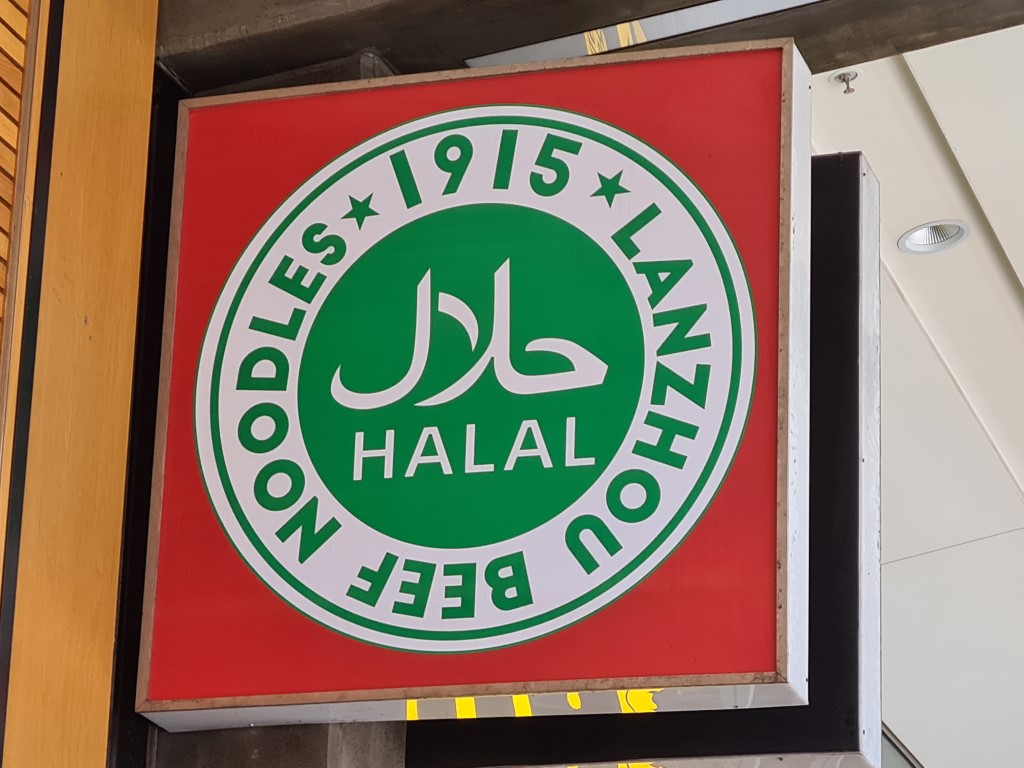 Check out these Halal restaurants in Parramatta:
Papparich Malaysian Restaurant – 100% Halal Restaurant in Parramatta
Papparich is an awesome Malaysian restaurant serving up a huge selection of traditional Malaysian food. PappaRich takes HALAL compliance matters to heart, ensuring our Muslim consumers' peace of mind when they dine at PappaRich. Read more about Papparich Parramatta.
1915 Lanzhou Beef Noodle Restaurant
1915 Lanzhou Beef Noodle Restaurant is the latest Halal restaurant in . Opened at the end of January 2022, right next door to Papparich, directly opposite Parramatta Train Station. This is a Chinese restaurant which is typically not Halal, but Lanzhou is the capital city of a northern province in China which has a large population of Muslims so the food from this regional is mostly Halal, with Beef and Lamb the most popular meats. Read more about 1915 Lanzhou Beef Noodle Restaurant.
Ayam Penyet Ria Indonesian Restaurant
Ayam Penyet Ria is an Indonesian Restaurant located on Church Street Parramatta which specialises in Indonesian Fried Chicken (Ayam Penyet – smashed chicken). All their food is Halal and they also do not serve alcohol in the restaurant. As well as the Fried Chicken dishes, they also have Crispy Fried Duck, Fried beef ribs, Tofu and Tempeh and excellent Chicken satay. If you like your food spicy, then definitely try their spicy sambal sauce with the fried chicken. Not for the faint hearted!
Read more about Ayam Penyet Ria Indonesia Restaurant in Parramatta.
Volcanos Steakhouse
The best steakhouse in Parramatta is Halal. 100% good quality beef and their ribs are either beef or lamb. An excellent range of steaks, ribs, burgers and steak sandwiches.
Read more about Volcanoes Steakhouse and Ribs Restaurant
Flipp Burgers
Flipp Burgers is a small burger joint located on Church Street close to the corner of Phillip Street. All the burgers at Flipp Burgers are Halal. They have a choice if 16 different Burgers, beef, lamb, chicken or vegetarian.
Read more about Flipp Burgers in Parramatta.
Captain Dan Iranian BBQ
Located inside the Mayfair Plaza at 272 Church Street Parramatta is Captain Dan BBQ take-away shop which specialises in Iranian BBQ Skewer Kebabs. Open Monday – Friday from 11am – 5pm, this lunch time venue does have some tables and chairs within the Plaza to sit and eat, or they do take-away. All the meat skewers are Certified Halal. See more at the Captain Dan BBQ Facebook page.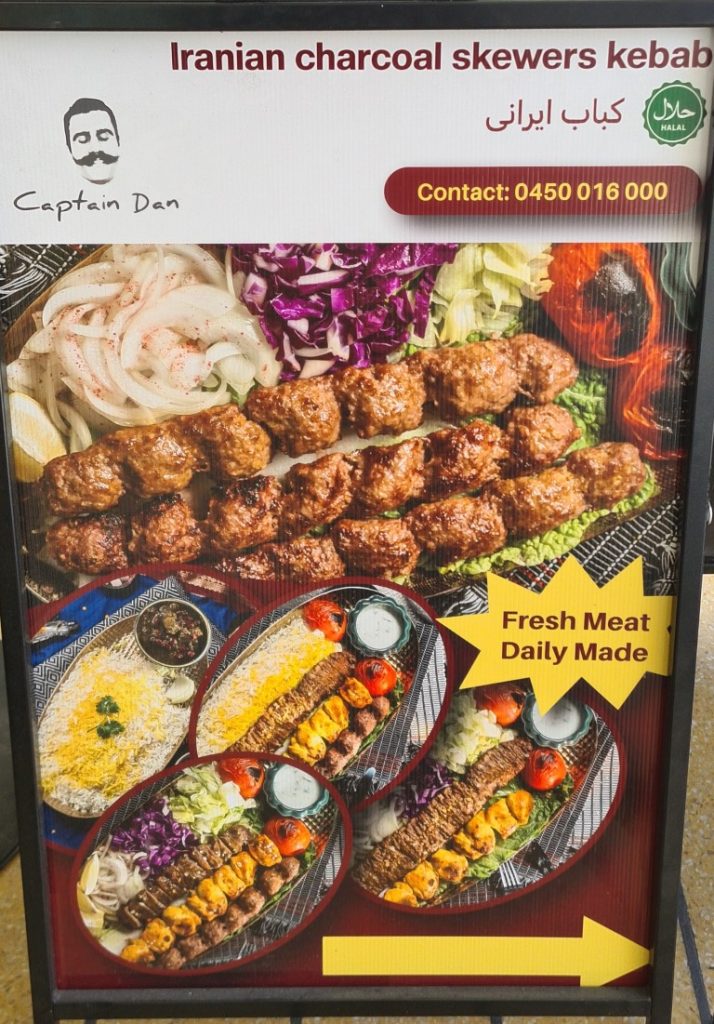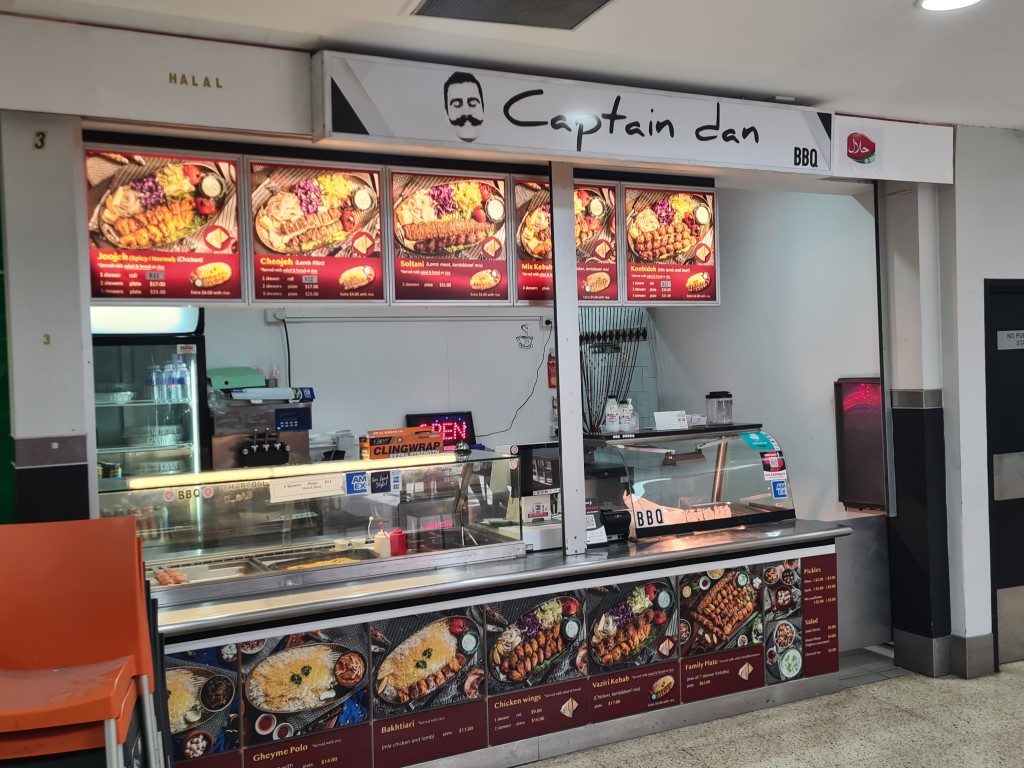 More Halal Restaurants in Parramatta:
El-Phoenician
El-Phoenician is an trendy Lebanese restaurant located on Church Street. http://el-phoenician.com.au/
Lone Star Rib House
Lone Star Rib House located at 306 Church Street Parramatta, on the corner of Philip Street is a Certified Halal Restaurant.
https://lonestarribhouse.com.au/
Dragon House Indian Chinese Halal Restaurant