Malaysian Delights – Papparich Malaysian Restaurant Parramatta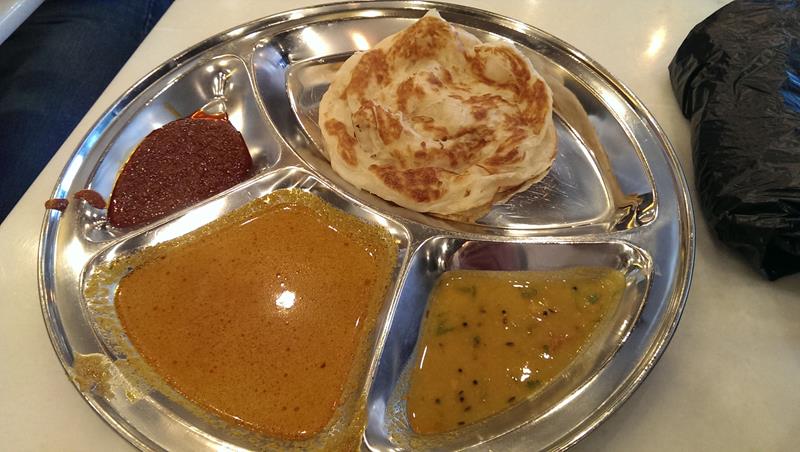 Papparich opened it's restaurant in Parramatta around August 2014, As soon as it opened it became very popular, with long queues forming out the front of the restaurant waiting to get in to try their Malaysian Delights. I do not queue for food! i think there are too many good restaurants in Sydney to have to queue up and wait for food. I was curious to try Papparich as I love Malaysian food, especially Roti Canai and a good laksa noodle soup.
I had to go into Parramatta on a Saturday morning. I walked past Papprich at 11.30am and there were no queues. I was hungry so went in to try their food. I was seated straight away and a waiter told me the system for ordering. Each item has a number which you write on an order sheet with the quantity and list down if you want it spicy or mild. Then push a button at the table which summons the waiters.
I scribbled down my order of Roti Canai and a chicken laksa soup with a Papparich White Milk Coffee. As with most Malaysian restaurants they just bring the food out to your table as it is ready, so if you want to have something as an entree then put in 2 order sheets. Order your entree and wait till they arrive before you put a second order sheet for your mains.
The waiter took my order sheet and it was not long before the chicken laksa came out. As soon as the laksa came I could see I had ordered well. The laksa soup had a nice dark colour and I could see it was spicy with some chili oil floating on the top. In the laksa there were 2 types of noodles, the thin laksa noodles as well as a nice thick egg noodle. The laksa has some other delicious items including the yummy tofu puffs and they also had 2 large pieces of eggplant which I had never seen inside a laksa before. I am usually not a fan of eggplant but it went quite well, soaking up the delicious laksa soup.
As I was eating the laksa the roti cennai came out on a huge metal plate which had 4 different sections, 1 for the roti bread, 1 for a thick red chili sambal, the other 2 sections are filled with different types of curry sauce. All of these are vegetarian. On the menu is a range of other things that can come with the roti including chicken curry or chicken tandoori (I will have to try this next time as it looked delicious on the menu pic).
The coffee was exactly the sort of coffee I have tried in Malaysia, strong coffee, milky and very sweet.
The kitchen is open so you can see inside and see the chefs preparing the meals and you can watch them make the roti which is great to watch.
As I left the restaurant at about 12.15pm, there was already a long queue of people waiting to get in for lunch. I recommend getting there before 12pm to ensure you get in quickly. The restaurant at Parramatta opens at 11am.
In Sydney Papparich also have restaurants at Chatswood, Broadway, Macquarie Centre and the restaurant where I ate at Parramatta, just next to Parramatta Train Station. Papparich also has a resturant in Canberra, 8 locations in Melbourne and 2 in Western Australia. Check out all the locations of the Papparich restaurants at the Papparich Website.