Buffet Breakfast at Hyatt Regency Bangkok Sukhumvit Hotel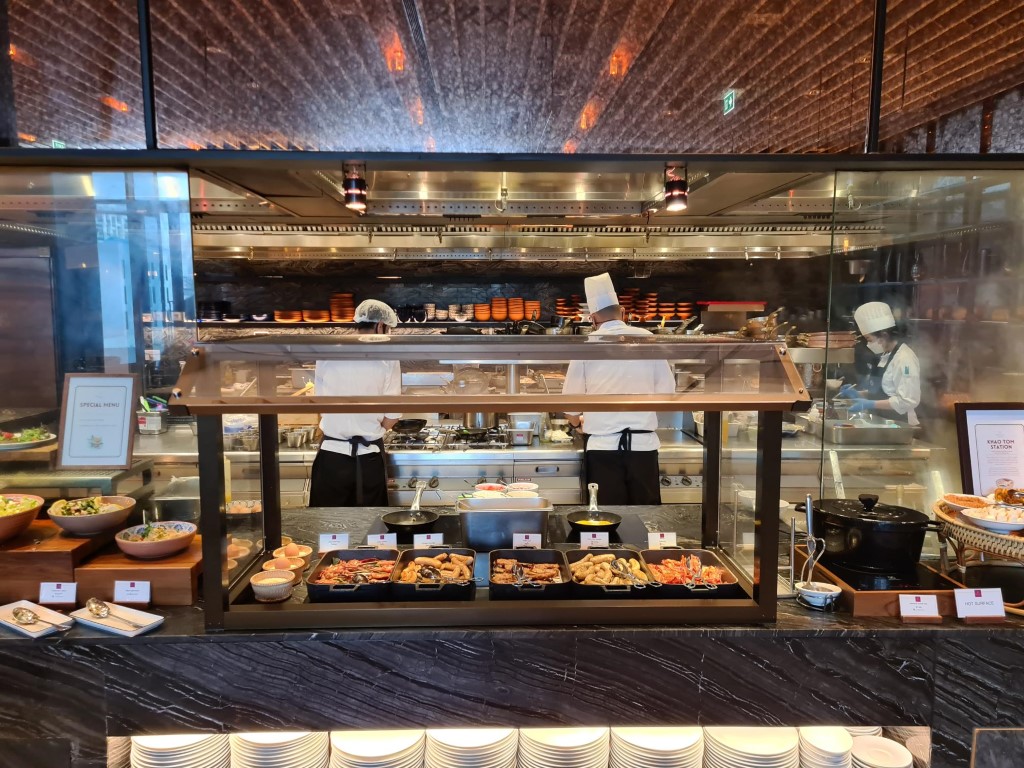 The buffet breakfast at the Hyatt Regency Bangkok Sukhumvit Hotel is served in the classy Market Cafe Restaurant on Level 4 of the hotel. The buffet breakfast costs 1000 Baht Nett for Hotel Guest or 1000 Baht++ (17%) for visitors. I have had the buffet breakfast many times and it is an excellent quality buffet breakfast.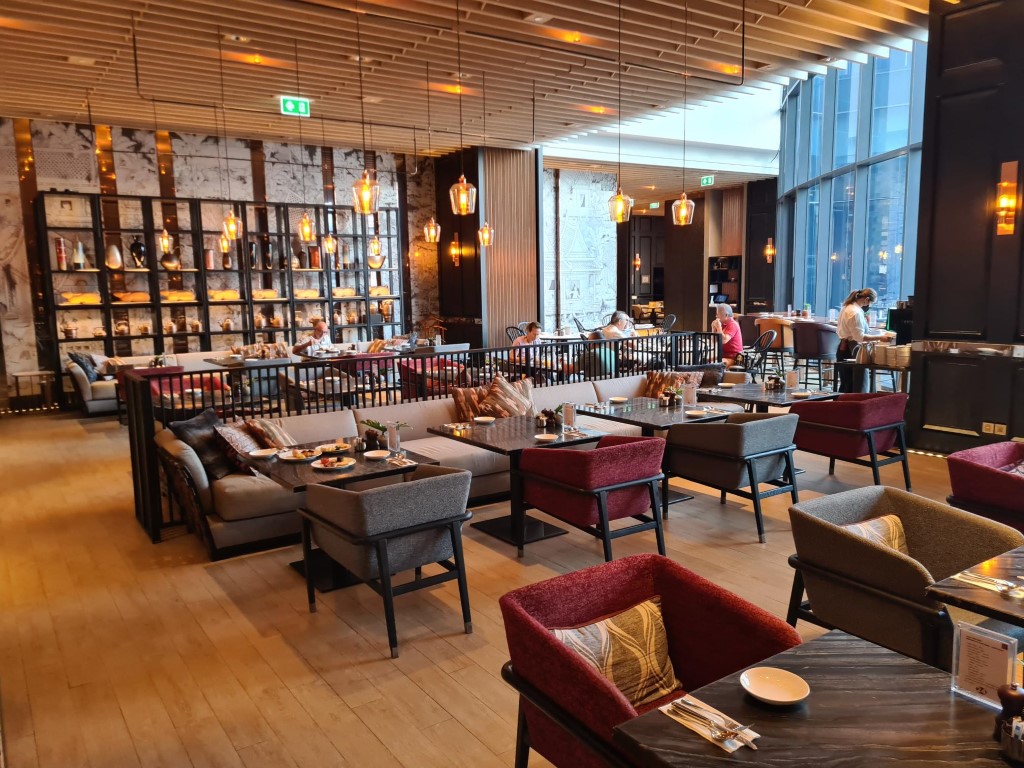 The buffet breakfast has multiple food stations with all the typical breakfast foods. Fresh fruit, breakfast cereals, freshly squeezed juices, hot dishes, Chinese dumplings, noodle soup, salads, breads and pastries and an Indian food station, and there is a chef available at the egg station to cook eggs any style you like, poached, fried, hard boil or a tasty omelette. They also serve excellent barista style coffee.
See the video of the Buffet Breakfast at Hyatt Regency Bangkok Sukhumvit Hotel
The hot dish station (or Western style breakfast) has a choice of grilled meats like bacon, pork sausages, chicken sausages and my favourite the Thai 'Moo Ping' which is grilled pork on a stick.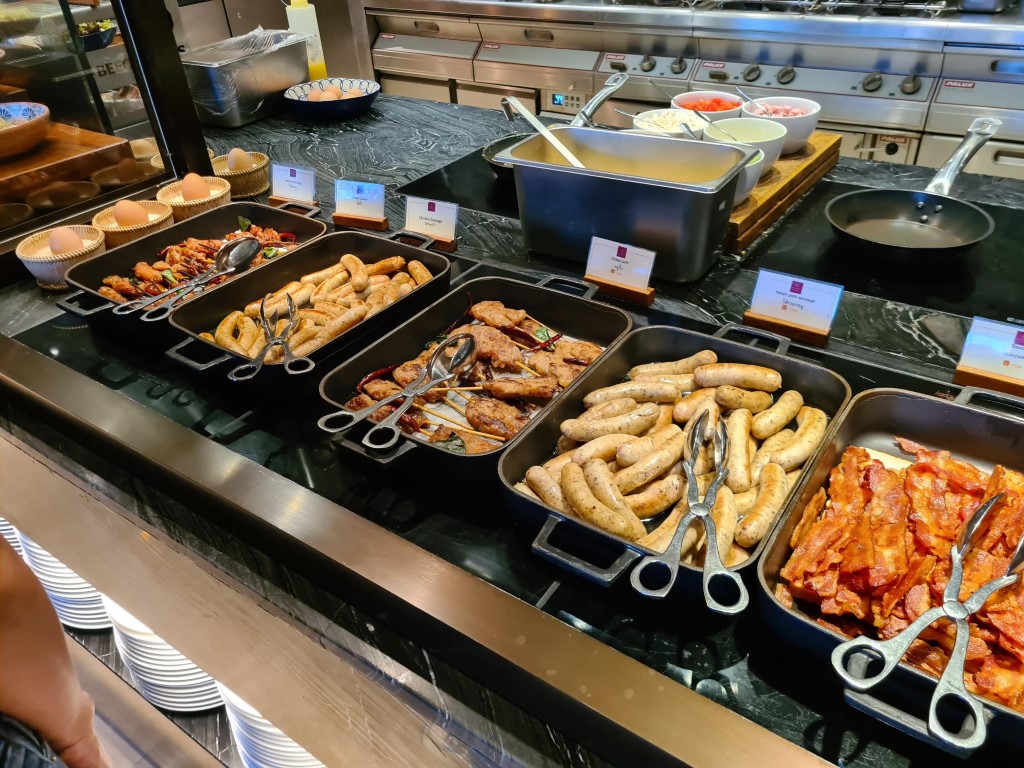 Also at the hot dish station is a large selection of grilled and roasted vegetables, grilled tomato, baked pumpkin and zucchini, capsicum and mushrooms.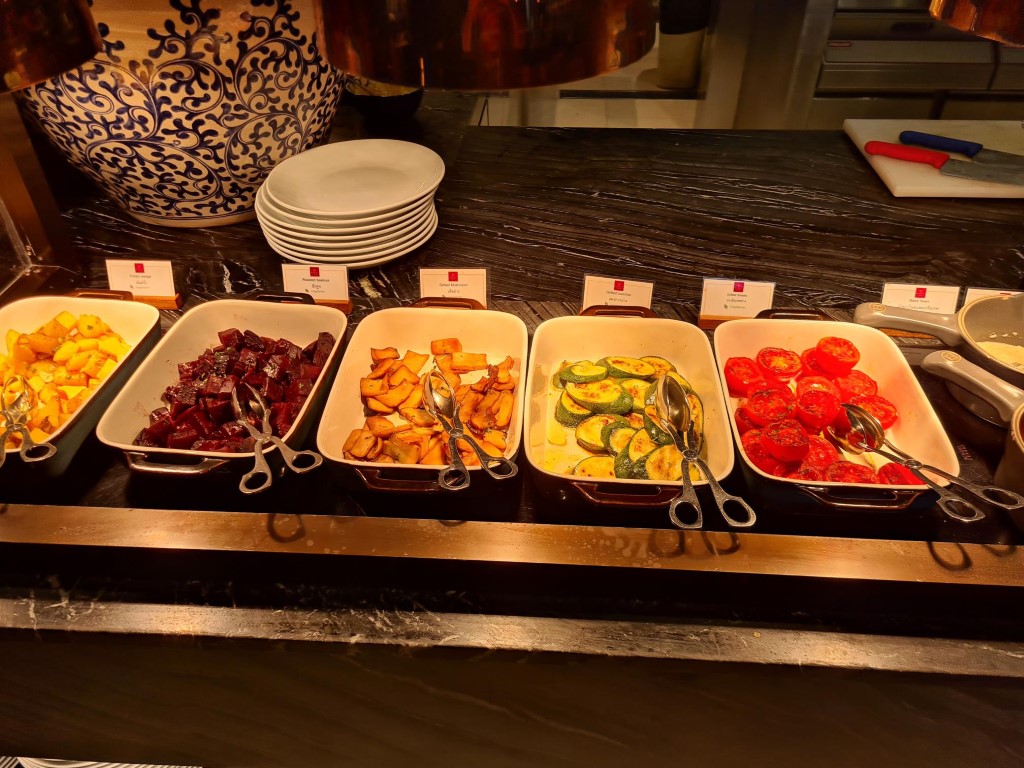 The Indian Station has a choice of an Indian Curry and side dish like Onion Bhaji as well as Indian breads like roti or paratha.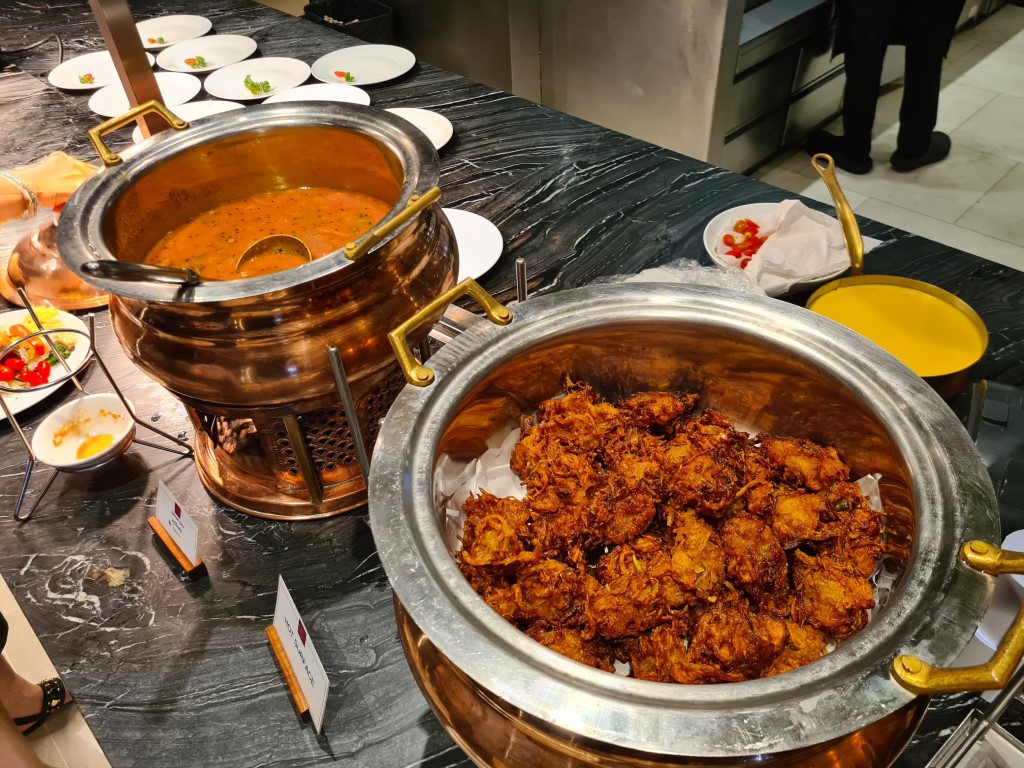 There is a huge selection of fresh tropical fruits and a separate station just serving fresh young coconuts.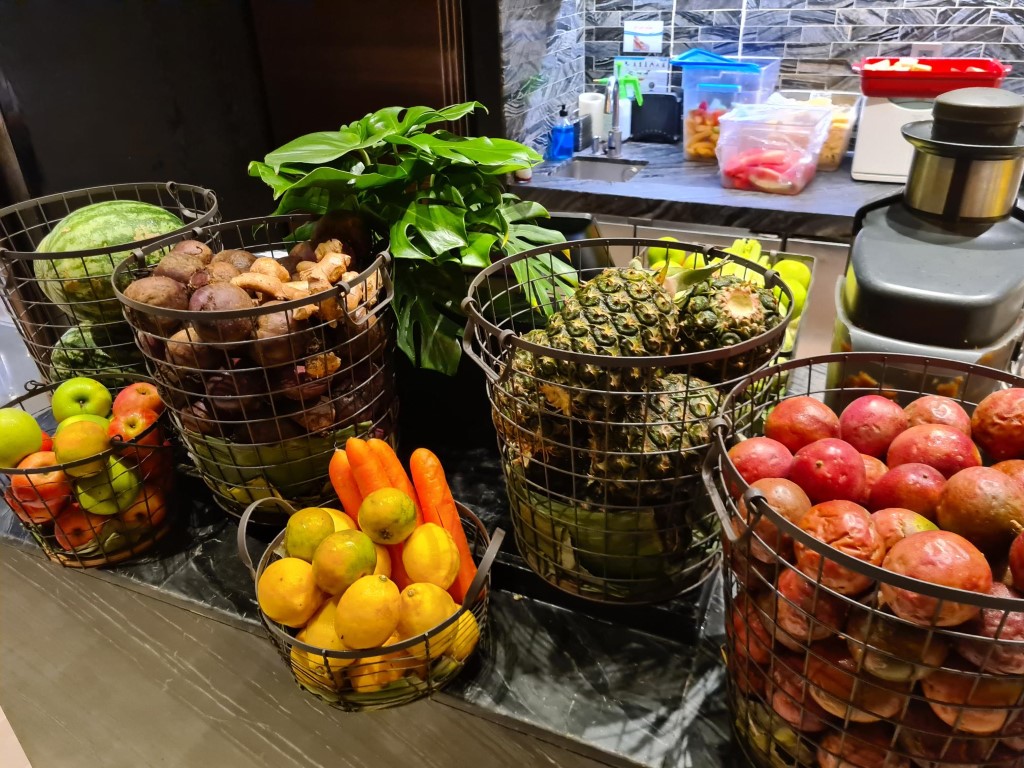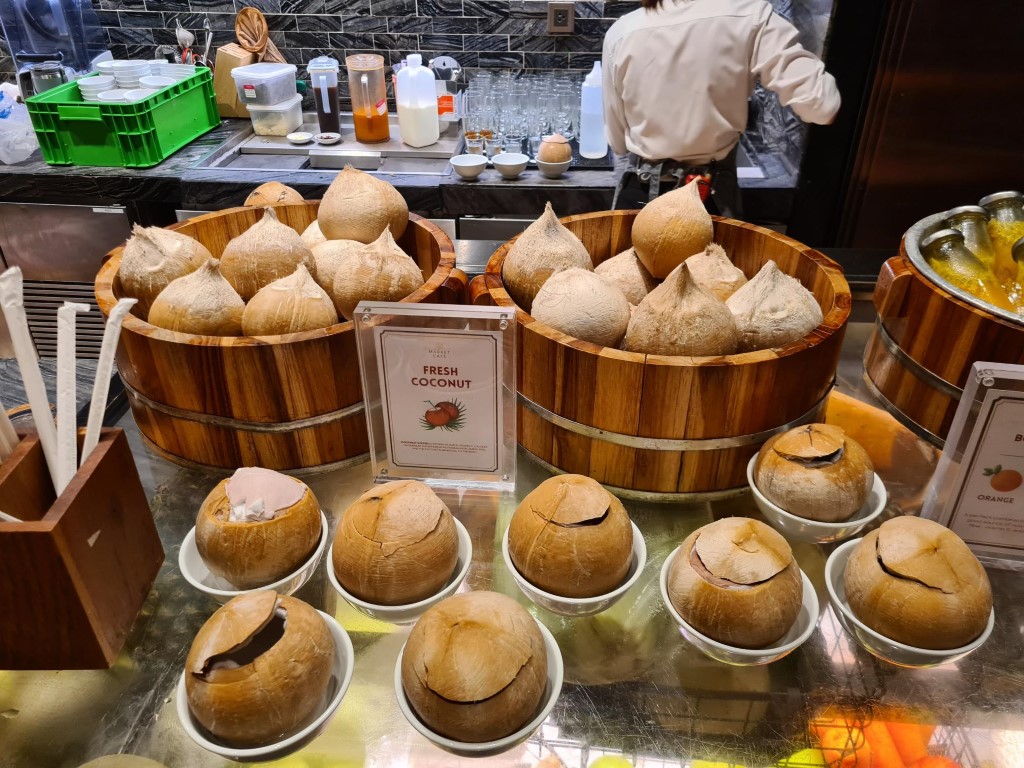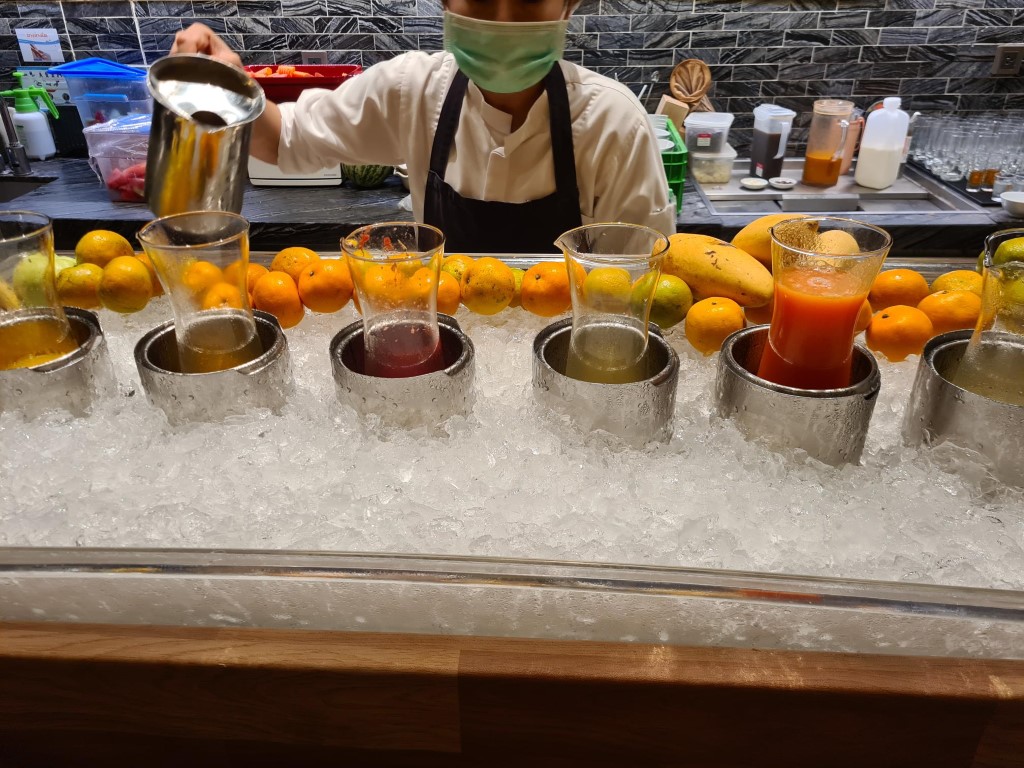 The cost of the buffet breakast at 1000 Baht++ is around US$28 or A$43 is about the standard price you will get a buffet breakfast in a 5 star hotel in Bangkok. It is definitely expensive compared to going out to have a breakfast at a cafe or street vendor but it really is one of the best buffet breakfasts I have experienced. Top quality breakfast!
There is an open kitchen at Market Cafe so you can see all the action with the chefs preparing the food and the kitchen has always been thoroughly clean every time I have been there. So good to see inside the kitchen.