Best Steak Restaurant in Hong Kong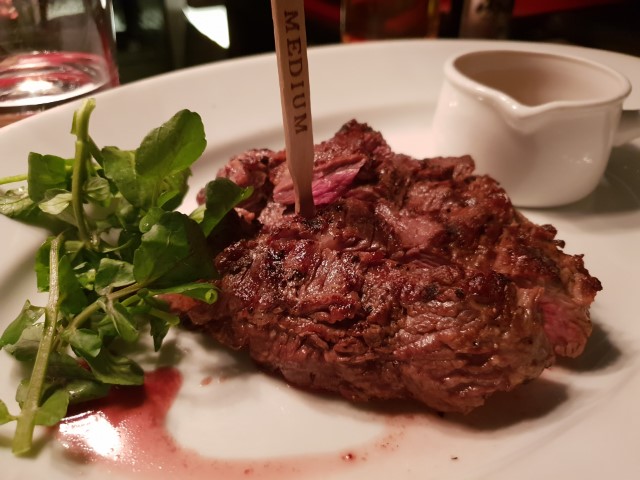 If you are looking for a great dining experience, enjoying some of the best steaks in Hong Kong then look no further than the Grand Hyatt Steakhouse at the Grand Hyatt Hotel at 1 Harbour Road Hong Kong Island.
Grand Hyatt Steakhouse serves the finest quality beef steak imported from US, UK and Japan. There is a separate entrance to the restaurant located in the front entrance driveway of the Grand Hyatt Hotel.
With a stylish restaurant layout, with dining tables as well as counter service at the bar, and 2 private dining rooms available.
The menu is not just a range of top quality beef steak, but a vast array of fine foods. The menu starts with the selection of Oysters, imported from France, Holland, Japan and Ireland.
A range of seafood appetizers including dishes like the Seafood On Ice (to share), Oscietra Caviar, Maryland Crab Cakes and Black Muscles served in white wine, garlic and parsley. There is also a range of salads and soups including the classic French Onion soup.
The beef selection ranges from the Great American Bison, Dry Aged Beef, USDA Prime Black Angus and the delicious Wagyu Beef from Japan. There are other dishes other than the steak, dishes like Pork Chop, Rack of Lamb, Chicken Parmigiana and pork baby back ribs.
There are a fine selection of side dishes to go with your steak. Side dishes include whipped potatoes, truffled french fries, macaroni and cheese, crispy onion rings, glazed baby carrots, creamed spinach and sauteed mushrooms. And a selection of sauces perfect for your steak – Bearnaise, green peppercorn and brandy, mushroom ragout, red wine jus, barbecue sauce and horseradish cream.
To finish the meal there is a selection of sublime desserts like the Key Lime Pie, Signature Cheesecake or the Steakhouse Chocolate Cake. There is also a choice of Ice-cream sundaes and artisan cheese plates.
With the gorgeous surroundings and top quality food, there is no wonder Grand Hyatt Steakhouse is listed as the best steak house in Hong Kong.
Grand Hyatt Steakhouse
1 Harbour Road
Hong Kong
Ph: +852 2584 7722
Website: Grand Hyatt Steakhouse
Open 7 days a week from 6pm – 10.30pm
The restaurant is open for lunch Mon – Fri and Sunday from 3rd June through to 6th September.
Check out the location of the Grand Hyatt Steakhouse in Hong Kong