The Best Crispy Duck at Warung Pregina Sanur Beach Bali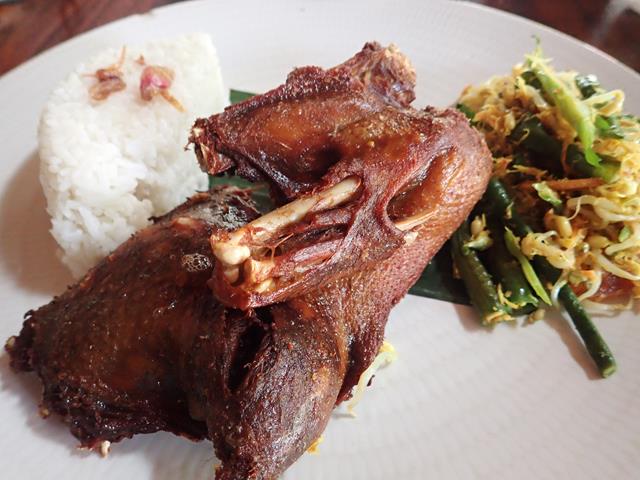 I wanted to try some of the Bebek Goreng (Crispy Duck) while I was staying in Sanur which is one of the best foods to try in Bali. I did a quick Google search and the first result was a link to TripAdvisor for the Balinese restaurant called Warung Pregina. Many of the reviews were very positive and a few said it was the best crispy duck in Sanur. Warung Pregina ('Warung' is Indonesian for a small eating house / restaurant) specialises in traditional Balinese food. I went in for lunch to try the Crispy Duck.
Warung Pregina is located on the main road of Sanur, Jalan Danau Tamblingan No. 106. Inside the restaurant is very relaxed with nice decor, lovely furniture and some interesting items throughout the restaurant including a nice Buddha statue and tucked in the corner is an old motorbike.
I knew I wanted the crispy duck though I had a good read through the menu. They have heaps of great Balinese food on the menu. Babi Sate (Pork satay), Babi Guling (Balinese roast pork though you have to order this 1 day in advance as it takes 8 hours to cook!) and they have a few different duck dishes included a stewed duck dish, some roast duck and what I wanted the Bebek Goreng, Crispy Duck.
It didn't take long for my food to arrive and it looked great. The skin of the duck was so crispy, The ducks they use are only small through I had half a duck with breast, wing and leg. The Crispy Duck is served with rice and 2 small dishes with sambal and chopped chilli. It didn't take long for me to devour this delicious meal, chewing on the bones to rip all the meat off.
Warung Pregina is fairly quiet during lunch time as most people are at the beach or exploring Bali. I walked past at night and the restaurant was packed for dinner. If you going for dinner it is best to phone ahead to make a reservation.
Warung Pregina
Jalan Danau Tamblingan No. 106
Sanur Beach Bali
Ph: (0361) 283353