Best Japanese Restaurant in Bali? – Kuu Japanese Restaurant Sanur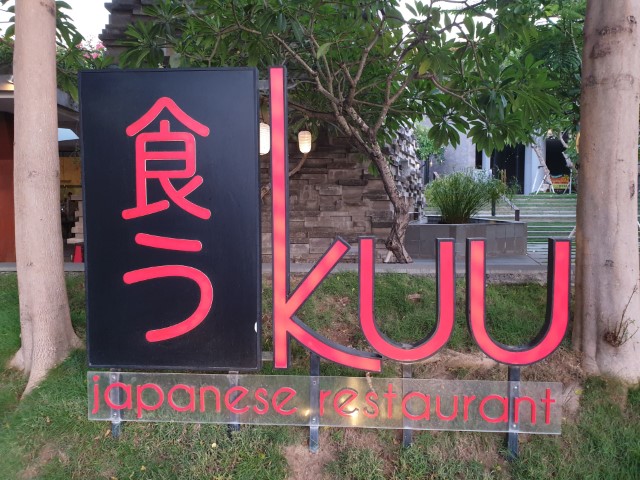 It had been 4 years since last time I visited Sanur. Before this visit I searched for restaurants to find any new restaurants that had opened since my last visit. I found Kuu Japanese had opened with the new Maya 5* Resort. As I love Japanese food, I locked it in for a visit.
Their website states that they 'are fast becoming the best Japanese restaurant in Bali'. Now any restaurant that claims to be the best or fast becoming the best, then I have to visit to see if it is true. There are plenty of great Japanese restaurants in Bali so they would have to be doing something special to become the best!
I went in for dinner on my first night in Sanur. Overall it was very good though I'd say they need to do a lot more before they become the best.
They have lovely decor inside the air-conditioned restaurant and they also have an outside, uncover dining area right next to Jalan Danau Tamblingan.
Service was great. As I sat down they brought out a cold towel to wash my hands which is so typical for a Japanese restaurant. Now they did not offer me any water, not when I arrived or any time during my meal. Which was OK as I enjoyed some nice cold Bintang beers and then some sake during my meal. But a top quality restaurant would offer you water. In all Japanese restaurant in Japan they would bring you a glass of water along with the towel. They did however bring out a cup of Japanese tea and topped that up during my meal.
The menu has a great range of different Japanese foods and has pictures of the dishes to make it easy to select. Their website has a full list of their menu but not with the pictures.
I decided to graze through the menu, ordering 1 small dish at a time. I started with some sushi with 2 pieces of tuna sushi (30,000Rp, around A$3) and 2 pieces of salmon sushi (45K around A$4.5). This was very nice sushi. Very well presented and quite tasty.
Next I ordered the Negima Yakitori (15K Rp, around A$1.50) which is grilled chicken with leak skewers. This was a very tasty yakitori dish. I could have easily eaten a few more of these but wanted to try more dishes on the menu.
Next I ordered the Chicken Katsu (35K Rp, around A$3.50). I would normally order a pork katsu but they did not have pork on the menu. I would say that they get lots of local Indonesian tourists coming from Java who are Muslim, so out of respect they do not offer pork on their menu. The chicken katsu was lightly batter and another tasty dish.
I then ordered the Tori teriyaki (yes overdose on the chicken!) which was grilled chicken with the sweet teriyaki sauce. Another tasty dish.
All up all the food was well presented and all tasting very nice. I do visit Tokyo a few times a year so am used to top quality Japanese food and the food at Kuu comes close to the food in Tokyo but not spot on!
When I went to order some sake, they have 9 different sake available on the menu, but they told me only 1 of these was available when I visited. Not so good having a huge selection on the menu, only to find out that only 1 is available. The sake was particularly expensive, i guess due to the import tax into Indonesia, which taxes incoming alcohol at I think 100%. A 300ml flask of sake starts at 180,000 Rp which is around A$18. The most expensive sake is 290,000 for the 300ml flask, which is around A$29.
All up it was a pleasant dining experience and the food prices are also quite reasonable considering this restaurant is part of a 5 star resort. The beers and sake ultimately made it an expensive meal, much more expensive than many other restaurants in Sanur.
If you love Japanese food then I would recommend a visit to Kuu Japanese or to Soya Japanese Restaurant which I think is the best Japanese in Sanur, just slightly better than Kuu! Soya is slightly more expensive than Kuu but I find it a much better dining experience.
At lunch times they have Bento boxes on their menu. I really do enjoy a Bento box so next time I am in Sanur I will visit Kuu again at lunch time to try their chicken teriyaki bento box (110K Rp which is around A$11).
Kuu Japanese Restaurant
Maya Resort
Jalan Danau Tamblingan
Sanur Bali
Open 7 days a week from 11am – 10pm
Website: Kuu Japanese Restaurant Sanur Bali
Check out the location of Kuu Japanese Restuarant in Sanur Bali