Little India Singapore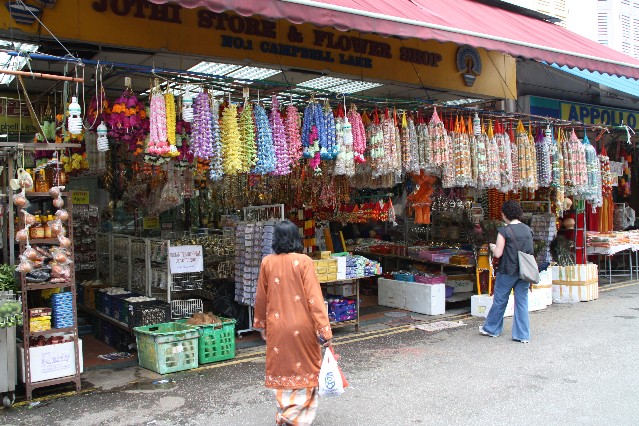 Little India Singapore is located around 10 minutes by taxi from Singapore's city centre, Orchard Road area. Little India is made up of a small area of small streets lined with Indian shops selling fabrics, traditional Indian clothing, handicrafts, jewelry, spices, fruit and vegetables. This is also the best place to come for Indian Restaurants in Singapore with cuisine from all the regions of India. You can catch an MRT subway train to the Little India MRT station (NE7). Little India MRT train station is just 2 stops away from Clarke Quay or 3 stops away from Singapore's Chinatown.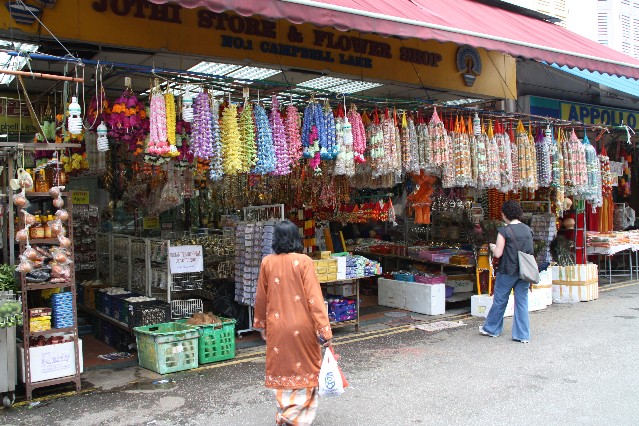 Little India in Singapore has a history going back to the early 1800's with immigrants from mainly the southern region of India. The area around Little India started as farms and has developed to what Little India is today, one of Singapore's busiest and popular tourist destination.
Throughout the year there are many Indian festivals with large celebrations around the Little India area. Festivals include Navarathri (Nine Nights Festival) around the end of September, Theemithi (Fire Walking Festival) around the middle of October, Deepavali around late October/early November. In January/February depending when the full moon falls in the Hindu month of Thai, Thaipusam is celebrated which is quite a spectacle. Thaipusam sees men with metal spikes and hooks pierced into their body in an act to purify themselves. Crazy stuff!
Right in the centre of Little India is a large department store called Mustafa Centre where you can buy almost anything. The multi level department store is open 24 hours a day and sells everything from home wares, electrical goods, furniture, clothing and lots of fresh fruits, vegetables and herbs and spices.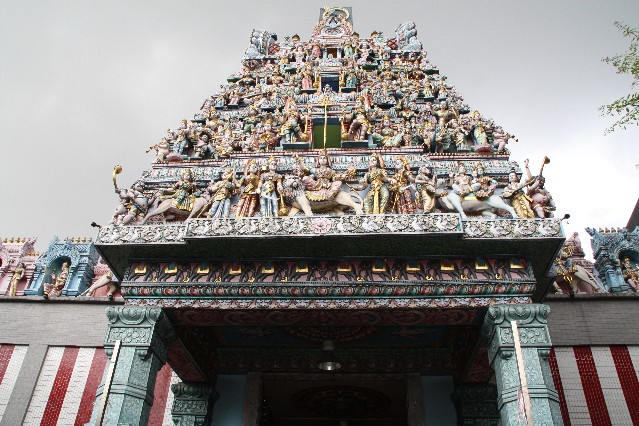 Sri Veeramakaliamman Temple, built in 1885 within Little India in Singapore is dedicated to the Hindu Goddess Kaliamman, the ferocious incarnation of Lord Shiva's wife, Meenachi. It is the first Hindu temple to be built in Singapore dedicated to her. Other Kali temples built after include the Sri Vadapathria Kaliamman, also in Little India and the Sri Mariamman Temple found in Chinatown Singapore. When war broke out in 1942 many worshipers used the temple as refuge believing the Goddess would protect them. While Japanese bombs landed in the surrounding areas the temple was unscathed.
Campbell Lane, one of the main parts of Little India is the centre of activity during Hindu festivals. 3 weeks before Deepavali (The Festival of Lights) the street is turned into a festival village.
House of Tan Teng Niah Little India Singapore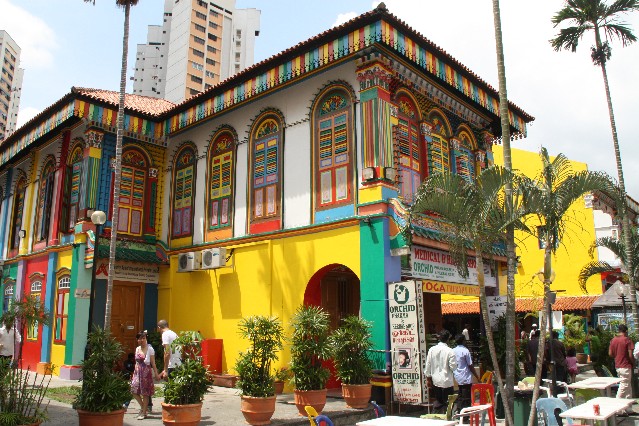 This house is one of the last surviving Chinese villas in Little India. Built in the 1900's the house belonged to Tan Teng Niah, an owner of several confectionery factories. It was restored in 1980 and unfortunately the Indians painted the house in these ghastly puke colours totally out of character of it's historical significance.
Along Dunlop street is a very impressive mosque called Abdul Gafoor Mosque which dates back to 1907 and was recently renovated in 2003.
[do_widget id=wpp-14]