Flight Review Jetstar Asia Singapore to Phnom Penh Cambodia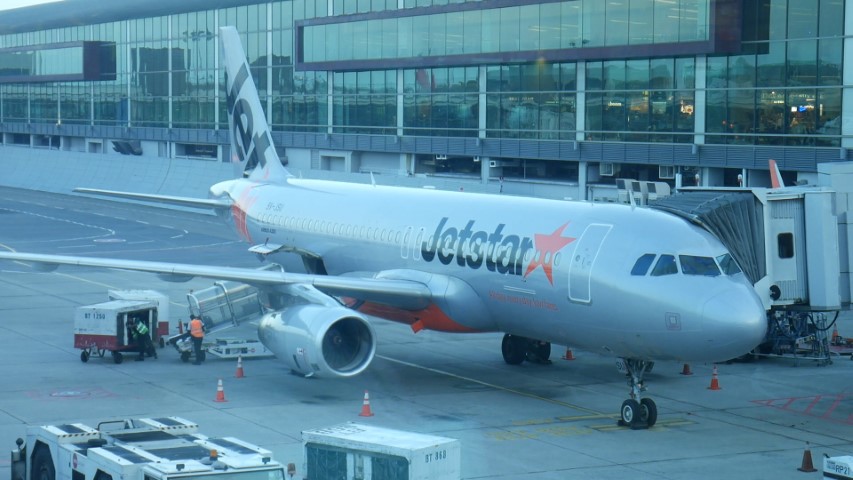 Airline: Jetstar Asia
Flight no: 3K591
Route: Singapore Changi Airport (SIN) to Phnom Penh International Airport (PNH)
Aircraft Type: Airbus A320 Plane Plane rego: 9V-JSU
Flight time: 1 hours 55 minutes
Travel Class: Economy Class
Seat: 6A Window Seat
Seat Width: 17.9 inches
Seat Pitch: 29 inches
Check out the full flight review video for Jetstar Asia from Singapore to Phnom Penh Cambodia
This was a connecting flight with Jetstar Asia. My trip began in Jakarta, flying to Singapore on Jetstar Asia. I had checked in my luggage for both flights through to Phnom Penh so there is no check-in or collecting my luggage at Singapore airport.
My flight from Singapore arrived just over 1 hour before my flight to Phnom Penh so I just had a little bit of time to roam around the massive Singapore Changi Airport.
Jetstar Asia is based in Singapore, flying to 23 destinations around Asia. They have 18 Airbus A320's as their entire fleet. All their planes seat 180 with only economy class.
Jetstar Asia has 2 direct flights from Singapore to Phnom Penh each day.
On the plane
The seats on the Jetstar Asia A320 have a width of 17.9 inches (45.5cm) and a pitch of 29 inches (73.66), the pitch is the distance from the back of your seat to the seat in front. This determines how much leg room you have.
For a budget airline, 29 inches is about standard. I am 187cm tall and there was still a bit of room between my knees and the seat in front, and I was able to stretch my legs out under the seat in front.
There is no entertainment TV screens on board this budget flight with Jetstar Asia. The only entertainment is a copy of the Jetstar Asia in flight magazine which is a pretty good magazine, with nice travel articles about the destinations that Jetstar Asia flies too.
Food on the plane
Again being a budget airline, there is no complimentary food served on this flight or any other Jetstar Asia flight. There is a food menu in the seat pocket with a range of food you can purchase during the flight. You can also pre-order food when you book your ticket via the Jetstar Asia website.
I had pre-ordered the Singapore Hainanese Chicken Rice seat meal which comes with a drink and dessert for S$16. After take-off the crew come around and hand out the pre-ordered food first.
I was quite impressed with this Hainanese Chicken Rice. I would not even try to compare it with a good serving of Hainanese Chicken Rice that I would normally order in Singapore's Chinatown but for airline food this was a pretty good dish. The chicken was good quality, the rice was cooked well and the vegetables were firm and not soggy. While the Hainanese Chicken Rice in Singapore costs around S$3 – 4, this dish on Jetstar Asia at S$16 is very expensive, even if it does come with a bottle of water and small tub of chocolate ice-cream.
The tub of chocolate ice-cream was a pleasant surprise too. A very tasty ice-cream with a rich chocolate flavour.
See our video for a Food Review on Jetstar Asia
The service
This is just a short flight of 1 hour and 55 minutes. Apart from being greeted and the food being handed out, there is not much more than crew do on this flight. I did find all the crew pleasant, the crew greeted me when I came on board and said goodbye as I was leaving, both times with a pleasant smile.
Final say on this flight
Although it is a relatively short flight, after take-off from Singapore it was dark soon, so there was not much to see out the window of the plane until we started descending into Phnom Penh. I would suggest to bring a book or some entertainment on your phone or tablet.
I had previously flown between Singapore and Phnom Penh with Silk Air which is a full service airline, with food included and entertainment I was not so impressed with the food on Silk Air. With this Jetstar flight being much cheaper than the Silk Air ticket cost, I would definitely choose to fly with Jetstar Asia again. A budget airline done well!
Check out the Silk Air Singapore to Phnom Penh review