Flight Review Silk Air A320 from Singapore to Phnom Penh Cambodia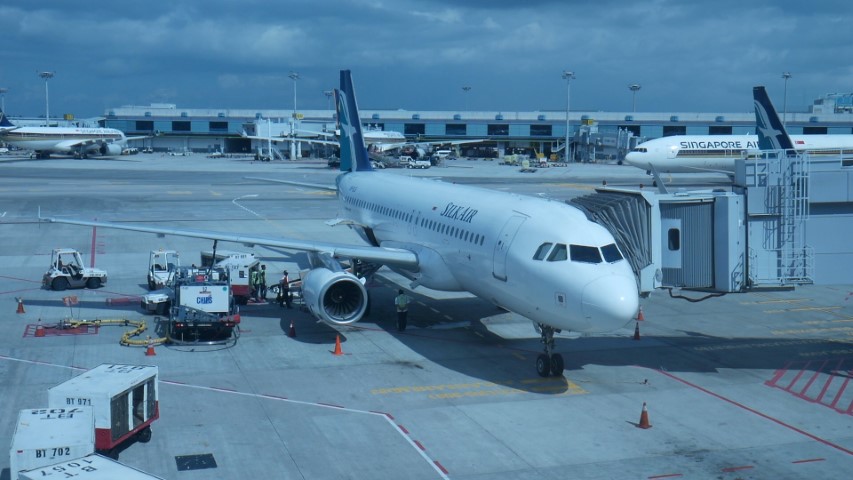 Airline: SilkAir
Flight no: MI608
Route: Singapore Changi Airport (SIN) to Phnom Penh International Airport Cambodia (PNH)
Aircraft Type: Airbus A320
Flight time: 1 hour 45 minutes.
Travel Class: Economy Class
Seat: 11F window seat emergency exit.
Seat Width: 18 inches
Seat Pitch: 31 inches
Check out the video review for Silk Air flight MI608 from Singapore to Phnom Penh
I had always thought that Silk Air was the budget airline subsidiary of Singapore Airlines. It turns out that Silk Air is a full service airline and not a Low Cost Carrier. Silk Air is Singapore Airlines' Regional Airline for all short trips out of Singapore, usually flights under 3 hours are on Silk Air. All longer flights are on Singapore Airlines planes.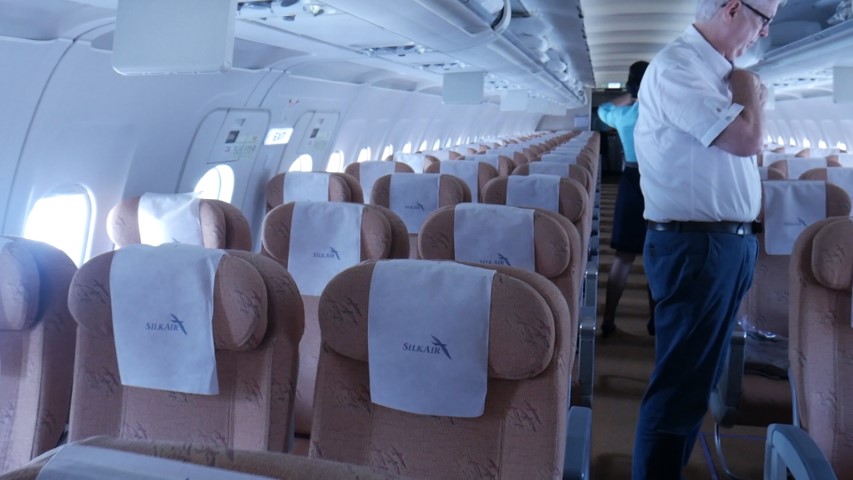 At the Airport
It takes around 25 – 30 minutes by taxi from downtown Singapore to get to Singapore's Change Airport. The taxi ride cost me about S$22. The Silk Air flights leave from Terminal 2.
The Silk Air check-in process if fully automated. There are check-in kiosks which you scan your passport to pull up your booking to retrieve your boarding pass. You then take your luggage over to the automated bag drop, scan your boarding pass and off goes your luggage to the plane. Easy!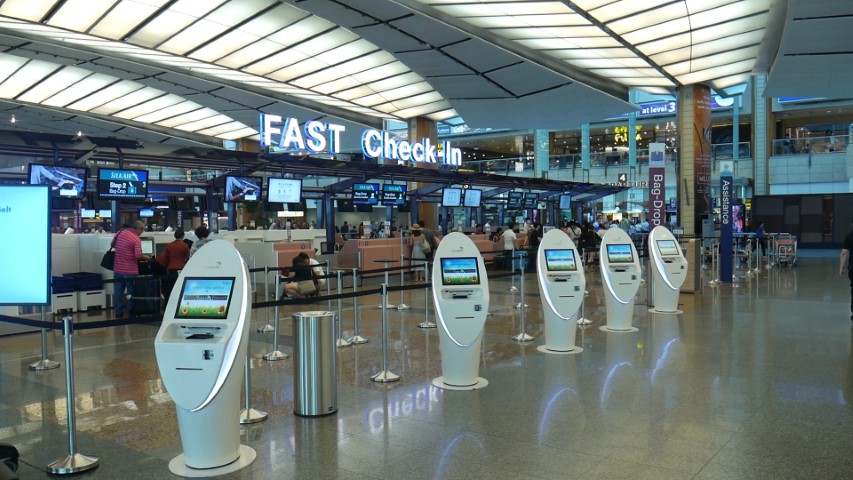 Singapore Changi Airport is the best airport in the world. There is plenty to see and do just walking around the terminal. There is heaps of shopping but it is expensive, all the high end luxury brands. There is plenty of food available, from traditional Singaporean food to loads of fast food. The food prices are higher than what you would pay outside the airport but the prices are still fairly reasonable.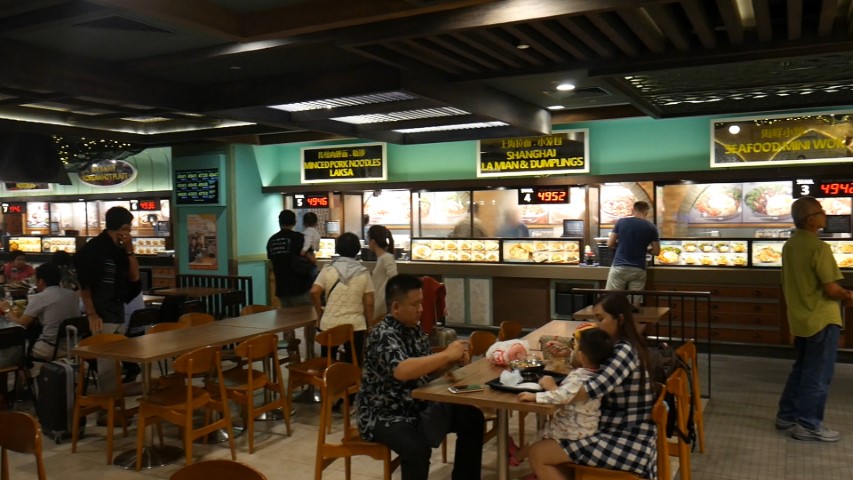 On the plane
Silk Air has a few flights per day between Singapore and Phnom Penh Cambodia. This flight is operated on the Airbus A320 aircraft. The other flight is on the Boeing B737-800.
The Silk Air A320 seats 150 people, 138 in Economy Class and there are 12 Business Class seats up the front.
As this is a 1 hour 45 minute flight, I was happy to be seated in Economy Class. I did score a bonus when my boarding pass popped out the kiosk I had been given an Emergency Exit seat which has that little bit more leg room.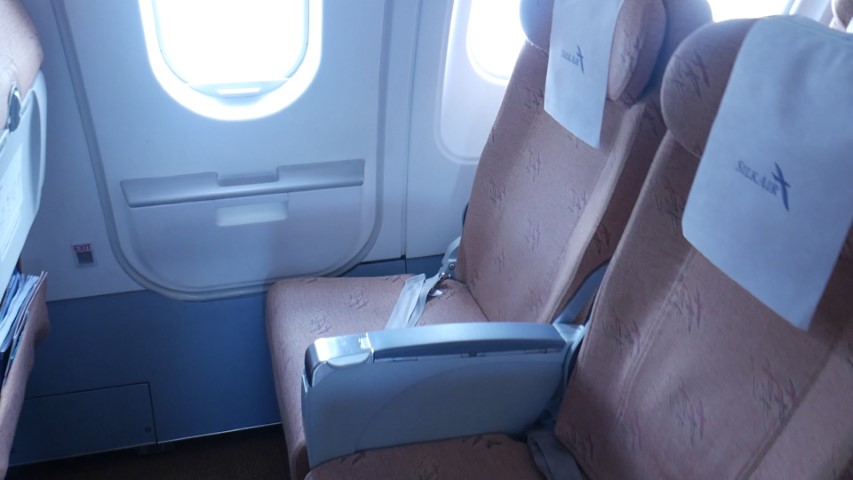 This plane was modern and the seats were quite comfortable.
In the seat pocket there is a copy of the Silk Winds Silk Air in-flight magazine which has some nice travel articles inside but as typical with inflight magazines, more advertising than articles.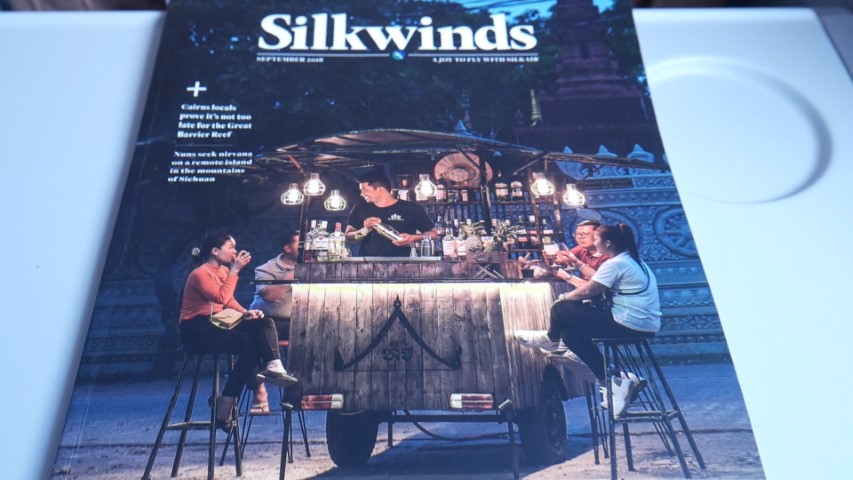 The Food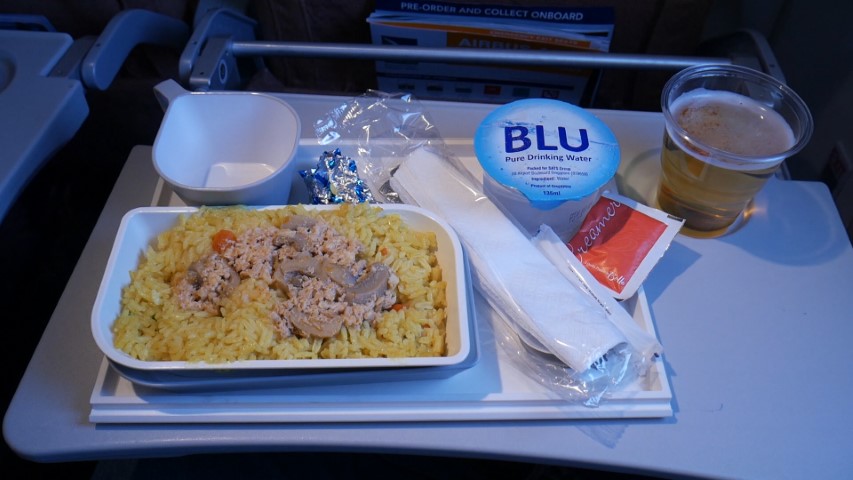 As Silk Air is a full service airline you do get a complimentary meal. Shortly after takeoff the food trolley came out and we were offered a meal of Chicken and Rice or Fish and Rice. I choose the Chicken and Rice which is picture below.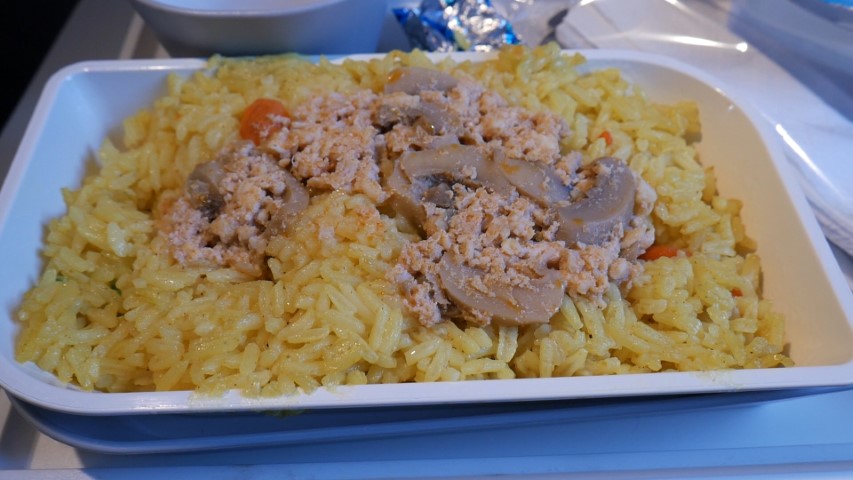 Now I have flown Singapore Airlines a few times and their food is some of the best in the air. This meal on Silk Air was one of the worst I have ever had. I would not say it was bad. It didn't taste bad, but I would not say it was tasty either. Just a plain chicken and rice dish.
The very small serving of chicken, on top of a huge pile of yellow rice. I actually thought this was tuna on top at first. I smelt it a few times but it didn't smell fishy before I took a taste. It was a very small portion of minced chicken.
They asked what I wanted to drink and I asked for a Heineken beer. It was good that there served alcohol on this flight but the flight attendant opened a can of Heineken, poured some into a small plastic cup and handed me just the cup, she did not give me the can to finish. Now this screams cost saving when they wont give you the full can of beer!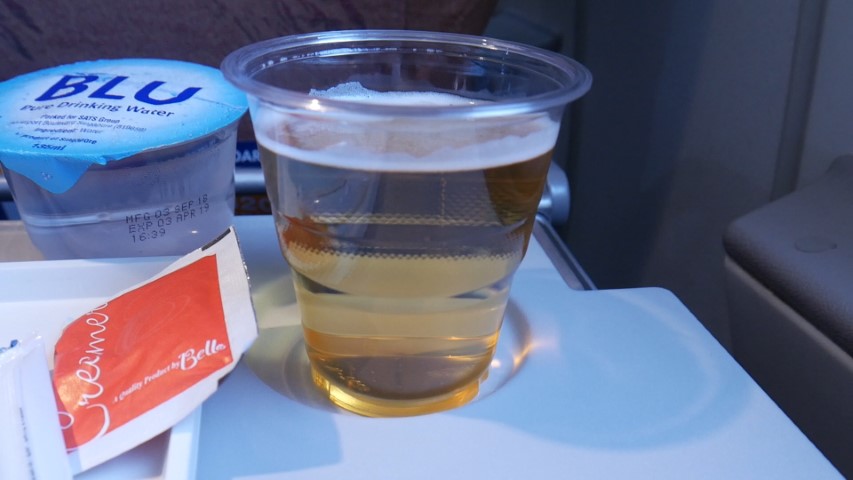 I was then totally surprised when they came around and served a dessert. It was 3 Chocolate coated vanilla ice cream which were quite tasty. This packet of ice cream was branded Silk Air which really surprised me. They go to the expense to brand their own desserts straight after serving up some very ordinary chicken and rice.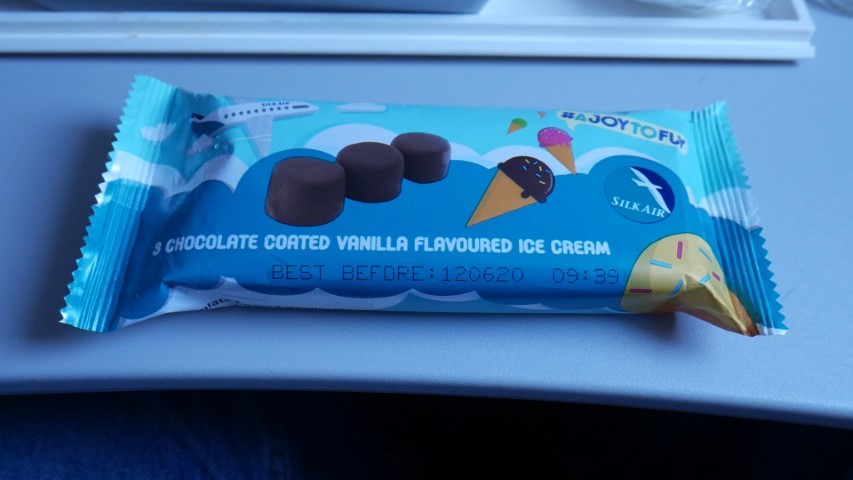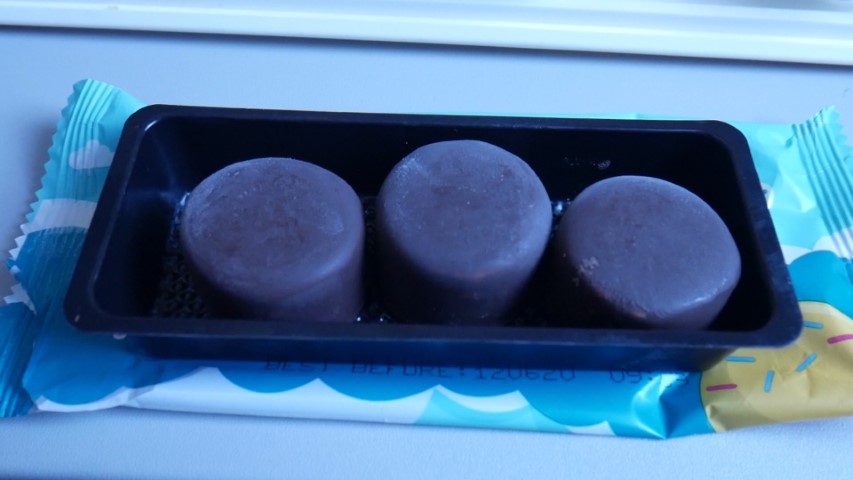 Entertainment on Silk Air A320
There are no entertainment screens on this Silk Air flight. You can stream the Silkair entertainment through your mobile phone or tablet device but you need to download the Silkair Studio Entertainment app first. I didn't realise this until I was in the air, too late to download the app.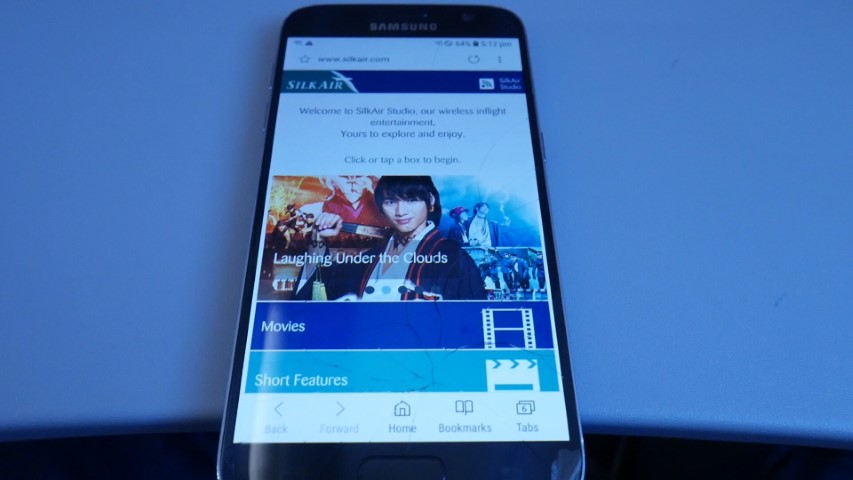 Frequent Flyer Points
You can earn Frequent Flyer Points with the Singapore Airlines KrisFlyer program on Silk Air. For this flight I only earned 0.5 point for every mile flown. I could have purchased a more expensive ticket to get 1 point per mile but I didn't want to spend the extra money to buy points.
Final Thoughts on This Flight
The only other option to fly from Singapore direct to Phnom Penh is onboard Jetstar which is a budget airline. I was quite disappointed with the food on Silk Air but I know I would be paying alot for the food on Jetstar and I don't think it would be any better. I would fly Jetstar next time and just have a meal at Changi Airport before I get on the plane. This is only a 1 hour 45 minute plane. I would rather not have a meal than eat ordinary food.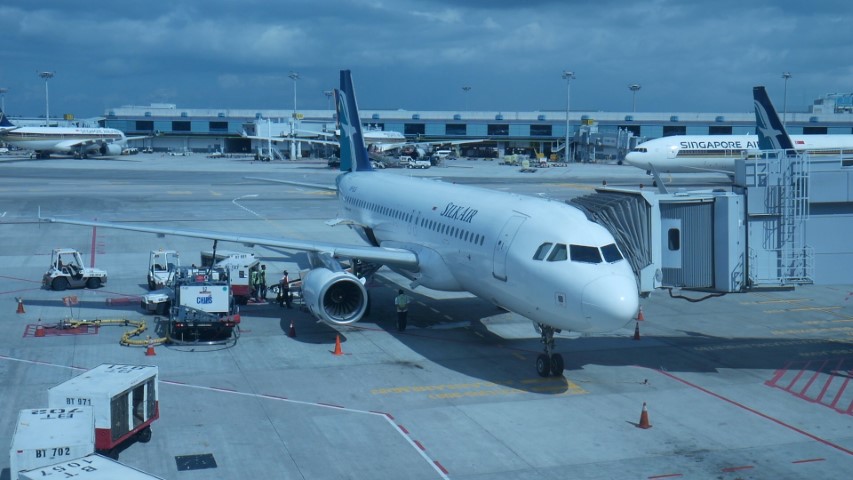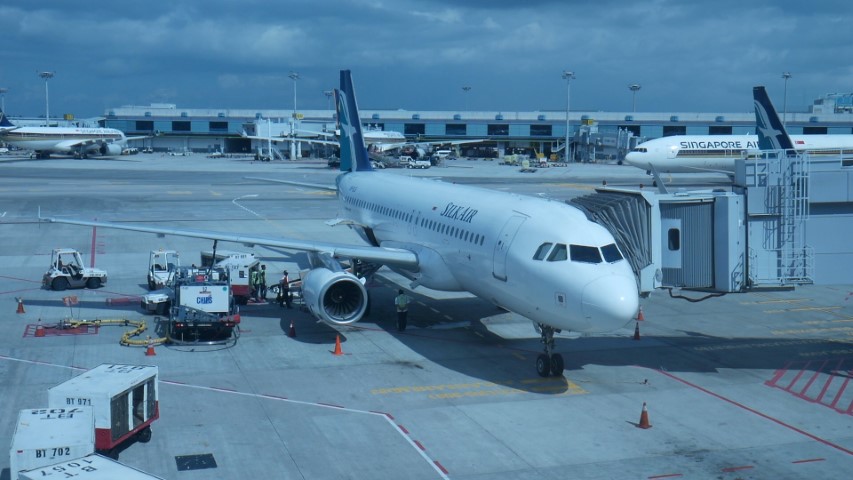 You can book flights on Silk Air via the Singapore Airlines website.