Funny Signs in Bangkok Thailand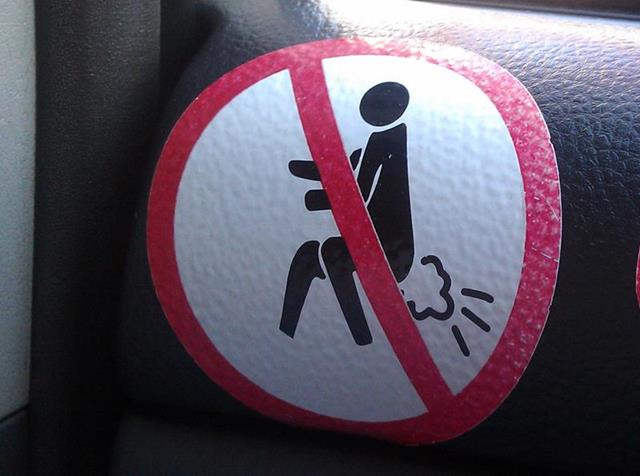 When visiting Bangkok Thailand, you will come across some very strange and some very funny signs. Here are some of the funny signs I saw in Bangkok and other parts of Thailand earlier this year:
I saw this sign in a few taxis in Bangkok. It is funny that you have to put a sign up to stop people farting! So the questions is, if a taxi doesn't have this sign, is it OK to fart? This sign is usually side by side with the no smoking sign.
Here is another funny sign seen in a taxi in Bangkok. Again do you really need to tell people not to have sex in a taxi? Can people in Bangkok not wait until they get back home or back to their hotel before they start humping? In a taxi? Really?
This next sign was seen in the men's toilets in a bar in Nana Entertainment Plaza, one of the red light districts of Bangkok. Some good advice! I guess they have problems with the toilets getting clogged by cigarette butts so a nice funny approach to the problem.
Another sign against having sex in public. Again do people really want to have sex in a public toilet? The sign now reads a 20 baht fine for having sex in the toilets. That's around 60 cents US. I think the sign used to read 2000 fine which is around US$60 fine. People, come on! You get get a nice hotel room for $60 in Thailand!