Highlights of Langkawi Island Malaysia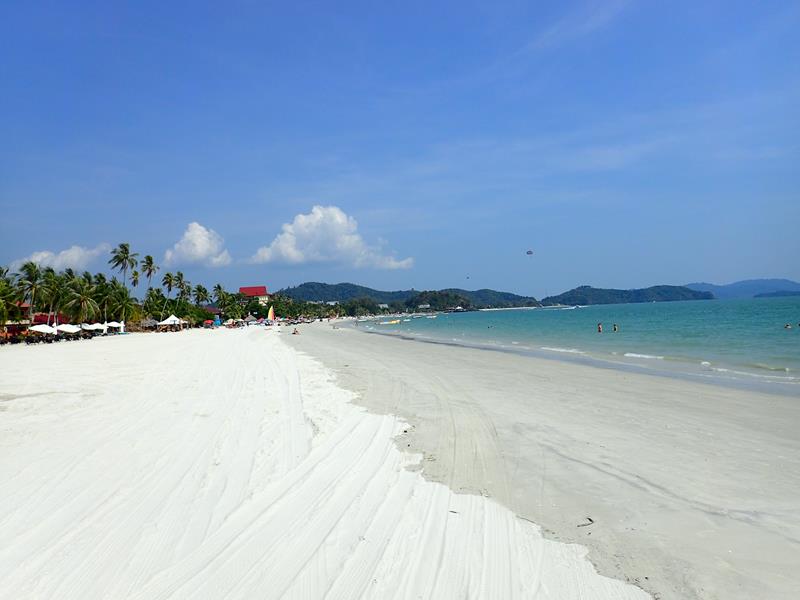 Langkawi Island is located off the north west coast of Malaysia, close to the border of Thailand. Langkawi actually means Eagle Rock in Malay (Lang = eagle and Kawi is a large rock).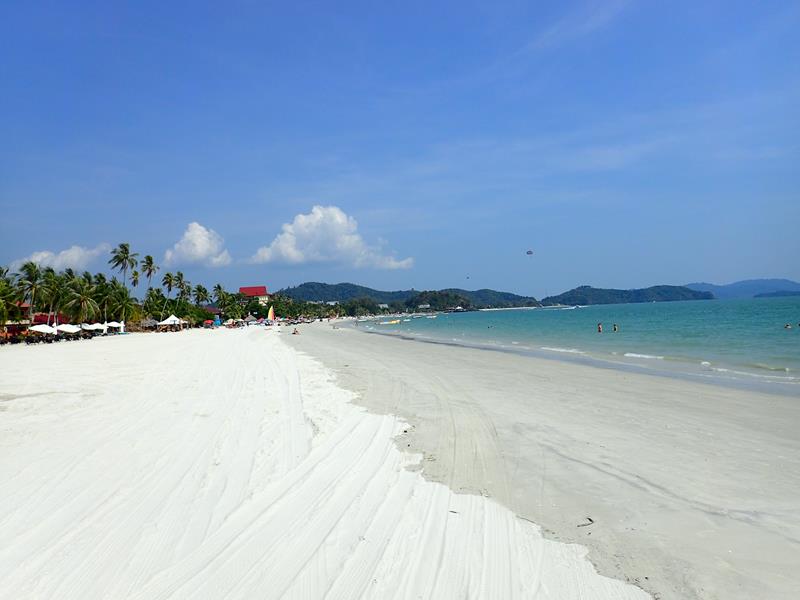 Langkawi is a very tranquil island which is perfect for a nice relaxing beach holiday for families, couples or singles wanting to get away from the stresses of life.
One of the best things about Langkawi are the prices. Things here are cheap, really cheap. Restaurants and bars are reasonably priced so it doesn't cost a fortune to go out to dinner
Cenang Beach Langkawi
Cenang Beach (Pantai Cenang) is the main tourist beach town on Langkawi. Cenang Beach has the highest number of hotels and beach resorts and is one of the largest and prettiest beaches on Langkawi. There are heaps of water sports to choose from including kayaking, parasailing and jetskies.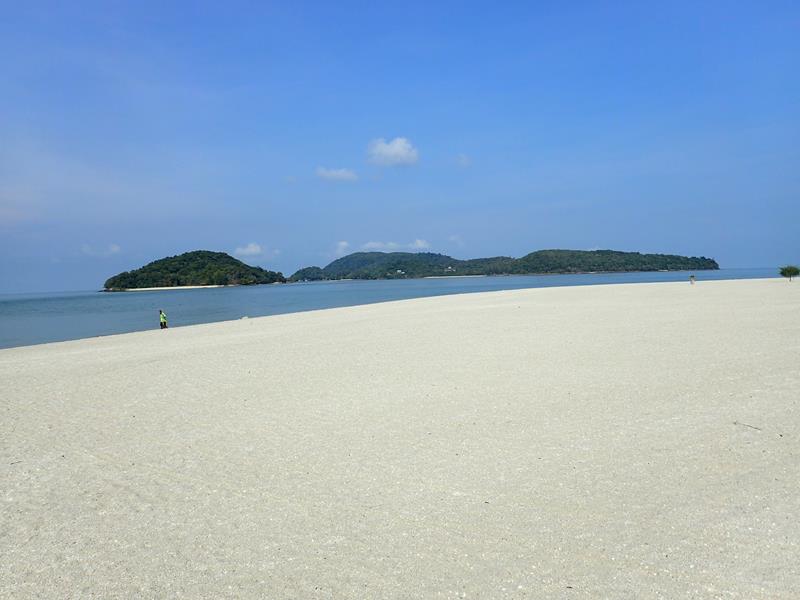 Underwater World is one of the main tourist attractions in Cenang Beach. Underwater World is not huge but does have quite a good display of marine life. This is a perfect place to bring children to see the fish and aquatic life on display. There is a really good display of African Penguins and they have daily feeding at 11am and 2.45pm.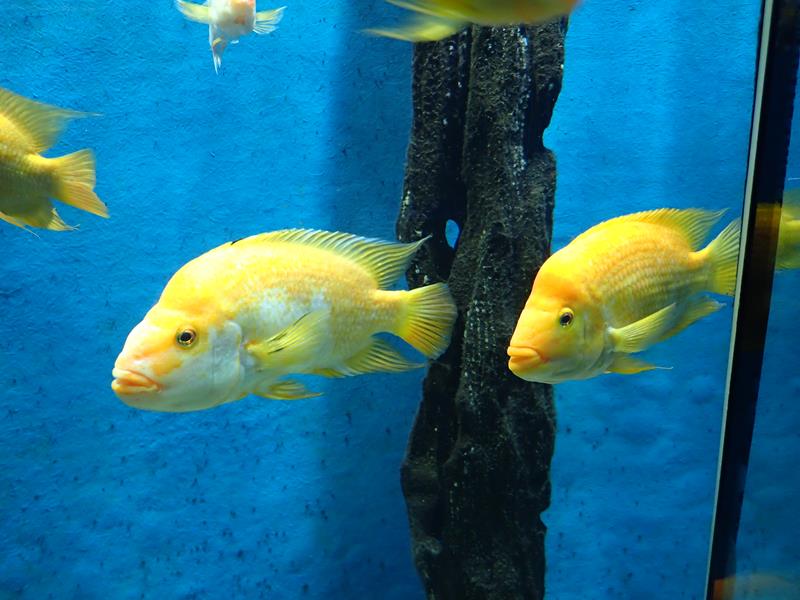 Entrance fee into Underwater World costs RM40 for adults, RM30 for children 3 – 12 years old. Underwater World is open 7 days a week from 10am – 6pm.
Restaurants in Ceneng Beach Langkawi
There are heaps of restaurants to choose from in Cenang Beach. There are lots of restaurants serving traditional Malaysian food and also a good number of restaurants serving international cuisine including Italian, Chinese, Indian and Middle East cuisine. Check out the best restaurants in Cenang Beach Langkawi
Cable Car – best views over Langkawi
If you want to see the best views over Langkawi then head to the SkyCab which is around 25 minutes by car from Cenang Beach. The SkyCab is a cable car which takes you to the top of a mountain which has views over most of Langkawi Island. When you get out at the top you are 700 meters above sea level.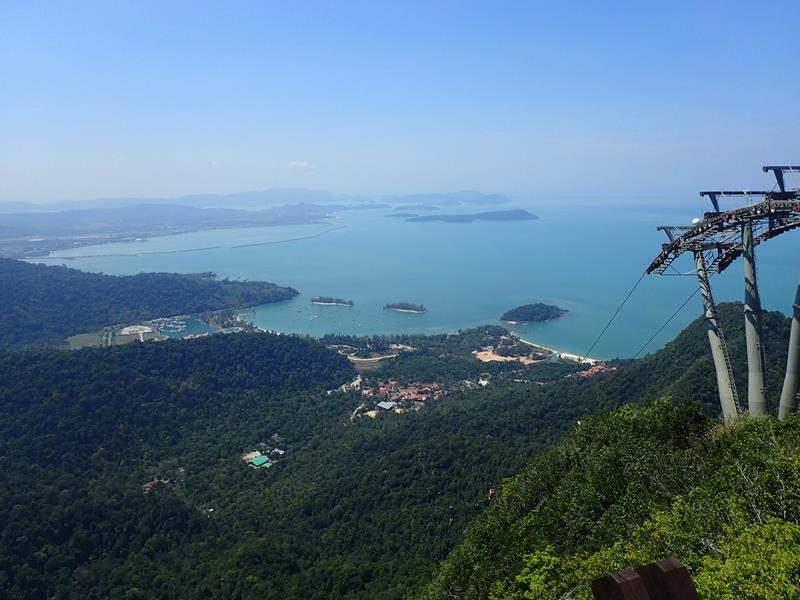 Right at the bottom, where you get onto the SkyCab is Oriental Village with  loads of restaurants and tourist shopping.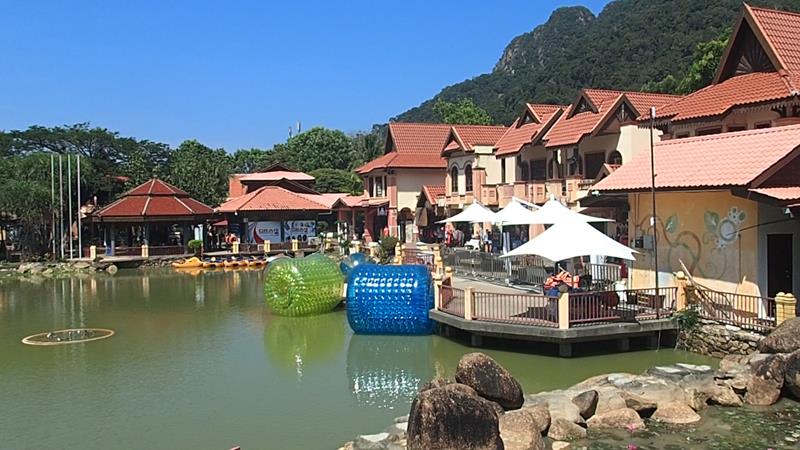 Seven Wells waterfall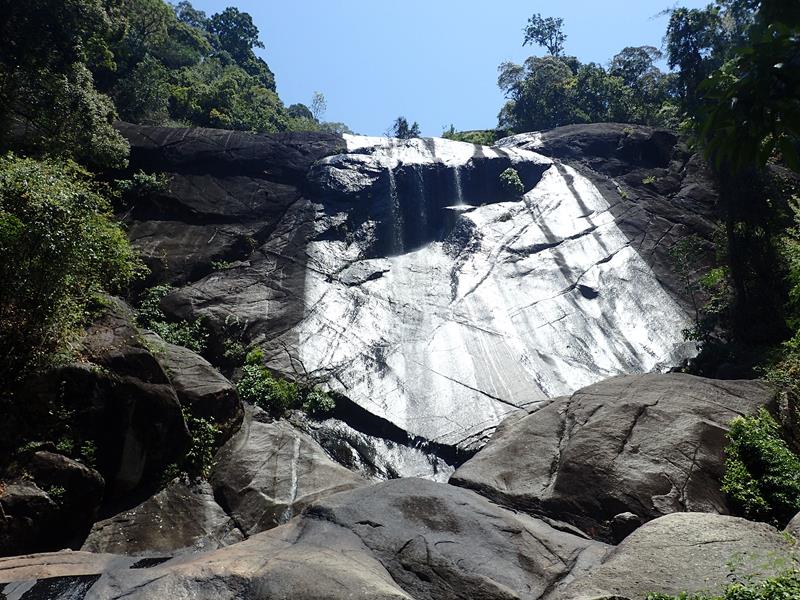 Just a few minutes drive from the cable car is Seven Wells (Telaga Tujuh) waterfall. The best time to see the waterfall is during the wet season when there is heaps of water falling. In the dry season the waterfall eases back to a trickle which is not so good to see (see pic above). Warning – from where you park your car there is a very step walk up a hill to get to the waterfall. It is probably a  10 minute walk up this steep hill then there is a slight incline to walk down to the waterfall. There is a nice pool of water at the bottom of the waterfall if you want to go swimming.
Scuba Diving in Langkawi
There is some very good scuba diving to be done in the waters around Langkawi Island. There are not so many dive shops to be found though there are a few that arrange dive trips. The best place to go scuba diving is in the Pulau Payar Marine Park which is around Payar Island which is 30 kilometers off the south east coast of Langkawi. A speedboat from Langkawi to Pulau Payar takes around 30 minutes.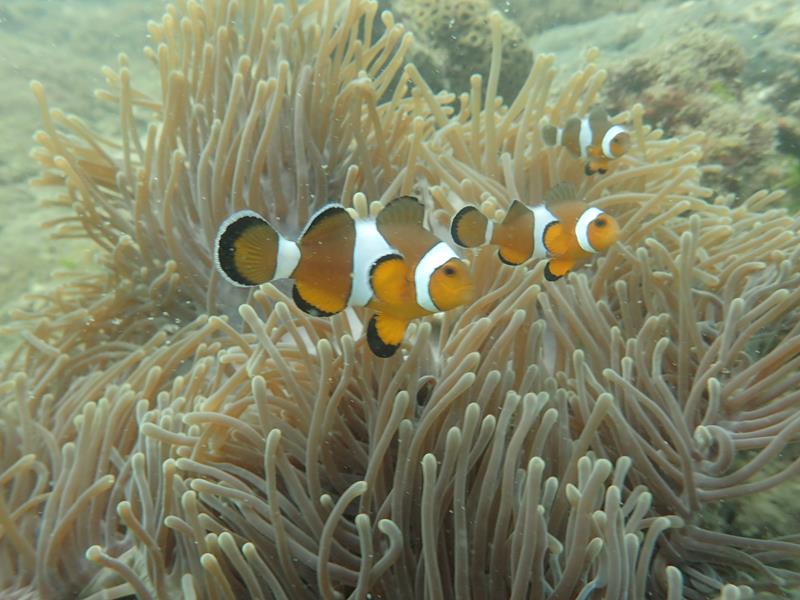 The marine life found in the waters around Pulau Payar include black tip reef sharks, turtles, clown fish, trigger fish, barracuda, lionfish, large Groupers, Moray eels, nudibranches, seahorses and a really good variety of hard and soft corals. If you are really lucky you may get to see Leopard Sharks. Between January and April, Whale Sharks pass by Pulau Payar. Water temperature in the Marine Park is usually around 29 degrees most of the year round. Visibility in the water varies throughout the year though most times the waters are crystal clear.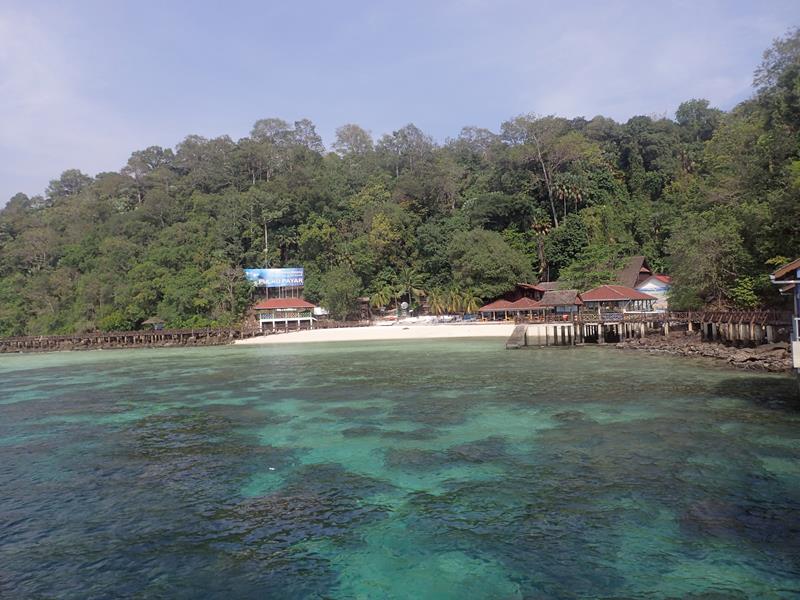 There is also some really good snorkelling to be done at Pulau Payar. Where the boat drops you off onto the island is a nice cove with a small beach. There is very clear water here with heaps of fish and you often get baby black tip sharks swimming around close to the beach.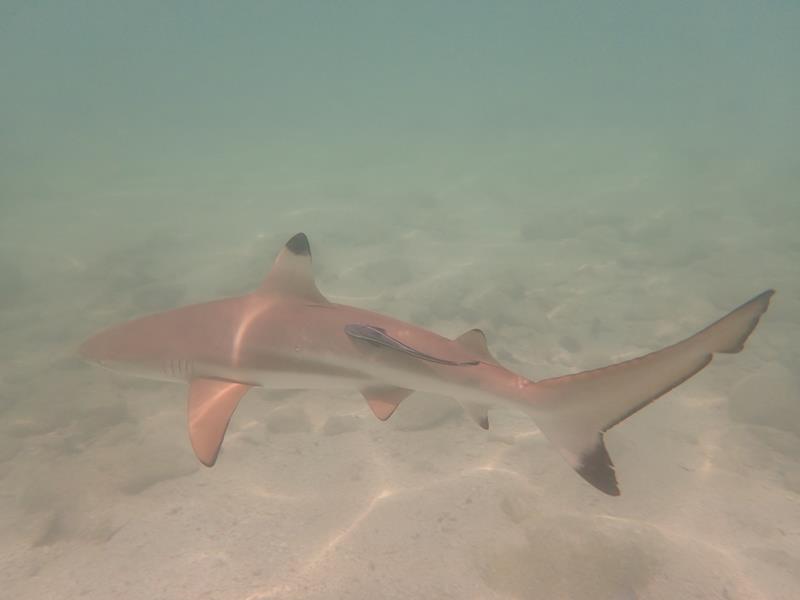 The best dive spots around Pulau Payar are Coral Garden located off the north coast of Pulau Payar and Shark Point which is located just off a small island east of Pulau Payar.
For dive trips check out East Marine who operate out of the Royal Langkawi Yacht Club in Kuah. As well as dive trips to Pulau Payar they offer PADI and SSI dive courses.
Other tourist attractions on Langkawi Island
Black Sand Beach is located on the other side of Langkawi Island from Cenang Beach. As the name suggests, Black Sand Beach has black sand (well dark coloured sand) produced from various minerals that flow down from springs in the mountains.
Langkawi Wildlife Park has various birds, mammals and reptiles on display including
Nightlife in Langkawi
There is some chilled out nightlife in Langkawi, don't expect wild nightclubs that have parties all night long. The main nightlife is found along Cenang Beach with laid back beach bars playing music.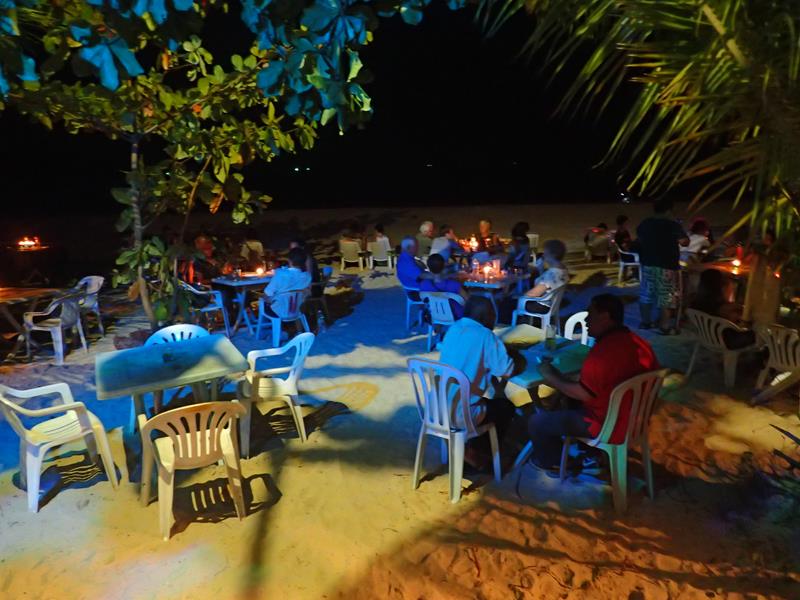 Check out the best bars in Langkawi
Hotels in Langkawi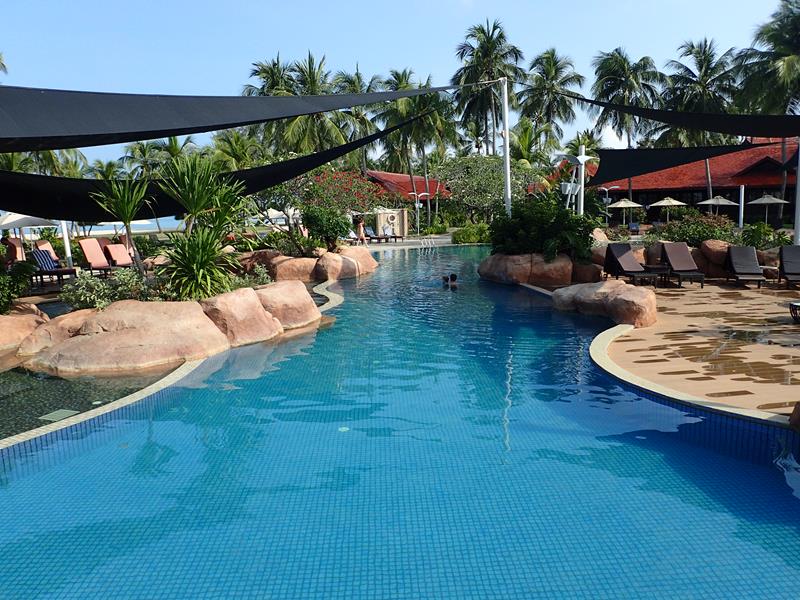 There are plenty of hotels on Langkawi Island to suit all budgets. I stayed at the Meritus Pelangi Beach Resort in Cenang Beach and can highly recommend it as a great resort for families, couples or singles. It has great facilities, comfortable rooms and all the staff are friendly. Check out more pics for Meritus Pelangi Beach Resort
Getting to Langkawi
There are direct flights to Langkawi from Kuala Lumpur, Penang and Singapore
Flying from Kuala Lumpur and Penang to Langkawi
Firefly flies direct from Sabang Airport in Kuala Lumpur and also from Penang to Langkawi.
AirAsia flies direct from Kuala Lumpur Interational Airport to Langkawi.
Malaysian Airlines flies direct from both KLIA and Subang Airport in KL to Langkawi.
Malindo Air flies direct from Subang Airport in Kuala Lumpur to Langkawi.
JAL, American Airlines, Etihad Airways, Myanmar Airways and KLM also have connecting flights through Kuala Lumpur to Langkawi.
Flying from Singapore to Langkawi
AirAsia flies direct from Singapore and Penang to Langkawi
Silkair has direct flights from Singapore to Langkawi every 2nd day.
Check out more travel articles about Malaysia