Koh Kood Thailand – Tropical Island Paradise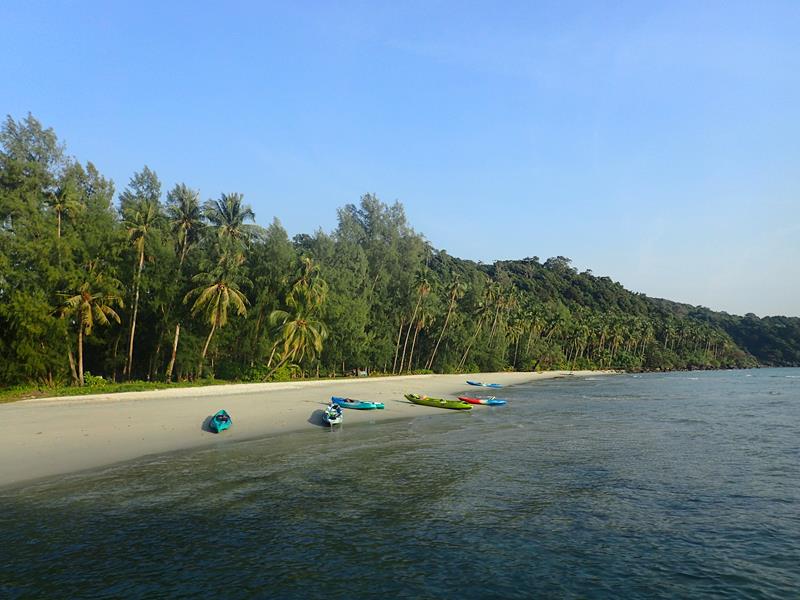 Koh Kood (sometimes written Ko Kut) is located within the Trat region of Thailand which is right on the border of Cambodia. Koh Kood is the last inhabited Thai island before you cross the border into Cambodia. With less people visiting the island and the majority of the island covered with National Park land, Koh Kood is still an amazing tropical island paradise. The waters off Koh Kood are crystal clear most of the year and an average water temperature of around 26 – 28 degrees celcius which make it perfect for so many different types of water sports like snorkeling, scuba diving, kite surfing, wind surfing, kayaking and swimming.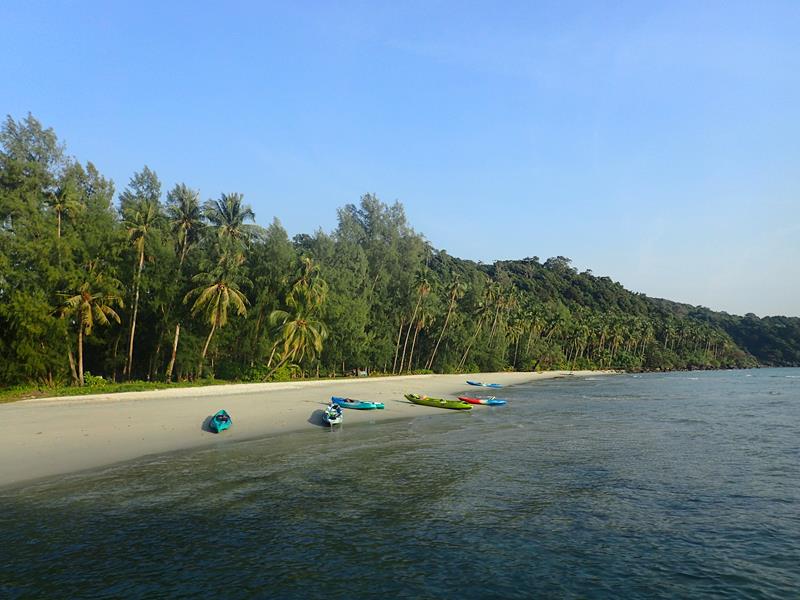 Alot less visited than the well known island in Thailand like Koh Samui, Phuket, Koh Phi Phi, Koh Tao, there are lots of secluded beaches and coves where you can explore the island with no other tourists in sight. Koh Kood has some of the softest and whitest sands of all the Thai islands.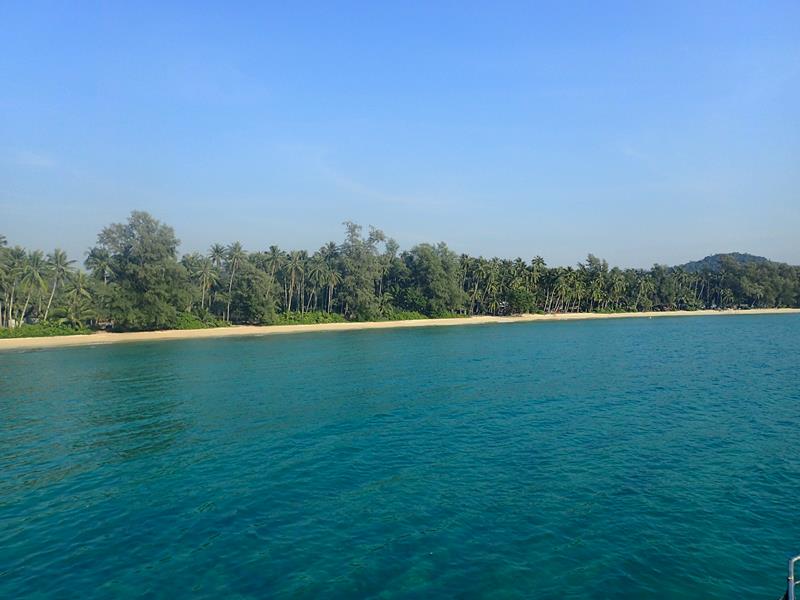 Activities on Koh Kood
Snorkeling and Scuba Diving are 2 of the most popular water sports around Koh Kood. You can organise a boat trip to take you snorkeling or scuba diving. Most of these boat trips take you across to Koh Rang or Koh Chang where there are Marine parks with plenty of fish and hard and soft coral to see. A speed boat from Koh Kood to Koh Rang takes around 30 minutes, to Koh Chang is around 45 minutes. There are still plenty of great places to snorkel around Koh Kood and many can be accessed from the resorts or off the beaches. At the ends of most beaches on Koh Kood are rocky outcrops which are excellent areas for snorkeling.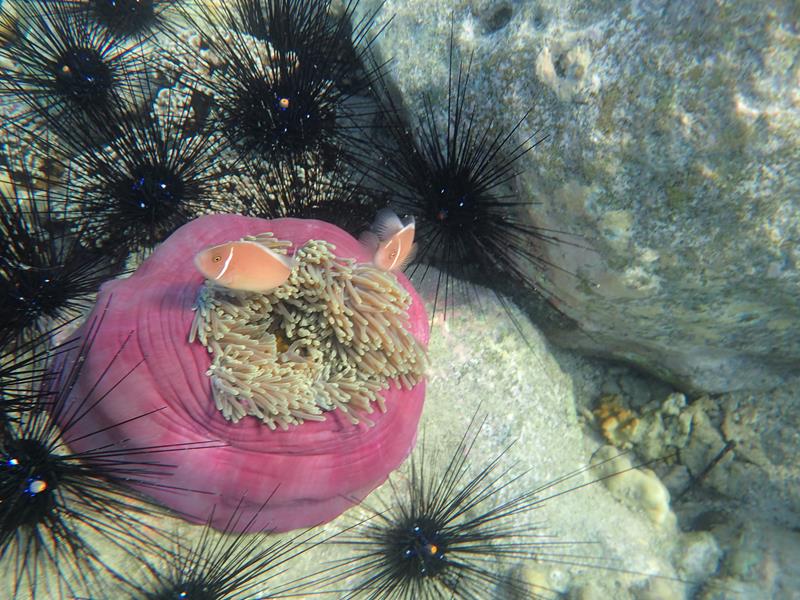 Scuba Diving Koh Kood
There is some awesome scuba diving sites all around Koh Kood. The 2 main dive shops on Koh Kood are BB Divers which have a dive shop in the main town Khlong Chao as well as a small dive shop right next to Siam Beach Resort on Bang Bao Beach. They organise dive trips around Koh Kood as well as to Koh Rang. BB Divers are a certified PADI dive centre and as well as organise dive trips you can also complete any of the PADI dive courses including the Open Water and Advanced Open Water dive courses.
Koh Kood Divers has dive shop at Bang Bao Beach, a short walk around the bay from Siam Beach Resort. Koh Kood Divers is also a certified PADI dive centre offering scuba diving trips and PADI dive courses.
At different times of the year wind surfing and kite surfing are quite good off the shores of Koh Kood. Surfing is not so good on Koh Kood so best to leave the surf board behind.
Wildlife on Koh Kood
Land Animals
The majority of Koh Kood is National Park lands so there are plenty of different animals to see in the forest and jungle on Koh Kood.
Marine life
Despite fishing in the area really impacting fish numbers in the seas around Thailand there is still lots of marine life living in the tropical reefs around Koh Kood.
Check out our video of Koh Kood
Money – Foreign Exchange and ATMs on Koh Kood
Make sure you stock up on cash before you come to Koh Kood. There are no ATMs on Koh Kood to withdrawer money. Most of the hotels and resorts offer foreign money exchange though they will charge you up to 5% for the exchange.
Hotels on Koh Kood
If you like sunsets, get accommodation on the western side of Koh Kood for the most amazing sunsets.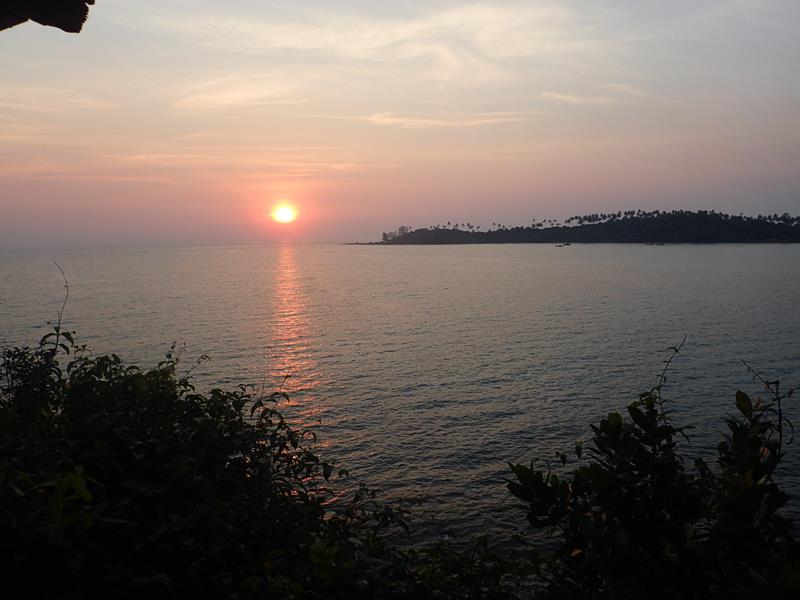 Most of the accommodation is rustic but very comfortable. Probably the best hotel to stay in is the Captain Hook Resort which is a secluded resort only accessible by boat. (see our review for Captain Hook Resort).
Hotels where I stayed:
During my 4 nights on Koh Kood I stayed at:
Captain Hook Resort which is an amazing, secluded resort with gorgeous rooms with private plunge pools over looking the ocean with amazing views of the sunset. See our review for Captain Hook Resort.
Siam Beach Resort is located on Bang Bao Beach and has some lovely rustic style bungalows all lined up just 20 meters from the beach front. Right next to Siam Beach Resort is BB Divers dive shop so if you want to go for some scuba diving or snorkeling trips this is a great resort to stay at. See our review for Siam Beach Resort.
See a full list of Koh Kood Hotels
Getting to Koh Kood
Coming by car/bus and ferry
It takes around 5.5 hours to drive from Bangkok to the ferry port in Trat region, sometimes longer when the traffic is worse than normal. It would take around the same amount of time coming from the capital city of Cambodia, or a bit less from Ankor Wat.
The ferry will take just under 2 hours when the water is calm. Ferries leave from the mainland direct to Koh Kood at 11am and 2pm daily. Check out the latest updated ferry schedule on these ferry company websites – http://www.boonsiriferry.com/en/ and http://www.kokutexpress.in.th/
Once you get to Koh Kood there are small utes that can take you on to your hotel through the road network within the island.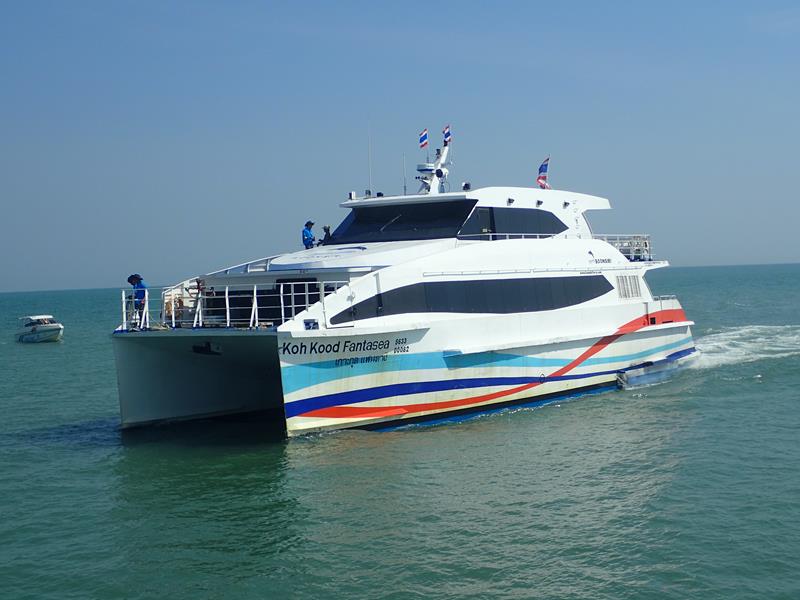 The sea conditions change throughout the year. In January, there is little wind and no swell on the ocean so the ferry across is nice and calm. (Post a note below if you can advise what the sea conditions are like in the other months).
Fly from Bangkok to Trat Airport
Bangkok Airways run flights between Bangkok and Trat Airport which is around 30km away from the ferry port to cross over to Koh Kood.