Nezu Shrine Tokyo Japan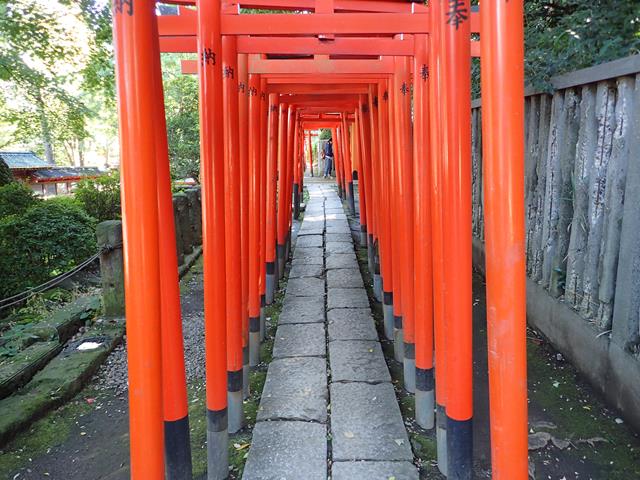 You probably will not read about Nezu Shrine (Nezu-jinja) in any of the Tokyo travel guide books. Nezu Shrine is not visited by many tourists though it is a very popular shrine for local Japanese people in Tokyo.
Nezu Shrine is a Shinto shrine which was first built in 1705 and remains today as an important place of worship. Every year there is an important festival, Azalea Festival (Tsutsuji Matsuri) which is held from early April until the beginning of May each year.
The Nezu Shrine is surrounded by beautiful Japanese gardens and a few smaller shrines including some Buddhist shrines. At the back of the main shrine are some stone steps that go up into a small hill with various shrines and a line of small Torii gates (these are the small gates that are the front of every Shinto Shrine.
At the front entrance to Nezu Shrine are some small shops selling some very nice Japanese gifts including bowls, chopsticks, sake glasses.
There is also some very nice old traditional Japanese wooden houses through the back streets around the shrines, wedged in between the large modern apartment buildings.
Nezu Shrine is located very close to Tokyo university so there are lots of students living in this area which translates to loads of small restaurants, cafes and small bars selling cheap food and drinks. Right next to Nezu Shrine is the Nippon Medical School – Graduate school.
Nezu Shrine Festival
Each year there is a Matsuri festival held at Nezu Shrine called the Nezu Shrine Festival. This is a Shinto festival where small portable shrines are carried through the neighbour to bring good luck and fortune to the residents of the area. This is a colourful, noisy event which should be experienced while visiting Tokyo.
The Nezu Shrine Festival is being held this year on Saturday 16th September 2017 and Sunday 17th September 2017.
How to get to Nezu Shrine Tokyo
Nezu Shrine is located not far from Central Tokyo. The shrine is located only 320 meters from Nezu station which is located on the Tokyo Metro Chiyoda Line. From Shinjuku it should only take around 25 minutes to get the Nezu Shrine. There are many subway lines that intersect with the Chiyoda Line. If you catch the Marunouchi Subway line from Shinjuku station (heading towards Ikebukuro) you can change at Kokkai-Gijidō-mae station or Kasumigaseki station where you can change trains to the Chiyoda Line.
At Nezu Station take the Nezu Crossing exit and turn left at the top of the stairs. There is a sign at the exit saying Nezu Shine is 320 meters away. Turn left at the 3rd street where the Hedge Eight Cafe is. It is then only a short walk to the front entrance to Nezu Shrine. If you miss this turn off you will hit a large traffic light intersection and you will see a sign saying 90 meters to Nezu Shrine. This way takes you to the rear entrance to Nezu Shrine.
See the location of Nezu Shrine on Google Maps