Hidden Gem – Cochin Nivas Indian Restaurant Nishi-Shinjuku Tokyo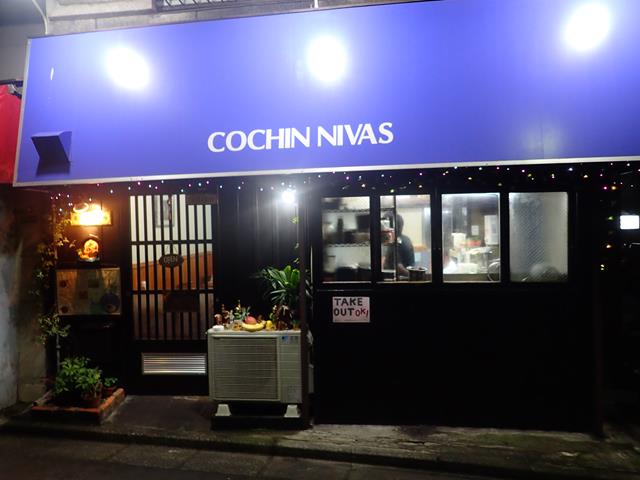 Cochin Nivas Indian Restaurant is located in the back streets of Nishi-Shinjuku (West Shinjuku), just a few blocks from all the huge skyscrapers, down a small laneway amongst a very suburban setting. Often it is these tucked away restaurants that serve the best food. Forget about the big glitzy restaurants on the main road, it is usually these small suburban restaurant that serves great quality food at very reasonable prices and Cochin Nivas is one of those restaurants.
Cochin Nivas Indian Restaurant is only tiny, enough seating to sit 12 people at a time, a real typical small Tokyo restaurant. There are 4 tables for 2 people and a counter for 4 people.
Serving up traditional Indian food, there are 2 Indian chefs in the tiny kitchen which you can see over the counter. There is a Japanese lady who takes the orders and serves up the food and drinks.
The menu is in Japanese but there are photos of the different Indian curries and they have some English titles like 'Chicken', 'Mutton' or 'Onion Cheese Pakora'. The Indian chefs speak English so they can answer any questions you have on the menu.
I went in for dinner on a Monday night and there were already 6 people inside dining. I sat at the counter and ordered the Onion and cheese Pakora, a chicken curry and a chipati flat bread. I also knocked back a few beers and the total price came to around 3000 Yen.
Now this place is a real hidden gem! I am going to give you the instructions on how to get there but please don't tell anyone! I don't want to have to queue to wait to get a seat next time I visit!
From the Hilton Hotel / Hyatt Regency Hotel in Nishi-Shinjuku, walk away from the Skycrapers, along the main road past the Shinjuku Chuo Park on your left (Shinjuku Central Park). Once you get to the far corner of the park cross over the large intersection at the traffic lights. Keep going straight and at the 24 hour McDonalds turn to the right down the small laneway (right on the corner of McDonalds). Walk to the next small intersection and you have found Cochin Nivas Indian Restaurant.
Cochin Nivas Indian Restaurant also offer take away food. The food is prepared really quickly.
Check out the location of Cochin Nivas Indian Restaurant on Google Maps:
Cochin Nivas Indian Restaurant
5-9-17 Nishi Shinjuku Gochome
Tokyo
Ph: (03) 5388 4150
Open for lunch: 11.30am – 2pm
Dinner: 5.30pm – 9.30pm
Check out the most popular articles about Shinjuku Tokyo
[do_widget id=wpp-5]