Koh Chang Thailand – Elephant Island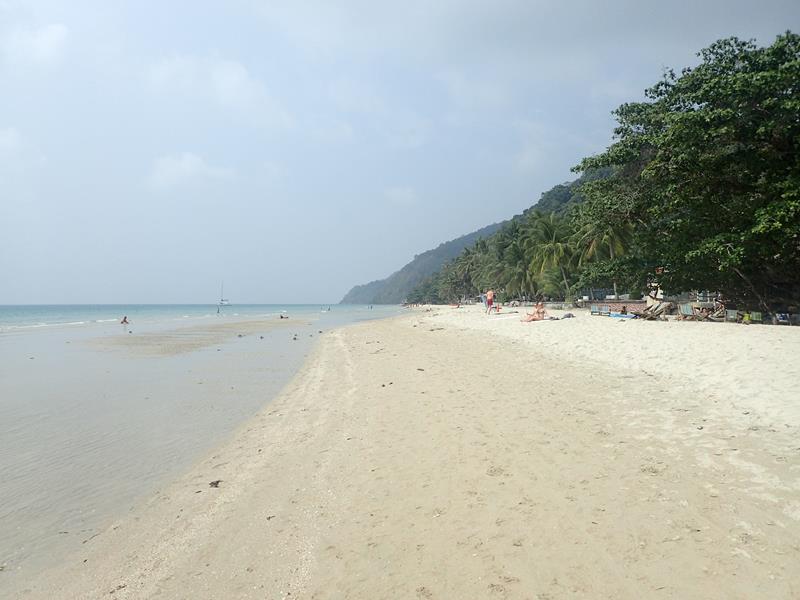 Koh Chang (Elephant Island) is located in the eastern part of the Gulf of Thailand, not far from the border with Cambodia. The second largest Thai island, after Phuket, being more remote and less visited, the island is cleaner and more beautiful than both Phuket and Koh Samui.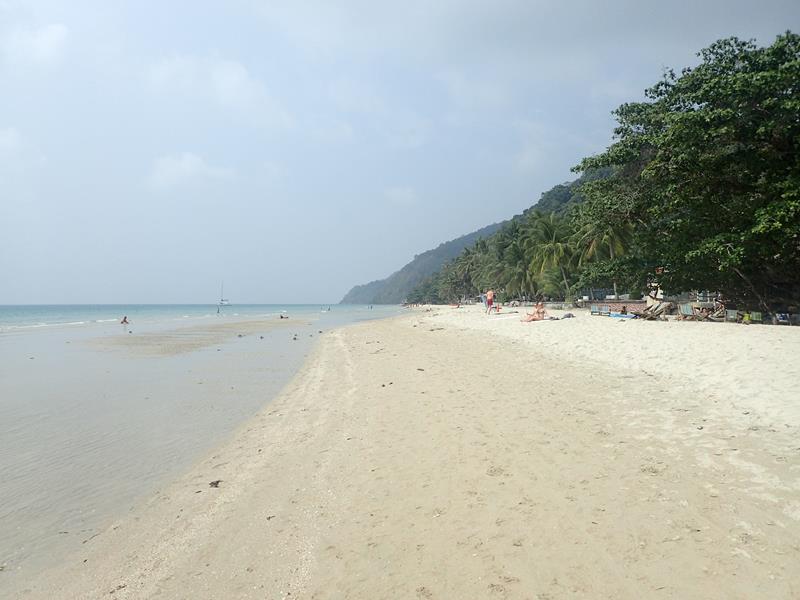 The majority of Koh Chang is covered in thick jungle and mountainous area. While the sea around Koh Chang is a National Marine Park so the marine life is protected (although fishing still occurs off the coast of Koh Chang). If you stay on the western side of the island (White Sand Beach ) then you can enjoy some lovely sunsets over the ocean.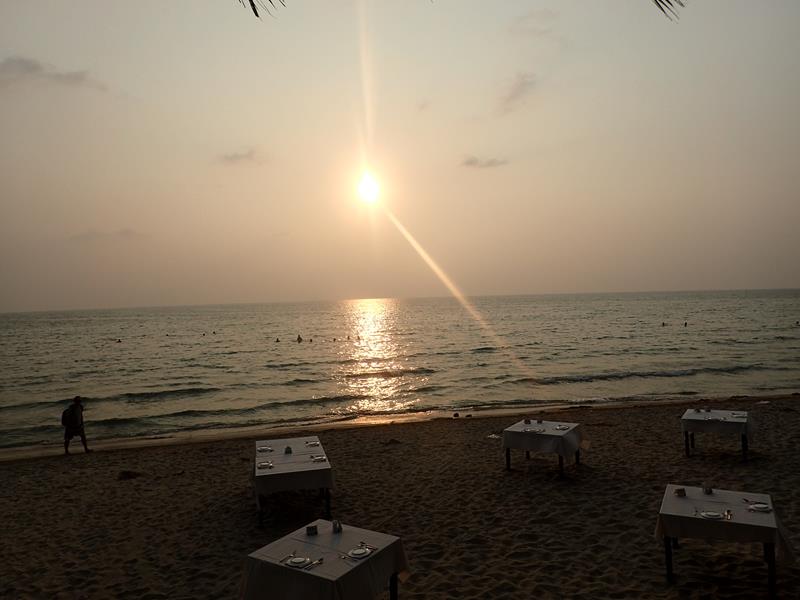 Activities on Koh Chang
Scuba diving and snorkeling Koh Chang
There are plenty of beautiful tropical reefs off the coast of Koh Chang with clear, warm water, making Koh Chang an excellent destination for both snorkeling or scuba diving. There are plenty of dive shops renting out scuba dive equipment and organising scuba and snorkeling trips.
The 2 must dive locations around Koh Chang are the Hin Luk Bat and the HTMS Chang shipwreck. Hin Luk Bat is a reef around 1 kilometer off the southwest coast of Koh Chang. With a small rock pinnacle that juts out of the water, there is a great variety of hard and soft corals around the rock. There is also a diverse range of small and large fish varieties. There is also a good chance of seeing turtles at this dive site. With a maximum depth of around 16 meters it is a perfect dive site for beginner divers. Plenty to see so good for advanced divers too.
See our video of Scuba Diving Hin Luk Bat reef
https://www.youtube.com/watch?v=Y-x5P11EHYA&feature=youtu.be
HTMS Chang shipwreck is another 1 kilometer out to sea from Hin Luk Bat. HTMS Chang was originally a US navy transport ship which was leased to the Thai navy. At the end of it's use by date, rather than transporting back to the US, they stripped the ship and sank it off the coast of Koh Chang in 2012 to make an artificial reef. The bottom of the wreck lays at around 30 meters under water, the deck at around 22 meters and the observation tower sits at around 5 meters deep. As the most interesting sites of the ship are at around 22 meters then this site is for Advance Open Water divers.
See our video of Scuba Diving HTMS Chang shipwreck
https://www.youtube.com/watch?v=A1RUI3leayM
There are loads of certified PADI scuba diving schools / shops around Koh Chang island. I can recommend BB Divers which have an office in White Sand Beach. They have a large dive boat that does boat trips to the dive sites off Koh Chang as well as to Koh Rang.
For a more private diving experience contact Sacha at Dolphin Divers. He has a large speedboat which can take 3 – 4 divers out quickly to the dive sites. I completed my Advance Open Water dive course with Sacha and highly recommend him as a friendly, patient and experienced instructor for scuba diving. Dolphin Divers have a dive shop at the Emerald Cove Resort (soon to become the Marriott Hotel).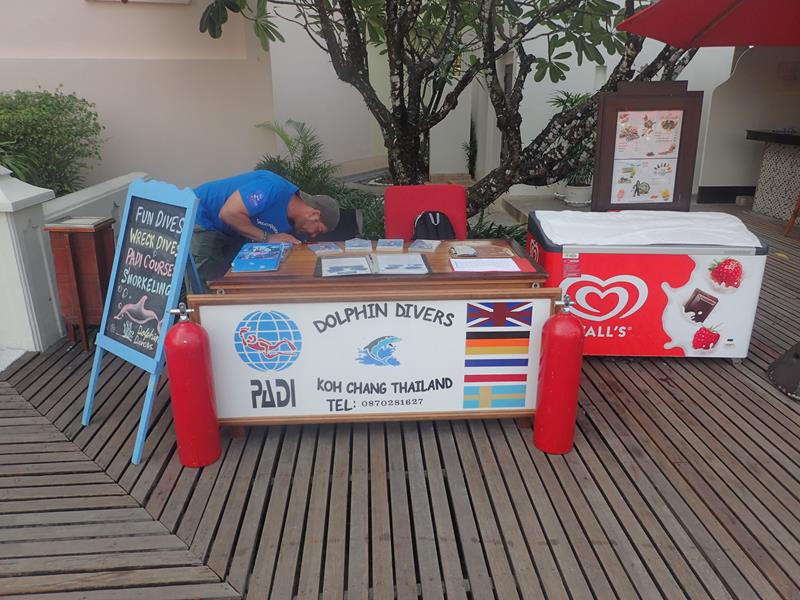 Elephant Trekking on Koh Chang
There are actually elephants on Koh Chang (Elephant Island). Though there are no wild elephants on Koh Chang, there are a few elephant camps that offer trekking on the back of the elephants. I am not a fan of riding elephants so I just visited this camp, bought a basket of bananas for 50 Baht and feed the baby elephant there.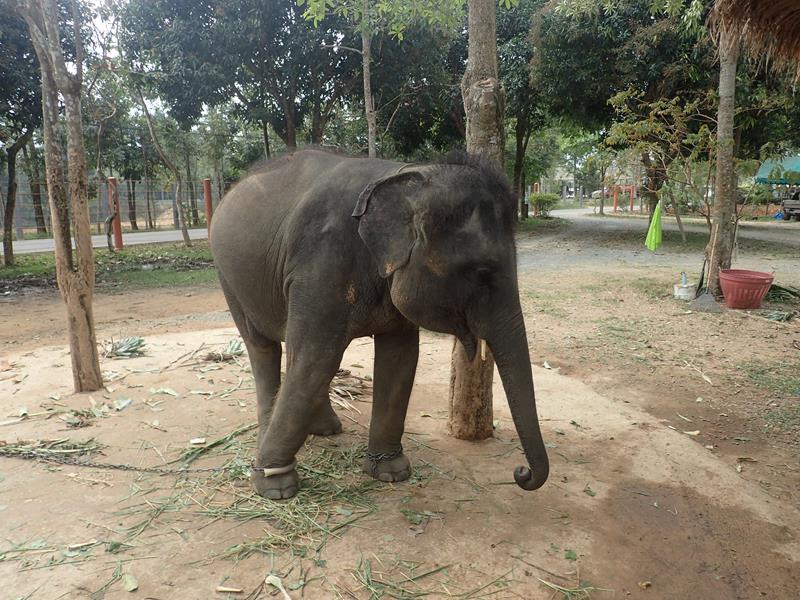 Thai cooking classes on Koh Chang
There are a number of cooking classes that teach you to cook some traditional Thai food. One of the nicer Thai cooking schools has the simple name of Koh Chang Thai Cooking school. For 1200 baht per person they teach you how to cook 6 different Thai dishes. They have classes which run in the morning from 9am – 1pm and classes in the afternoon that run from 3pm – 7pm. At the end of each class you get to sit down and eat what you cooked. Check out Koh Chang Thai Cooking School website.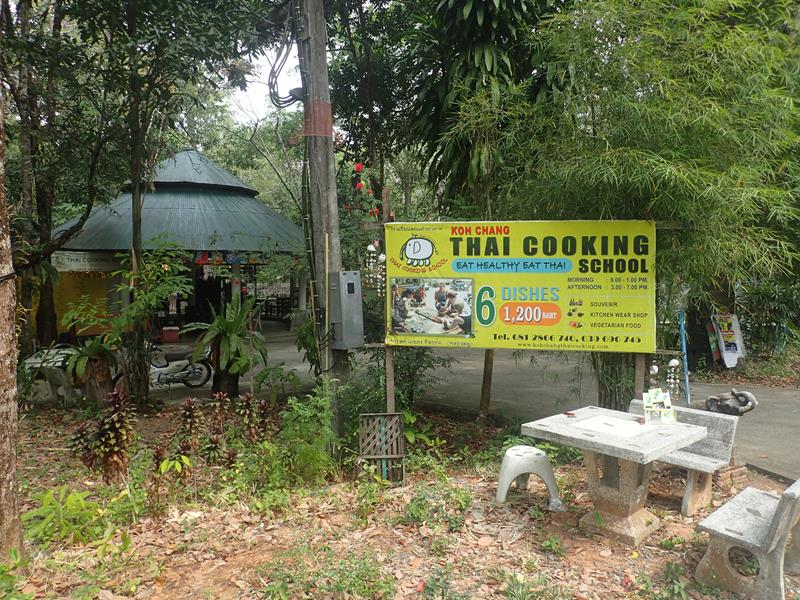 Sightseeing in Koh Chang
As well as the beautiful white sandy beaches along the coast of Koh Chang, the interior of the island has plenty of walking trails to explore the jungle. There are also some beautiful waterfalls to see along these paths. Khlong Phlu Waterfall is probably the most beautiful and easily accessible waterfalls on Koh Chang. Khlong Phlu waterfall is around a 20 minute walk through the forest which opens up to a lovely natural swimming pool at the bottom of the waterfall.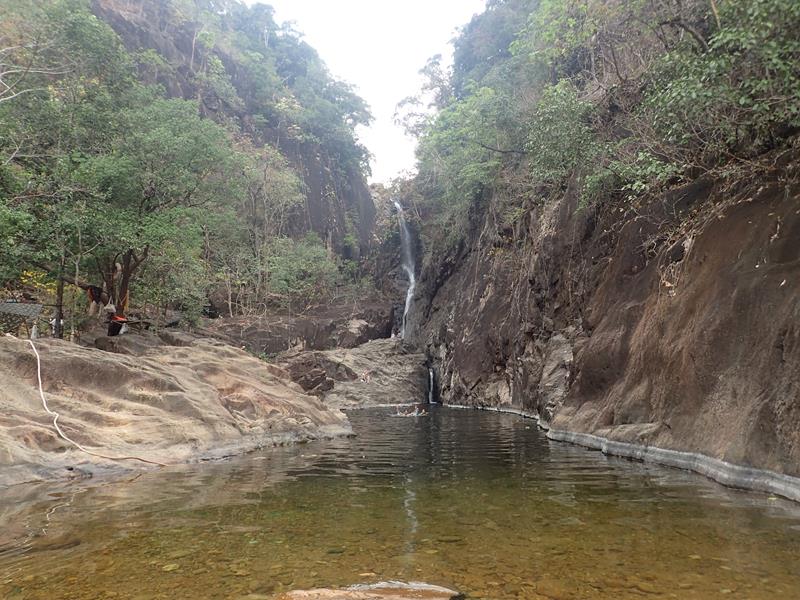 Close to the south western tip of the island, not from from Bang Bao, there is a lookout area which gives great views over some of the smaller islands just of the coast of Koh Chang.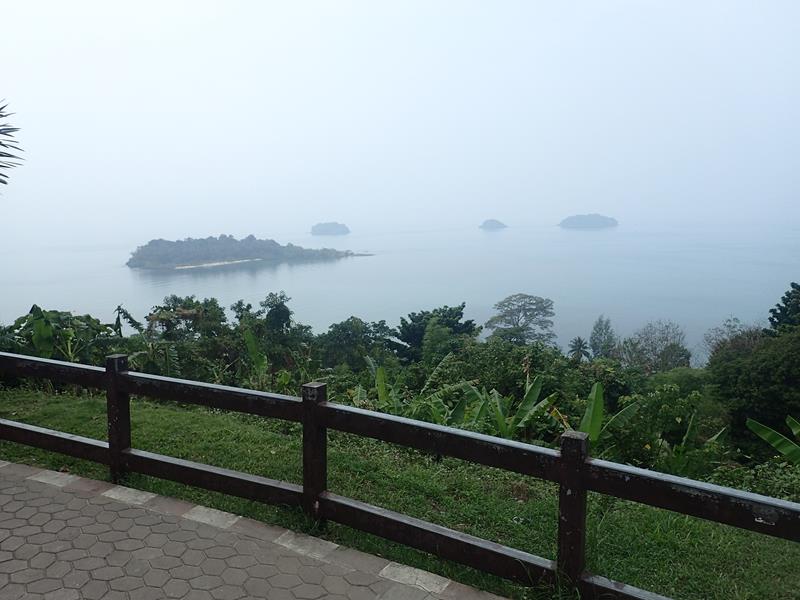 Getting to Koh Chang
From Bangkok it is around a 5 hour drive to the ferry port where you get on a car ferry (cars and bikes can be driven on and taken over to Koh Chang). The ferry ride from the mainland to Koh Chang takes around 40 minutes. There are regular ferries throughout the day to and from Koh Chang.
You can also fly from Bangkok to Trat airport and then it is around 35 kilometers from the airport to the ferry port. Check out Bangkok airways for flights from Bangkok to Trat.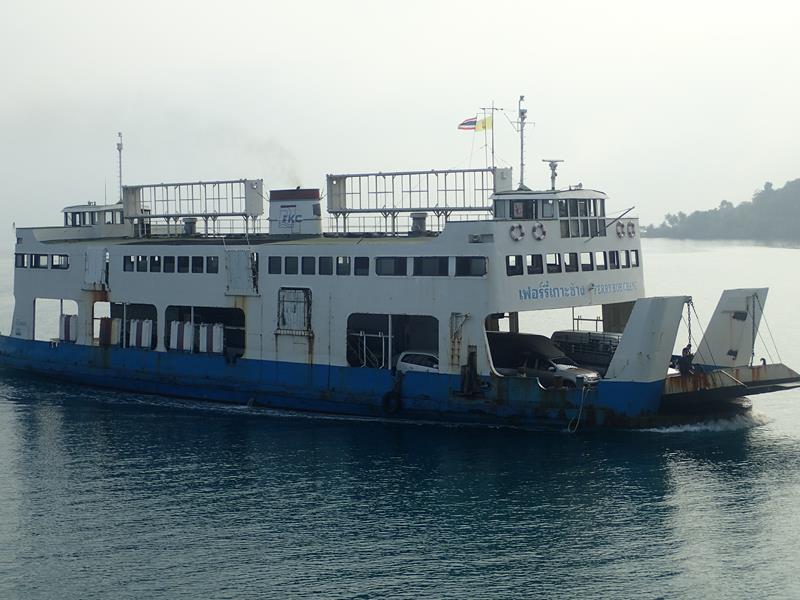 Hotels Koh Chang
There are plenty of nice beach side resorts in a few different areas of Koh Chang.
The busiest part of Koh Chang with the most amount of accommodation is White Sand Beach, which is in the northern part of the island around 20 minutes drive from the ferry port.
I stayed at K C Grande Resort which is one of the high end resorts on White Sand Beach Koh Chang. With a lovely swimming pool and a beautiful stretch of white sandy beach front out the front.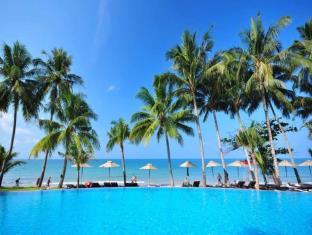 Other areas of Koh Chang that have accommodation include Lonely Beach, Klong Prao Beach, Kai Bae Beach and Bang Bao Bay (a lovely fishing village at the southern end of the island).
See a full list of hotels on Koh Chang
Also see our article about Koh Kood, the next island along from Koh Chang, more quiet and so much more beautiful. You can take a ferry direct from Koh Chang to Koh Kood which takes around 1.5 hours.