Best Rooftop Bars in Bangkok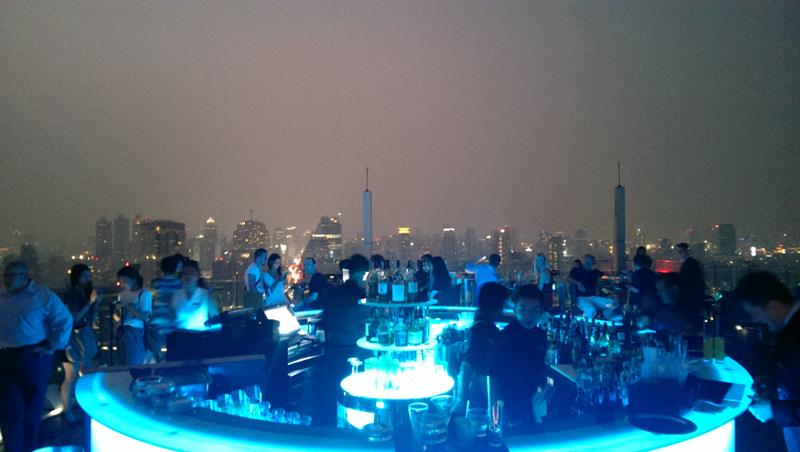 Bangkok claims the title of having the most rooftop bars compared with any other city in the world. And they do rooftop bars very well. More than 20 rooftop bars have opened throughout Bangkok in the last few years, offering great views over the Bangkok skyline. Perched on the top of the tallest buildings in Bangkok, these bars offer a classy environment, to sit back and enjoy a cocktail, glass of wine or a cold beer watching the sunset and then the amazing view of Bangkok at night. Most also have a restaurant offering fine dining with the best views of Bangkok.
So which of these bars are the best? Best views, nicest environment, great drinks and food. Here is our list of the best rooftops bars in Bangkok:
Vertigo Grill and Moon Bar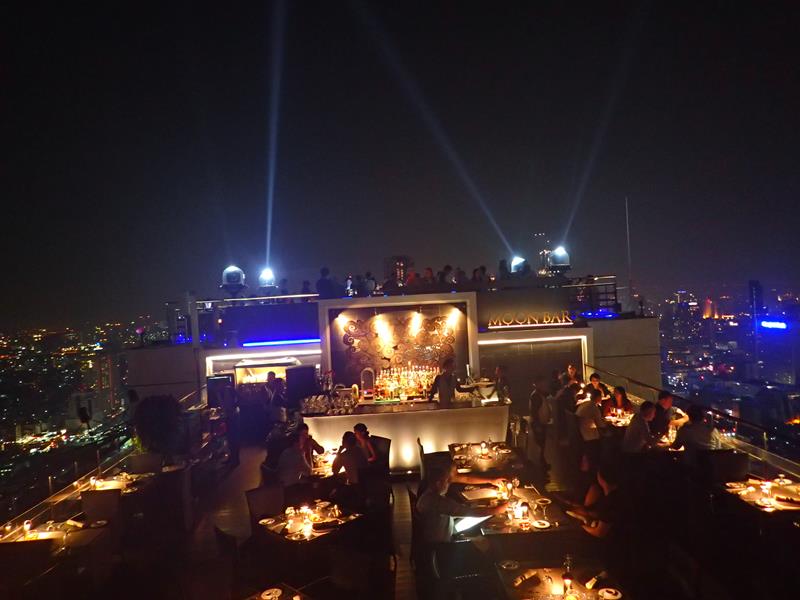 Vertigo Grill and Moon Bar hits the top of our list, as the best rooftop bar in Bangkok. Located on level 61 of the Banyan Tree Hotel in the heart of the financial district of Bangkok. The bar is located right at the end of the roof top with the rest of the roof taken up by the Vertigo Grill which is one of the best restaurants in Bangkok. Each table at Vertigo Grill has stunning views in all directions over Bangkok.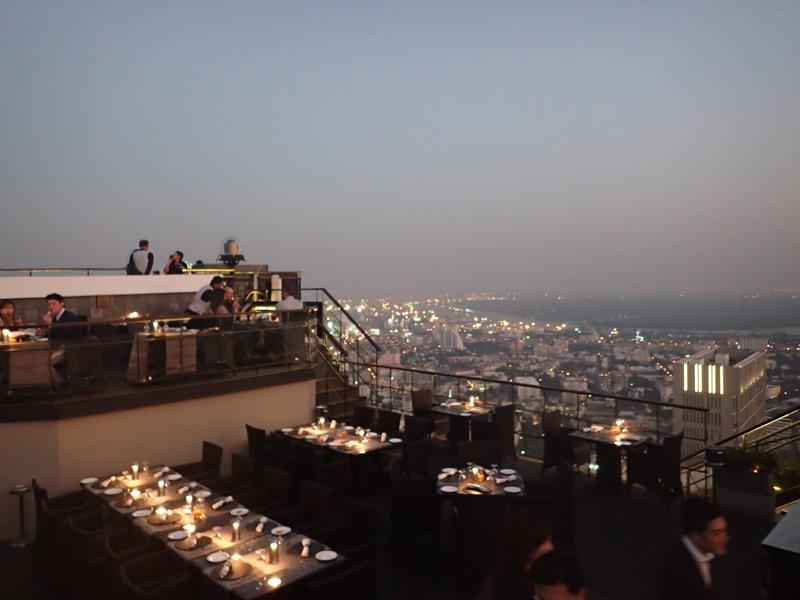 Not only is this a classy bar, the Vertigo Grill offers fine dining with the best view over Bangkok. Check out our review of Vertigo Grill.
Best time to get to Vertigo Grill and Moon Bar is when it first opens at 6pm, just before the sunset. Sitting at the bar you can enjoy the amazing sunsets over Bangkok.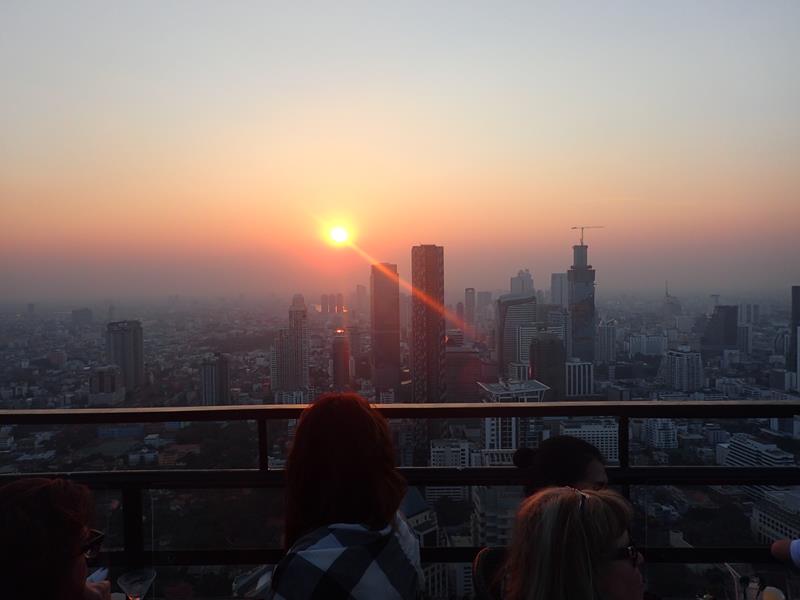 Check out the website for Vertigo Grill and Moon Bar.
Char Rooftop Bar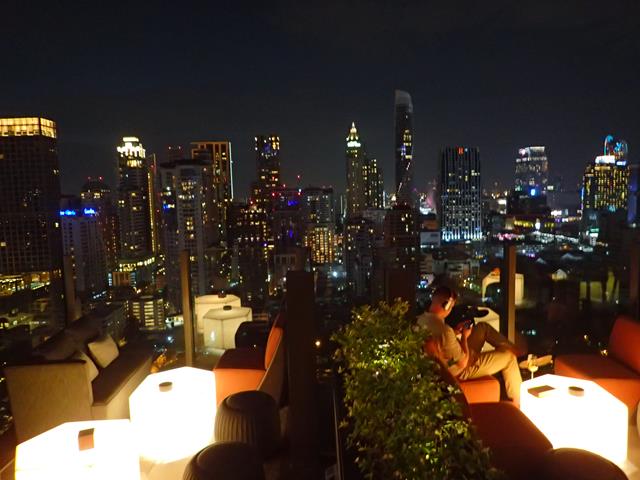 Char Rooftop Bar is one of the smallest rooftop bars but also one of my favourites. Located on Level 26 of the Indigo Hotel on Wireless Road in downtown Bangkok, Char Rooftop Bar has a good, comfy feeling with great friendly service from the bar staff. Being right in downtown Bangkok it is surrounded by many of the tall skyscrapers so has a great view to many of the tallest buildings in Bangkok.
With a great range of beers, wines and all your favourite cocktails, I highly recommend a visit to Char Rooftop Bar. There is also a great snack menu at the bar with food to be shared. Just 1 level down is the Char Restaurant which is a contemporary grill with a great range of steaks and seafood.
Check out more on Char Rooftop Bar
Red Sky Bar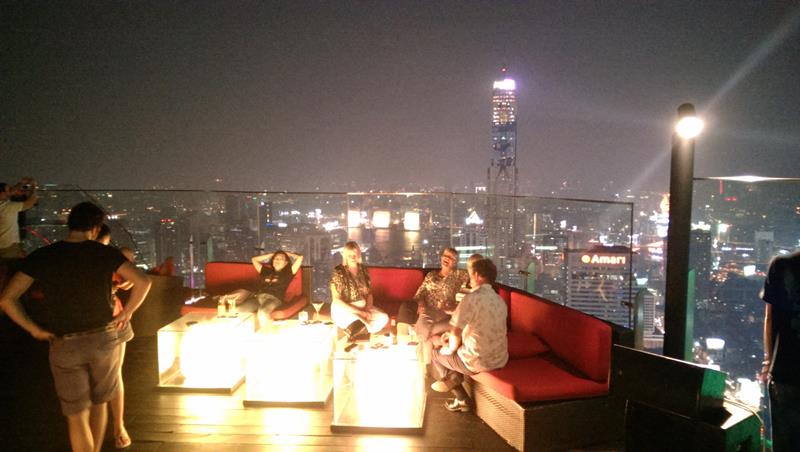 Red Sky Bar is located on level 55 of the Centara Grand Hotel, above the Central World Shopping Mall in the heart of Bangkok. Red Sky Bar loops around the entire building so you can walk around taking in every part of the Bangkok skyline. Just below the Red Sky Bar is the Red Sky Bistro which also has stunning views over Bangkok.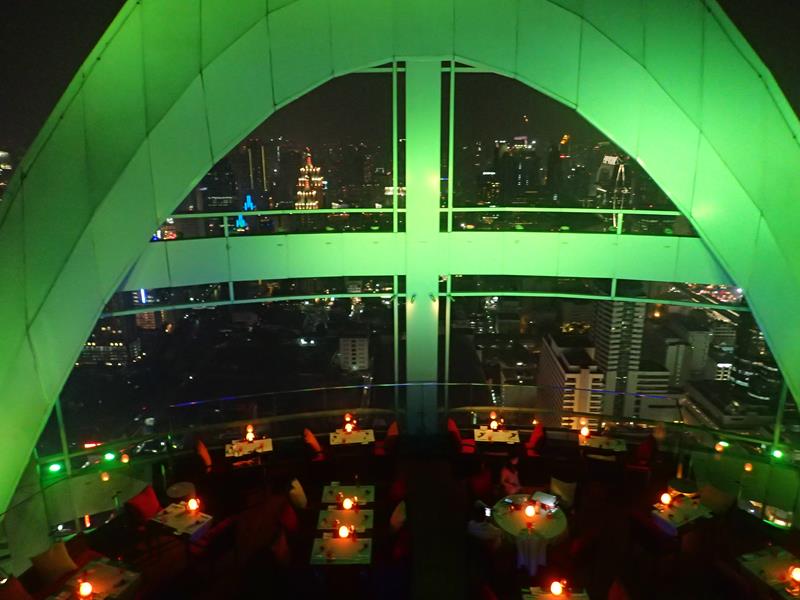 You are unable to make a reservation for a table at Red Sky Bar so it is best to get there early, around when it opens at 6pm. It gets very busy at Red Sky bar, especially Thursday, Friday and Saturday nights.
Read more about the Red Sky Rooftop Bar in Bangkok.
Cielo Sky Bar and Restaurant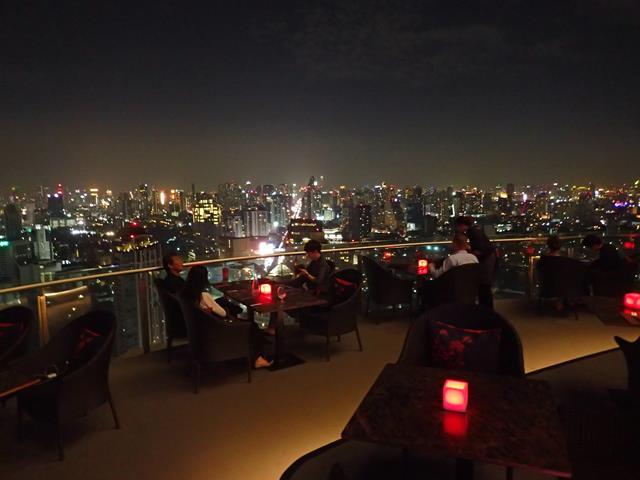 Cielo Sky Bar is located down Sukhumvit Road, outside of central Bangkok so this rooftop bar gives a totally different view then the other rooftop bars in Bangkok. Being a little bit outside of the city area gives a great perspective over all of Bangkok, seeing all the tall skyscrapers back into the city centre.
Cielo Sky Bar is still pretty easy to get to, just 3 minutes walk from Phra Khanong BTS Skytrain station.
As well as the excellent rooftop bar, a great selection of drinks and the amazing view, Cielo Sky Bar is also one of the best fine dining restaurants in Bangkok. With a delicious selection of Asian fusion food this is the place to come for a special occasion or if you are trying to impress that special someone 😉
Check out more about Cielo Sky Bar and Restaurant
Octave Rooftop Lounge and Bar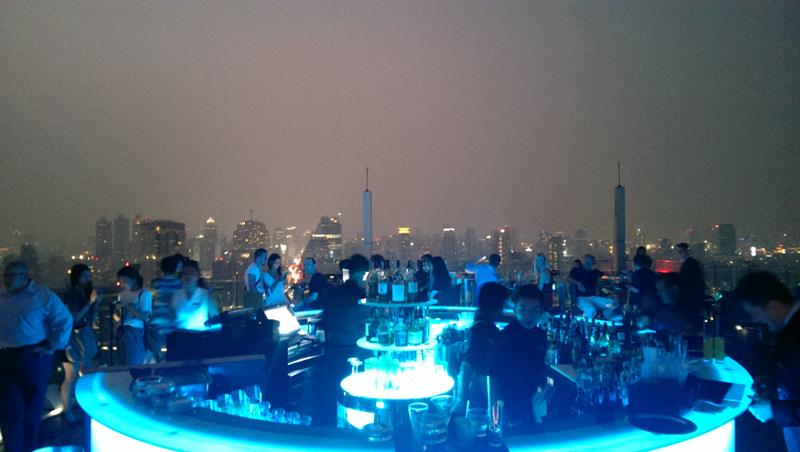 Octave Rooftop Lounge and Bar is located on level 45 of the Marriott Bangkok Hotel Sukhumvit. Octave actually has 3 levels of bar and dining area with the very top floor with a very impressive bar all light up in neon blue. The top level offers 360 degree views over the Bangkok skyline. At the top level you can only order drinks. The 2 levels below offer a snack menu and full dining menu.
The Marriott Bangkok Hotel Sukhumvit is referred to as Marriott 57 as is located next to Soi 57 off Sukhumvit Road. There are other Marriott hotels in Bangkok so if you are going by taxi make sure you say Marriott 57. I told my taxi driver Marriott Hotel and he took me to the JW Marriott Hotel. From there I ended up getting the sky train from Nana station to Thong Lo station (just 10 minutes on the Sky Train). The Marriott Bangkok Hotel Sukhumvit is just 2 minutes walk from Thong Lo Sky train station.
See more about Octave Rooftop Lounge and Bar
Sky Bar at Lebua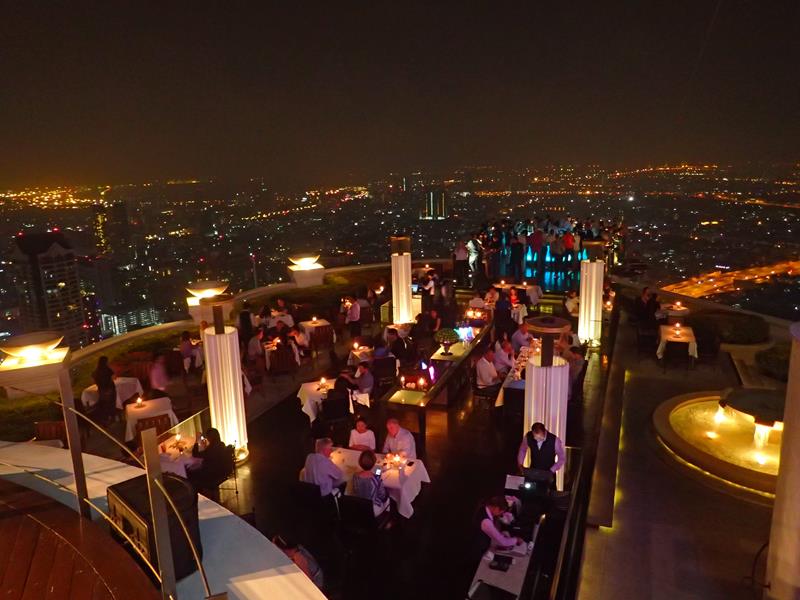 Made famous in the Hangover 2 movie, Sky Bar is located on the top of the Lebua State Tower building, down close to the Chao Phraya river. Sky Bar gets very busy as it is the most well known bar in Bangkok. It has great views over Bangkok, especially with views right down the river that snakes through Bangkok.
Next to Sky Bar is Siricco, one of the best restaurants (and most expensive) in Bangkok. It is best to make a reservation a few days in advance to save disappointment. There are 2 other restaurants in the Lebua building both offering impressive views over Bangkok. Check out Breeze Restaurant offering Asian fusion cuisine and Mezzaluna serving up European cuisine with Asian flavours.
I tried to make a reservation at Siricco on Friday to dine at 8.30pm on Friday night. They told me that Siricco was fully booked out but I could get a table at Breeze or Mezzaluna. I ended up dining at Breeze which is on level 52 of the Lebua State Tower building. When you first enter Breeze you cross over an amazing sky bridge which over looks the restaurant and out over Bangkok city. You then walk down some stairs to the restaurant level.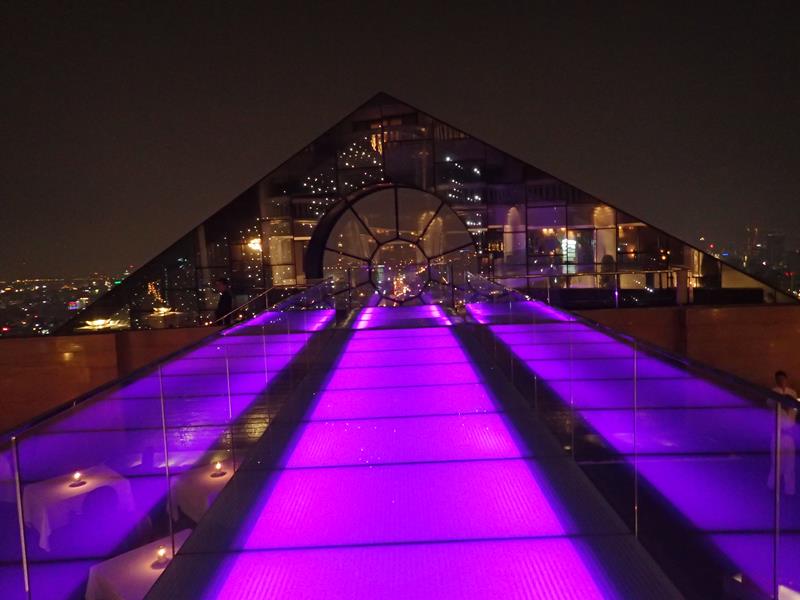 Each of the rooftop bars have dress codes of smart casual. No flip flops, sandals, shorts. Dress to impressive as these are classy bars in Bangkok and not just your cheap beer bar.
Check out the most popular articles about Bangkok on this site:
[do_widget id=wpp-4]