Fine dining with a view over Bangkok
Over the last few years more than 20 rooftop bars and restaurants have opened throughout Bangkok. Without a doubt the best of these is Vertigo Grill and Moon Bar located on the 61st Floor of the Banyan Tree Hotel located in the heart of the financial district of Bangkok.
The best time to go into Vertigo Grill and Moon Bar is when it first opens around 6pm, just before the sunset. You can sit at the bar area, enjoy a nice cocktail, beer or wine and watch the sun set over the skyline of Bangkok. The bar is fully stocked with local and international beers, spirits with a huge list of cocktails and a very impressive wine menu. You can just go to Moon Bar to have a drink and enjoy the view though if you want the full dining experience then book in for the best dining experience in Bangkok.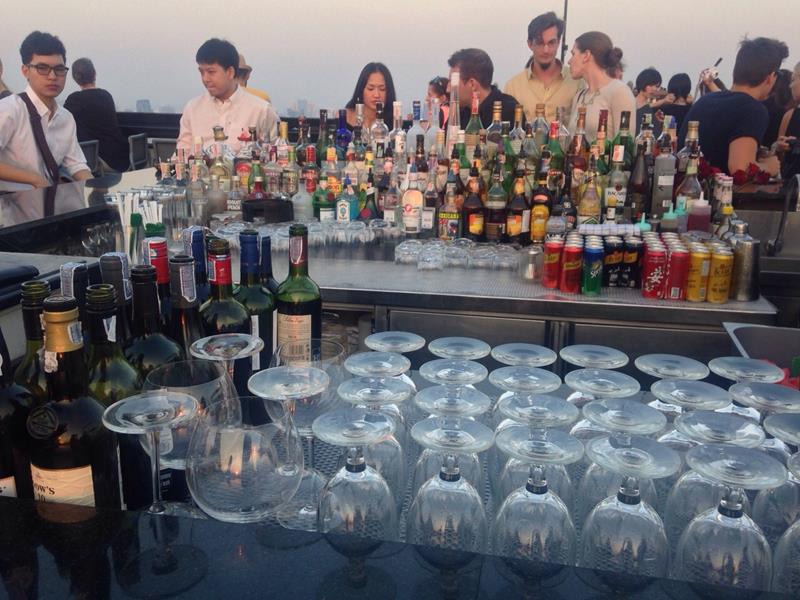 All of the dining tables at Vertigo Grill have amazing views over Bangkok. I had tried to make a reservation through the Banyan Trees website though it said all the tables were booked. I called the hotel and they made a reservation no problems for a Saturday night at 6pm. There were lots of people there though not all the tables were full. I saw a few people walk in and ask if there were tables available and they were able to get seated. Around 8pm a load more people were arriving at the restaurant so I guess if you dining later in the evening then it may be best to call and make a reservation.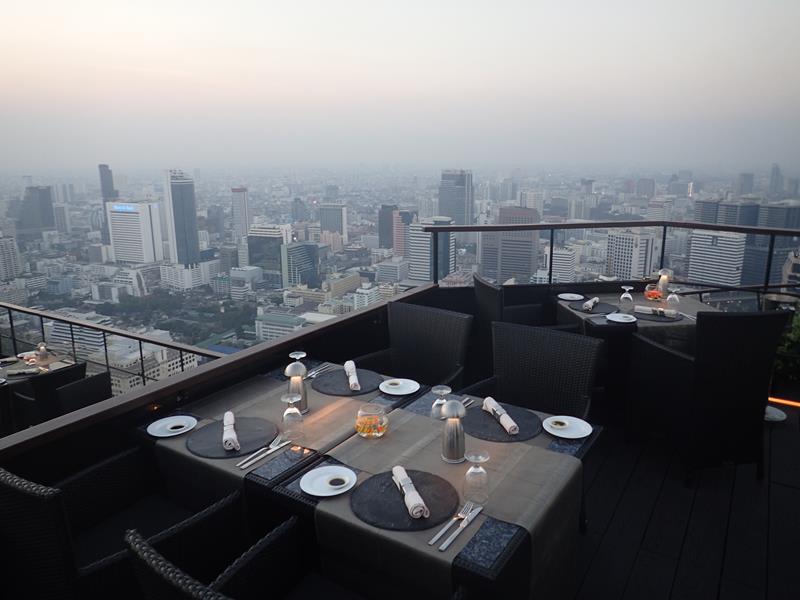 The menu is very impressive with a range of international cuisine. I am sure the menu changes often. The night I was there the choice of entrees included Alaskan Salmon tartare, Spicy Thai Tuna, Spiced pink prawn Vietnamese roll with mango chili chutney, Angus beef carpaccio, Wagyu Tataki, Fois gras and Grilled Hokkaido scallops with pancetta peas and snow pea tendrils. Before our entrees arrived they brought out a small appertizer of canteloupe soup which was a nice surprise. Just a small shot sized glass with the cold soup which was slightly sweet to cleanse the palatte.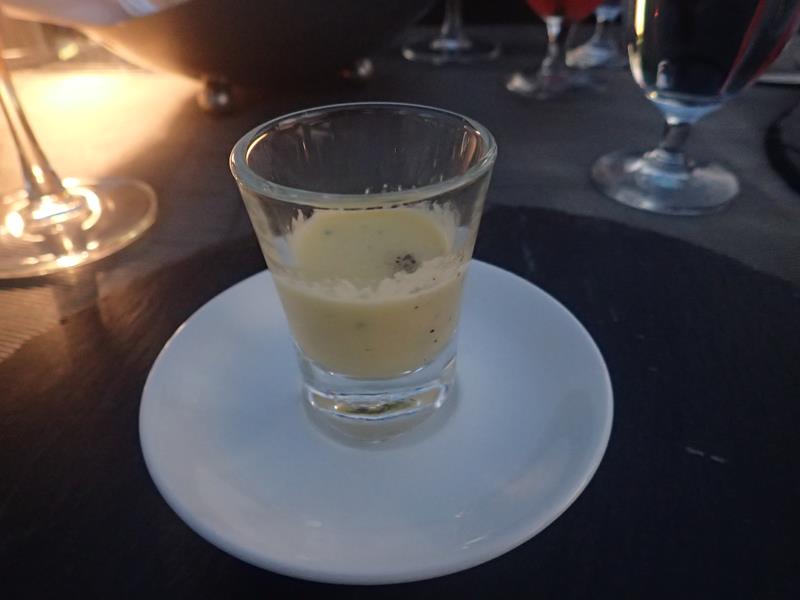 For entree my friend and I shared the grill scallops and Vietnamese rolls. Each were delicious. The Hokkaido scallops were huge, plump and firm. The Vietnamese rolls were a standout with the sweet mango chutney balancing the taste of the spicy prawns.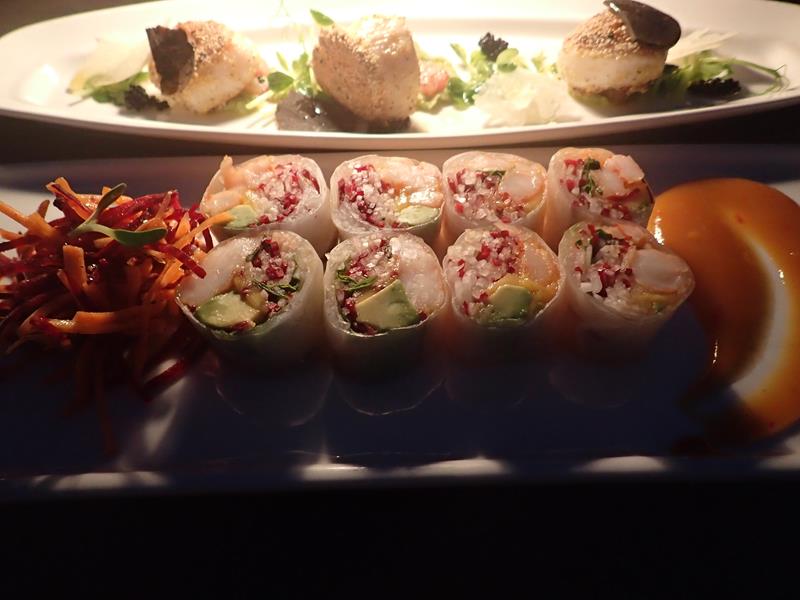 For main meals the choice included vegetarian dishes like herb spiced eggplant with saffron risotto or mushroom and spinach cannelloni with red pepper and basil salsa and truffle oil. Seafood dishes included Barramundi, Wild Trout Salmon, Atlantic cod, Andaman prawns or Grill lobster. Meat dishes included BBQ Pork Spare ribs baked potato and orange salad, 48 hour braised lamb shanks, or Flame grilled lamb rack. There was also a good range of steaks including Wagyu beef, Australian Angus tenderloin, Kobe striploin or the Wagyu Prime rib for 2.
Before the main meal came out they brought out another pallete cleansing strawberry sorbet which was very tasty.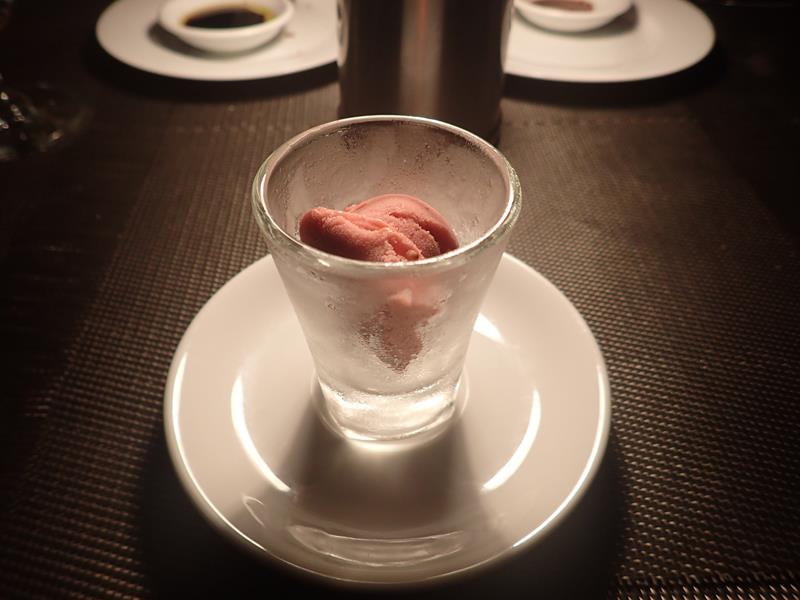 For main meals we shared the BBQ Pork Spare ribs and the mushroom and spinach cannelloni.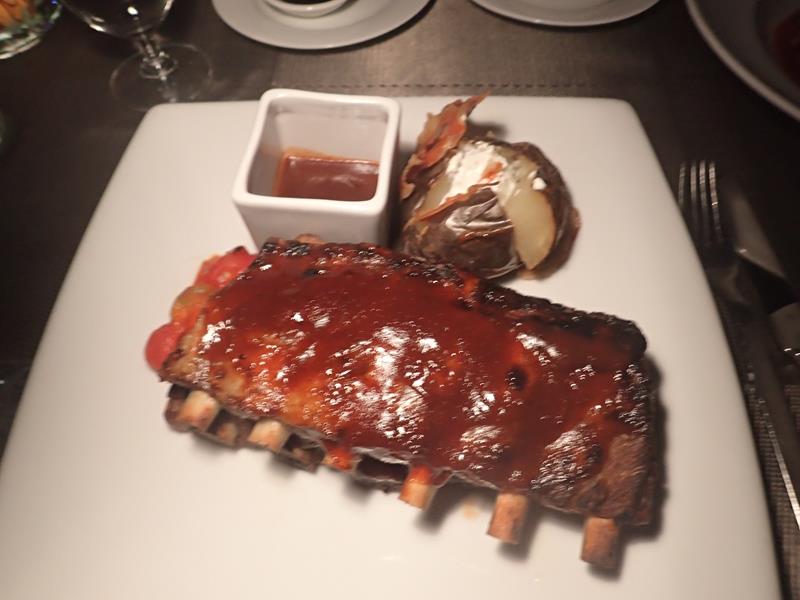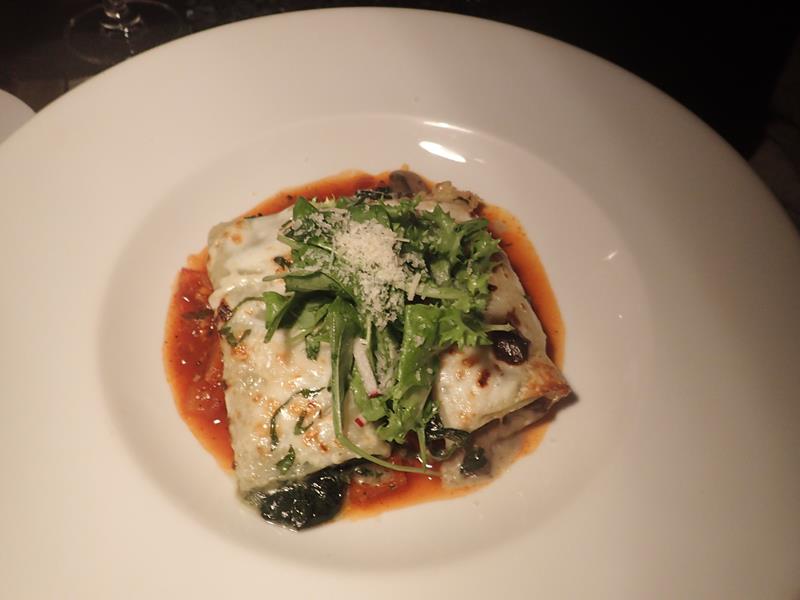 The servings were huge and I ended up not finishing BBQ pork spare ribs and had no room for desserts. The dessert menu included dishes like Vertigo chocolate cake, Coffee tiramasu, Thyme spiced wild berry tart, Mango cheese cake and Fresh coconut pannacotta. I will have to try dessert next time.
The wine list was very extensive with white and red wines from Australia, France, California and Chile. The price for a bottle of wine started at around 2200 Baht (around US$60). We choose an Australian red wine Wyndham Estate Bin 888 Cabarnet Merlot for 3200 Baht. A very tasty wine.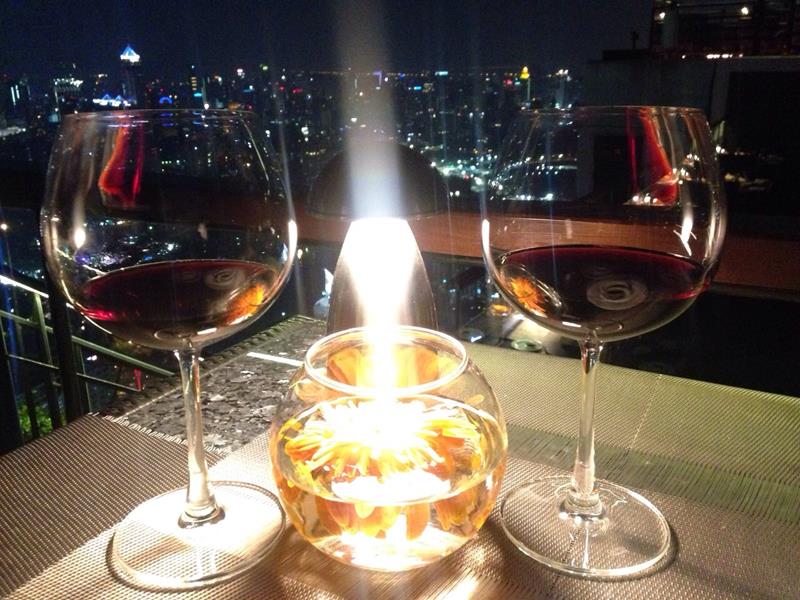 All up our meal with 2 beers, a watermellon juice. Bin 888, 2 entrees and 2 mains came to just over 10,000 Baht which is just over US$300. For the quality of the food, the excellent service and the amazing view was about right for a fine dining experience.
Vertigo Grill and Moon bar are located at:
Level 61
Banyan Tree Bangkok Hotel
21/100 South Sathon Road
Bangkok
http://www.banyantree.com/en/ap-thailand-bangkok
Check out some of other photos of the impressive view from Vertigo Grill and Moon Bar Bangkok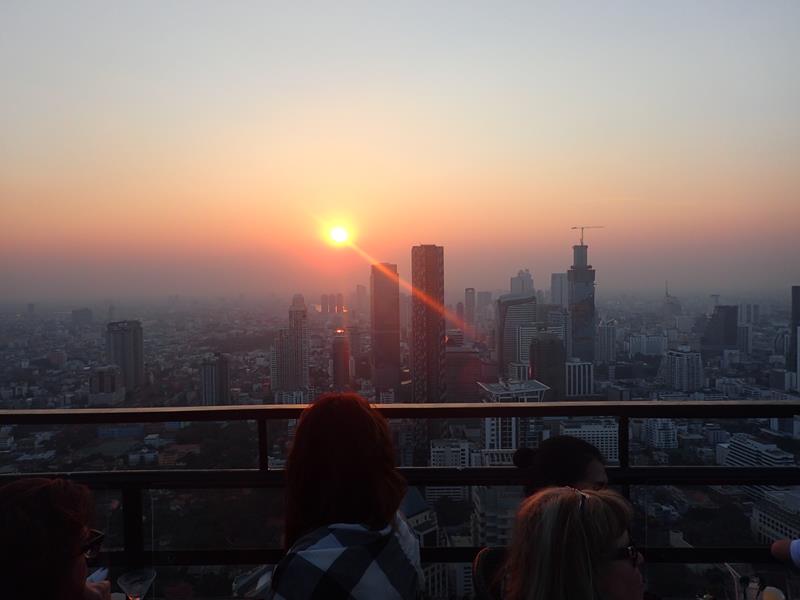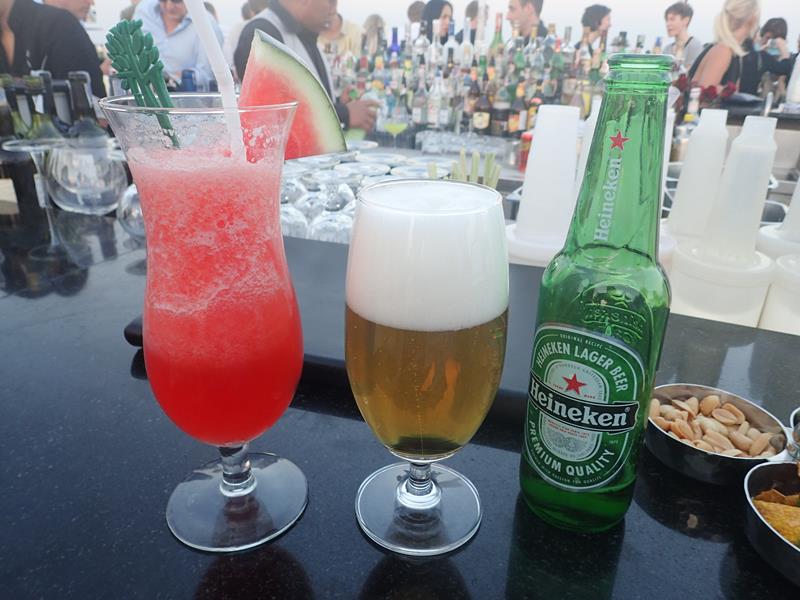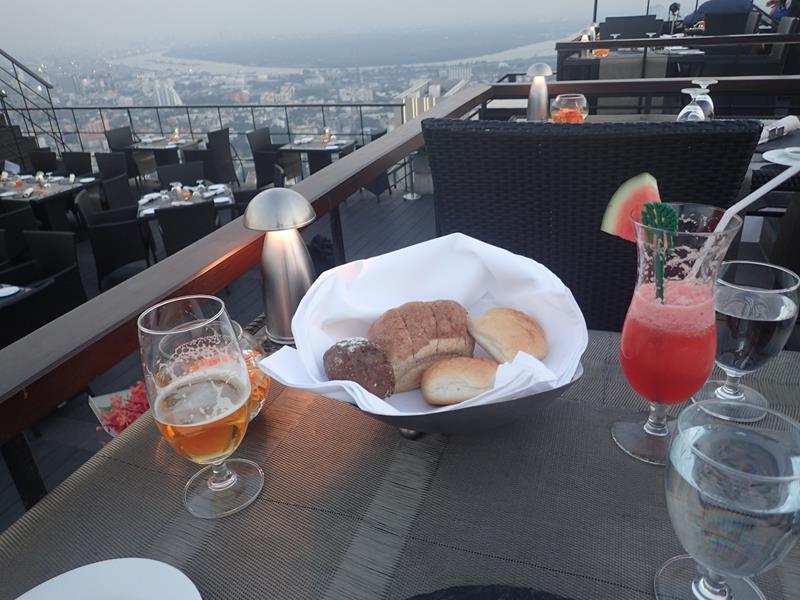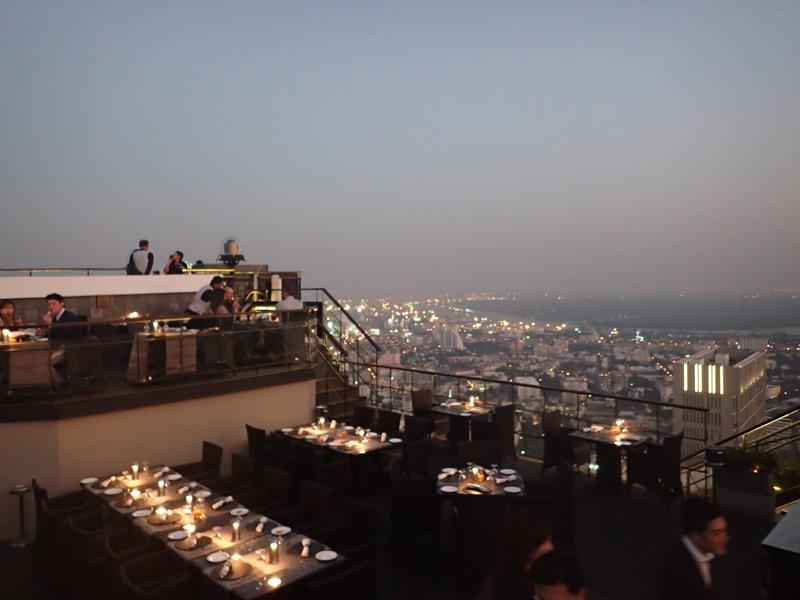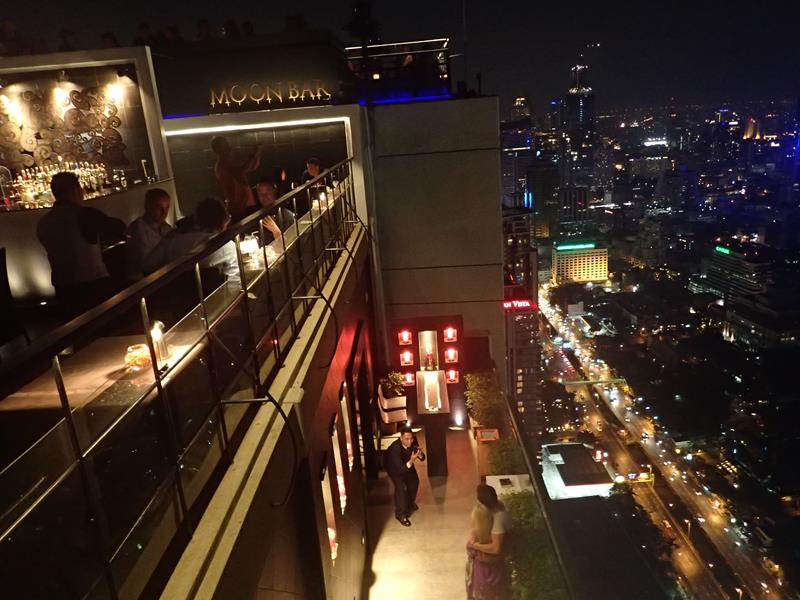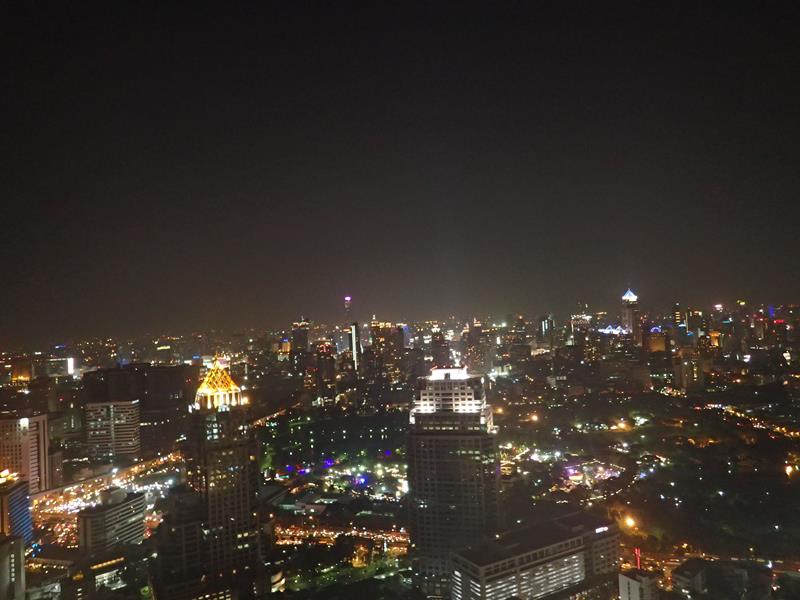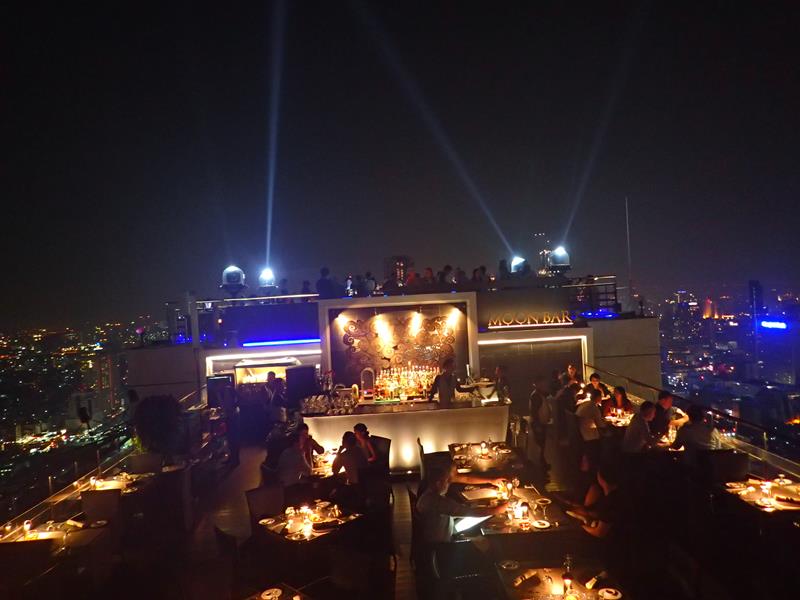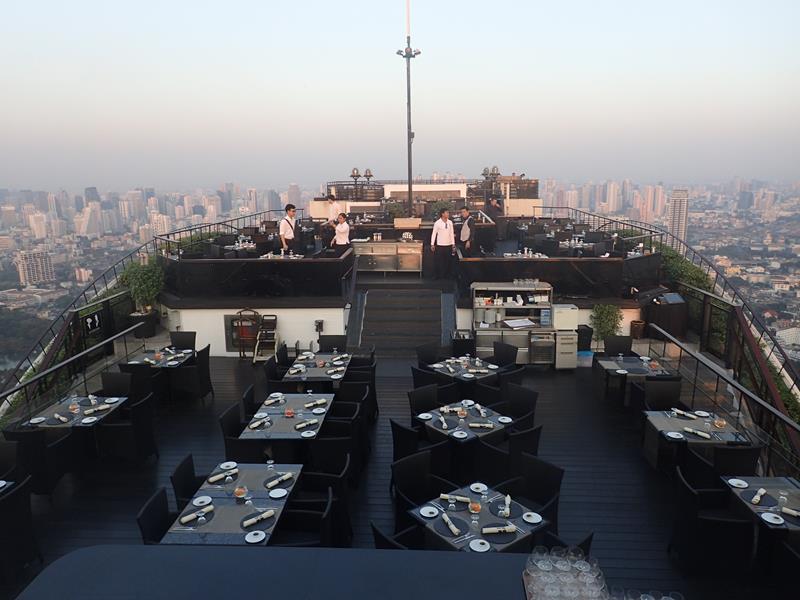 Also see our other restaurant reviews for Bangkok Restaurants
Check out the most popular articles about Bangkok on this site: