Cielo Sky Bar Bangkok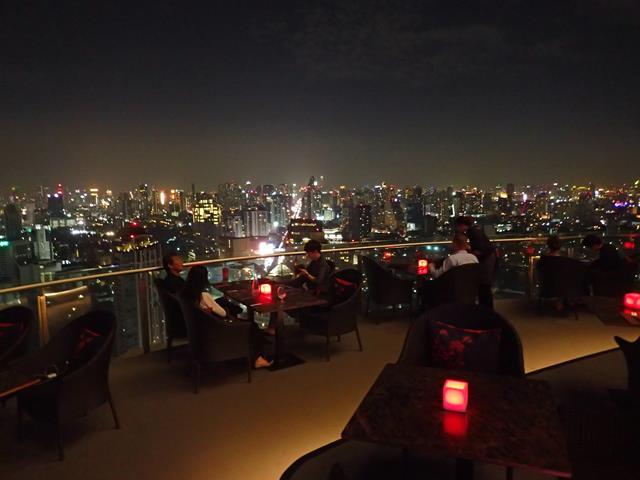 Cielo Sky Bar is a very classy rooftop bar located down Sukhumvit Rd in Bangkok. As it is located quite a far way down Sukhumvit Rd it gives a great view over the entire Bangkok skyline, looking back over all the tall skyscrapers of Bangkok.
Cielo Sky Bar is located on level 46 of the Sky Walk Condominium building. There is a separate entrance to get up to Cielo Sky Bar.
As well as the fantastic rooftop bar, Cielo has a fine dining restaurant with some awesome food, a mix of Asian fusion. You can choose to dine out at the tables in the open air of the rooftop bar or there are private indoor, air-conditioned dining rooms inside, with the same views.
The food at Cielo is not cheap! This is fine dining so prices are expensive but the food is fantastic so worth the price. If you are looking for a restaurant for a special occasion then I can highly recommend dining at Cielo Sky Bar and Restaurant.
As with any rooftop bar in Bangkok, the best time to get there is just before sunset, around 6pm, enjoy a tasty cocktail and watch the amazing sunsets over Bangkok.
The easiest and cheapest way to get to Cielo Sky Bar is the catch the BTS Skytrain to Phra Khanong station and it is just a 3 minutes walk from there. You can also get a taxi here though the traffic along Sukhumvit Rd can be very bad in the afternoons and early evening so it will take longer and cost around 150 Baht for the taxi ride.
Cielo Sky Bar and Restaurant
46th Floor on Sky Walk Condominium
W District
Sukhumvit 69-71
Bangkok
Website: www.cieloskybar.com
Check out the location of Cielo Sky Bar in Bangkok