Koh Kret – the closest island to Bangkok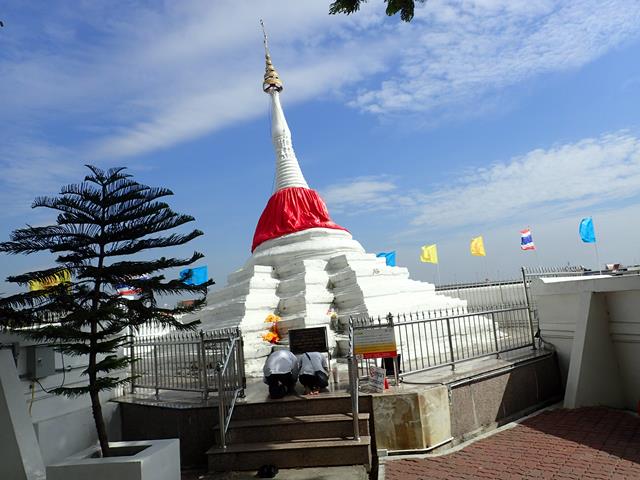 Koh Kret (sometimes called Ko Kret or Ko Kred) is not the typical tropical island you think of when you think of Thai Islands. Koh Kret is actually a small island in the middle of the Chao Phraya River, around 45 minutes drive from the centre of Bangkok. Koh Kret is in the next province north of Bangkok called Nonthaburi Province.
Koh Kret is a popular destination for local Thai people as there are more than 20 temples found on the island, popular with Buddhist worshipers. This is an interesting place to visit if you are spending any amount of time in Bangkok. You can do an easy half day morning or afternoon trip to Koh Kret from Bangkok.
You arrive at the bank of the Chao Phraya River at the Wat Bang Chak which has a few interesting temples along with a large golden sitting Buddha. In January 2017 the Wat Bang Chak was going through restoration as you can see in the picture below with it surrounded by scaffolding. This restoration will probably go for most of 2017.
Just behind the Wat Bang Chak golden Buddha statue is a large area which is filled with hundred of statues that represent the life of the Buddha as well as many of the Hindu Gods.
There is also a very peculiar section of statues alongside the Buddha statues which depict many comic book characters like Popeye, Spiderman, Captain America, Iron Man and even a statue of Rambo.
To cross over to Koh Kret is easy. Just wait at the pier infront of Wat Bang Chak and a small ferry will come and collect you. The price to cross over on the small ferry is only 5 Baht per person. The trip over only takes a few minutes.
Once on Koh Kret there are some easy walking trails to circumnavigate the island. Koh Kret is just over 2 kilometers long and about 1 kilometers wide. You can walk right around the island in a 5.2 Kilometer loop. There are no cars on Koh Kret. There are some motorcycle taxis if you want to jump on the back to get to any of the temples.
One of the most important temples on Koh Kret is the Wat Paramaiyikawat which has the Mu Dao Chedi which is the white stupa which is not standing straight up but bent over on an angle. Located right down in the northern corner of Koh Kret you will see many local Thai praying in front of this stupa.
Also at Wat Paramaiyikawat are 2 of the most interesting Buddha statues on Koh Kret, the large reclining Buddha and the Phra Nonthamunin golden seated Buddha statue located at the of the temple housing the reclining Buddha.
Also on Koh Kret are a few small Pottery villages where you can buy some authentic Thai pottery. Walking around the island is very peaceful. There are a fair few people that live on the island and you can see some great examples of wooden Thai houses. This is real Thai village living.
The 2 busiest days on Koh Kret is on New Years Day, when Thai people visit their favourite Buddhist Temple. Many people from Bangkok travel to Koh Kret on New Years Day. The other day is a Thai Festival called Loy Krathong which sort of means to 'float a basket'. Loy Krathong is held in November depending on the lunar calendar. It actually falls on the full moon of the 12th Thai month, which usually falls in November. So look out for the full moon in November and this will be the busiest day on Koh Kret. The Loy Krathong Festival see Thai people floating a basket down a river with some offerings inside the basket like fruit and flowers. Releasing the basket in the river allows people to remove bad luck or bad omens from their lives.
The best way to get to Koh Kret is to either hire a car and driver, which you can rent for around 2500 Thai Baht for the day. Most hotels in Bangkok can arrange a car and driver for the day.
You could also get a taxi there which will cost around 800 Baht plus the 50 Baht toll to get out of Bangkok. On the quiet days there are not many taxi available to get back from Koh Kret so if you do take a taxi ask them to standby and negotiate a round trip fare, probably around 1700 – 1800 Thai Baht.