Breakfast at Novotel Hotel Surfers Paradise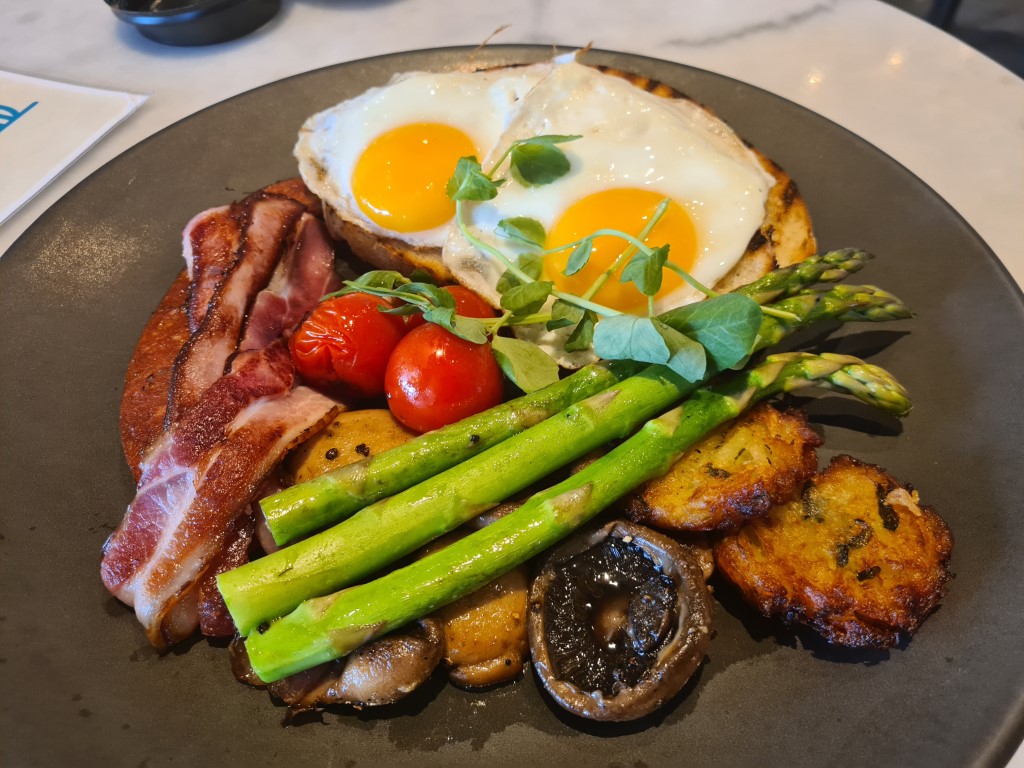 If I do not have breakfast included in my hotel room price, then I usually avoid having breakfast in a 5 star hotel during my stay. This was not the case when I recently stayed at the Novotel Hotel in Surfers Paradise. Partly due to wanting to do some research for this blog, mostly out of laziness of not wanting to venture too far….I ended up having breakfast in the Boulevard Cafe located in the foyer of the Novotel Hotel Surfers Paradise and I was so impressed I ended up having breakfast there the next morning to try something else off the breakfast menu.
First morning I went for their Breakfast of Champions. At $24 it is a bit pricey, you can definitely get a cheaper big breakfast in Surfers but this is usually about the price alot of cafes sell their big breakfast for. This was a solid meal, so if you got a big appetite then I can highly recommend this. It comes with 2 eggs cooked your style (I went for fried eggs), smoked bacon, chorizo sausage, grilled asparagus, saute garlic mushrooms, vine-tomato, potato rosti and sour dough toast! A solid feed!
Next morning I went for their Chefs Egg Benny $18 – their version of Eggs Benedict. This comes with 2 free range poached eggs, grilled halloumi cheese (yum), prosciutto and hollandaise sauce on a toasted brioche bun. Another solid and tasty meal!
The other 2 items on the breakfast menu are both vegetarian and vegan dishes. See the full breakfast menu here:
I give a big thumbs up for the breakfast food served at the Boulevard Cafe within the Novotel. You do not need to be staying at the hotel to go in for breakfast. They also are open for lunch and dinner serving a range of cafe / pub food like burgers, pizza and fish and chips.
Boulevard Cafe
Novotel Hotel
Corner Of Surfers Paradise Boulevard and Hanlan Street
Surfers Paradise Gold Coast
Check out the location of Boulevard Cafe at the Novotel Hotel in Surfers Paradise
[do_widget id=wpp-60]