Flight Review Qantas QF922 Sydney to Cairns Business Class A330-200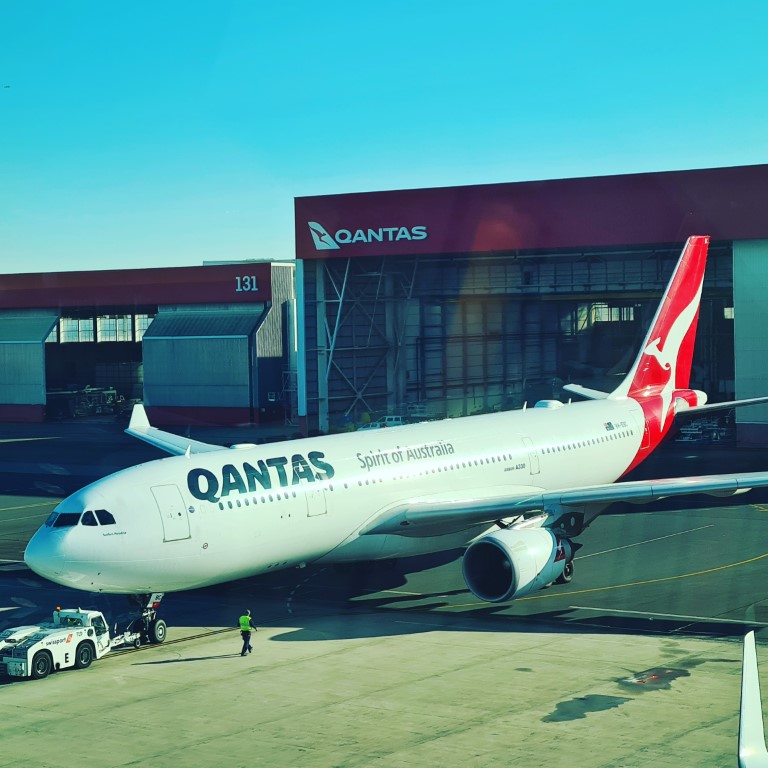 Airline: Qantas
Flight no: QF922
Route: Sydney Domestic Airport (SYD) to Cairns Airport (CNS)
Aircraft Type: Airbus A330-200
Flight time: 2 hours 35 minutes
Travel Class: Business
Seat: 5A Window Seat
Seat Width:  17.6 inches
Seat Pitch: 31 inches
This flight was in June 2022, I had booked in advance in March and got a really good price for a return trip between Sydney to Cairns for a total of $436.52. Generally, you are looking to spend around $250 – $300 per way. There is always a good chance of getting a good price when you book in advance.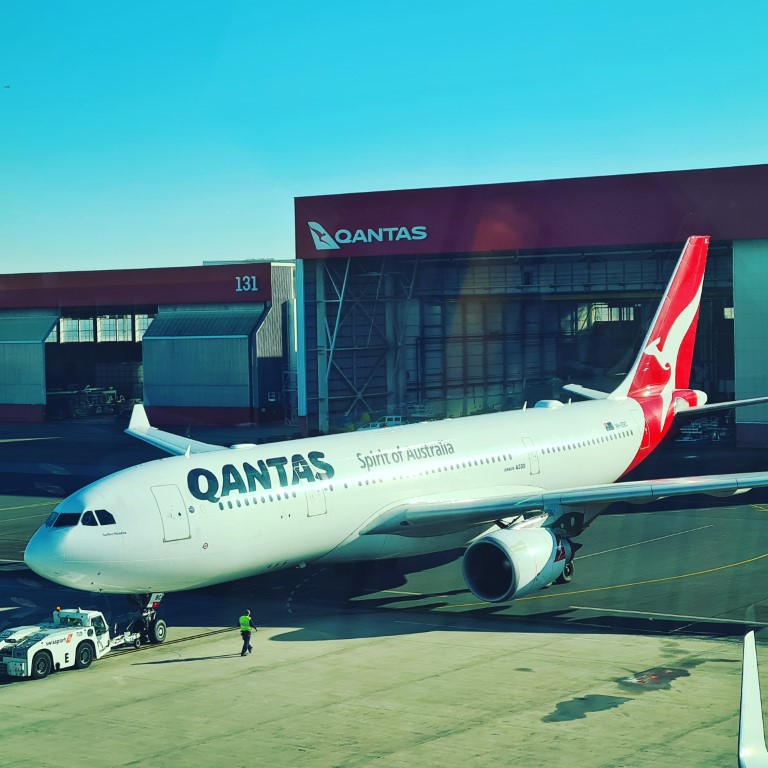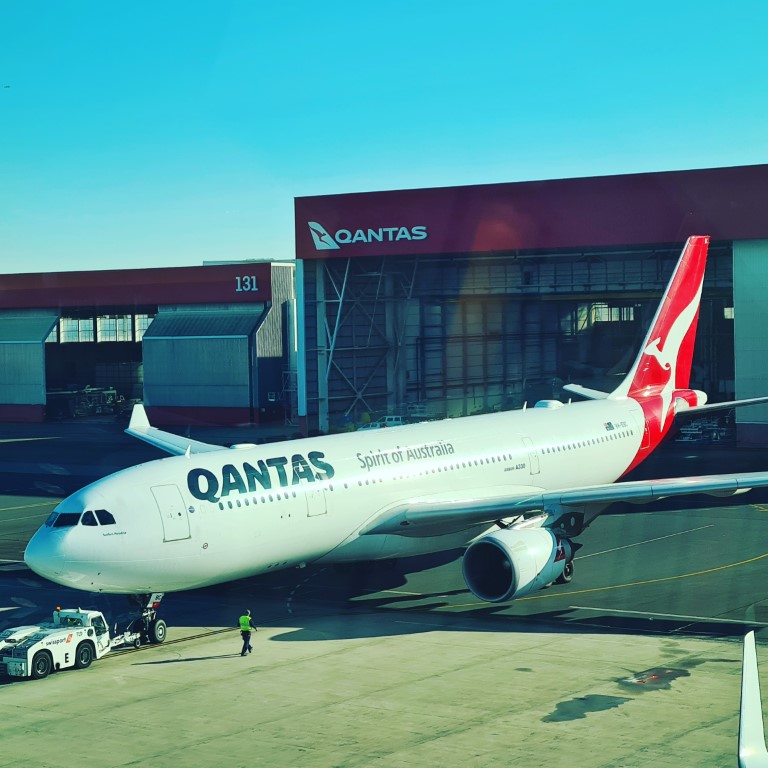 After booking the trip, I requested an upgrade to Business Class using frequent flyer points. For the leg from Sydney to Cairns I got instant confirmation of the upgrade. Most times you submit your request and do not find out if it is successful until about 24 hours before your flight. The upgrade from Economy to Business Class cost me 27,200 points.
Flying between Sydney and Cairns you can choose direct flights on Qantas, Jetstar or Virgin Australia.
At the airport
QF922 is scheduled to depart Sydney at 9.30am. I got to the airport at 7.30am and the Qantas Domestic Terminal 2 was pretty busy. This was a Saturday morning and at a time Sydney airport had staff shortages, so there were queues for the auto bag drop and to get through security but probably took about 20 minutes to check in, drop my bag and get through security.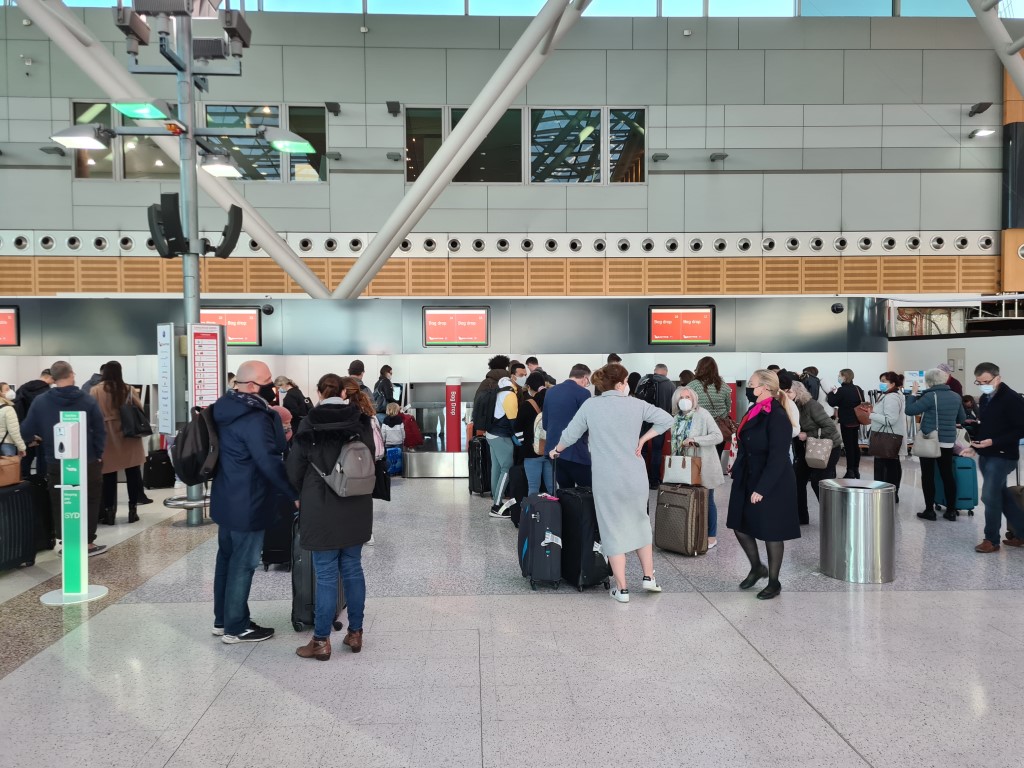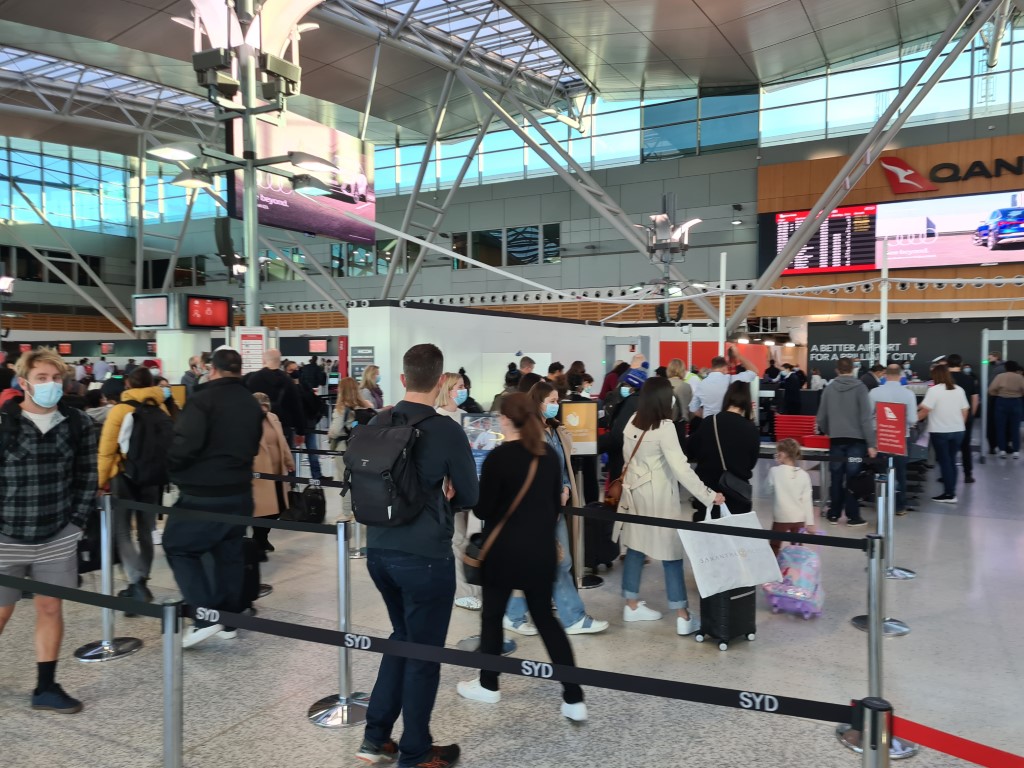 Just a week before, Qantas had installed their new check in electronic kiosks which only takes a few seconds to check in and get your boarding pass and luggage tags printed. A big improvement on the older style kiosks.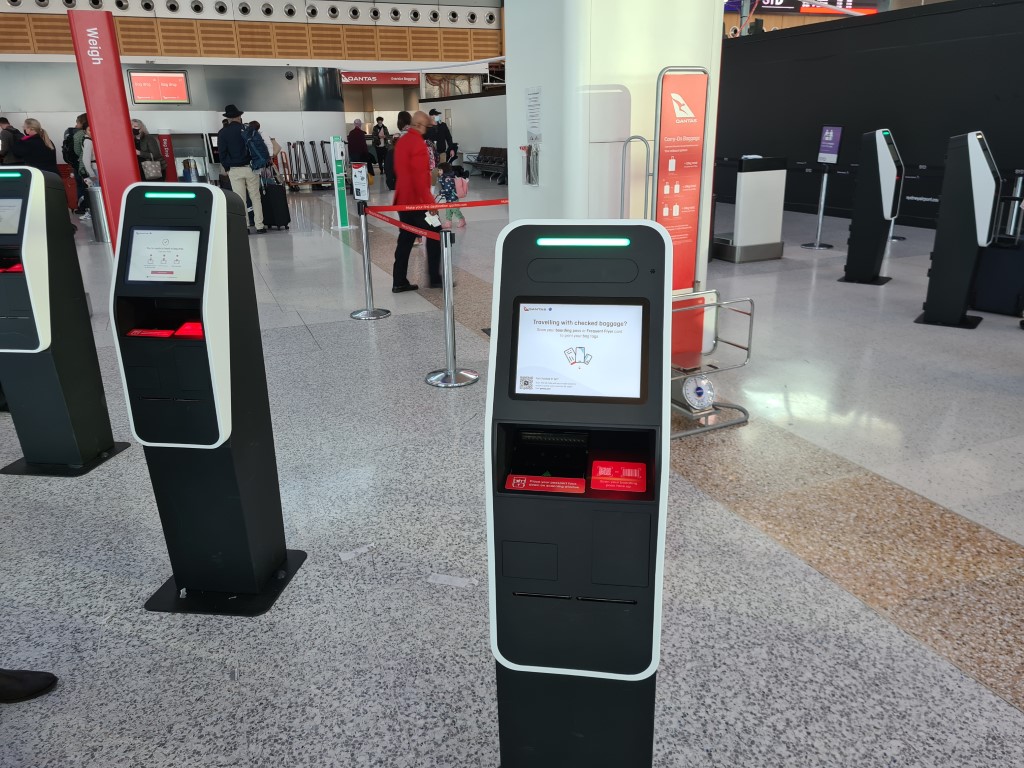 The Qantas Business Lounge at Sydney Domestic Airport
With my Business Class ticket, I got access to the Qantas Business Class Lounge. Qantas also have the Qantas Club Lounge right next door but the Business Class Lounge is much nicer.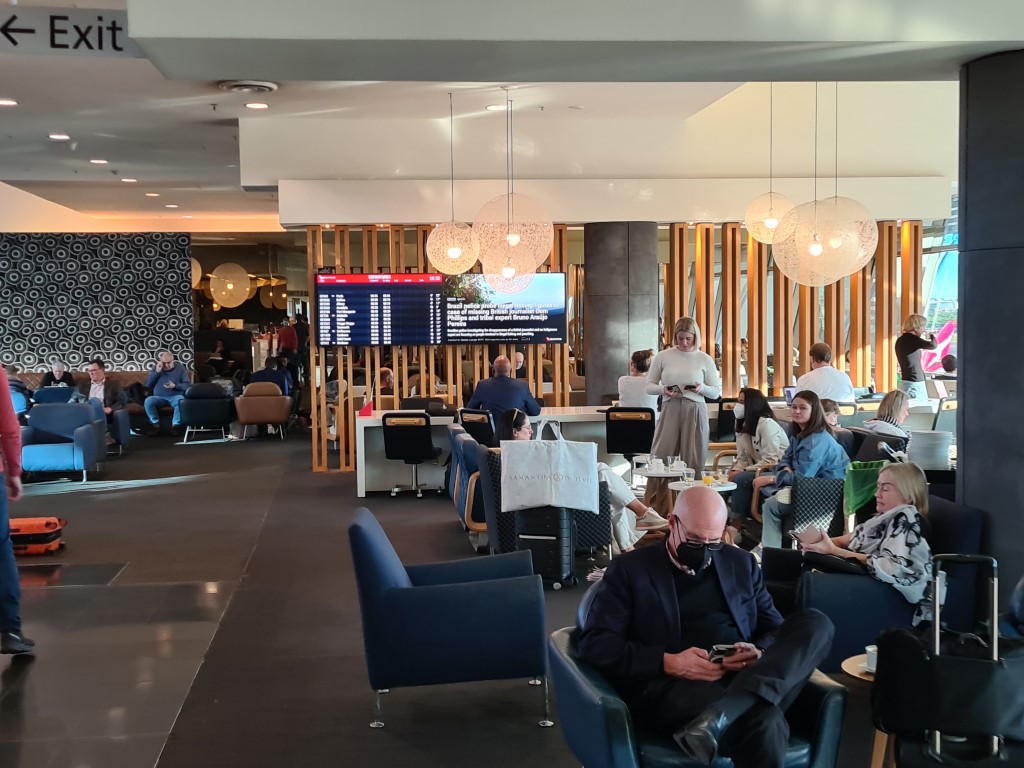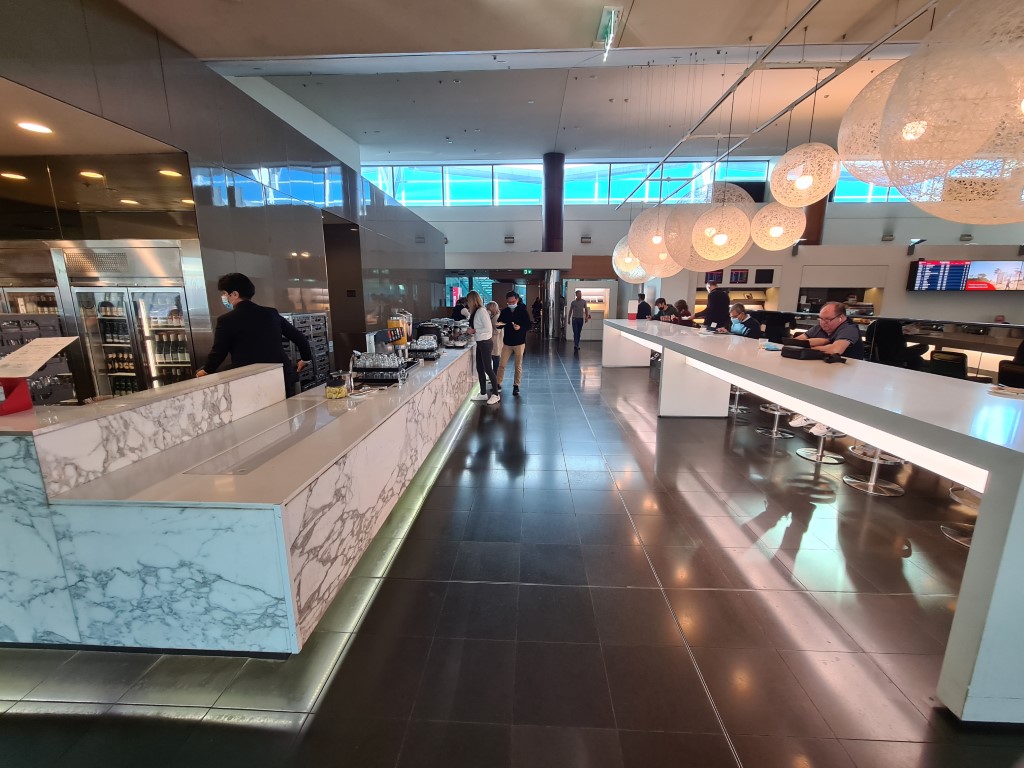 The Qantas Business Class Lounge have brought back the help yourself buffet food which had a good selection of breakfast foods like fresh fruit, yoghurt and they had some scrambled eggs and sausages for hot dishes.
On-board the plane
The plane used for my flight was a Qantas A330-200 with Rego VH-EBA. The plane name assigned is 'Cradle Mountain'. This plane joined the Qantas fleet in December 2002. This is one of the oldest A330-200 in the fleet but has had the interior renovated so it is not showing its age inside.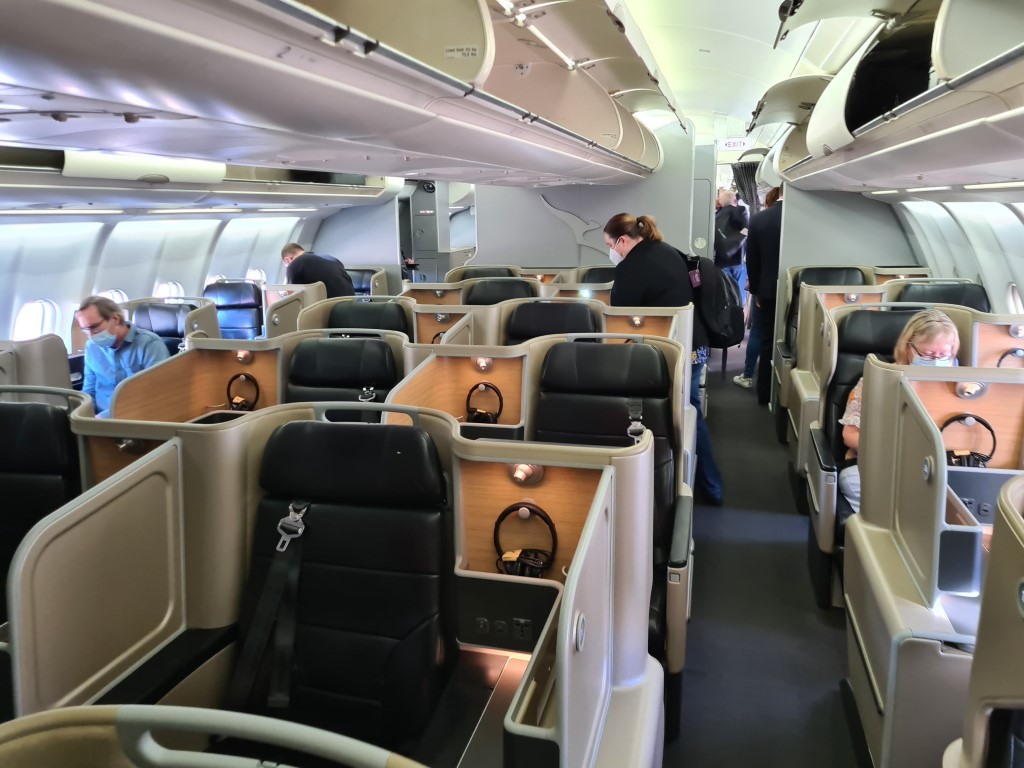 With the interior upgrade came the excellent Vantage XL Business Class seats which are one of my favourite Business Class seats, so comfortable and practical.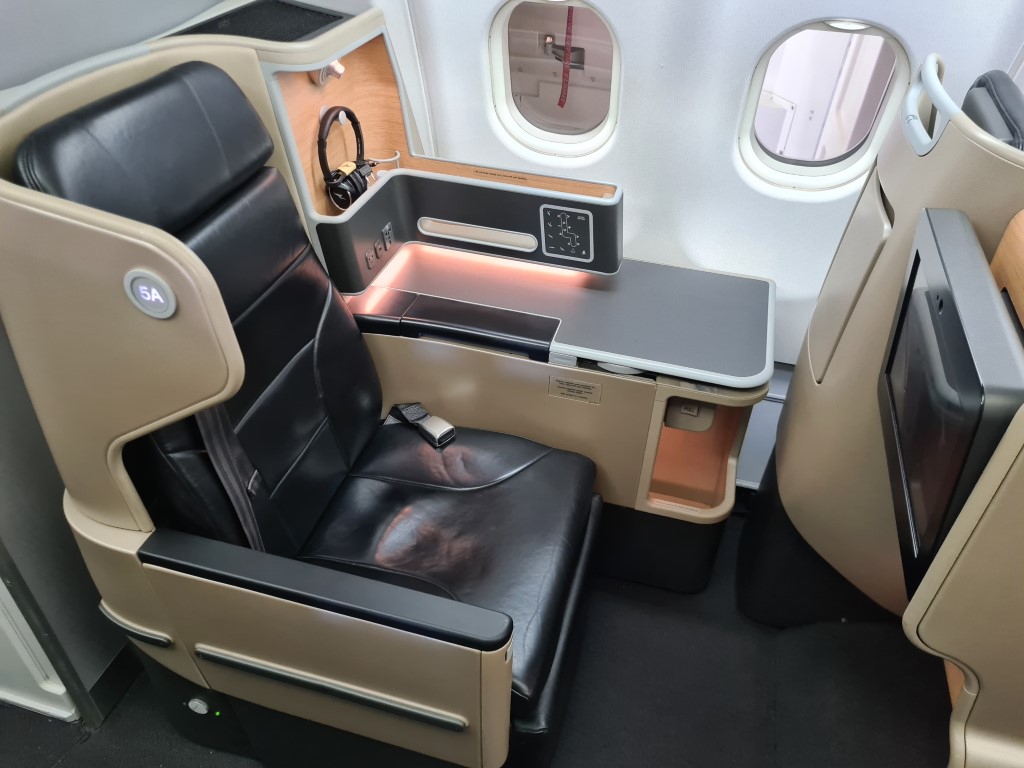 The seat is a fully lay flat bed seat but as this was a morning flight and only 2 hours and 35 minutes to Cairns I did not use the bed function. When reclining the seat back to watch a movie comfortably, there is plenty of legroom. The points spent for the upgrade was a very good investment.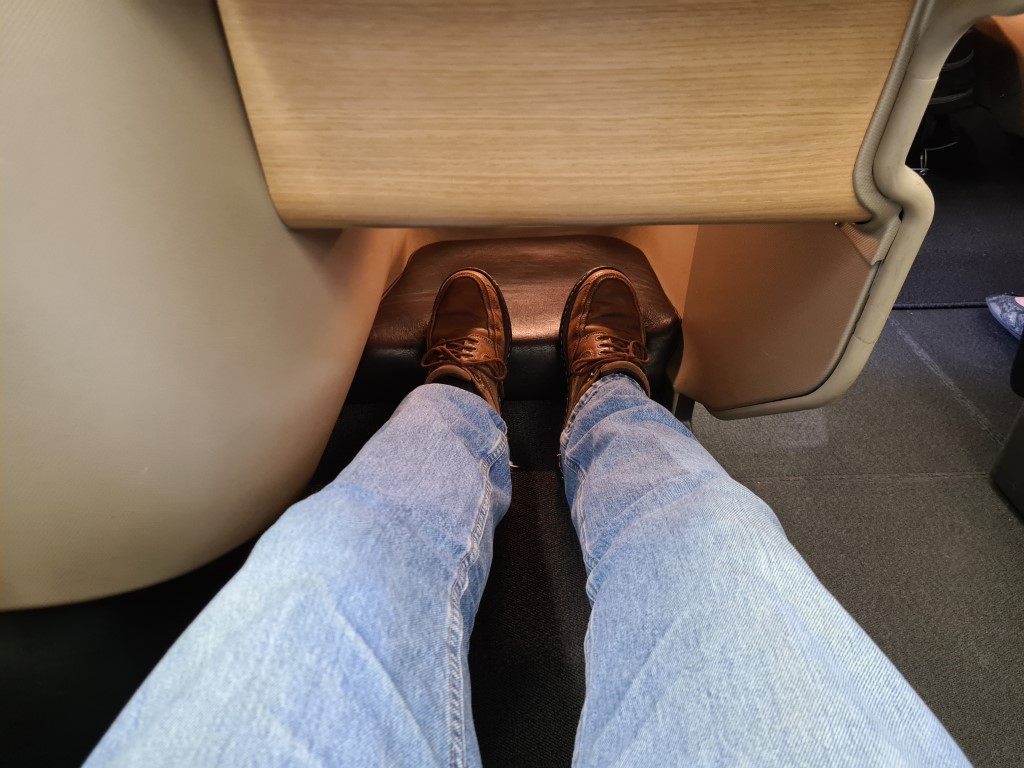 There are a few compartments next to the seat for storing your personal items and at easy reach is a USB port and Universal power socket for charging your devices or powering up your laptop computer.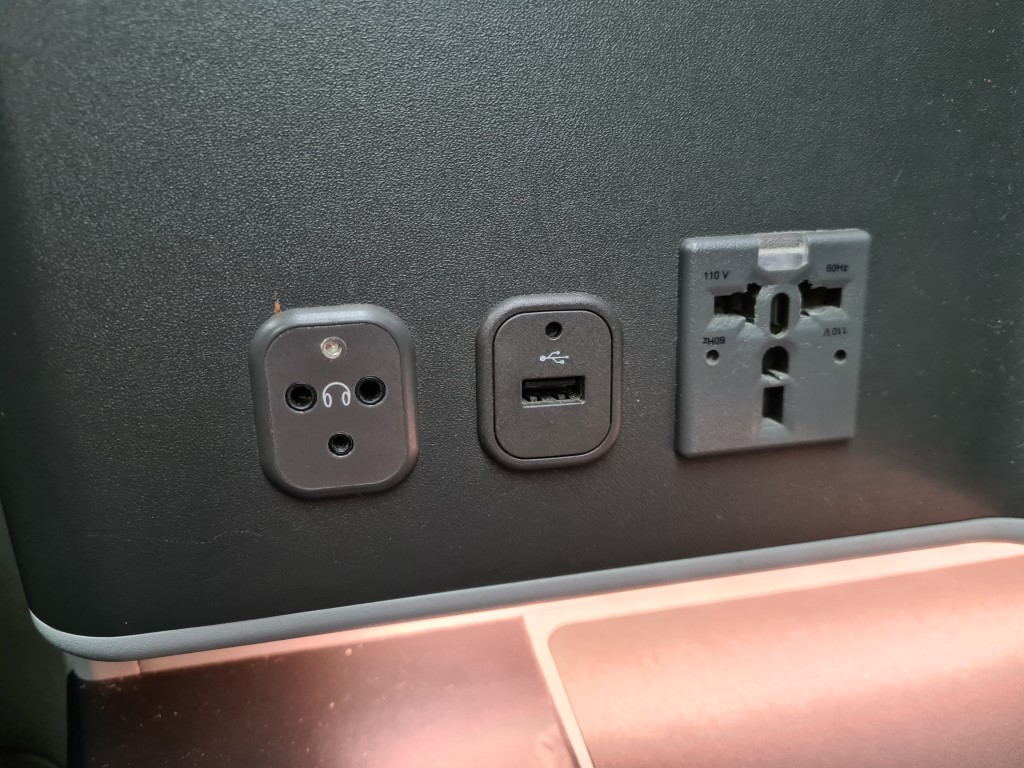 There is also a set of noise canceling headsets hanging next to your seat which are very good quality and comfortable to wear, There was also a bottle of water waiting at the seat when I got onboard.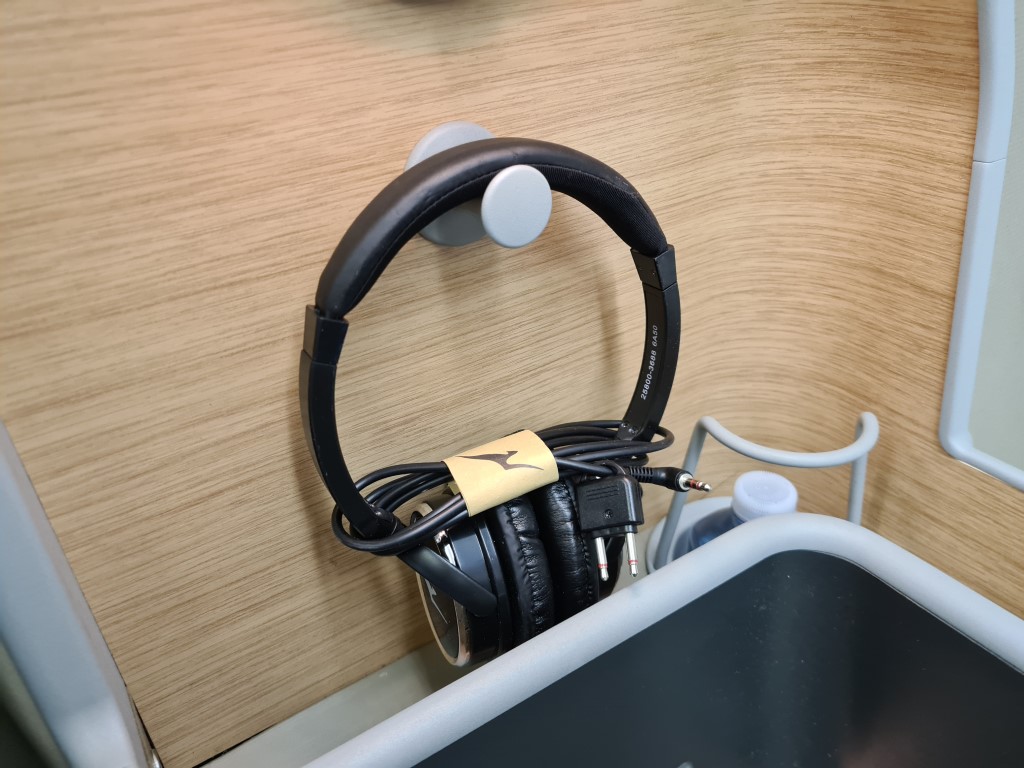 Entertainment System
The Entertainment system is a Panasonic eX3 with a very nice sized 16 inch touch screen. This system is loaded up with a choice of latest release movies and some old favourites, as well as TV shows and documentaries. With 2.5 hours in the sky I got to watch an entire movie. FYI I watched The Lost City with Sandra Bullock, Channing Tattum and Brad Pitt. Mildly entertaining. I am glad I watched for free on this flights rather than paying to see at the Cinemas.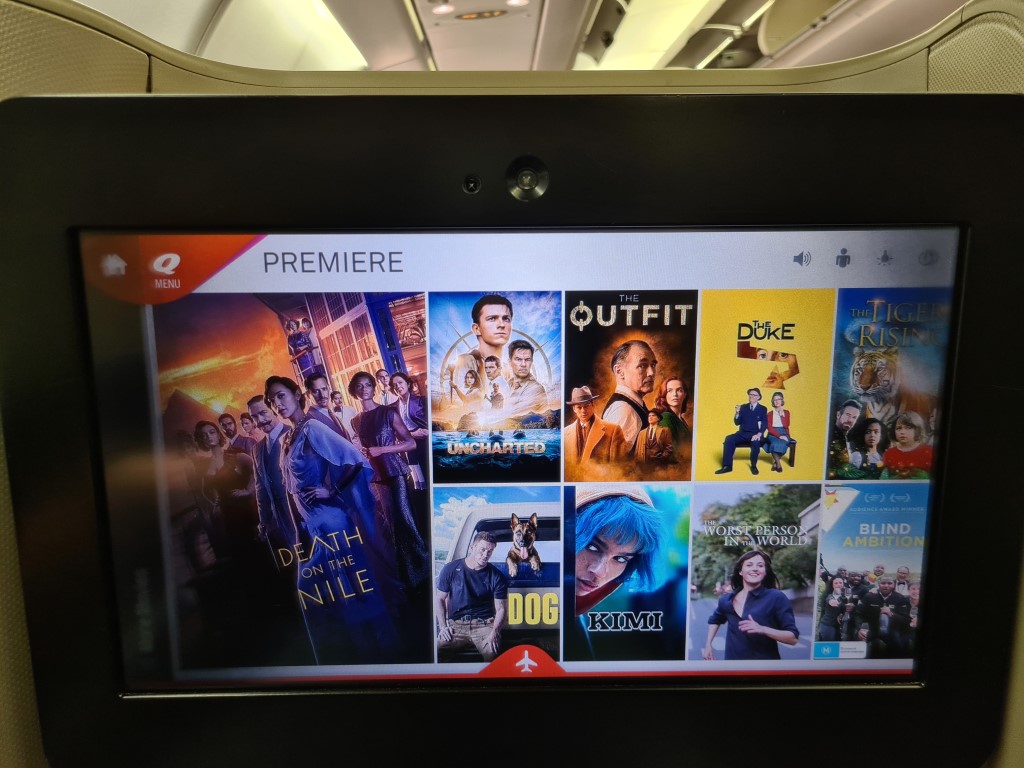 They also had Free WiFi internet access on this plane but I did not use it.
The flight map is an old static map system but still good to see the progress of the flight  I think the best feature of the Qantas Entertainment System is the One-touch button to switch between the movie you are watching and the flight map.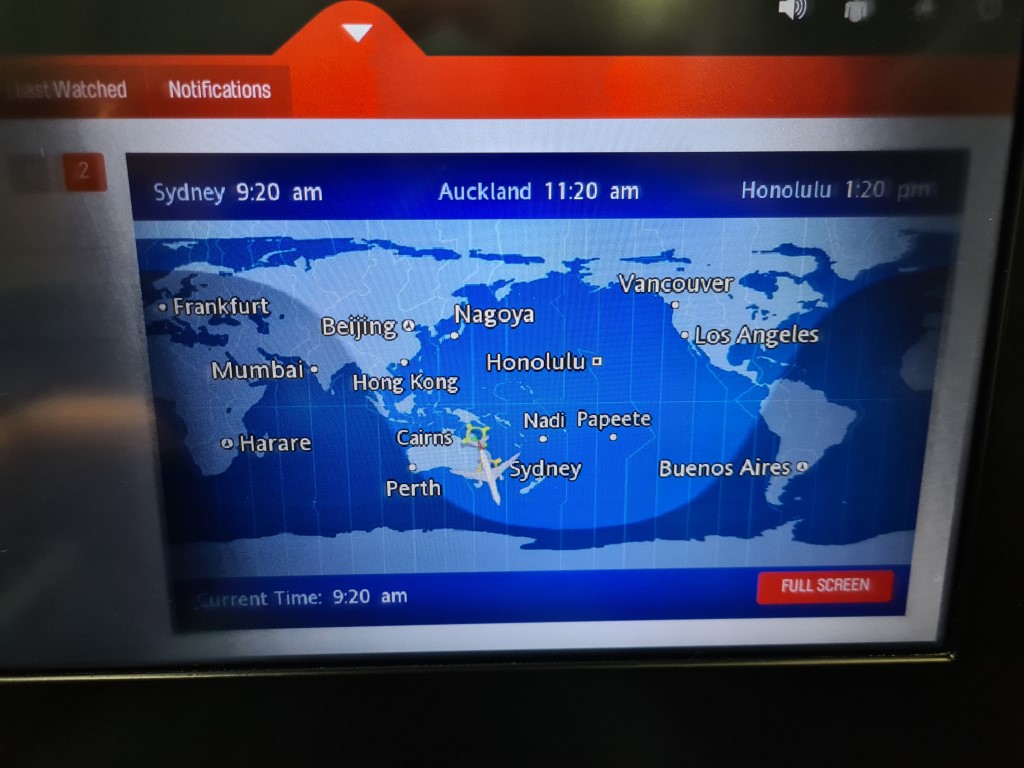 Food on this flight
A meal was served shortly after takeoff. We had a choice of a salad or this tasty Panini with Swiss cheese and Panchetta. This was served with a slice of sour dough bread, a Lindt Chocolate ball and a glass of juice. I was offered a glass of wine but being 10.30am I declined.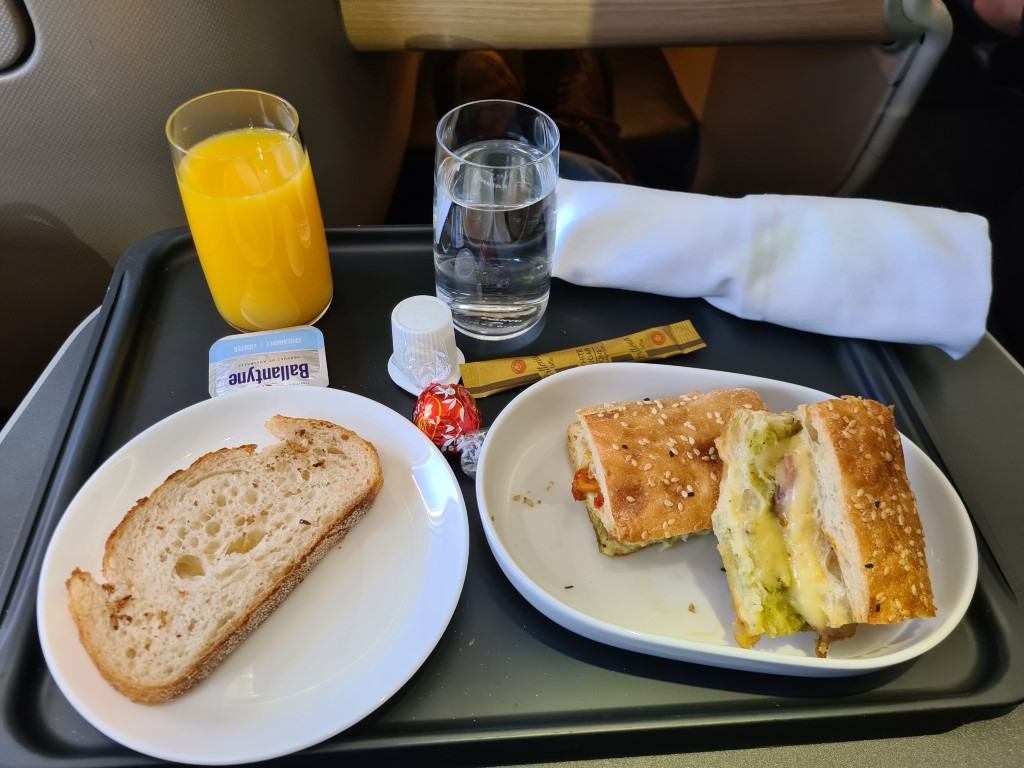 The service
For the service onboard this Qantas flight, all the cabin crew were in a good mood and all greeted me with a pleasant smile. With a 2 5 hour flight, the interaction with the crew was minimal.
I was on the left hand side of the plane and had great views on both take-off from Sydney and landing into Cairns.