Awesome Steak Ribs and Pizza at Rattle N Hum Bar and Grill Cairns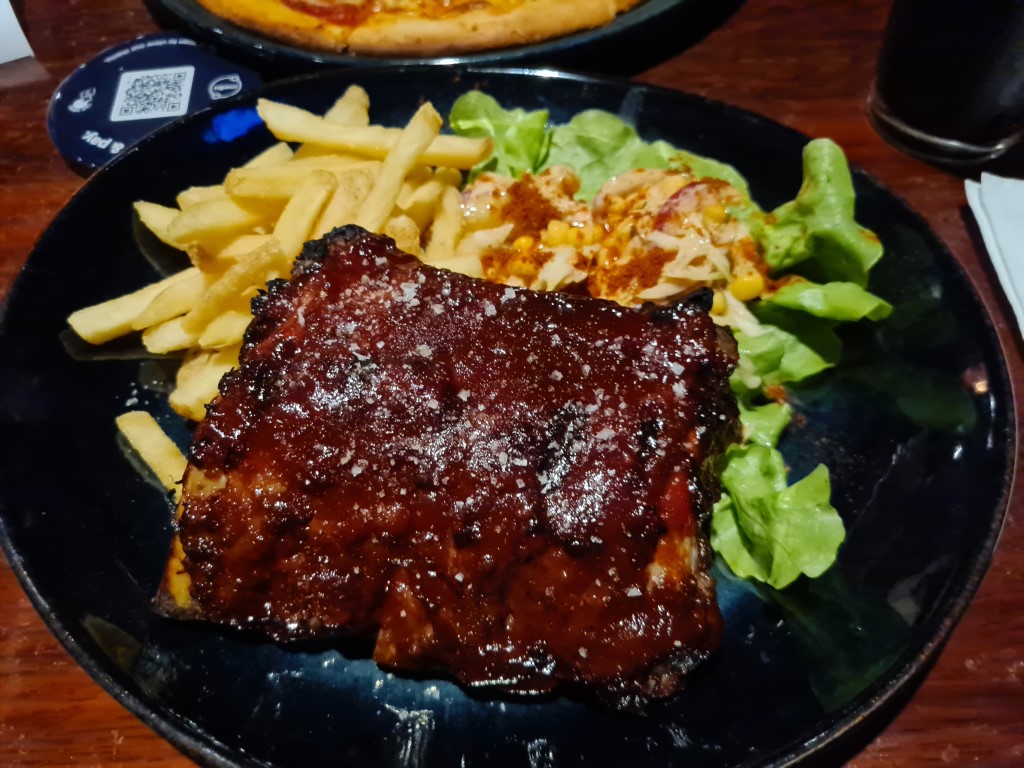 Rattle N Hum is an awesome Aussie style pub / sports bar and Grill located on the Esplanade in the heart of Cairns. This is a casual dining restaurant / bar that is family friendly. The front bar is the sports bar with multiple TVs and a large project screen for showing live sports including AFL, NRL, Cricket, Tennis, Formula 1 racing and the UFC fights. This place also serves a great range of pub food including steaks, burgers, ribs and pizza. On a recent visit to Cairns, my friends and I went in for dinner and had an awesome meal.
There is no table service here . You order your drinks at the bar, order your meals at the grill counter or pizza counter and they give you a buzzer which rings when your food is ready and you collect your meal at the counter.
We had some excellent food. First up a half rack of pork ribs ($30) which comes with chips and salad. The ribs were so tender, with the meat sliding of the bone.
My mate had a rib Fillet Steak ($36) which also came with chips and salad and a choice of sauce.
Our other friend had a pizza ($22) which had the option of a gluten free base. We all shared our meals and all gave big thumbs up for the quality and taste. 10/10 for quality, taste and the prices are quite reasonable.
There are plenty of tables inside as well as out the front of the restaurant. We went in on Thursday without a reservation and had no troubles getting a table. At the front of the bar area are some pinball machines, video games and a pool table to entertain the kids.
Great Bar, great food. Highly recommended.
Rattle N Hum Bar Grill
67 Esplanade
Cairns City
Open for lunch and dinner 7 days a week
Website: https://rattlenhum.com.au/cairns/
Check out the location of Rattle N Hum in Cairns