1 day stop over in Sydney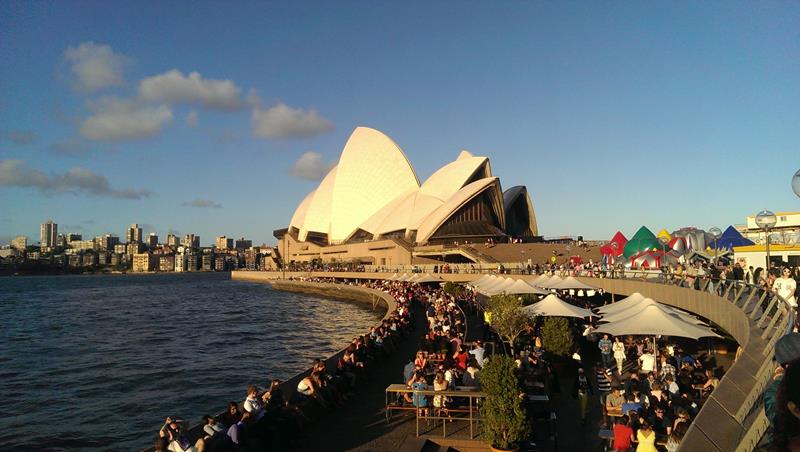 OK you just have a 1 day stop over in Sydney, you have arrived early in the morning and you have to pass the day away until your flight to your final destination in the evening. You don't have alot of money to spend as you have already blown it all on your holiday or you are saving it for your holiday at your final destination. But you still want to get out of the airport and see as much of Sydney with the day that you have. What can you do for a day in Sydney for not alot of money?
Here's an itinerary of things to do in Sydney for the day that will cost you $66.75 (sorry Sydney is expensive!). It will allow you see some of best sights of Sydney, exploring some of what the amazing city of Sydney has to offer and it wont break the bank.
First you got to get from Sydney airport to the city. The train is not cheap but is so much cheaper than a taxi which will cost around $50 or more depending on traffic. A return ticket from Sydney International airport to Town Hall Station (right in the centre of Sydney city) will cost $34.40. Check here for latest prices on Sydneytrains.info. There are some buses that go from the airport to the city but it is not much cheaper and it is much slower.
You can buy an all day travel ticket for the unlimited travel on the Sydney trains, buses and ferrys though this will set you back $23 for an adult ticket but this ticket does not include the Sydney airport stops. Check current prices and child and concession tickets at http://www.sydneytrains.info/tickets/which/mymulti_day. For this itinerary you will only need to catch the train once, other than the return trip from the airport, so you don't need this all day pass.
OK all the hard work is over. Now jump on the train and get ready for a fun day in Sydney.
Get the train to Museum Train Station, this is the next stop after Central Train Station. Right next to Museum Train Station is Hyde Park, the main park in the centre of Sydney city.
Hyde Park is a pleasant park and takes up a number of city blocks. At the southern end of the park is the Sydney ANZAC War Memorial, stop in and pay your respects and then walk down through the park to the other end (ofcourse enjoying all the gardens and statues along the way). Some optional side trips next to Hyde Park is the Australia Museum which has free entry or St Mary's Cathedral is the largest Cathedral in Sydney and free to go inside. OK tick off Hyde Park and you haven't spent anymore money.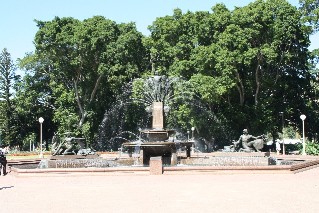 Just to the west of Hyde Park is Sydney Tower Eye. Look up! It's that tall tower building you see which is all gold at the top. That is the tallest tower in Sydney and has an observation deck. What better way to see as much of Sydney withing the shortest possible time.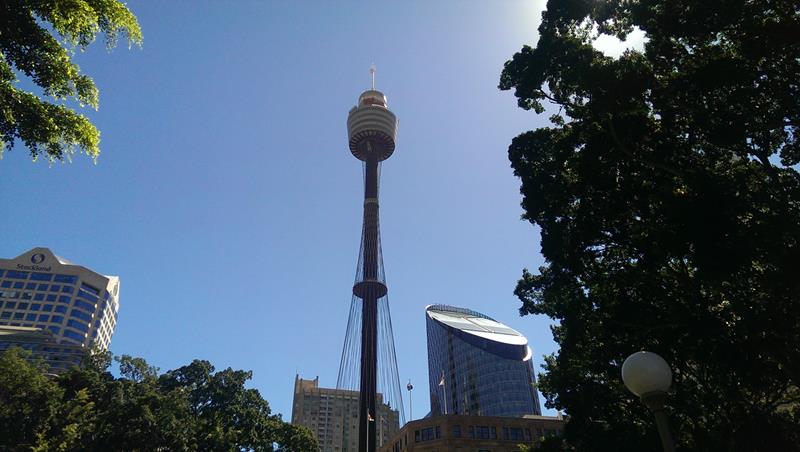 The views from the Observational deck of Sydney Tower are amazing. 360 degree views and on a clear day you can see for kilometers into the horizon. Take your time and enjoy the view of Sydney Harbour. Look down on all the other buidlings in the city centre. And look out to the suburbs of Sydney. The cost to go up to the observation deck of Sydney Tower is $26.50 if you just arrive and pay. Pay online and it only costs $18.55. This is a much better deal. Check out the Sydney Tower Eye website for booking online. If you got loads of money to spend you can also do the adventurous Skywalk around the outside of the tower. This is an extra $50 if you book online.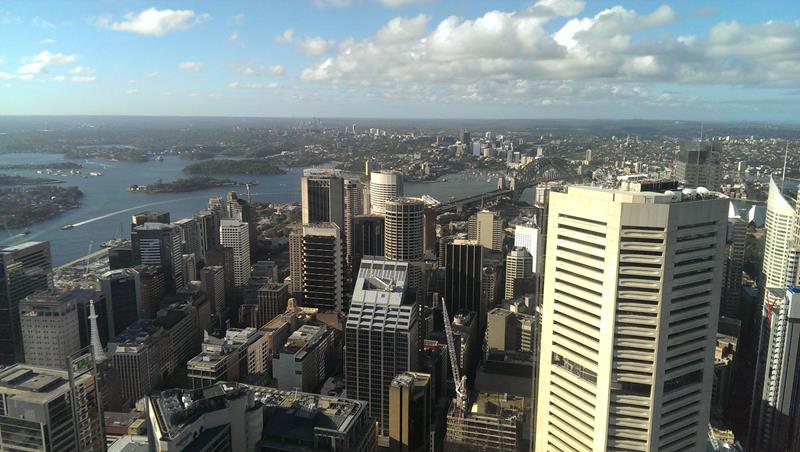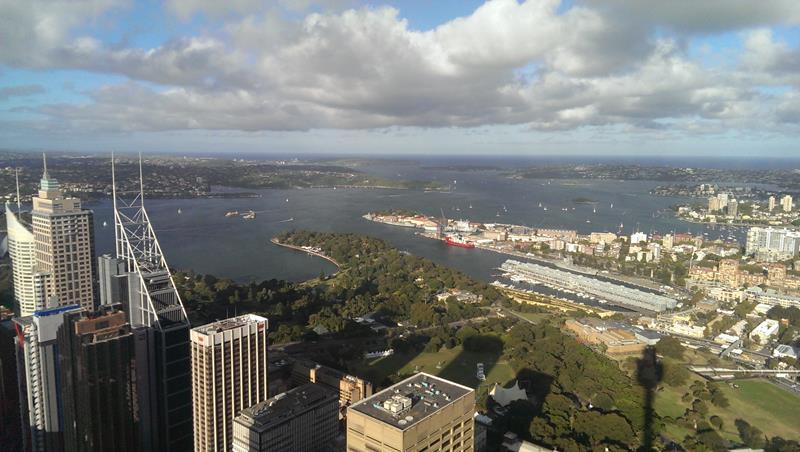 Ok you have seen most of Sydney from the air, now to go back to the ground and see more from street level. Right at the bottom of Sydney Tower is Pitt Street Mall, one of Sydney's largest shopping precincts. With the multilevel Sydney Westfield Shopping Mall and loads of specialty stores along Pitt Street. OK girls this is where you can spend the rest of the day! Or move 1 block down onto George Street and there is Queen Victoria Building, another shopping mall with high end stores but the building is one of nicest to see from the outside as well as from inside.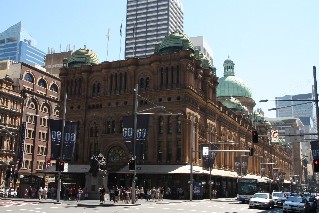 Now it's time for lunch! The best place to eat in Sydney is Chinatown. It may be full of Chinese and Asian food which you may be thinking is not very Australian but Sydney is very multicutural and we all love our Asian food. Keep walking downs south along George Street until you come to Goulburn Street. Turn right and then 2 blocks down you will find Chinatown on the left.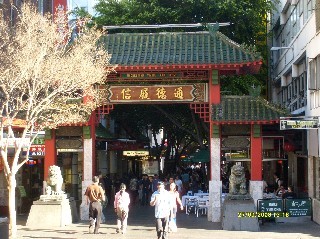 There are plenty of food options. If you do have a bit of cash to splash for lunch then I suggest a nice Yum Cha meal at my favourite resturant East Ocean (see one of our latest food reviews on East Ocean Yum Cha). If you want to do a cheap lunch then you have come to the right place. There are plenty of food courts in Chinatown Sydney where you can a delicious meal for under $10.
After your nice lunch head back to Town Hall Station, close to the Queen Victoria Building and catch the train to Circular Quay (pronounced Key not kway). A single ticket on the train will cost $3.80. Or you could catch a bus from down near Chinatown though most buses in Sydney city are prepaid so would take more time to buy a ticket before you get on the bus.
At Circular Quay station you will get a great view of Sydney Harbour where all the ferrys come from around Sydney Harbour. Over to the right you will see the Sydney Opera House and that is where we are heading now. The walk through Circular Quay has lots of buskers playing music and it is a nice walk around the harbour to the Opera House. You can go inside and look around the lobby area but the best view is on the outside looking over the Harbour to the Sydney Harbour Bridge.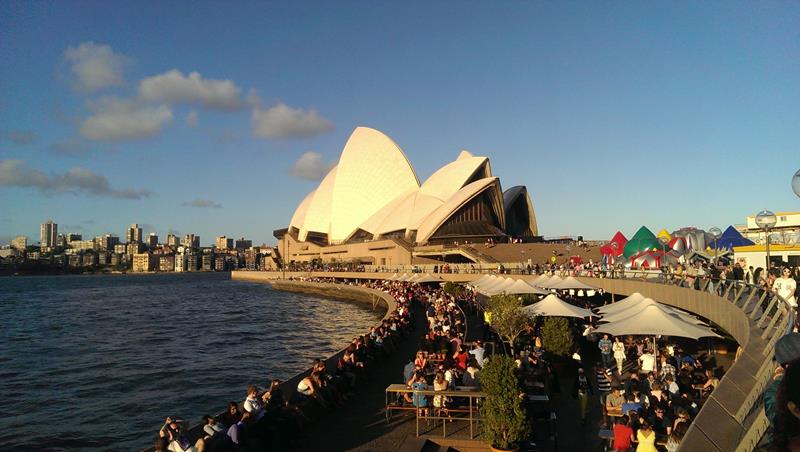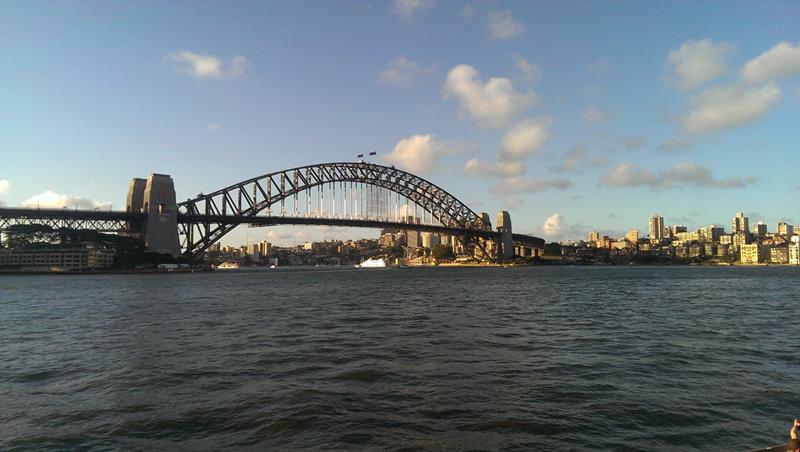 Right next to the Opera House, right where the 2 pics above where taken is one of the best bars in Sydney – The Opera Bar (you can see the umbrellas in the pic which is where Opera Bar is). If I was doing this trip I would plonk myself down at a table and enjoy some great Australian beers or wine enjoying the view of Sydney Harbour and watching life pass by until I got back on the train at Circular Quay which will take you straight back to Sydney International Airport.
At this stage (not taking into consideration the cost of the beers at the Opera Bar) you would have spent $34.40 for your return train ticket, $18.55 for the Sydney Tower Eye observation deck, $10 for lunch and the $3.80 for the train ride down from Town Hall to Circular Quay.
If you keen for some more sights before you head back to the airport, then if you keep walking around past the Opera House you will come to the Royal Botanical Gardens. Or if you walk back around past Circular Quay you come to The Rocks where the first colony was settled in Australia. I'm staying here at the Opera Bar. Hope you have enjoyed your day in Sydney!
If you like this itinerary please post a comment below. Or if you would like some different sort of itinary then post the comment on how much time you have and I'll post up a new itinerary.
Read more about Sydney City Centre for more ideas for your day in Sydney city.
[do_widget id=wpp-7]