Khazana Indian Restaurant Odaiba Tokyo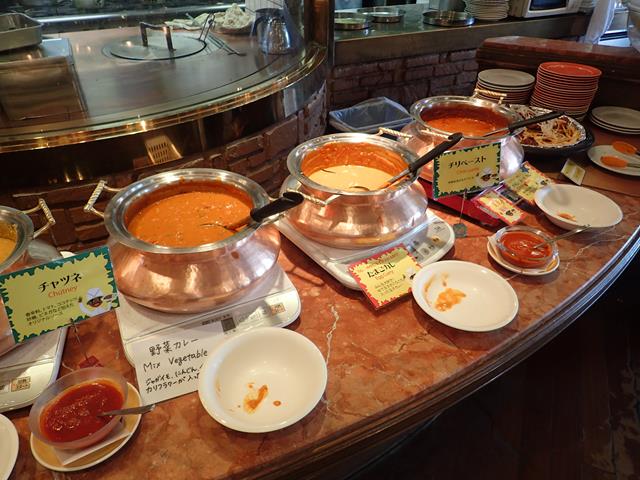 Khazana Indian Restaurant is located on Level 5 of the Decks Beach Shopping Mall in Odaiba Tokyo, right next to Tokyo Bay. Khazana Indian Restaurant serves traditional Indian food including Indian curries and they have a traditional tandoori oven in the kitchen for cooking tandoori dishes as well as very tasty naan bread.
I went in for lunch on a Saturday. At lunch time they have a buffet lunch with 4 different types of curries (3 vegetarian curries and 1 meat curry) as well as some chicken tikka and a good selection of salad.
I tried 3 of the curries, 1 vegetable curry, 1 egg curry and a very spice chiken curry. Each were very tasty. The chicken tikka was the star of the meal. Very tender chicken and a little bit spicy. Very nice. The buffet lunch cost 1250 Yen.
With the buffet lunch you get naan bread which they bring to your table freshly cooked. The naan bread was delicious and a huge serving.
All the food in Khazana Indian Restaurant in Halal so no pork dishes are cooked. Although it is a Halal restaurant they do serve alcohol with a selection of Japanese beers or imported Kingfisher Indian beer which is a very nice beer.
You can see straight into the kitchen and it is very clean and organised. Right at the front you can see the chef working the tandoori oven.
At dinner time the restaurant has an al a carte menu so you can choose the curry dishes or tandoori grilled dishes. The restaurant was busy when I went in for lunch but there was no need to make a reservation. They have plenty of tables inside or they also have tables outside on the deck with great views over Tokyo Bay.
Khazana Indian Restaurant
Decks Tokyo Beach 5F
1-6-1 Daiba
Minato-ku Tokyo
Ph: (03) 3599 6551
Opening Hours: Open 7 days a week from 11am – 11pm (last orders at 10pm)
Website: Khazana Indian Restaurant Odaiba Tokyo
See the location of Khazana Indian Restaurant in Odaiba
Check out other Indian Restaurants in Tokyo
Also see other restaurants in Tokyo