Jade Garden Chinese Restaurant Nishi-Shinjuku Tokyo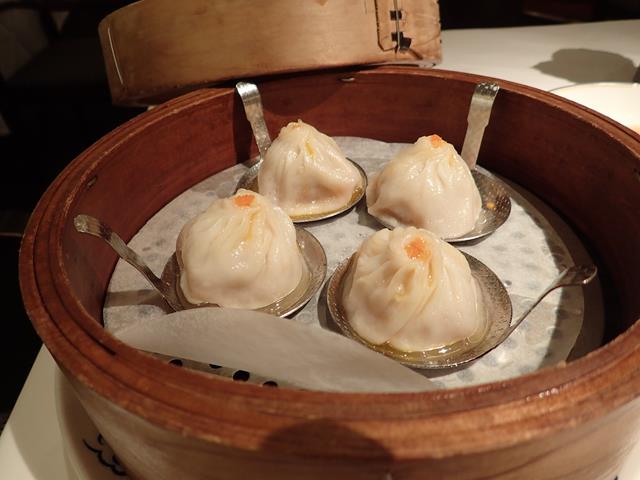 Jade Garden Chinese Restaurant is a high class Chinese Restaurant located within the Hyatt Regency Hotel in Nishi-Shinjuku Tokyo, just a 10 minute walk from Shinjuku Train Station.
I stay at the Hyatt Regency Hotel in Tokyo a few times a year. I usually get into Jade Garden Chinese Restaurant for either lunch or dinner during each stay. Jade Garden serves a range of Chinese cuisine including food from Beijing, Shanghai and Cantonese food including Dim Sum (Yum Cha). The Dim Sum dishes are available for both lunch or dinner.
My most recent visit was for dinner last week when I enjoyed some delicious Shanghai soup dumplings with crab meat as an entree and for main meal I had their braised chicken with spicy sauce and a bowl of rice.
Prices are a bit higher than your standard Chinese Restaurant in Tokyo though not really high considering this restaurant is in a 5 star hotel. The quality of the food and the exceptional service does warrant the prices.
The dining room is a nice large area with enough space between tables to give diners privacy. There are also some private rooms which you can reserve in advance.
Jade Garden Chinese Restaurant
Hyatt Regency Hotel
2-7-2 Nishi-Shinjuku
Shinjuku-Ku
Tokyo
Ph: +81 3 3348 1234
Opening Hours: Lunch 11:30 am to 2:30 pm
Dinner 5:30 pm to 9:00 pm
Website: http://tokyo.regency.hyatt.com/en/hotel/dining/JadeGarden.html
Check out the location of Jade Garden Chinese Restaurant in the Hyatt Regency Hotel
Also check out other Chinese Restaurants in Tokyo
Also see other restaurants in Tokyo
Check out the most popular articles about Shinjuku Tokyo
[do_widget id=wpp-5]