Flight Review – Qantas B747-400 Business Class Tokyo to Sydney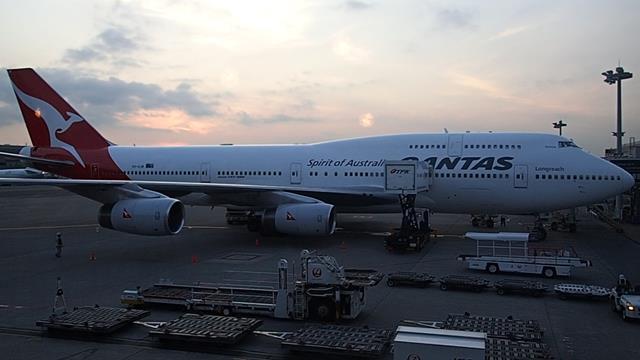 Flight no: Qantas QF22
Route: Tokyo Narita Japan to Sydney Australia
Aircraft type: Boeing 747-400 Longreach
Flight time: 8 hours 30 minutes
Travel class: Business class
Check out the video for the flight review – full video of the pre-flight and flight with take off and landing.
I did have a Premium economy seat booked but used my frequent flyer points (30,000 points to upgrade to Business Class).
There are 2 Business Class sections in the B747-400. The best section is upstairs which is all business class and it has more space between each seat. I was in the main cabin at the front of the plane.
Pre-flight – At the airport: Narita Airport Terminal 2 is one of the better airports of the world. There is heap to see and do, mostly shopping. The best shopping is in the check-in terminal before you go through security. Go up the escalators to the top level and there are heaps of shops selling really nice Japanese souvenirs and a really good selection of restaurants. I always stop here for some takoyaki (fried octopus balls) with a beer.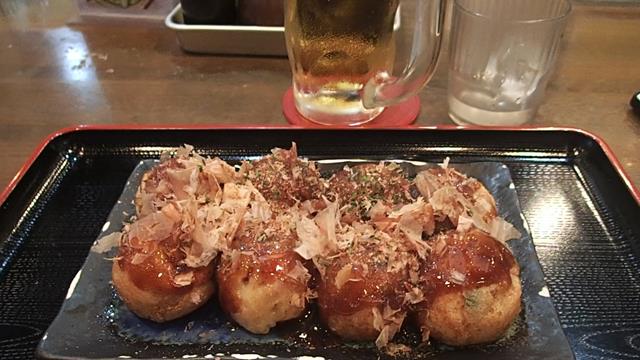 Pre-flight – Qantas lounge: I really like the Qantas lounge at Narita airport. It is not huge but a good size with comfy chairs and good choice of snacks, beers, wine and some Japanese sake. Oh and to the fat turd of a man who was abusing the reception staff because there were no showers available to use – you are a wanker!! Who cares that you just flew 18 hours from Chicago. If there are no showers available it is not the fault of the receptionists. Just wait your turn rather than yelling abuse!
The seat: The airline calls it a flat bed seat. Unfortunately the bed does not lay 180 degrees flat. As the bottom of the chair pushes up against the seat in front you actually get about 160 degrees so you are laying on an angle which is very annoying. Your body constantly slides down towards your feat. Still able to get a fairly good sleep but not a real flat bed seat.
The width of the seat is 21.5 inch compared to the 19 inch in Premium economy and 17.5 inch in economy.
The business class seat pitch is 60. Seat pitch is the distance from any point on the seat to the seat in front. So is almost double the seat pitch in economy class (31).
While seated upright there is plenty of leg room.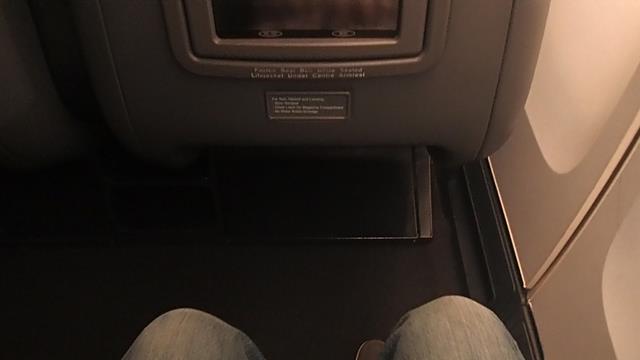 The service: Overall the service was good, friendly staff but…..Usually there is an amenities kit sitting on your chair when you arrive in Business Class. On this flight there was no amenities kit on my seat. A hostess had brought me a glass of champagne and I had asked her if I could get an amenities kit. I mostly like the hand and face moisturizer and the lip balm to keep my skin moisturized with the dry air-conditioned air in the plane. This is part of the extra service you get in business class. After 10 minutes I realised this hostess had forgotten as I did not receive the amenities kit. Just after take off I pushed my service button and waited 5 minutes and no one came to see me. I rang it again and waited a few more minutes. The male cabin manager was walking past and saw my light and asked what I would like. I asked for the amenities kit. He said 'Oh you haven't already received one?'. NO! He brought one to me quickly.
Wi-Fi Available: No – I have not heard if Qantas plan to roll out on board WiFi service but hope they do soon.
The food: First up came dinner. We had a full menu which is inspired by the restaurant Rock Pool run by executive chef Neil Perry. I had the Teriyaki chicken sandwich with wasabi mayo and cabbage salad. This was really tasty. In the past I have had some big disappointments choosing some of the fancier meals so when I see a simple sandwich I always give it a go. How could you spoil a simple sandwich right? Served with a very tasty Ozeki Japanese sake. Yum yum.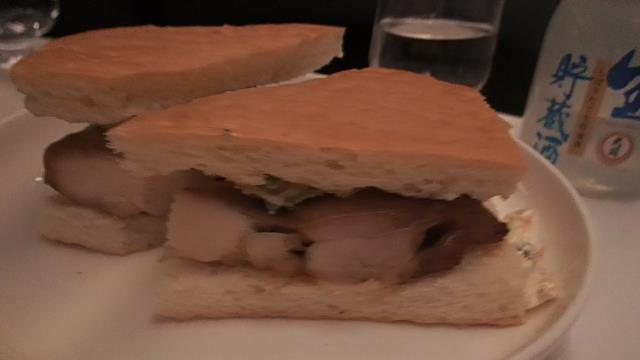 Dessert was an upside down cake with cream which was delicious. Served with a very nice Australian fortified dessert wine which was awesome (sorry I can't remember what brand it was).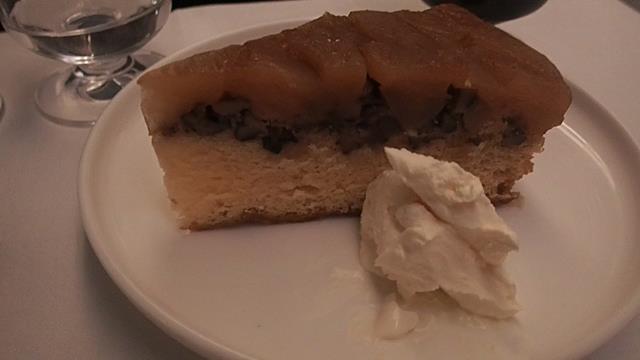 I got around 6 hours sleep and then was woken at breakfast time before landing. I ordered a blue berry muffin which was very tasty. Also I ordered the scrambled eggs with toast and pork sausages and mushrooms. This was very disappointing. The scrambled eggs were very nice but they had been piled onto of the 'toast'. It wasn't actually toast. I think they must have forgotten to toast it as it was just very soggy bread. Not good! And what is with those sad looking baked beans? I didn't touch those or the mushrooms!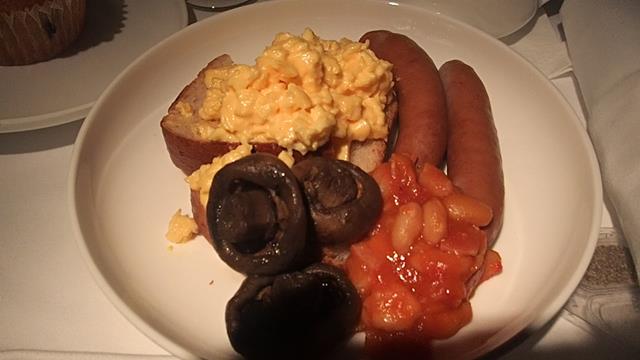 The entertainment: Qantas International Inflight Entertainment has over 1500 options to choose from – heaps of movies (over 100), TV shows, documentaries, destination guides, games and music to choose from. They also have a very cool Flight Path screen so you can track the progress of the flight and see exactly where you are flying over.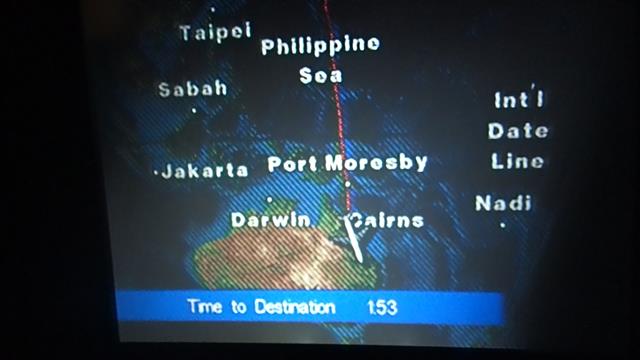 Anything else:  From September 2015, Qantas will no longer be flying out of Narita airport. Flights to Sydney will leave Tokyo from Haneda airport which is much closer to the centre of Tokyo. Rather than the 1.5 hour bus ride to Narita, it will now take around 30 minutes by taxi via the new underground tunnel expressway.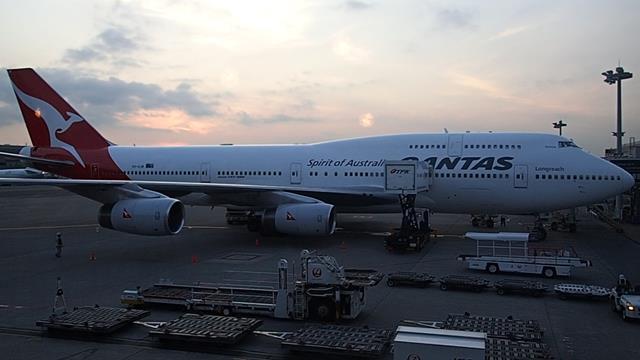 Check out more Flight Reviews
Check out the most popular Flight Reviews on this site: