Mr Hizolas Modern Cantonese Restaurant Burleigh Heads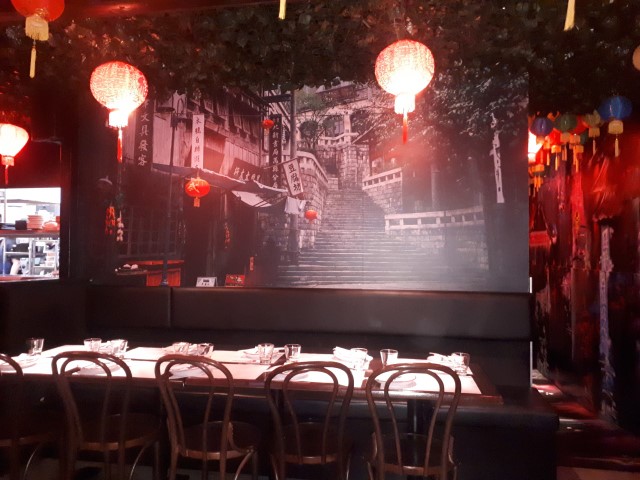 Mr Hizola's Restaurant at Burleigh Heads Gold Coasts classifies itself as a 'Modern Cantonese Restaurant'. From our dining experience i'd say their take on 'modern' is your typical nouveau cuisine, large plates with small amounts of food on it.
Mr Hizola's is anything from authentic Cantonese food. Most people will be familiar with Cantonese food, which was some of the first Chinese cuisine that came to Australia. Often thought of as food that comes from Hong Kong, Cantonese food actually is food that comes from the large Guangdong Province in China which contains the mega city of Guangzhou. 'If it walks, flies or swims, they will eat it!'. The people of Guangdong have a passion for food and love to eat.
While the menu at Mr Hizola's does have some familiar Cantonese dishes like 'Sweet and Sour' and 'Black Bean Sauce', from our experience, most of the dishes are tasting plates rather than hearty meals that you walk away satisfied from. We polished off 5 dishes between 3 people and walked away still hungry and disappointed.
We ordered the 5 dishes at the same time and each one came out separately, including the fried rice which was the last dish to be delivered to the table, after we had finished all the other dishes.
First up we had the classic Cantonese Prawn Har Gow (steamed prawn dumplings) from their Dim Sum menu selections. These were nice but not the big plump fat prawn dumplings I am used to from my favourite Yum Cha restaurants from Sydney or on the Gold Coast. At $9 for 3 dumplings, the alarm bells started to ring. $3 for a small dumpling was a bit steep.
The second dish that came out was the Five Spiced Quail with Szechuan pepper ($17). While Szechuan is not a Cantonese dish, coming from the Sichuan Provence, it is quite common to be served in Cantonese restaurants. While it did have the standard Chinese 5 spice flavour, it lacked the common garlic and Sichuan pepper which gives you a tongue numbing sensation. The quail was bony with not alot of meat on it. 2 pieces of quail didn't quite share easily across 3 diners.
Next up got the top marks for the night – the Pork Belly Char Sui with apple ginger sha sha ($18). Nice cubes of well cooked pork belly, this was far from the usual pork char sui which you see hanging in the restaurant windows of your typical Cantonese restaurant. Good pork belly but 5 small pieces again left us playing 'rocks, scissors, paper' to see how got 2 pieces.
The fourth dish up was the one we had very high expectations for but were severely disappointed with – the Sizzling Wagyu Steak on Fo Zek Stone ($28). Google 'Fo Zek Stone' and you quickly find out that Mr Hizola must have made this name up with the Google results only showing results referring to Mr Hizola's restaurant in Burleigh Heads. Now this came out with the very small portion of about 50 grams of Wagyu beef sizzling on a rock. The waitress poured some liquid over it and lit it up with a lighter which gave an impressive fire show at the table. When the flames went out, the pale coloured wagyu did not look very appetizing, and 50 grams doesn't quite constitute a steak! Maybe it was more than 50 grams but there were literally 3 or 4 strips of meat for each of us. The beef was pretty tasteless on it's own with hardly any seasoning. It did come with a dipping sauce which only slightly added to the flavour.
Just as we finished off the last strip of beef, the Yang Zhou Fried Rice with Pork and Prawn ($17) arrived at the table. While it did have some nice tasting pork in the fried rice, any suburban Chinese restaurants' special fried rice would run rings around Hizola's lack lustre affair.
While the food left us hungry and disappointed, we would say this is a well decked out restaurant with colourful lanterns and images plasted on the walls depicting life in the Guangdong province. This restaurant seems to appeal to a much younger crowd so our presence at the restaurant definitely increased the average age considerably.
After the disappointment of leaving a restaurant hungry and unsatisfied by the lack of flavour in some of these dishes, these diners will be sticking to the classic Cantonese restaurant rather than this fancy, smanshy 'modern' restaurant.
Mr Hizola's Modern Cantonese Restaurant
3/1730 Gold Coast Hwy
Burleigh Heads
Website: https://www.mrhizolas.com.au/
Check out the location of Mr Hizola's Modern Cantonese Restaurant at Burleigh Heads
[do_widget id=wpp-16]