Sitaara Grove Indian Restaurant Shinjuku Tokyo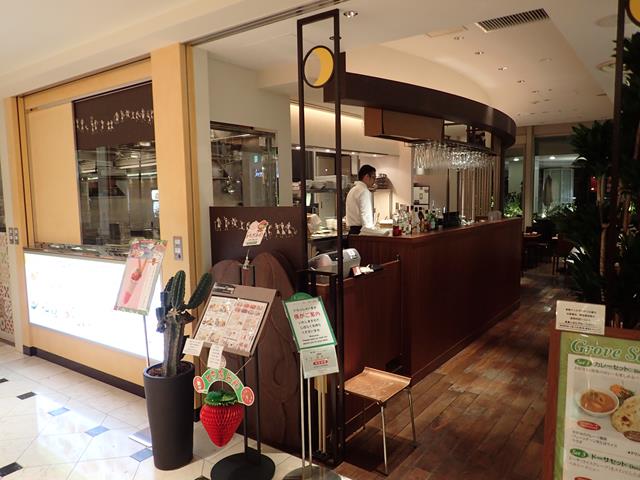 Sitaara Grove Indian Restaurant is located in the Takashimaya Times Square building, located close to the South East exit of Shinjuku Train Station. Sitaara Grove Indian Restaurant is only a small Indian restaurant with enough seats of 64 people, most of these seats are located in an outdoor courtyard only used in the warmer months.
Sitaara Grove is a Halal restaurant so no pork is used in their dishes. They have a good range of traditional Indian food including tasty Indian curries, tandoori, Indian kebabs and some very good naan breads.
The menu is in Japanese though they do have an English heading for each dish and a photo of all the food. The waiters in the restaurant are Indian who speak good English so easy to order.
I went in for dinner and ordered some samosa for an entree. This is normally served with a spicy mint sauce though when they brought the 2 samosas out it came with a tomato sauce. I almost asked them to change the tomato sauce and give me a mint sauce though I tried the samosa with the tomato sauce and it actually worked quite well.
I also ordered a Butter chicken curry with a naan bread. The naan was huge, larger than the plate it was on. I didn't order rice, just used the naan to soak up the delicious butter curry. Very tasty indeed.
Prices are very reasonable at Sitaara Grove. If you are shopping at Takashimaya or around this area and feel like some good Indian food, definitely give Sitaara Grove Indian Restaurant a try.
Sitaara Grove Indian Restaurant
Level 13
Takashimaya Times Square Building
5-2 Sendagaya
Shinjuku Tokyo
Website: http://www.sitaara.com/ website in Japanese
Open 7 days a week from 11am – 11pm
Check out the location of Sitaara Grove Indian Restaurant in Shinjuku
Check out the most popular articles about Shinjuku Tokyo