Awesome Chinese food at Man Tong Kitchen Melbourne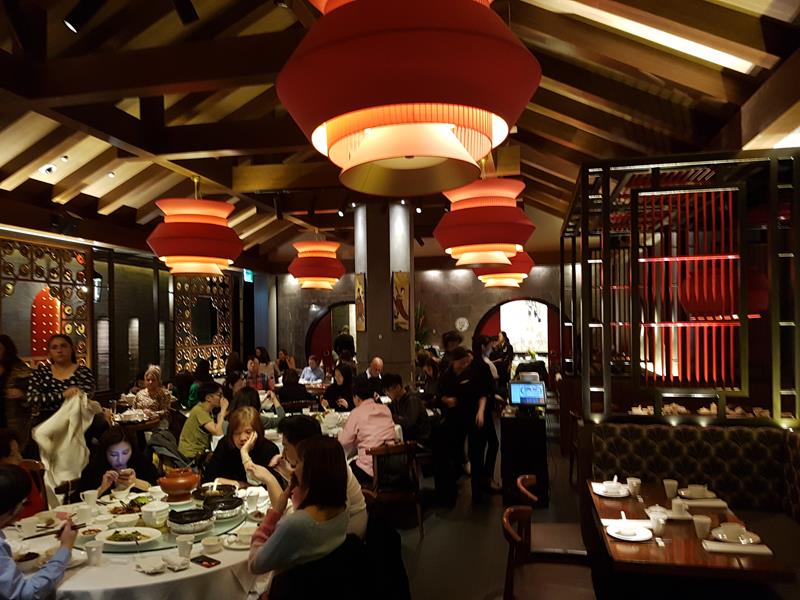 Man Tong Kitchen is located within the Crown Entertainment Plaza in Melbourne's Southbank area, along the Yarra River. I went into Man Tong Kitchen specifically to try their Shanghai Soup Dumplings (Xiao Long Bao). For the record the Shanghai Soup Dumplings were awesome, some of the best I have had in Melbourne. The other food I tried at Man Tong was awesome too, quickly catapulting Mon Tong Kitchen into my new favourite Chinese restaurant in Melbourne.
Mon Ton Kitchen serves up a range of Chinese cuisine from various regions of China. The menu has a a lot of Cantonese food including some great Yum Cha / Dim Sum dishes but there are different types of Chinese cuisine including hot pots, dumplings and noodle soups. The décor is what you would expect from an Aussie Chinese restaurant, large Red lanterns and bird cages hanging from the roof. When I went in, on a Saturday night at 6pm, the restaurant was packed, noisy and a real buzzing vibe. I didn't have a reservation but they were about seat me quickly.
I had already checked out the menu on their website and knew I wanted the Shanghai soup dumplings and some of my favourite Dim Sum dishes including the BBQ Steamed Pork buns and Steamed Prawn Dumplings.
When I placed the order the waiter said that the Shanghai dumplings were an excellent pick and he suggested I changed one of the items to one of his other favourite dishes, the Wontons with Szechuan Chilli Oil. I took his advice and I am so glad I did.
The Shanghai Dumplings were awesome but these Wontons were amazing. There was so much going on with this dish. Silky wonton skins filled with pork mince, chopped ginger, topped with garlic and drizzled with the Szechuan Chilli Oil – gastronomic explosion in the mouth.
With the delicious BBQ Steamed Pork buns, this meal was so satisfying. This is definitely my favourite Chinese restaurant in Melbourne and I will definitely be back to try more of their delightful menu.
Man Ton Kitchen
Crown Melbourne
8 Whiteman Street
Southbank Melbourne
Ph: (03) 9686 9888
Website: Man Tong Kitchen Melbourne
Check out the location of Man Tong Kitchen in Melbourne
Check out the most popular articles about Melbourne
[do_widget id=wpp-13]