Beach with the softest whitest sand Boracay Philippines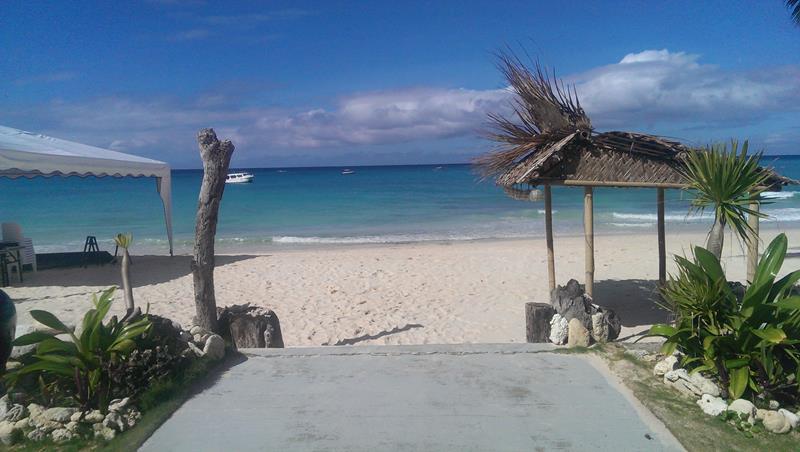 When people first think of a tropical beach vacation in Asia, they think of places like Thailand or Indonesia. Bali and places in Thailand like Phuket, Koh Phi Phi, Koh Samui are at the top of the list of travel destinations for a relaxing beach holiday in Asia.
The islands and beaches of the Philippines are often not considered, though over the last year the Philippines Tourism has been trying to change that with their latest campaign 'More Fun in the Philippines'.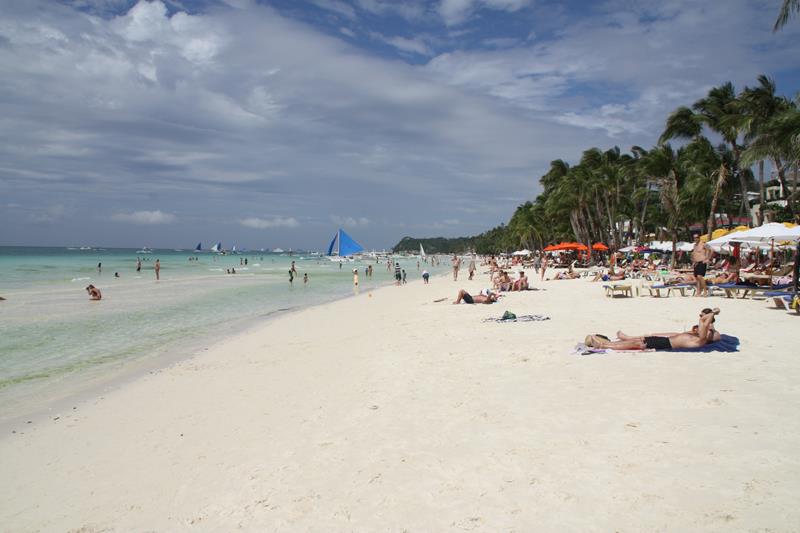 The Philippines has a lot going for it as a travel destination. With 7107 tropical islands to choose from, a country that speaks English and everything is cheap so meals, accommodation and beer is probably cheaper than you will find in Thailand. For example,  500ml of Domestic Beer in the Philippines is around 40 Pesos – that is around A$1.15 or US$0.90. The cheapest beer I got in Thailand recently was 60 Baht or A$2.35 or US$1.85. This is the average price you will pay in a restaurant or bar. You can go to a convenience store and buy a bottle of local beer cheaper than this!
There are a few popular islands in the Philippines like the islands off the coast of Cebu or the remote Palawan Island. The most popular island in the Philippines in the beautiful island of Boracay.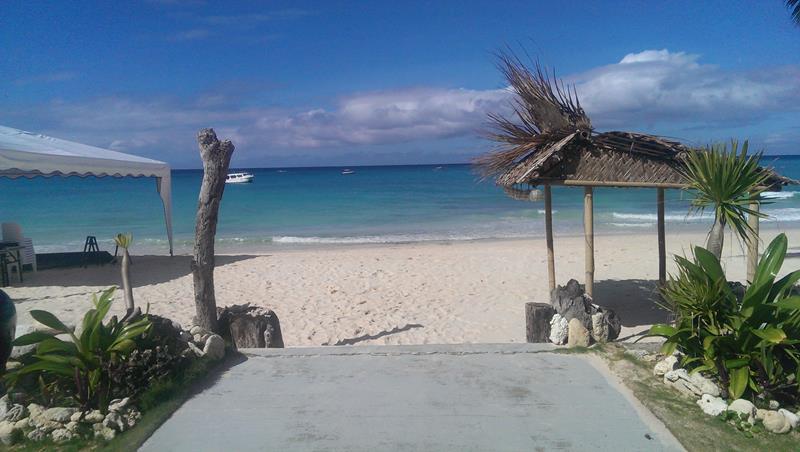 Boracay has some of the softest and whitest sands you will find on any beach in the world. As it is so soft and white, the Philippines Government has made a law that makes it illegal to take sand from the island. So many tourists were taking bottles of the sand away as a souvenir. If every tourist took a bottle of sand back home then the island would erode away and no longer be a beautiful island.
White Beach is the main tourist centre of Boracay, a beautiful, white, sandy beach which is 4 kilometers long. The beach is broken down into 3 sections (handy to know when you are booking accommodation). Boat Station 1, Boat Station 2 and Boat Station 3 are the names of the 3 separate sections, although there is no boundary marking these areas as the beach is just 1 long stretch of sand.
Station 2 is the centre of White Beach and has the highest concentration of hotels, restaurants and shopping. Right at Station 2 is the huge open air shopping mall called D'Mall. D'Mall stretches from the main road running up through the centre of Boracay, down to the beach. With foreign exchange offices, fashion stores, sporting stores for snorkeling and scuba equipment as well as a heap of restaurants.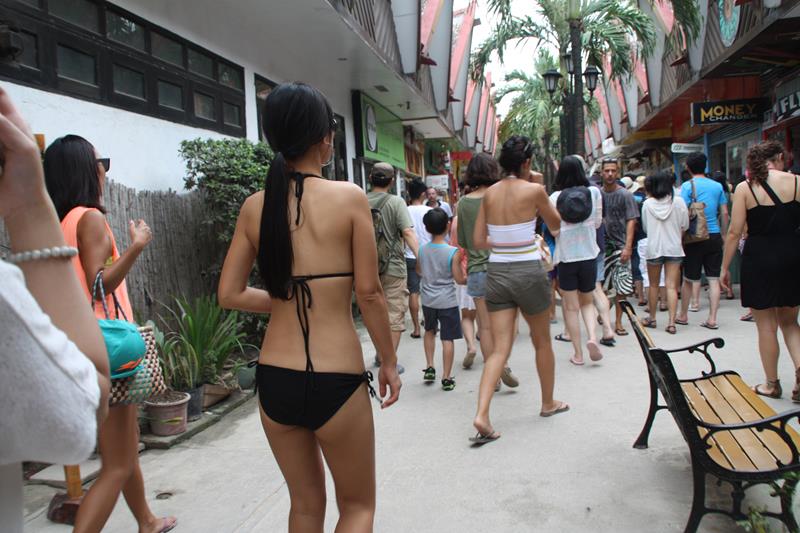 There are loads of restaurants in D'Mall as well as along the walk way right next to the beach. There is a good choice of restaurants including Chinese, Japanese, Italian and plenty of cafes. Check out D'Hobbit House Boracay which only employees midgets as their waiters and waitresses and has a great range of food.
 Water sports and activities on Boracay Island
There are heaps of the activities on Boracay Island including snorkeling, scuba diving, fishing trips, kayaking and sailing trips. There are also some ATV (All Terrain Vehicles) and buggy tracks to race around. Other activities include horse riding, mountain bikes, parasailing and golf. Check out the golf course at the Fairways and Bluewater Resort.
Scuba Diving Boracay Philippines
There are heaps of good coral reefs off the coast of Boracay which are excellent for scuba diving. There are loads of PADI certified dive shops all over Boracay where you can rent scuba equipment, organise boat dive trips or complete any of the PADI dive courses.
 See our video of scuba diving Boracay Island
https://www.youtube.com/watch?v=-yodz5WzeOY
Nightlife on Boracay Island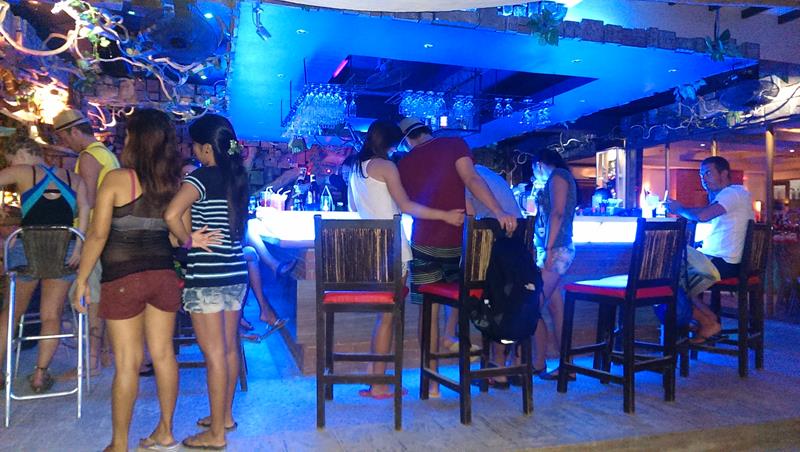 There is a good nightlife scene on Boracay with loads of bars and nightclubs, mainly found around the White Beach area. Some of the nightclubs are open until 3am. Right on White Beach is Coco Bar which is open from lunch time until late at night. A cool bar serving a great range of cocktails as well as a full menu of food. Further up in Station 1 on the main road is Cocomangas Shooter Bar which is a full on night club. It doesn't get busy at Cocomangas until after 10pm but then is pumping until early in the morning. Cocomangas has a heap of friendly Filipino bar girls.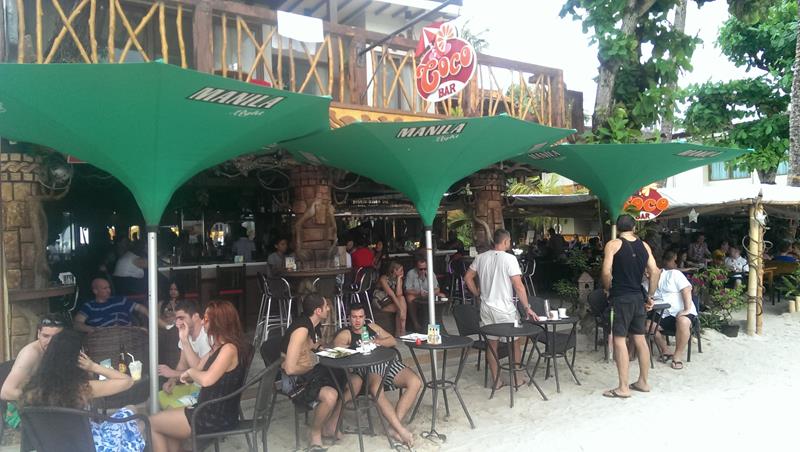 As with most bars and nightclubs in the Philippines there is a fair share of bar girls who are looking for a boyfriend for the night. There are also a number of ladyboys who come to Boracay looking to make some money from meeting foreign guys for fun.
Things often run on 'island time' on Boracay. For example a group of 12 of my friends all organised to go for a scuba diving trip at 10am. We all arrived before 10am to get our equipment. The dive shop just fluffed about and by around 10.30am we had our equipment ready. We then had to wait for the dive instructor to finish a Discovery dive course with some of our friends before we could get on the boat. It was about 11.15 before we left the dive shop to get onto the boat. So take note to adjust you watch to island time, rubber time!
Boracay Island Hotels
There are heaps of hotels to suit all budgets on Boracay Island. From budget accommodation to luxury beach resorts. The majority of the hotels are located around White Beach though there are plenty of others located in the more quiet areas of Boracay.
The northern end of the island is a lot quieter and has some of the more upmarket beach resorts including the Shangri-la Resort
See a full list of hotels on Boracay Island.
How to get to Boracay
Boracay Island is a short 45 minute flight from Manila. You fly into Caticlan airport and then transfer across to a ferry which takes you over to Boracay island, around a 15 minute ferry ride.  Cebu Pacific Air also have direct flights from Hong Kong to Kalibo airport which is located 1.5 hours away by bus from the ferry terminal to cross over to Boracay.
Cebu Pacific flight from Manila and from Cebu to Caticlan airport.
Philippines Airlines also have flights to Boracay from Manila.
AirSwift now have direct flights from Caticlan airport to El Nido Palawan Island