Best Hotels to Stay on Miyajima Island Japan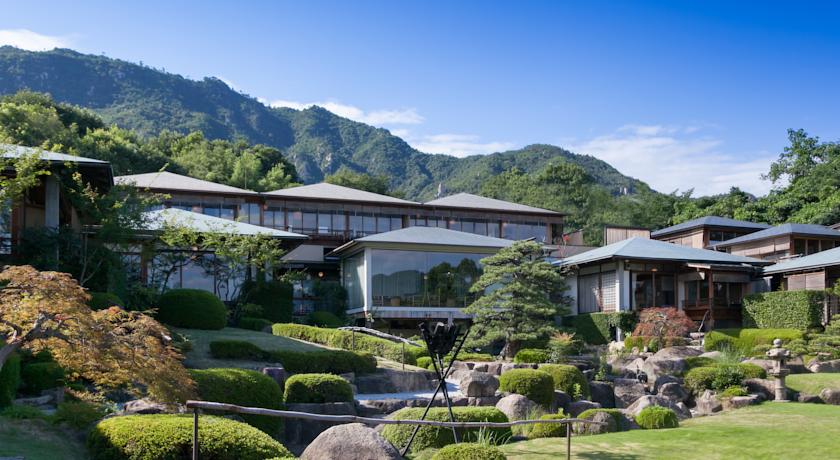 Miyajima Island is the beautiful island in Hiroshima Bay, just 45 minutes away from Hiroshima Island. You can do an easy day trip to Miyajima Island from Hiroshima though I think this beautiful island deserves more time than just a day trip. There are plenty of nice Japanese style hotels on Miyajima Island to stay a night or 2 an enjoy this beautiful island. There are also plenty of traditional Japanese restaurants to try some of the authentic food from this region of Japan. Check out the best hotels to stay on Miyajima Island Japan:
Iwaso Ryokan
Iwaso Ryokan is a traditional Japanese style hotel which was built in 1854. Iwaso Ryokan is located directly behind the World Heritage Istukushima Shrine which is the number 1 tourist attraction on Miyajima Island. Rooms include television LCD/plasma screen, air conditioning, heating, mini bar, telephone and WiFi internet access. Room prices at Iwaso Ryokan Hotel start at around 50,000 Yen per night. Check out room rates and book online.
Miyajima Seaside Hotel
Miyajima Seaside Hotel is a quality 3 star hotel located right down on the edge of the island with views over the water. Miyajima Seaside Hotel is located in a quiet area of Miyajima island a short 5 minute drive (1.5 kilometers) from the ferry terminal. Miyajima Seaside Hotel is a Japanese Ryokan with traditional Japanese style rooms. Room prices at Miyajima Seaside Hotel start from 12,000 Yen (around $120) per night. Check room rates and online booking.
Sakuraya Hotel is a quality 3 star hotel located just 3 minutes walk from the ferry terminal on Miyajima Island. Right next to the village there are loads of restaurants and food stalls close to the hotel. The hotel is walking distance to the Istukushima Shrine and other popular tourist attractions on Miyajima Island. Room prices at Sakuraya Hotel start at around 16,000 Yen. Check room rates and online booking.
[do_widget id=wpp-24]