Flight Review Emirates Sydney to Bangkok A380 Economy Class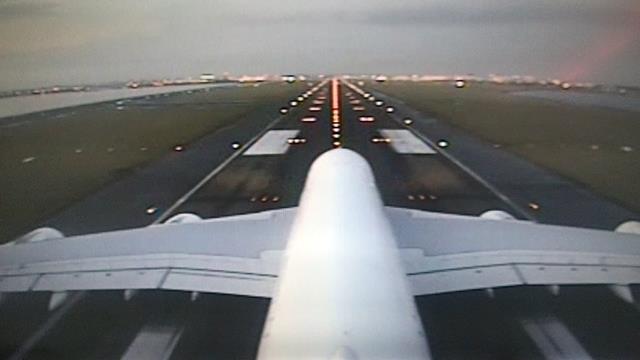 Airline: Emirates
Flight no: EK419 (Qantas code share flight no: QF8419)
Route: Sydney to Bangkok
Aircraft type: Airbus A380-800
Flight time: 9 hours
Travel class: Economy Class
Seat Width: 18 inches
Seat Pitch: 32 – 34 inches
Check out the Full Flight Review video
Usually I fly Qantas! For this flight to Bangkok I checked the Qantas website for flights and I saw they had 2 flights from Sydney to Bangkok each day. A Qantas flight leaving Sydney at 9.45am and arriving in Bangkok at 3.35pm on a A330-300 plane. They also have a co-shared flight with Emirates leaving Sydney at 7.50pm and arriving in Bangkok at 1.10am on the A380-800. The later flight suited my schedule and I hadn't flown in the A380 for a few years so I booked an Economy ticket which cost around $1700 for the return flight, an expensive flight but it was the week before Christmas so I didn't expect any cheap options.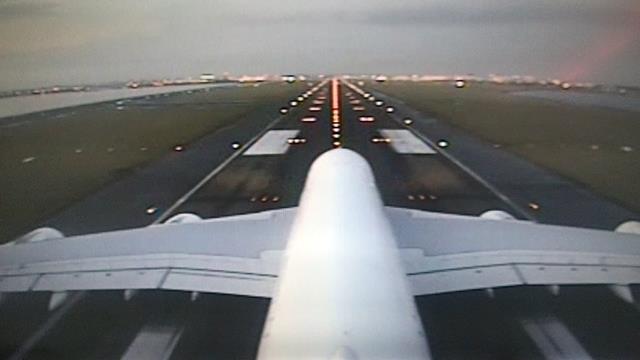 Now the plan was to buy the economy ticket and then use my Qantas Frequent Flyer points to update to Business Class. When I saw Emirates use the A380 I thought what the heck I'll use extra points to try their amazing First Class pods on the A380 and try those onboard showers. Once I booked the Economy Ticket I went back in to Manage my booking and request the upgrade. To my surprise I got a message saying Unable to proceed with the Upgrade. I had read before that I could use Frequent Flyer points to upgrade for any flight with a Qantas flight number. But when I went back to read the terms and conditions what it actually said was I could use points to upgrade on any flight that is operated by Qantas. Damn! I was no stuck with an Economy Ticket. I had not flown internationally in Economy class for a fair few years.
I had recently watched the Emirates TV commercial with Jennifer Aniston where she gives up her First Class seat to go sit in Economy. The ad looks good so how bad could Economy on Emirates be?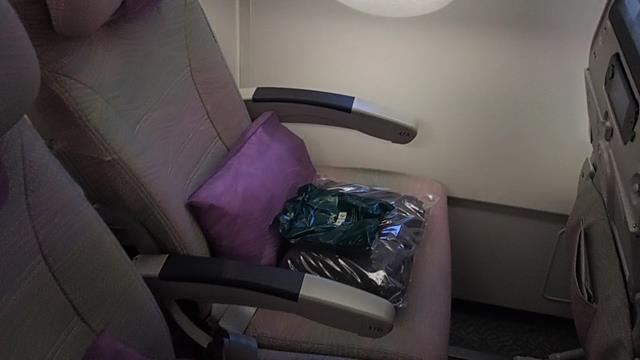 Turns out it was pretty good, much better than my previous experiences in Economy class.
First of all I was impressed with the legroom. My knees weren't pushed up against the seat in front of me and I could fully stretch my legs out under the chair in front.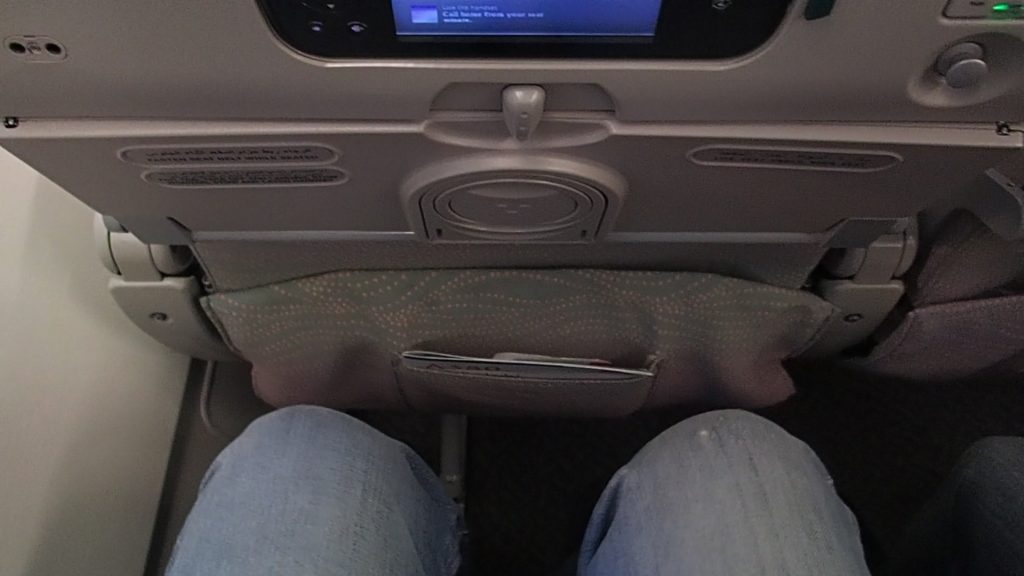 Entertainment on Emirates Economy Class
The Emirates ICE Entertainment System (Information, Communication and Entertainment) has one of the biggest ranges of Entertainment for any airline.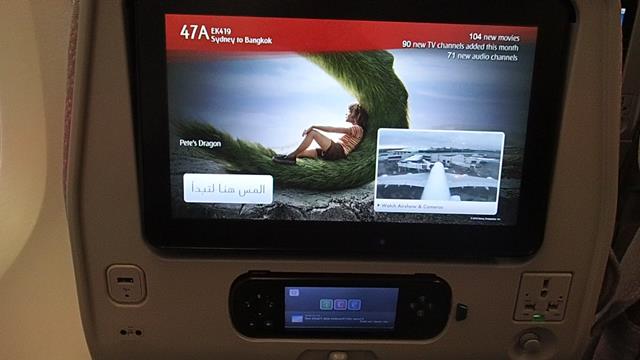 If you are not happy with the thousands of Movies and TV shows available on the Emirates ICE entertainment system, the seat has a USB port to plug in your own entertainment. There is also a power socket if you want to plug in your laptop.
The screens in the Economy section are a nice sized 13.1 inches. Now these screens are Touch Screens not tap screens! If you are sitting behind me on a flight please pay attention to the Touch not TAP. I always have someone sitting behind me who is never happy with what they are watching and constantly changing by tapping as hard as they can which pushes my head rest. Touch NOT Tap people!
One of the nicer features of the ICE system is the onboard cameras. There are 3 cameras on board the A380 which you can watch on your personal screen. For some reason only 2 of the cameras were working on my flight, the camera mounted on the tail looking down the plane which is awesome to watch take-off and landing. The other camera was mounted under the plane looking straight down to watch the world go by underneath.
Food on Emirates Economy Class
The food was really good! (much better than the food I have experienced in Qantas business class in the last few years!).
For dinner I had the Smoked Chicken Salad, Braised Beef with mushrooms served with mashed potatoes and a delicious Raspberry Cheesecake for dessert.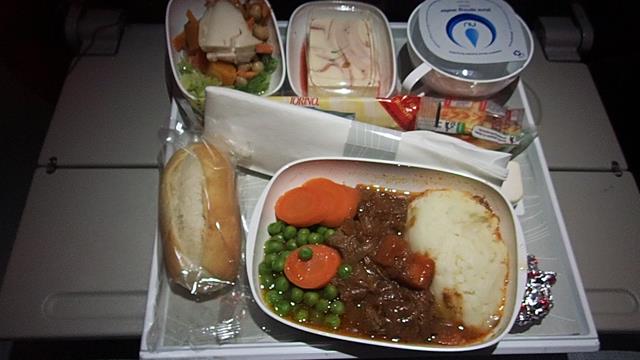 About 1.5 hours before we landed in Bangkok the crew came around with some snacks. I had the beef meat pie which was really good. It was only a small pie but very tasty with crispy pastry.
Service on Emirates Economy Class
The service is first rate! The Emirates crew are lovely. They made an announcement saying that the crew on the A380 came from 25 different countries and spoke 19 different languages. All the crew I dealt with seemed genuinely nice and friendly. Along with the great food, the friendly staff really make a flight enjoyable.
They did bring around an Economy Amenities kits which just includes a pair of socks, earplugs, a toothbrush and toothpaste and an eye mask.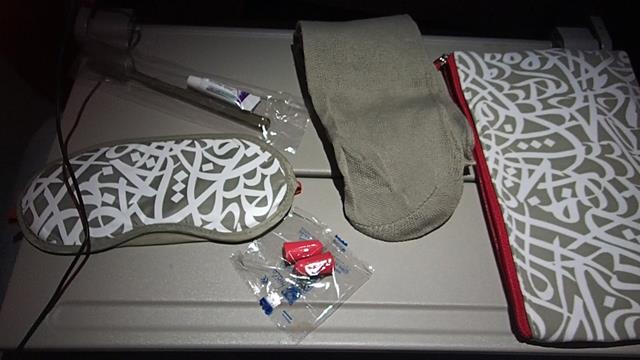 Well I didn't get to try out the Emirates First Class pods but I did learn that Economy Class doesn't have to be a terrible experience! Try out Emirates. They must be one of the best airlines in the world.
Booking flights on Emirates
You can either book this flight on either the Emirates Website or the Qantas website and still earn Qantas Frequent Flyer points.
Check out the most popular Flight Reviews on this site:
[do_widget id=wpp-6]