Flight Review Qantas flight Sydney to Manila Business Class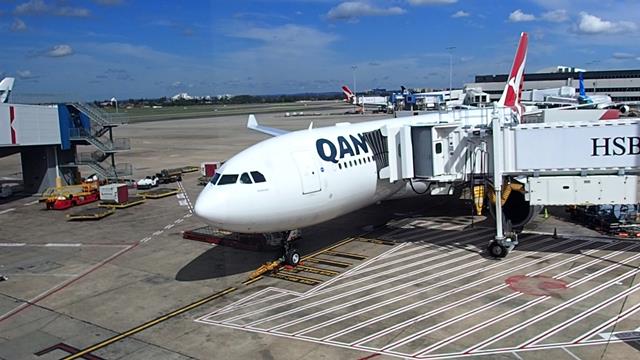 Airline: Qantas
Flight no: QF19
Route: Sydney Australia to Manila Philippines
Aircraft type: Airbus A330-200
Flight time: 7 hours 22 minutes
Travel class: Business Class
Seat type: New Vantage XL seat – complete lay flat bed
Seat Width: 21.5 inches
Seat Pitch: 78 inches
Check out the full flight review video for this Sydney to Manila Qantas flight
At the airport: I flew out at midday on Saturday. Sydney airport is so busy on Saturday mornings! As a Business Class passenger, Qantas gave you a priority ticket to get through customs much quicker than the general departure gate.
I always get to the airport 3 hours before my flight. At Sydney airport there is heaps of shops and restaurants to choose from and I always take full advantage of the Qantas Club lounge 😉
The Business Class Lounge: With a Business Class ticket you get access to the Qantas Club Business Lounge. As a Qantas Platinum Frequent Flyer I also get access to the First Class lounge which is awesome.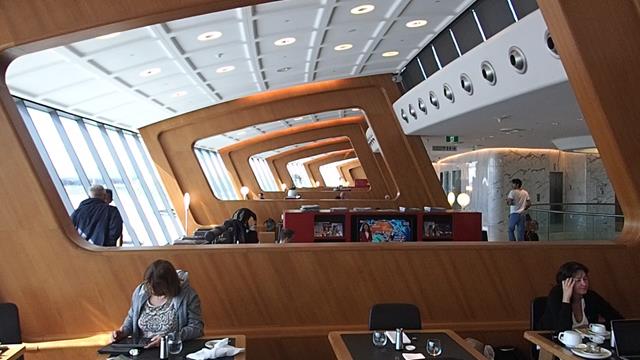 I ordered up a cafe latte and 2 poached eggs with toast and sat back and watched all the movements of the planes coming to and from the gates directly below the Qantas lounges.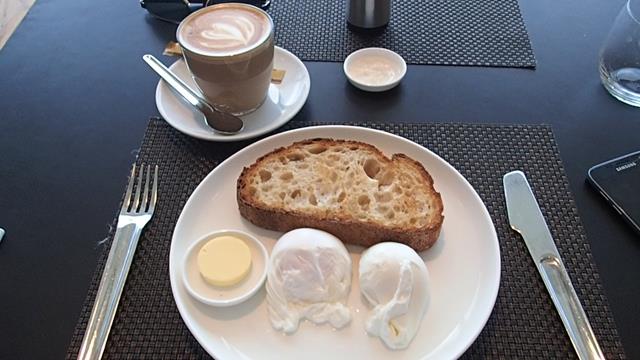 Inside the plane:
The seat: The Qantas Airbus A330-200 (actually the entire A330 fleet) have had their business class cabins refitted with the Vantage XL Business class pods which is the best business class seat that I have experienced.
The seating arrangement is 1-2-1 configuration. I had seat 2K which is located right next to the window. There is heaps of legroom, with a space under the pod in front of you.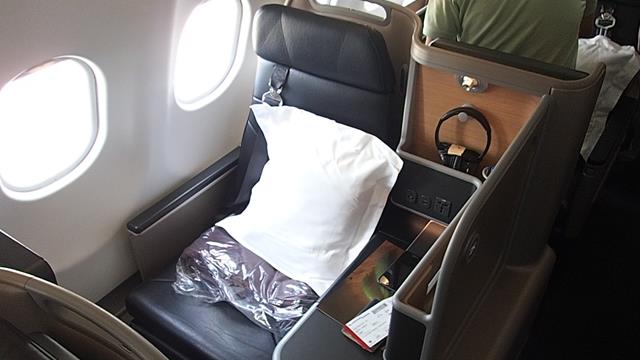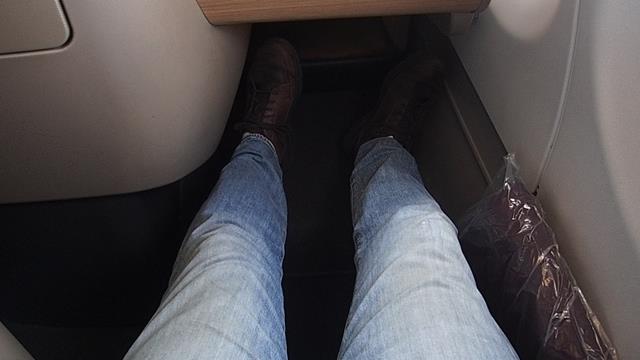 The Entertainment: In the Vantage XL Business class pods. the Inflight Entertainment screen is a nice sized 18″ touch screen TV which is loaded with hundreds of movies and TV shows.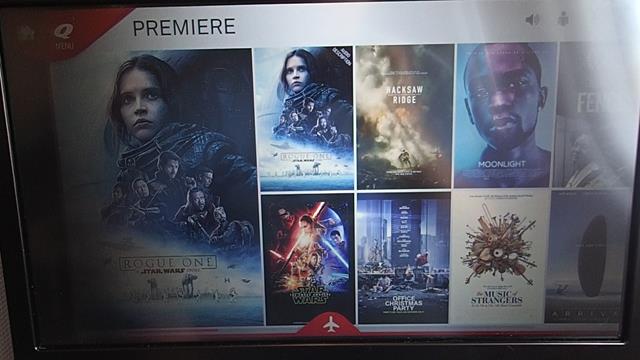 You also get a copy of the Qantas inflight magazine which is one of the best inflight magazines around. There are always some excellent travel articles in the Qantas mag, along with all the full pages ads for expensive watches and cars that I can't afford 🙂
There is no Wi-FI internet on this Qantas flight though with all the entertainment available, I can survive 7 and half hours without internet.
The Food: Qantas have really picked up their game when it comes to their food. I used to be very critical of the Qantas food. On the last 3 flights this year on Qantas I have been very impressed with the quality of the food. They have really changed their food strategy and I give them big points for making this change. Before they were trying to serve up food you would expect in a restaurant but with this sort of food should be cooked and delivered straight to the table. This doesn't work well when the food is cooked in an industrial kitchen and then transported to the airport and stored and then reheated.
As this flight left just after midday, not long after take-off we were served lunch which was a delicious 3 course meal.
First up for entree I choose a very tasty Italian Zucchini soup which was served with some shaved parmesan cheese. There was also a bowl of salad (well rocket with a nice dressing) and 2 slices of sour dough bread.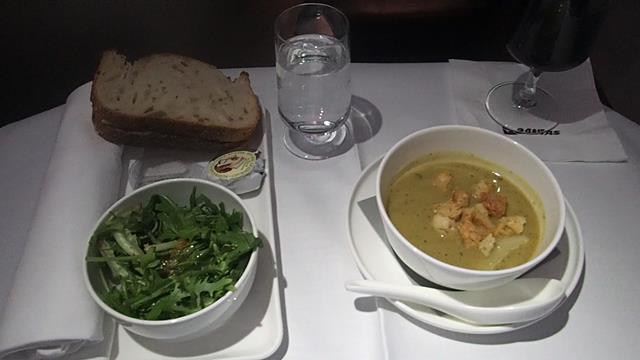 For the main meal there were 4 choices – a vegetarian dish of Ricotta, lentil and eggplant mousakka with red capsicum sauce – Chicken Katsu on toasted milk bun with cabbage slaw, tonkatsu sauce and cucumber pickles – Grilled Salmon with chilli, garlic, cherry tomatoes and squid ink noodles – Beef goulash with grilled zucchini, orzo and creme fraiche. I went for the Chicken Katsu sandwich and very happy with my choice. This was a simple and very tasty sandwich. Simple food is best!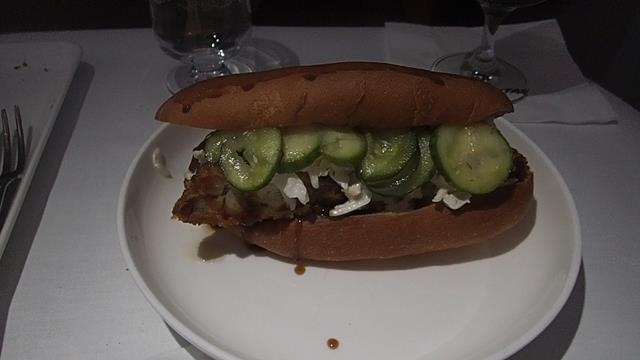 There were 4 choices for dessert as well – a selection of cheese served with accompaniments – Signature flourless chocolate cake with double cream and raspberry sauce – Pat Stick's ice cream sandwich – Seasonal Fruit.  I went for the flour-less chocolate cake which was delicious. This was a bit like a firm chocolate mouse. Very tasty indeed. I also enjoyed a glass of Australian dessert wine with this yummy chocolate cake.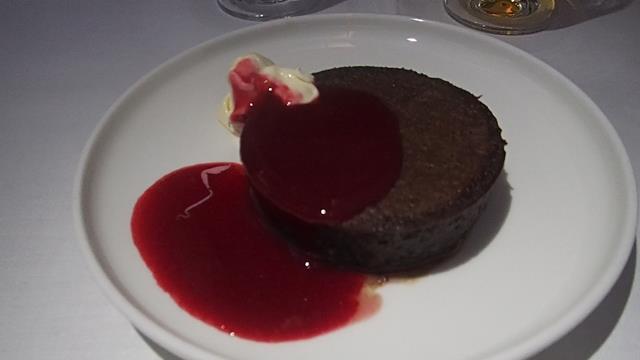 The service: The service was acceptable on this flight though I didn't really get a very friendly vibe from the crew. The cabin manager was the only staff member that greeted me using my name. She made a point to come and say hello to me before I took off and greet me back on board a Qantas plane.
On other Qantas flights the crew all used my name (I guess they learn the names of the business class passengers or maybe just the Platinum Frequent Flyers). I think on this flight, only the cabin manager made the effort on this flight. This sort of detail is what makes for great service.
Overall this was a great flight. It took off 30 minutes late but the pilot made up time and we actually arrived into Manila's Ninoy Aquino International Airport 5 minutes early.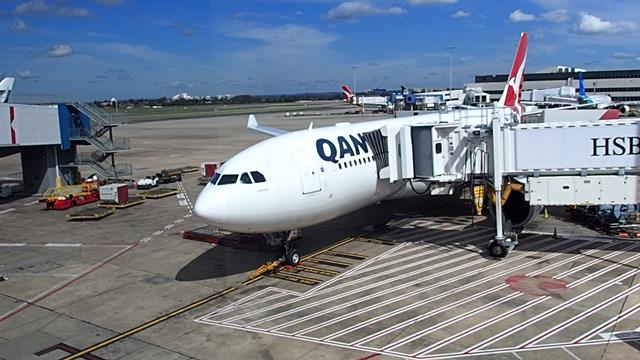 Next flight review coming this week – Cebu Pacific flight from Manila to Peurto Princesa on Palawan Island!
Check out the most popular Flight Reviews on this site:
[do_widget id=wpp-6]