Flight review Qantas QF25 Business Class Sydney to Haneda Tokyo Airport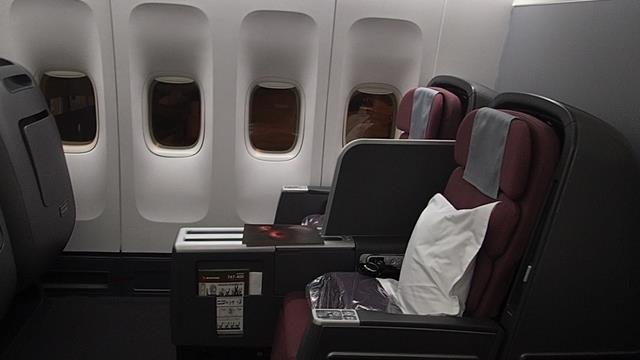 Airline: Qantas
Flight no: QF25
Route: Sydney Australia to Haneda Tokyo International airport
Aircraft type: Boeing 747-400 Longreach
Flight time: 8 hours 30 minutes
Travel class: Business class
Seat type: Lay flat bed
Seat Width: 21.5 inches
Seat Pitch: 80 inches
Check out the full flight review video for this Qantas QF25 flight from Sydney to Haneda Tokyo airport
Pre-flight – At the airport: Sydney International airport has just had a massive renovation with even more duty free shopping available. They have also expanded the restaurant area with loads more choices of food.
Pre-flight – Qantas Business lounge: With a Business Class ticket on Qantas allows you to visit the Qantas Business Class Lounge before your flight to enjoy free buffet food and drinks. As I am a Platinum Qantas Frequent Flyer I get access to the Qantas First Class Lounge which is located right next to the Business Lounge. The Qantas First Class Lounge at Sydney airport is the best airline lounge I have ever visited (and I have visited a fair few!).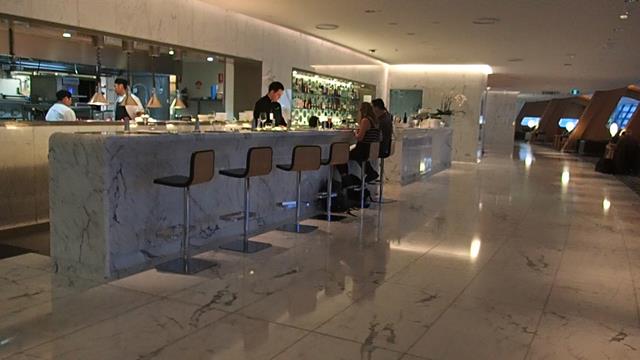 They have a full restaurant style food menu and all the food is freshly cooked by the chefs in the kitchen. I enjoyed a nice Beef Cheeseburger which is served with chips. I also polished off a few vodka, lime and sodas.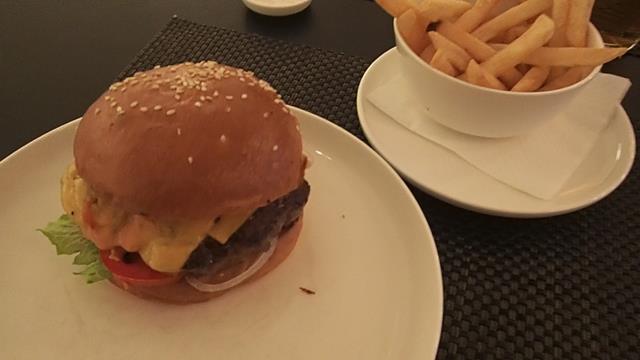 Onboard the plane:
The seat: I was in one of the best seats on this plane. Seat 1K is right at the pointy part of the plane, right in the nose of the B747.
There are actually 3 sections of Business Class seating on these B747-400 that fly between Sydney and Tokyo. There is this section right in the nose of the plane which used to be a First Class cabin but that has been removed and refitted to be extra Business Class seats. There is another section just behind here and then there are the seats upstairs. I usually like to sit upstairs! I had reserved a seat upstairs. When I checked in I didn't notice that they had changed my seat number to the downstairs, front Business Class section. Most of the Qantas B747 have been refitted with the same Business Class seats as are used on the Qantas A380s.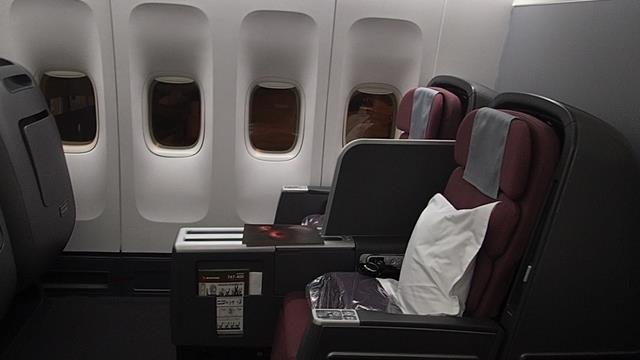 This front section is one of the best areas of Business Class seating as there is no traffic walking past. Right at the front of the plane the only people that come up there are they people sitting in that row and the cabin crew who come to serve you.
The seat is a total lay flat seat. After take-off they come around and ask I you want your seat to be fitted with a mattress. This is not a very thick matress but it is well worth getting it fitted to your seat as it does make it much more comfortable if you want to get some sleep.
The service: I enjoyed really good service on this flight. All the staff were lovely and you get a few extras in Business Class that you miss out on in Economy.
First of all you get a Business Class amenities kit which contains a box of Aspar Travel essentials which includes a tube of Ultra Hydrating Face Mosteriser, Sweet Orange and Shea Hand Cream and a tube of Sweet Orange Lip Balm. It also contains an eye shade, ear plugs, a pair of socks and tooth brush and toothpaste. I use this stuff everytime I fly in Qantas Business Class. I think the moisteriser is something everyone should use on a flight. With this old aircraft the airconditioning can make you dry so the moisteriser helps!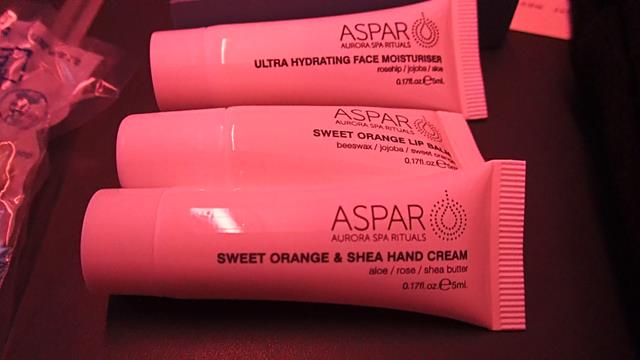 You also get a set of Qantas cotton pyjamas to wear. I used to not wear these but now do. It is nice to change your clothes into the pyjamas, then after you sleep, before landing change back in to your clothes which are fresh as you haven't slept in them!
Wi-Fi Available: There is no Wi-Fi internet access on the Qantas international routes. I have read that Qantas have been testing this using the new NBN satelites but that service will only be available for Australian domestic flights. I have not read anything of when Qantas will introduce WiFI internet access on their international flights. Come on Qantas! Many other international carriers already have Wi-Fi internet.
The food: As usual, in Business Class you get a good choice of meals in Business class cabin. Now I have had some bad experiences with the food on Qantas flights in the past 2 years, even in Business Class. I was pleasantly surprised to really enjoy the food on this flight.
For the dinner I enjoyed a delicious plate of Stir Fried Beef with garlic, bok choy, ginger pickles and steamed rice. This is the best meal I have had on a Qantas flight in quite a few years 🙂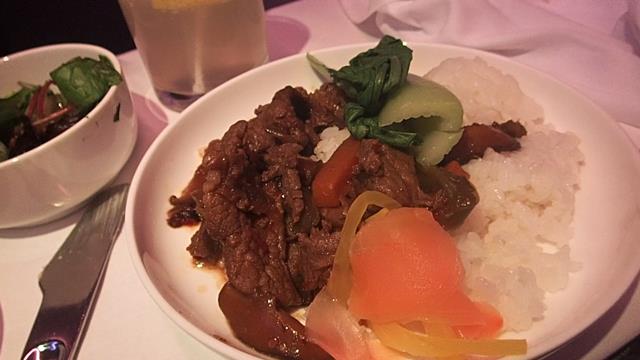 For dessert I really enjoyed the Vanilla Cheesecake with blueberries. Yum yum!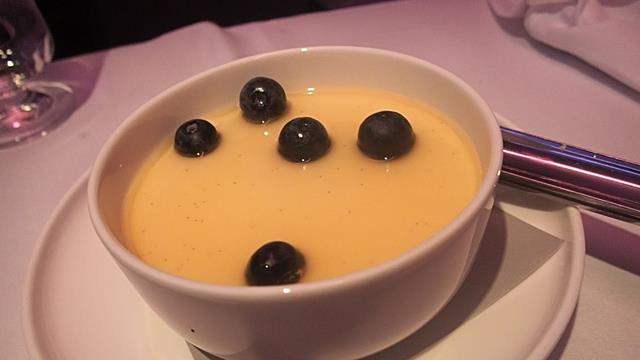 BUT – Breakfast!!!! It seems to be a recurring theme on Qantas flights that if you are not awake, you do not get breakfast. Not so long ago, in Business Class on Qantas flights, at the start of the flight you were given a breakfast menu to tick what food you wanted for breakfast. At the top of this form was a box to tick if you wanted to be woken if you were still sleeping. Now this form seems to have disappeared from the service!
When they first turned the lights on in the cabin I did wake up and thought about sitting up to try the breakfast. Then I rolled back over and went back to sleep to get an extra hours of sleep before we landed.
The entertainment: There is heaps of entertainment on the Qantas International Inflight Entertainment System. The one big disappointment is the little screen that swivels out of the seat arm rest. The screen is small (12.1 inch screen) and you have to stow the TV screen during take-off and landings!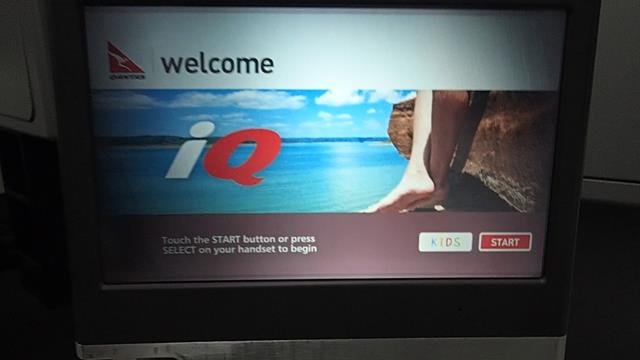 There are no cameras on the Qantas plane which allow you to watch the take-off and landing. I just recently flew with Emirates and they have the inflight cameras on their A380 planes which are awesome!!! I was sitting in Economy and you still get to watch the take-off and landing on the screen built in the back of the seat in front of you.
Flight rating: Overall this was a great flight. Great service, delicious food and arrived on time. Well done QANTAS!