Flight Review Qantas QF418 A330-200 Business Class Melbourne to Sydney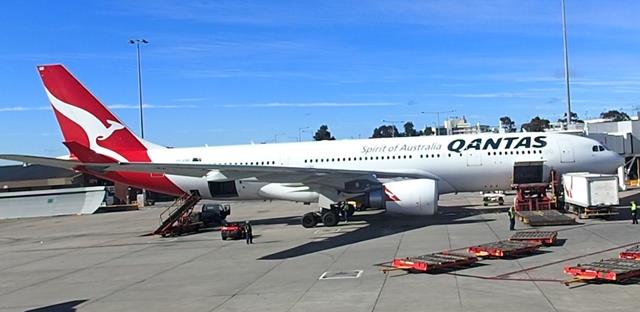 Flight no: QF418
Route: Melbourne to Sydney
Aircraft type: Airbus A330-200
Flight time: 55 minutes
Travel class: Business Class
Seat type: New Vantage XL seat – complete lay flat bed
Seat Width: 23 inches
Seat Pitch: 73 inches
Check out the Full Flight Review video
The Melbourne – Sydney route (and Sydney – Melbourne) is the busiest flying route in Australia. On the busiest days (weekdays) Qantas has up to 40 flights from Melbourne to Sydney. You can also fly this route on Jetstar, Virgin Australia and Tiger Air.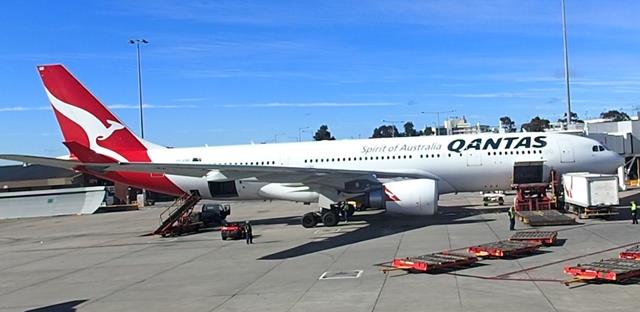 Most of the flights between Melbourne and Sydney, Qantas use Boeing B737-800 planes which seat 174 people (12 Business Class seats and 162 Economy Class Seats – See the Qantas Seat Map for B737-800).
There are a few flights between Melbourne and Sydney using the Airbus A330-200 which seats 271 people (28 Business Class seats and 243 Economy Class Seats – See the Qantas Seat Map for B330-200).
For my flight between Melbourne and Sydney I specifically choose to fly on the B330-200 as Qantas have recently upgraded all their A330-200 planes with the new Vantage XL business class pods, which in my opinion are the best Business Class seats on any airline.
On this 55 minute Melbourne to Sydney flight you don't really need the lay flat beds unless you want a quick nap. These A330-200 are only used on domestic flights, between Melbourne – Sydney, Sydney – Melbourne and they are also used on the longest Australian routes between Sydney and Perth, and Melbourne to Perth (around a 5 hour flight).
I had paid A$122.60 for the Domestic airfare from Melbourne to Sydney and then I used 10,000 Qantas Frequent Flyer points to upgrade to the Business Class seat. This is usually the best use of frequent flyer points, to purchase an Economy Seat and use FFPs to upgrade.
Before my flight I went into the Qantas Club Business Lounge at Melbourne airport for a light snack. They have loads of food for free including freshly made pancakes, loads of cereal and my favourite the station where you can make your own toastie with a choice of ham, cheese and tomato.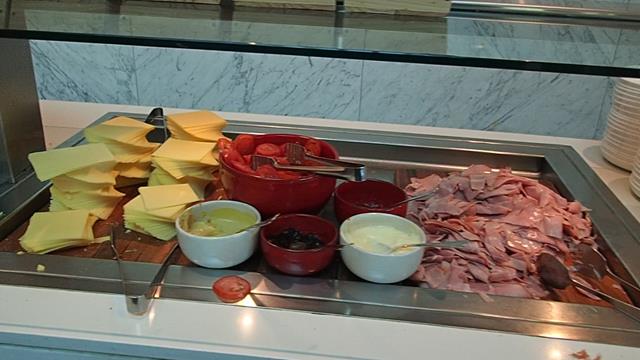 As I mention above, the Qantas Business Class Vantage XL are the best Business Class pods I have sat in on any airline. They are total lay flat bed seats which are 23″ wide ( just over 58cm) and the pod has international compatible electric AC outlet, a USB port and a huge 16-inch seatback touchscreen with Panasonic eX3 inflight entertainment system and noise canceling headset. There are over 500 hours of movies and TV shows available, not that you get to see much on this Melbourne to Sydney flight at 55 minutes long.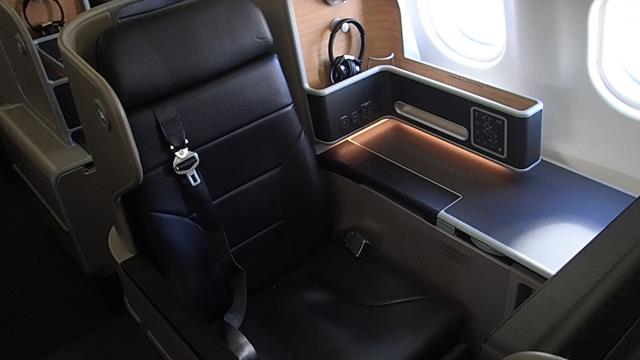 I was chatting with one of the Qantas air stewards on the flight and I told her I loved these new business class pods. She said she loved them too. Because the seat configuration is 1-2-1 it meant she no longer had to stretch over someone to pass food to the person sitting on the inside. I am sure that would be a punish on the back.
This QF418 flight left Melbourne at 9am so I got the breakfast service. The hostie offered a cottage pie which I was a bit excited about until it was infront of me and I found it was a Feta Cottage Pie. Now a cottage pie is with beef and toped with mashed potato. Don't call it a cottage pie if it doesn't have beef in it! Well anyway this Feta Cottage pie was actually delicious, served with some sour dough bread and a bowl of yoghurt with blueberries. The Qantas Domestic food in Business Class is always great. Shame the Qantas International flights have below average food. The Qantas Domestic caterers should teach a thing or two to the International caterers!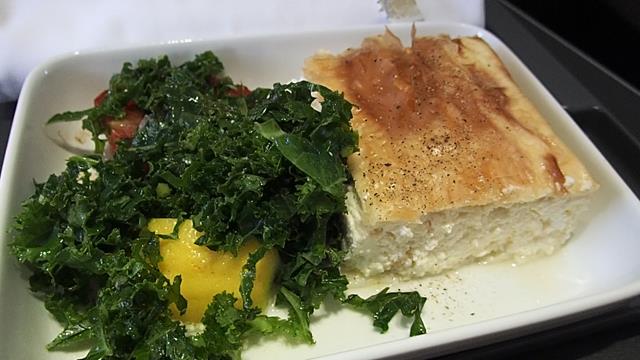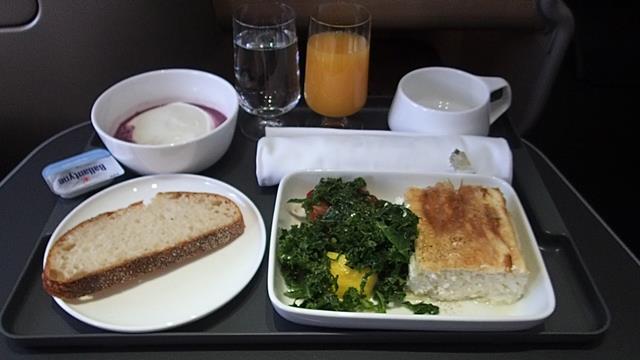 With breakfast under my belt, and a quick watch of 1 episode of Modern Family, my flight was pretty much done. We landed into Sydney airport from the south with lovely views over Botany Bay.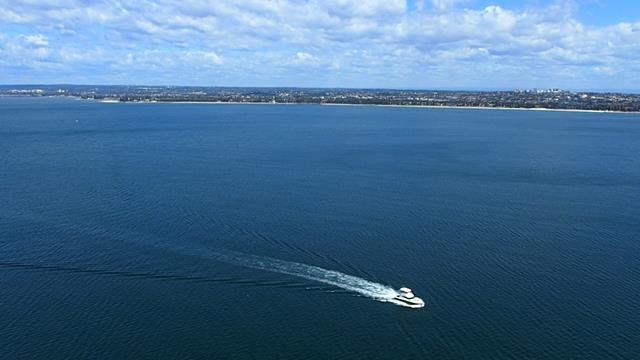 This flight landed 5 minutes ahead of schedule. Qantas is still my favourite Australian Domestic airline. Great flight Qantas!
Check out Qantas Flights direct on the Qantas Website.
Check out the most popular Flight Reviews on this site:
[do_widget id=wpp-6]