Great Steak at Moo Moo Wine Bar and Grill Broadbeach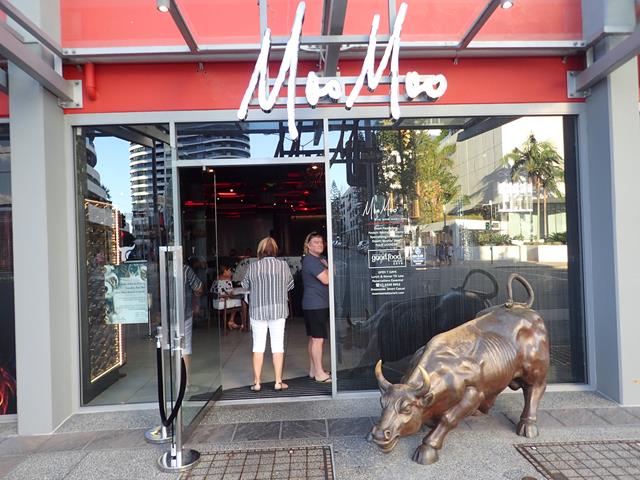 Moo Moo Wine Bar and Grill at Broadbeach serves up some of the best steaks on the Gold Coast. I have been to Moo Moo's a few times now and it is my restaurant of choice when I want a big juicy steak.
The prices at Moo Moo Wine Bar and Grill is a bit higher than most restaurants on the Gold Coast but for the excellent quality steaks and an upscale restaurant you should expect to pay a bit more.
At the front of the restaurant is the bar area which looks out over Victoria Park. You can come to Moo Moo's to just have a drink in the bar.
Inside is where all the food action goes on. With an open kitchen so you can look in to see all the chefs hard at work over the hot grill.
This latest visit we enjoyed the entrees of Bang Bang Duck with chopped salad ($24) and a plate of the Crispy chicken ($19). Both of the entrees were delicious.
We then also each enjoyed a steak with side dishes of fries, mashed potato and Brussel sprouts, smoked pork belly and chestnuts. The side dishes are $9 each or you can order 3 for $23.
No dessert for us as we were full after all this food. Another great meal at Moo Moo's!
Moo Moo Wine Bar and Grill
Mantra Broadbeach on the Park
2685 Gold Coast Hwy (the entrance is on Surf Parade)
Broadbeach Gold Coast
Ph: (07) 5539 9952
Website: Moo Moo Gold Coast
Check out the location of Moo Moo Wine Bar and Grill in Broadbeach
[do_widget id=wpp-16]