Iku Yakitori Bar Burleigh Heads Gold Coast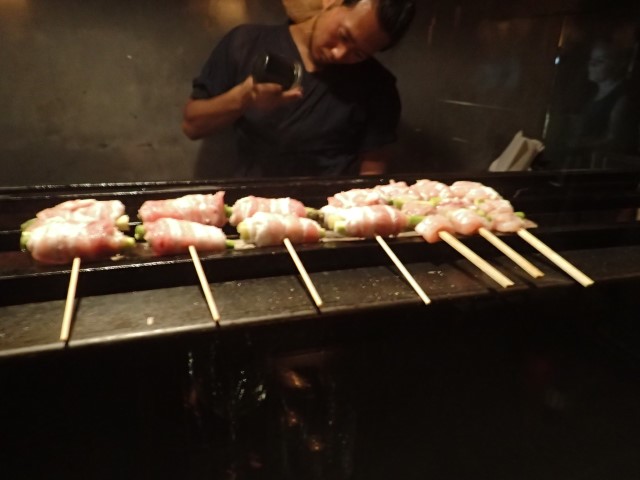 Iku Yakitori Bar at Burleigh Heads is a hidden gem! One of the best Japanese restaurants on the Gold Coast.
I visit Tokyo a few times a year and often visit Yakitori Bars there. Iku Yakitori Bar is as good as it gets for real Japanese yakitori dining outside of Japan. You could easily walk past this restaurant and not notice it. There are no signs out the front, just large black curtains draped down the front of the restaurant. Slide the door open and walk in this great Japanese restaurant serving up a range of 'yakitori' which literally means 'grilled chicken'.
The menu states at the bottom 'We love chicken' but there is more to the menu than just chicken skewers. There are plenty of items that can be grilled on skewers like pork, beef as well as vegetables and mushrooms. Also on the menu it states 'Sharing is caring' and this restaurant is all about shared dishes. Lots of small dishes to be shared amongst the table.
There are small booths for up to 4 diners but you need to be good at sitting with your legs crossed. There are your standard dining tables down the back of the restaurant for larger groups or those that don't want to sit crossed legged.
The best place to sit in this restaurant is at the bar, right in front of the grill to watch the chefs preparing all the meals over the charcoal grill. These chefs really earn their wages, paying special attention to every skewer on the grill. Adding a range of seasoning, and turning each skewer to ensure they are each perfectly cooked.
The menu is not an extensive list but plenty of variety to order up and have an excellent meal. They also have daily specials which your waiter or waitress will explain to you. First up we choose one of the specials which was the grilled beef skewers, perfectly seasoned and with a very tasty sauce.
Next up we had the chicken thigh with leek on skewers ($8) which I think was the best dish of the night. This was closely followed Chicken wings ($9) also skewered up and cooked perfectly on the grill.
2 of the other dishes which we really enjoyed was the deep fried chicken ($15) and the Iku Oyakodon rice with chicken and egg ($12). The rice dish came out with a raw egg cracked on top which you stir through which gave the dish a rich coating.
We also had the 200g of Wagyu beef which turned out to be nice but not worth the $60 price tag! I have eaten Wagyu many times in Japan and I really think this time it was over cooked which took away alot of the flavour you get from the marbled fat through the Wagyu beef. As I said this was a nice dish but lacked any of the flavour I have experienced before eating Wagyu in Japan.
For 2 of us dining the bill came to $180 which included 3 beers each. If we had not had the Wagyu beef then the bill would have come to $120, at just $60 per person then that would have been a very reasonably priced meal. Thinking back, we still would have been well satisfied without having the Wagyu.
Apart from the slight disappointment with the Wagyu beef being a bit over cooked, I cannot fault this restaurant! Well they were a touch tardy on bringing our drinks orders out….never quick enough.
I seriously rate Iku Yakitori Bar as one of the best Japanese restaurant on the Gold Coast. Overall I would give them a score of 9.5 / 10. Big thumbs up from me! Great restaurant. Excellent Japanese yakitori!
Iku Yakitori Bar
1730 Gold Coast Hwy
Burleigh Heads
Gold Coast
Ph: (07) 5568 7300
Website: https://www.ikuyakitoribar.com.au/
Open 7 nights a week from 5pm until late
Check out the location of Iku Yakitori Bar in Burleigh Heads on the Gold Coast
[do_widget id=wpp-16]