Koko Japanese Restaurant Southbank Melbourne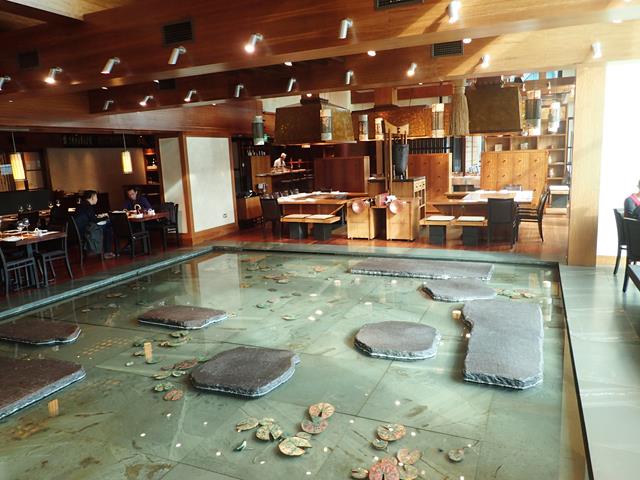 If I was only allowed to use one word to describe Koko Japanese Restaurant it would have to be CLASSY!
Located on Level 3 of the Crown Towers at Southbank Melbourne, Koko Japanese is a high end restaurant serving fine dining Japanese food. A choice of al a carte dining, teppanyaki with the chef at your table preparing your food on the large hot plate or sitting at the sushi bar watching the expert sushi chefs prepare your sushi and sashimi right in front of you.
The restaurant has excellent views over the Yarra River and across to the Melbourne city skyline. Inside the restaurant has amazing traditional Japanese decor, with huge wooden beams supporting the roof, just like a real Japanese castle like in Kyoto. The centre of the restaurant has a large water pond giving the feeling of space between the various sections of the restaurant.
I ordered up some of my favourite dishes. I choose to have 3 different entree dishes rather than order a main dish. As with most fine dining restaurants, after you have ordered your food they bring you a complimentary appetizer to get the food on the way. They brought out a delicious teriyaki chicken ball. It was very tasty though the dish was cold, though this is quite common for Japanese foods to be served cold when you are expecting it to be hot!
My first entree dish of Nasu Dengaku (grilled eggplant with Yuzu miso sauce). I usually avoid eggplant dishes through the Japanese really bring a boring eggplant to life with their full flavour sauces. Presentation is an important part of Japanese cuisine and the eggplant was served in the half shell of the eggplant with a long stick of fresh ginger which is so tasty and refreshing.
Shortly after the other 2 entrees came out so I had all three entrees to enjoy together. The other 2 dishes I enjoyed were the Gyuniku Tataki (seared beef sirloin with soy and onion dressing) as well as the Agedashi Tofu (deep fried tofu with warm fragrant broth, grated ginger, radish and bonito flakes). Agedashi Tofu is one of my favourite Japanese dishes and I was not disappointed with the version served at Koko.
The beef tataki although described as seared beef, is mostly raw beef. It has a tiny amount of searing on the outer slice of the beef though 95% of it is raw. The soy and onion dressing does soak into the beef and makes it oh so tender.
Ofcourse they have a great drinks menu offering imported and local beers, including a choice of Japanese beers. They also have an extensive wine menu and a huge selection of Japanese sake and shochu.
Koko's menu changes which each season (Summer, Winter, Autumn and Spring) with specialty dishes using in season produce.
Final words on Koko Japanese Restaurant – I highly recommend a visit to this restaurant. Excellent Japanese food! I will be back here for sure!
Koko Japanese Restaurant
Level 3
Crown Towers Melbourne
Crown Entertainment Complex
8 Whiteman Street
Southbank Melbourne
Ph: (03) 9292 5777
Website: www.crownmelbourne.com.au/restaurants/premium/koko
Check out other restaurants in Melbourne
Check out the most popular articles about Melbourne
[do_widget id=wpp-13]