Moti Indian Restaurant Roppongi Tokyo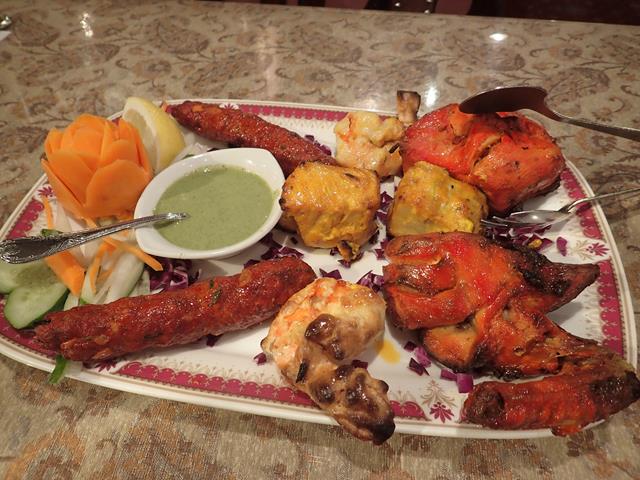 I did a Google search for a good Indian restaurant in Roppongi Tokyo and one of the first results that came up was for Moti Indian Restaurant. On their webpage it claims to be The Finest Indian Dining in Japan! So I had to try!
Moti Restaurant serves up traditional North Indian cuisine, with a great range of curries and with a real tandoori clay oven they serve up a range of food cooked in the tandoor oven.
I went in for dinner though I had a big lunch so was not looking for a huge meal, I just wanted to try their food. I ordered the tandoori platter and a garlic naan.
The tandoori platter came out and looked sensational. With a great selection of meats cooked to perfection in the tandoori oven. On the plate was 2 Sheek kebabs (minced mutton cooked on skewers), 2 prawns, some fish tikka and the delicious tandori chicken. This was served with a mint sauce. The presentation was excellent and each of the pieces were very tasty.
At the same time the garlic naan bread came out and it was huge! I managed to eat all the tandoori though couldnt finish the bread. The naan was excellent with a generous serve of garlic though it was just too big. All up I was impressed with the food. Not the best I have had in Tokyo (see my review of the best Indian food in Tokyo) though the food at Moti is very good and the prices are very reasonable.
Moti Indian Restaurants have been serving up great Indian food in Tokyo since 1978! Their first restaurant was in Akasaka Mitsuke and the Roppongi restaurant opened shortly after.
Moti Indian Restaurants do not use any pork, beef or animal fat in their cooking.
The Moti Resturant in Roppongi is located right next to the Police Station at Roppongi, on the way to Roppongi Hills. Take exit 1A of Roppongi Train Station and turn left and it is only 50 meters down the road.
They have free WiFi in the restaurant.
Cbeck out the location of Moti Indian Restaurant in Roppongi Tokyo
Moti Indian Restaurant
3rd Floor
6-2-35 Roppongi
Minato-ku Tokyo
Ph: +(81) 3 3479 1939
Website: http://www.motijapan.com/
Check out more restaurants in Tokyo