Regency Club Lounge at Hyatt Regency Sukhumvit Hotel Bangkok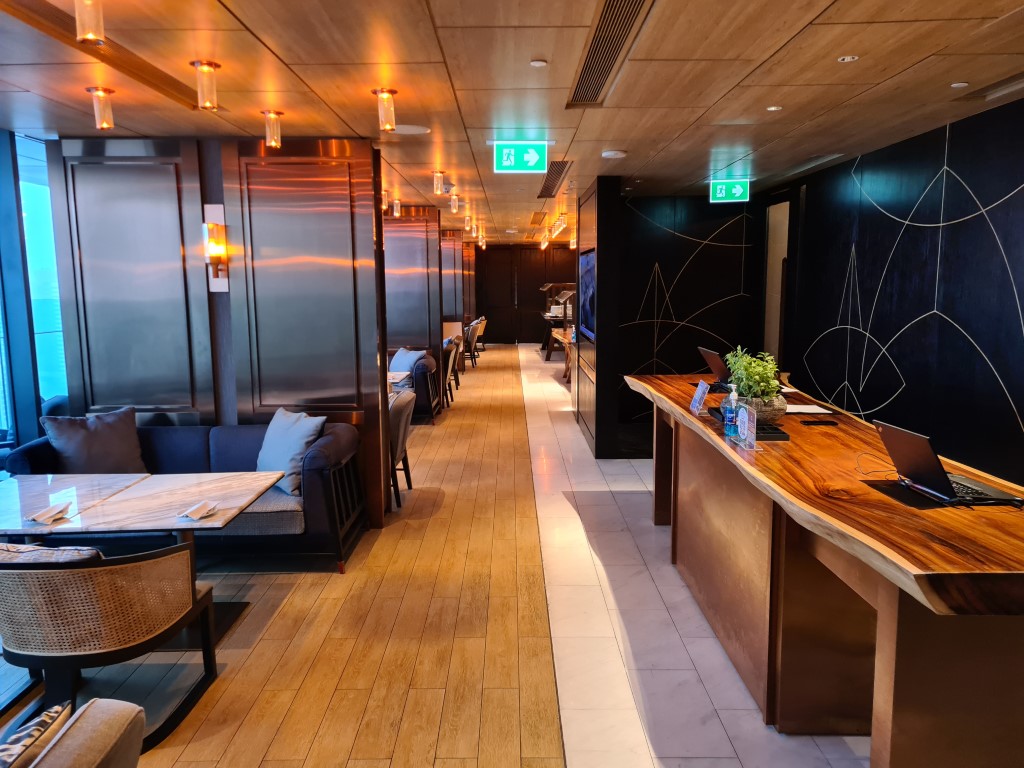 The Regency Club Lounge is a private executive lounge located on level 27 of the Hyatt Regency Sukhumvit Hotel Bangkok. The Club Lounge provides a quiet space to relax. During the day you can get free coffee, tea, soft drinks and fruit juices as well as snacks throughout the day. In the evenings they serve complimentary alcoholic drinks and canapes from 6pm – 8pm.
To get access to the Regency Club Lounge, you can book any room on the Hyatt Regency Sukhumvit website which is marked as 'Club Access'. With the Club access room, you will also get free breakfast. They do serve breakfast in the Club Lounge but only when they have enough guests who have booked a Club Access room. If breakfast is not served in the Club Lounge then you can get your free breakfast as the buffet breakfast at the Market Cafe on Level 4 of the hotel.
The extra cost for a Club Access room is around 2000 Thai Baht per night (A$78 per night). If there are 2 of you in the room, then getting breakfast, tea, coffee and snacks plus evening drinks and food is a pretty good deal. If you like to knock back a few drinks, then you definitely get your moneys worth out the Club Lounge.
The service inside the Regency Club Lounge is excellent. The staff in the lounge are very welcoming and will sit you down and go prepare you coffee and plate up some food and bring it to your table. Just lovely service.
The Hyatt Regency Sukhumvit Bangkok Hotel is an excellent 5 star hotel located right in the heart of the Bangkok tourist area of Sukhumvit, right on the corner of Sukhumvit Road and Soi 13.
I went up at 3pm to grab a sprite and sit out on the balcony and to check out the snacks. They had 4 different snacks to choose from. Some tasty chicken skewers, a few different pastries curry puffs and some diced watermelon. A good selection. At the evening drinks from 6pm – 8pm they have a similar selection of snacks, a bigger variety and some nice pieces of cake for dessert.
The Breakfast served in the Regency Club Lounge is very good. It is now a huge buffet breakfast like you get down in the main restaurant but there is still plenty of hot dishes, cereals, fresh fruits, yoghurts and breads to choose. I prefer to eat breakfast in the Club Lounge as it is much quieter than the restaurant downstairs. There is a chef in the Lounge who will cook you eggs any style, fried, poached or a tasty omelette.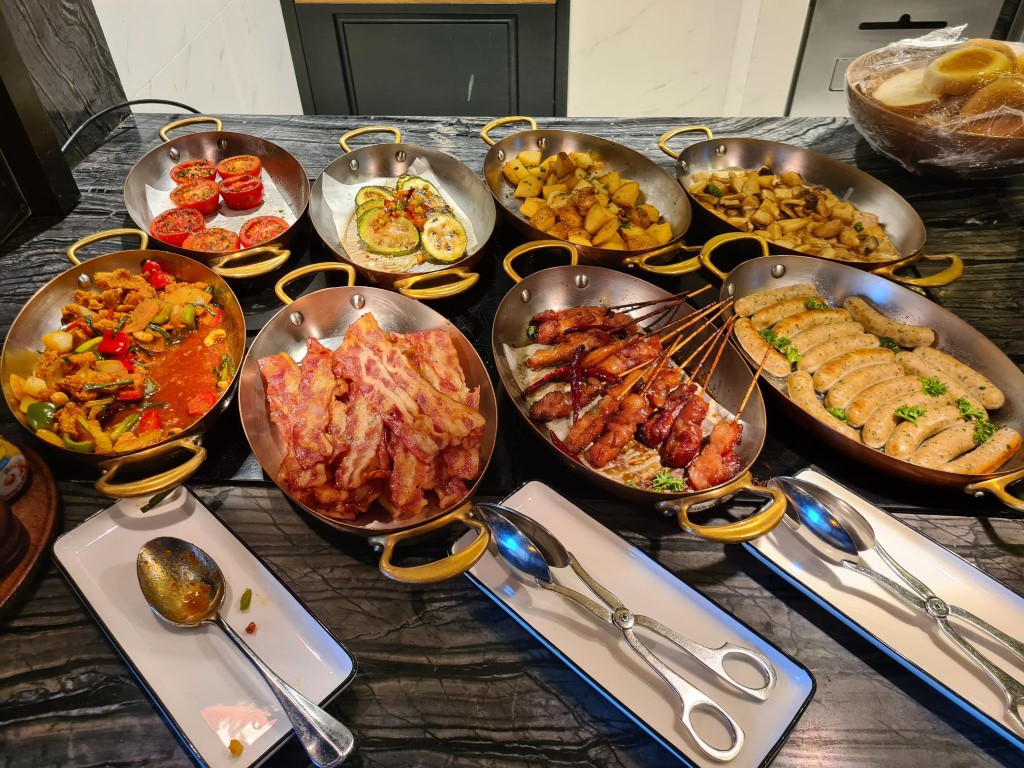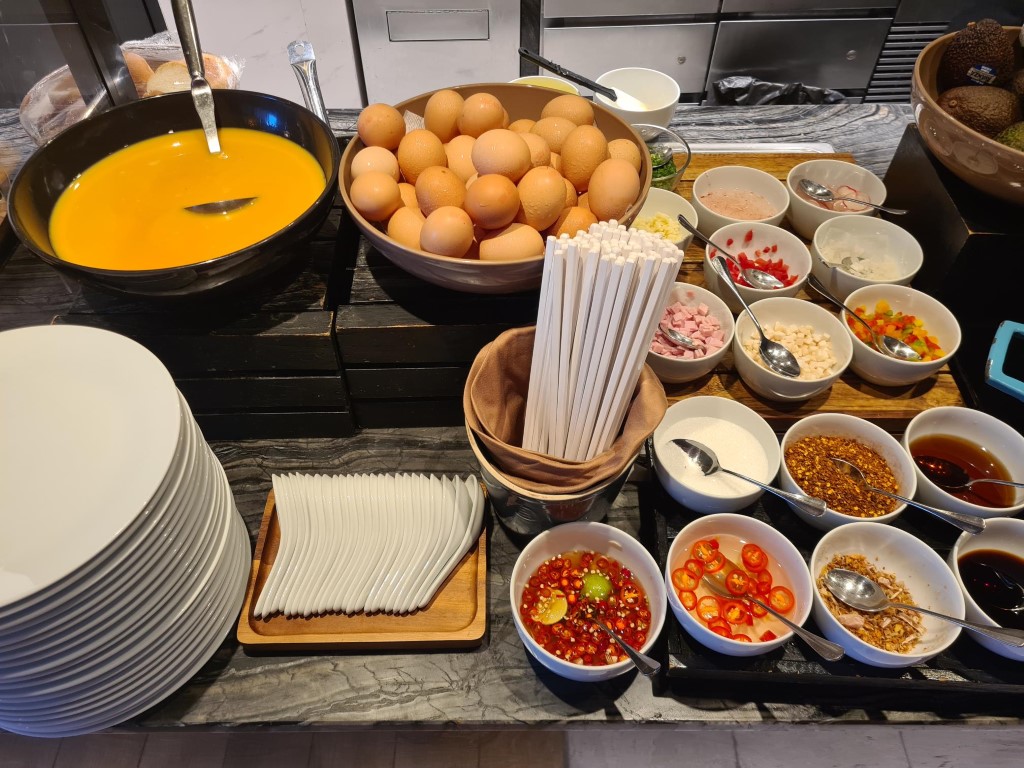 The evening canapes and drinks starts at 5pm until 7pm and has a few hot dishes, usually a pasta dish and some sort of Thai dish like a chicken curry with rice and plenty of salad, cheeses, breads and desserts. There is enough food there to make a meal out of it. There is a good selection of beers, wines, champagne and spirits. The drinks are self-service but the staff are very good and making sure you always have a fresh drink.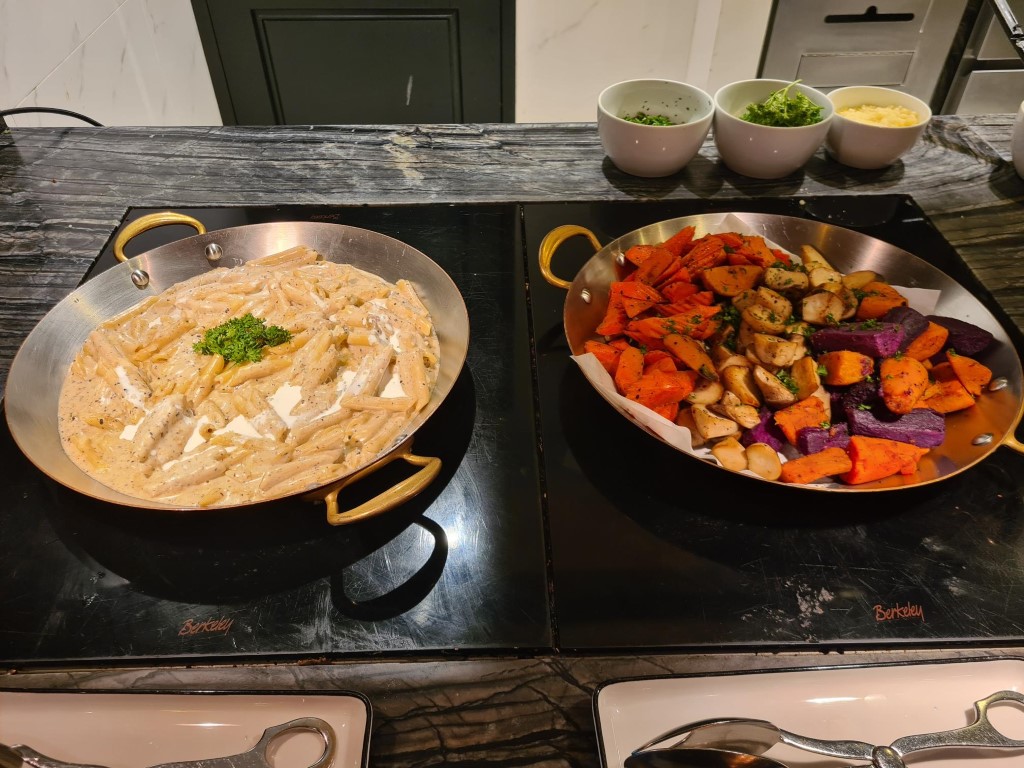 They have a lovely outdoor balcony at the Club Lounge where you can sit to breath in the thick, humid air of Bangkok. The view is quiet impressive, looking down Sukhumvit Road, you can see the JW Marriot Hotel which is right next to the famous Soi Nana which is about a 5 minutes walk away. You can see the BTS Skytrain running above Sukhumvit.
You can get free access to the Regency Club Lounge when you are a 'Globalist' member in the World of Hyatt loyalty program. To become a Globalist member you need to spend 60 nights at any Hyatt Hotel in a calendar year.