The Best Beach Bars in Bali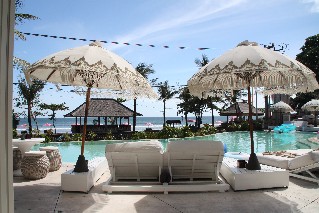 Anybody who has been to Bali knows that Kuta has the wildest night life and the most amount of bars and nightclubs, full of loud, drunk Australians. This was what made Bali popular with Australians, not just the beautiful beaches but the busy nightlife with cheap beer.
Bali  has matured and the cheap beer bars are not the only nightlife on offer. Over the last 10 years some very classy beach bars have developed in other areas away from Bali. Most of them are high class and the prices are reflective of this. The prices may be higher than Kuta but they are still much cheaper than you fill find in the bars of Australia, Europe or America. Here is a list of the best beach bars in Bali:
Karma Beach Club Bali
Karma Beach Club is not just a night venue. You could go park yourself all day and night here. With sun chairs on the beach, the ocean to swim in and the bar area where you can sit and grab some great food and drinks including some amazing cocktails.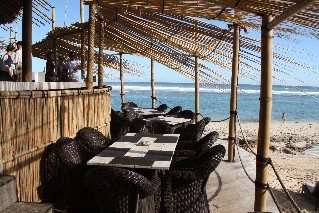 Karma Beach Club is located at the bottom of a cliff in the Uluwatu area. With a rustic style beach hut for the bar and restaurant, there is a DJ playing some very chilled out music. To get down to Karma Beach Club you can either take the steps down the 85 meter cliff face or there is a travelator cable car to take you down and back up again. It takes around 1 hour to drive from Kuta to the Karma Beach Club. See more about the Karma Beach Club.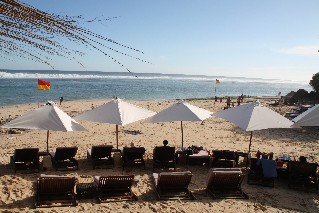 Ku De Ta Beach Club Seminyak Bali
Ku De Ta is not just a bar but has a swimming pool, 2 restaurants serving international cuisine and direct access to the beach at Seminyak. Ku De Ta Beach Bar is in the perfect location along Seminyak Beach to sit back and watch the amazing sunsets. The main restaurant at Ku De Ta has a seperate breakfast, lunch and dinner menu and serves various dishes from France, Italy, Greece, Morroco, Thailand, Japan and South America. The other restaurant is called Mejekawi and offers a 5 course or 12 course tasting menu. The wine menu has a selection of wines from all over the world. And ofcourse there are great cocktails to drink while enjoying the sunset. See more about Ku De Ta.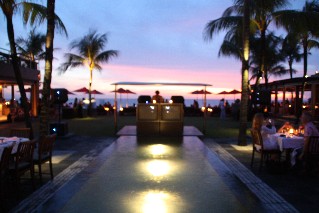 Cocoon Beach Club Seminyak Bali
Cocoon Beach Club is also in Seminyak though right down the other end closer to Legian. A smaller beach bar centred around the swimming pool. Cocoon Beach Club doesn't have access to the beach but has a very cool vibe, great deck chairs for sitting around the pool. Inside there is a large restaurant area serving a range of great food for brunch, lunch and dinner. There is a kids menu so is family friendly. See more information for Cocoon Beach Club including their food menu.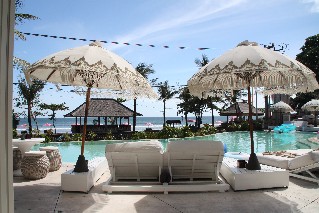 SOS Supper Club Seminyak Bali
SOS Supper Club is located on the top floor (fourth floor) of the Anantara Hotel in Seminyak over looking the beach and out to the ocean. This is another great bar for sitting and watching the sunset. As well as an extensive drinks menu they have a great food menu offering seafood or grill. There are 3 seperate areas of SOS Supper Club. 1 for speciality for dinning, 1 for drinking and a large chill out area with large cushions for laying back and relaxing. See more about the SOS Supper Club.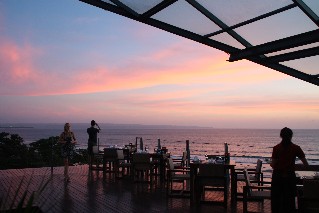 Read more about Bali Indonesia
Check out the most popular articles about Bali on this site:
[do_widget id=wpp-8]