Breeze Restaurant Bangkok Thailand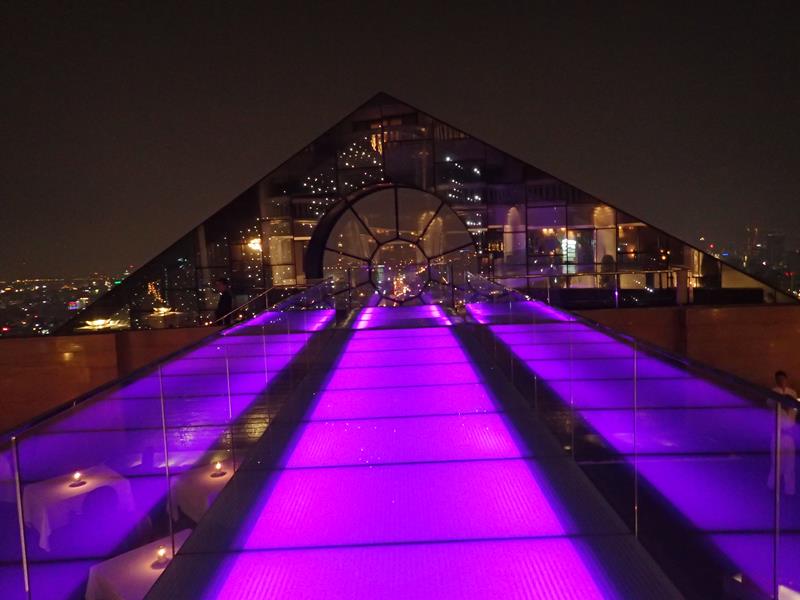 I really wanted to go to Sky Bar and not only stop for a drink but have dinner there at Sirocco Restaurant which is on the same level as Sky Bar, right on the top floor of the Lebua State Tower in Bangkok.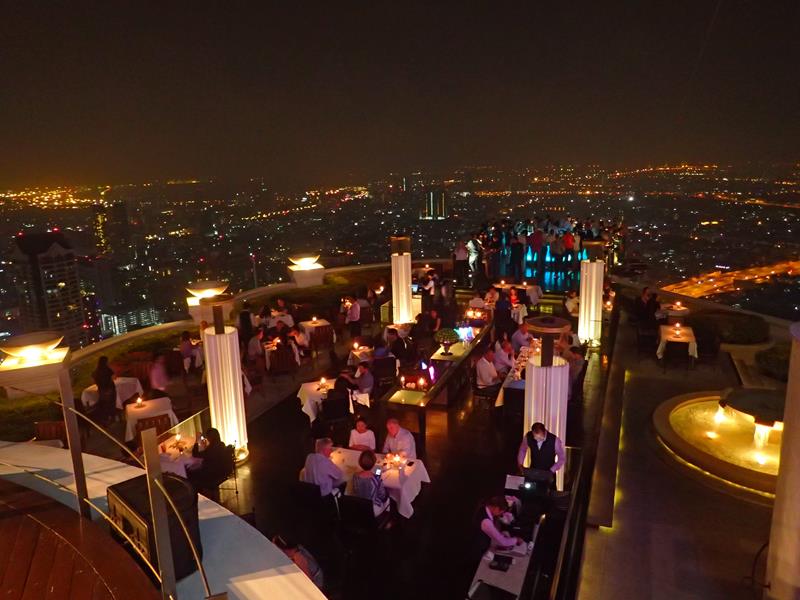 I left it too late and tried to make a reservation on Friday morning. I had sent an email and got a response within a few minutes saying that Sirrico was fully booked though I could still get a table at Breeze Restaurant or at Mezzaluna. I made a booking at Breeze as their website said they did Asian fusion food which sounded good to me.
When you arrive at Breeze you are greeted at the reception area of the restaurant on level 52 and then escorted over the incredible sky bridge (pictured below) all light up in ever changing neon colours, then down the stairs to the restaurant level to your table.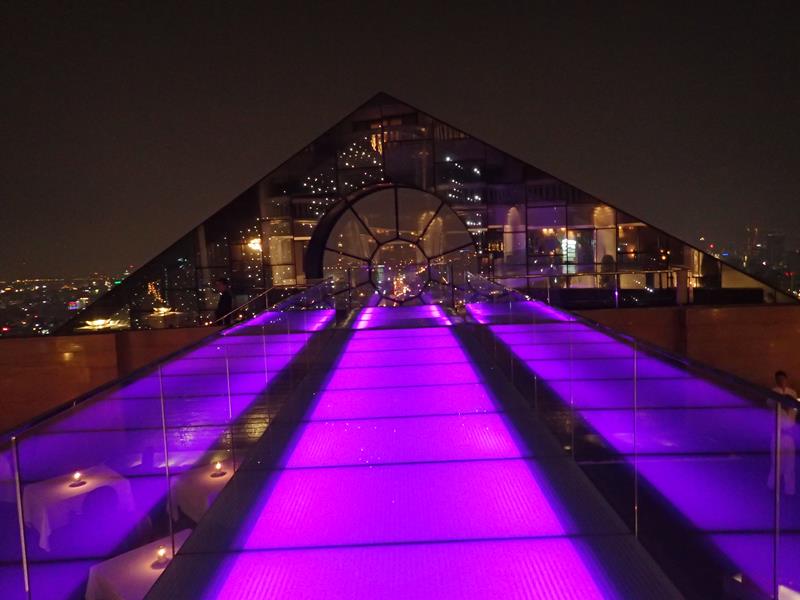 I was expecting an expensive dinner though it turned out to be the most expensive meal for 2 that I have ever paid for. And the experience? Great views but the food fell very short of any real fine dining experience I have tried in the past. The fine dining restaurants I have been to have all been a gastronomic journey (or what I like to say is a gastronomic orgasm), moving from 1 amazing dish to the next mind blowing dish. This was not the case at Breeze, just ordinary food made by an overzealous chef who seemed to combine too many flavours into each dish and make pretty patterns on the plate.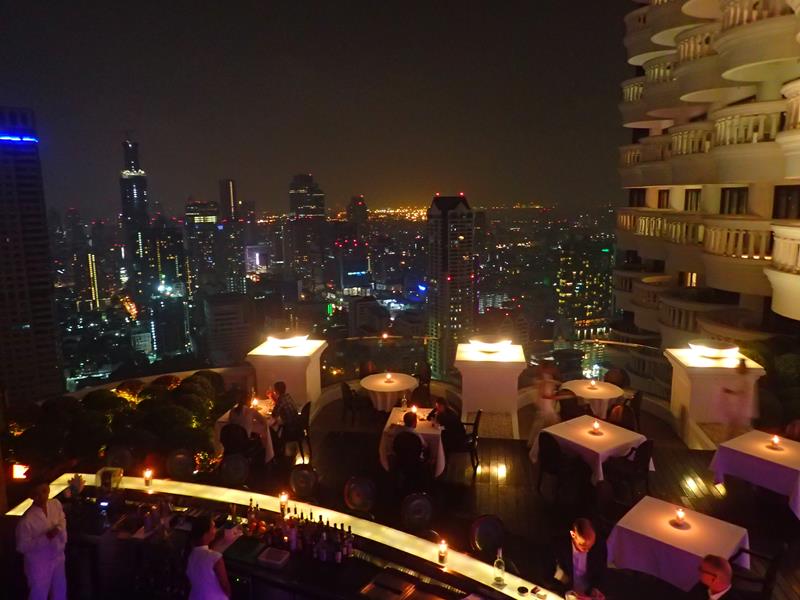 I ordered a beer and asked what Thai beer they had. The reply was that they only served 1 type of Italian beer. What? Italian beer with Asian fusion food. What is the deal there? Isn't Asian beer best suited to Asian flavours. The Italian beer was nice, but why only 1 type of Italian beer? That just doesn't make sense to me.
The food menu was huge. With dishes with true Asian influences from Thailand, Malaysia, Singapore, Vietnam and various Chinese cooking styles including from Shanghai and Sichuan. They had a separate menu just for oysters and also a special Chefs tasting menu which I thought was the way to go. A 5 course meal for 4500 Thai Baht per person (around US$138 ) plus an option to have each meal paired with a different wine which was an extra 2500 Thai Baht per person (around US$76 ) (see further below for the menu and wine pairings).
The wine menu was one of the most impressive I have seen. With a huge selection of wines from France, Italy, Spain, Portugal, Australia, New Zealand, California as well as from other countries. The price list was also impressive. The cheapest bottle of wine that I could see was over 3000 Thai Baht (that is over US$90). The most expensive bottle of wine I saw was 130,000 Thai Baht (almost US$4000). Does a $4000 bottle of wine make you more drunk?? If so I'll have 2 bottles please!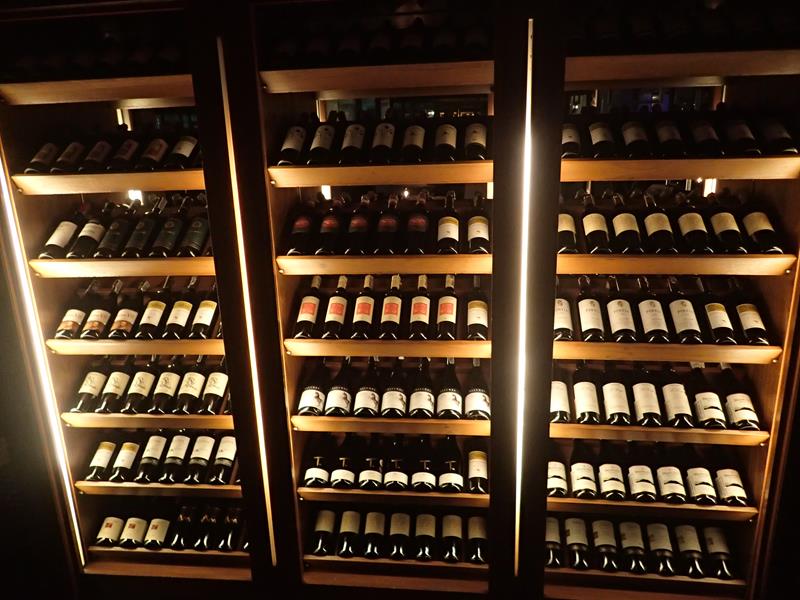 My dining partners didn't want to go with the wine pairings as she really likes Rose wine. This was a relief as the bottle of 'Menage A Trois' from California was ONLY 3250 Thai Baht and quite a pleasant drop. My friend and the waiter were quite amused when I told them what Menage A Trois means in French! My friend said this was the only Menage a trois we were having that night. Damn…….
The service in Breeze Restaurant was exceptional, at times a little over the top. As I got there I was escorted to my table, every time I stood up to take a picture of the amazing view from the 52nd floor, someone miraculously appeared to pull my chair out from under me, then reappear as I went to sit down. When I went to the bathroom, the staff didn't just point the way but walked me to the door. This was fine the first time to show me where it was, but to show me to the door each time I went was a bit over the top.
So on to the food. The night I was at Breeze was Friday 30th January 2015. At first they brought out the appetizer which is a free dish brought out before the food that you ordered. The 2 plates came out with the 5 shot glasses filled with different sauces like chili oil, vinegar, curry sauce (can't remember what the other 2 flavours were). The 2 dishes contained some sort of very strong orange and the red things are like pickled tomatoes. Both of these dishes were very intense flavours. Apart from looking good the 5 shot glasses of sauces seem a bit excessive. I dribbled a bit of some of the sauces on these things to see if it improved the taste. No luck, they were still too intense. And there was no way I would have finished any of these sauces. Do they just throw the rest of the unused sauce away? I sure hope so, rather than passing on to the next customers.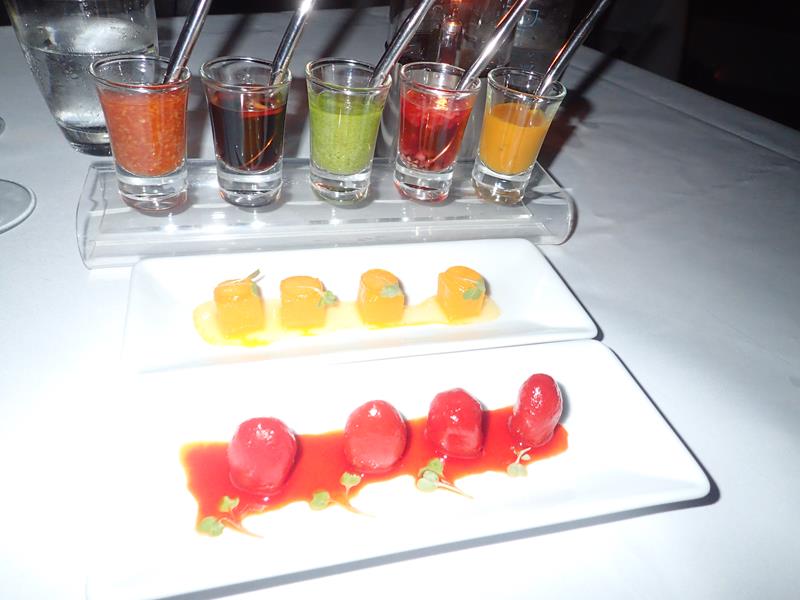 The Chef's Tasting menu with the paired wines was:
River prawn stir-fry – with Osmanthus, soy arugula and coconut heart
Wine – Masumi, Junmai Ouden Kanzukuri, Sake Rice Wine, Japan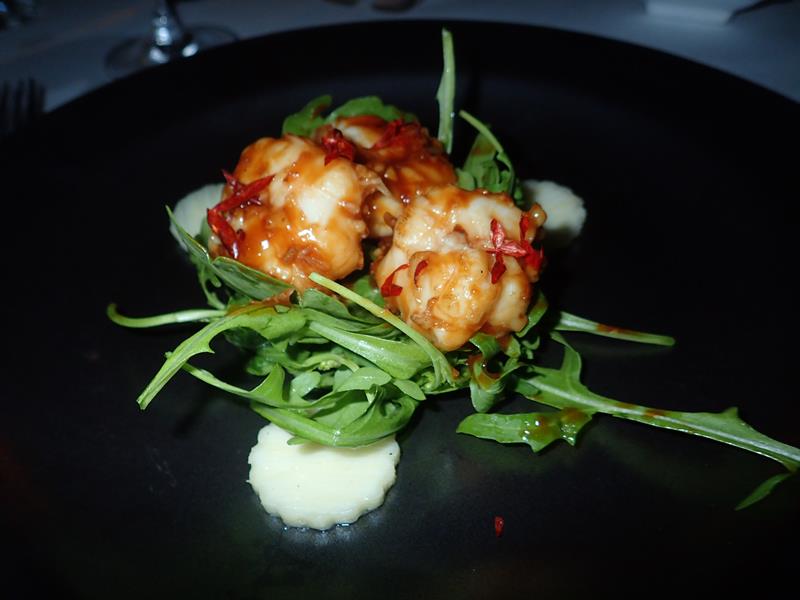 I have no idea what Osmanthus or soy arugula are and even after eating this dish I still have no idea. This dish was quite nice. The prawns were nice and plump. There was no mention of any chili in the description but the prawns were drowning in a thick, sticky chili paste which was a bit over powering. I do love spicy chili, this was just too intense rather than spicy and overpowered the prawns. Oh I just googled Osmanthus and apparently it covers around 30 species of flowering plants in eastern Asia. Still no mention of chili!
Turkey and morel mushroom – Superior broth, ginseng
Wine – Pinot Grigio, Prego, Venezia, Italy, 2013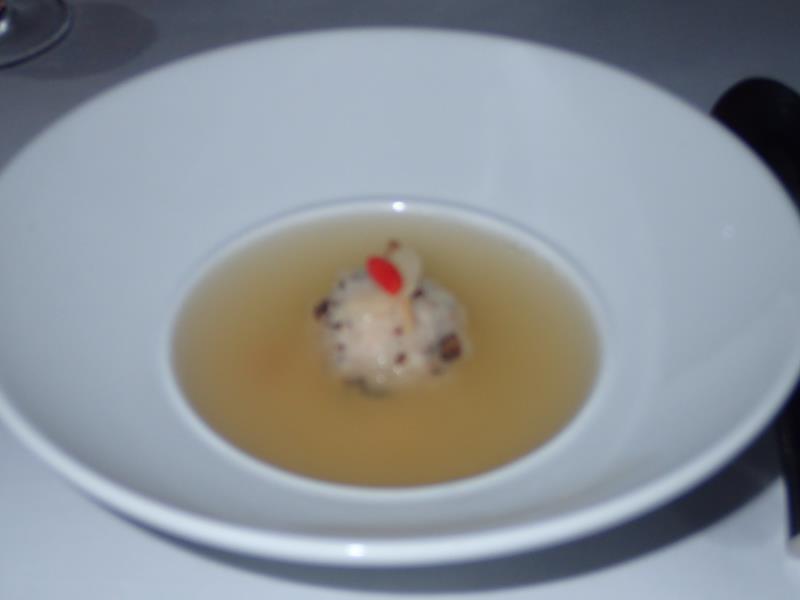 Superior broth. Oh no! Seems like they got a very basic broth out of a pre-made stock bottle. Turkey? Are they popular in Asia? I think this is the first Turkey dish I have ever had in an Asian restaurant. I never liked turkey! The turkey and morel mushroom was all minced up in a meat ball floating in the broth. Just OK this dish.
Crispy marble goby – "Tang Feng Sha" style with Shanghai chili
Wine – Chardonnay, Stone Cellar, Beringer, Napa Valley, USA, 2013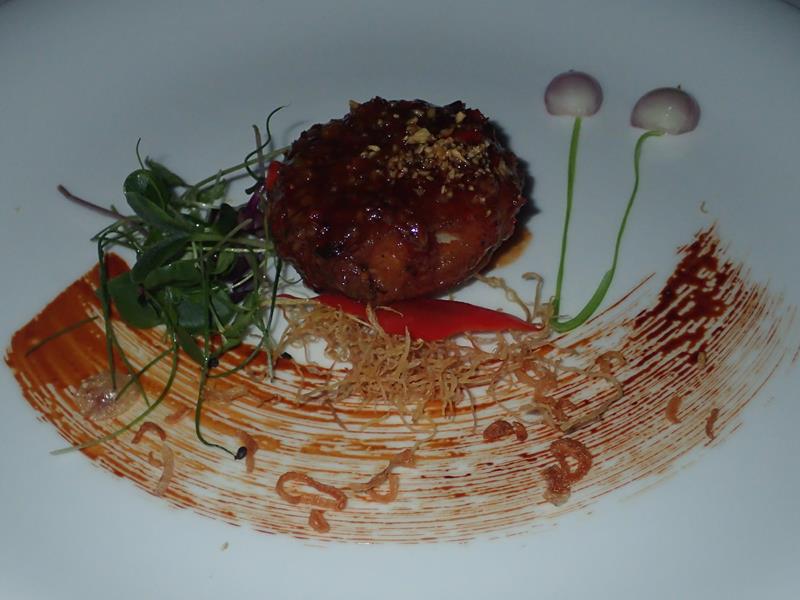 I had to ask the waiter what a goby is. Apparently it is a type of fish. Crispy marble turned out to be like a fish cake pan fried with a crispy outer layer. This dish was ok though Goby seems to be a very soft fish a bit like grouper which I don't like. A bit soft and slimey for my liking. If you Google Goby and see pics and they look like a very unattractive gold fish – bottom feeder. I think I saw these Goby fish being sold at JJ Markets (Chakuchak markets) in the pet section. I didn't detect any chili in this dish. Did they use the Shanghai chili on the tiger prawns from the first course?? Maybe.
Blackmore Wagyu grade 9 strip loin – Green pepper sauce, with ginger scallion fried rice
Clarendelle Rouge by Haut Brion, Bordeaux, France, 2006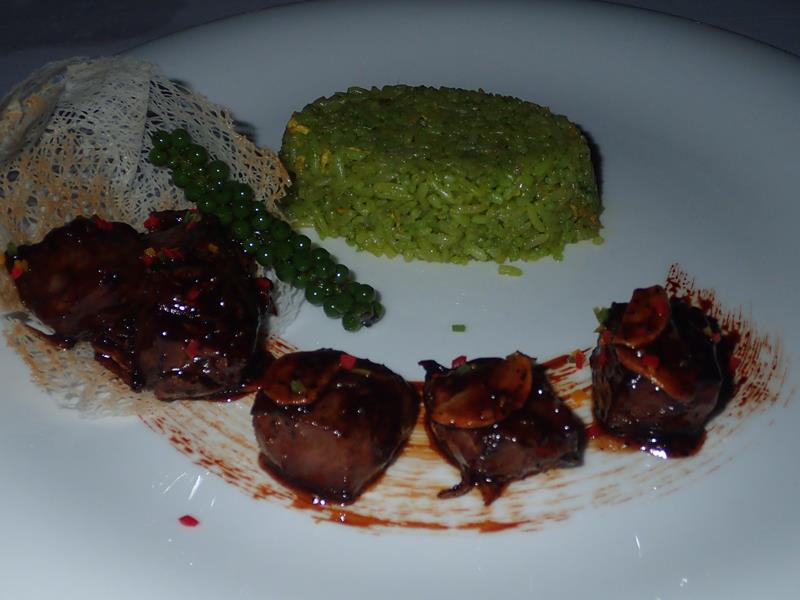 OK onto something which I recognised. Wagyu beef is awesome and this dish was excellent. I woft down the little cubes and delicious, tender wagyu beef, the green pepper sauce gave it a nice spicy taste. The ginger scallion fried rice was left to the side. After 1 taste I decided I could make better fried rice. This did not suit this dish. My Thai friend was not a fan of the beef so she gave me most of hers which I also devoured.
Caramelized banana tart – Chocolate puff, yuzu cream, banana bread ice cream
Moscato d' Asti, DOCG, Valfieri, Italy, 2011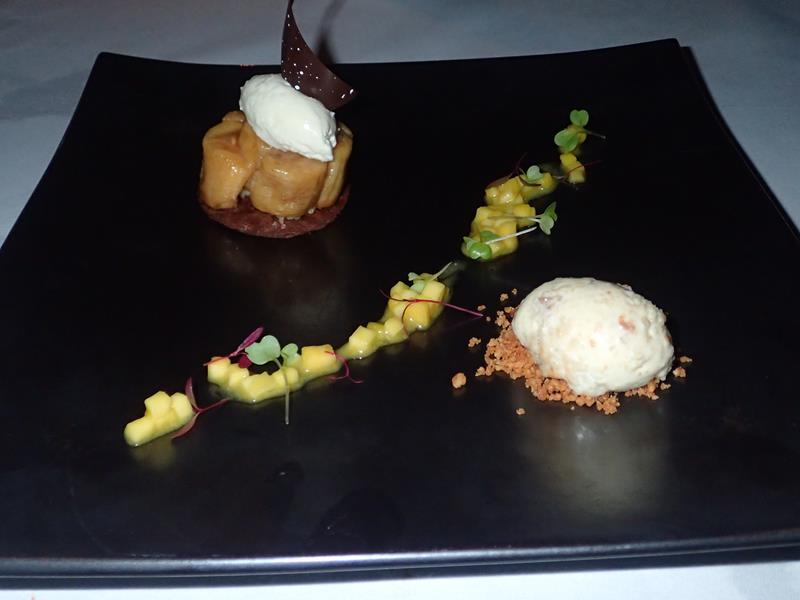 The yuzu cream and banana bread ice cream were the stars of this tasting menu. Oh the simple pleasures in life! The caramelized banana tart was not quite a tart, just sticky banana on top of a slight chocolaty cake waifer. Just OK this dish.
So end of the night, 3 beers, a large bottle of still water, 1 bottle of rose wine and 2 chefs tasting plate cost 16,643 Thai Baht (that is around US$510 or when it hit my credit card with foreign exchange charge cost A$679.19 – damn you falling Australian dollar!). My most expensive meal ever!
After dinner we did go check out Sky Bar. Even at 11.45pm the bar was packed. We didn't stay for a drink, just got some pics taken by one of the friendly staff. 2 years ago when I visited Sky Bar, a staff member roused on me when I tried to take a picture of the view, saying they had to protect the privacy of their guests! I guess their policy of no pics has changed. Check out our article about the best roof top bars in Bangkok.
Breeze Restaurant is located at:
52nd Floor Lebua State Tower
Open from 6pm – 1am daily, last order 11.30pm
Ph +66 2624 9555
To try a real fine dining experience check out our review of Vertigo Grill and Moon Bar on the top floor of the Banyan Tree Hotel in the Financial District of Bangkok. It is still an expensive dining option, but much cheaper than Breeze and a real fine dining experience. Highly recommended
Also see our other restaurant reviews for Bangkok Restaurants
Check out the most popular articles about Bangkok on this site:
[do_widget id=wpp-4]