K C Grand Resort and Spa Koh Chang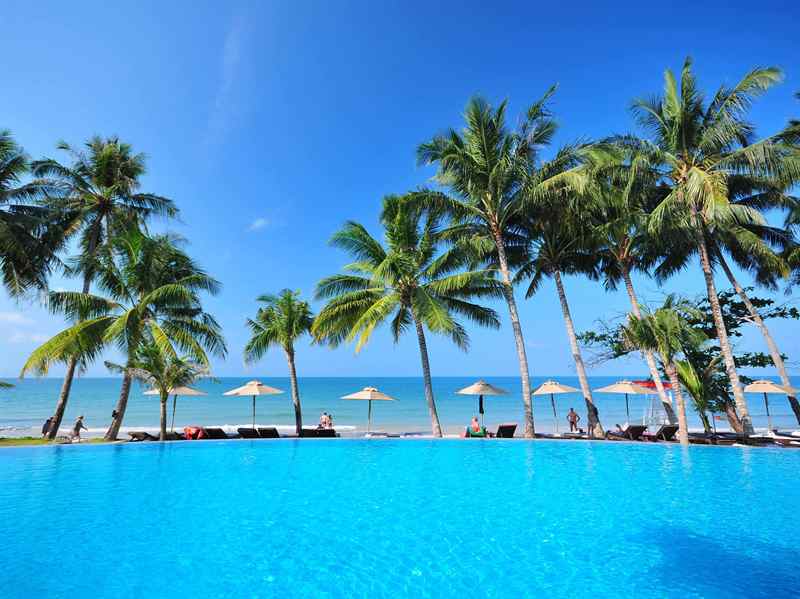 I enjoyed 4 relaxing days/nights at K C Grande Resort and Spa located at White Sand Beach of Koh Chang Thailand.
K C Grande is one of the best resorts to stay at in White Sand Beach, with a choice of hotel style room or bungalows along the beach front or with a garden view. I had a garden view bungalow which was in the second row so had a glimpse of the beach between the 2 bungalows in front of mine.
Some of the hotel rooms have direct access to 1 of the 3 swimming pools at K C Grand Resort. The main swimming pool is located right at the front of the swimming pool which has a swim up bar. There are also tables as well as nice beach lounges right at the front of the resort which have views over the beach, a nice vantage point to watch the sunset.
The other swimming pool is located on the roof of a separate building across the road from the main part of the resort. Up at this roof top pool area is great place for sitting back and watching the sunset over Koh Chang.
There is the main restaurant where breakfast is served with tables and chairs down near the beach front. The breakfast is a full buffet with a choice of local thai food and also continental breakfasts, muffins, croissants, toast and jam as well as a chef to cook fresh eggs, omelettes, pancakes and waffles. I did not see many people having lunch or dinner in the main restaurant and I never ate there. There are so many options of restaurants along the main road of White Sand Beach just a few minutes' walk from the resort.
There are a few bars / restaurants found along the beach just a few minutes walk from the K C Grande Resort. Right next to the resort grounds is their own bar, KC Pub which has live music most nights of the week. Just along from there is 15 Palms which is a very relaxed bar restaurant. Just a few minutes walk from there is Sabay Bar which is a very lively bar which also serves food. They have nightly fire dancing shows at 8.30pm and 10.10pm and DJ playing music late into the night.
Booking K C Grande Resort
You can make a reservation at K C Grande Resort and Spa directly via this website http://www.kckohchang.com/ or Agoda hotel booking site often as discounted room prices.
See a full list of hotels on Koh Chang
Overall I enjoyed my stay at the K C Grande but read below for some of the bad points in my opinion.
I was really enjoying my stay at the K C Grande until I saw a very disturbing thing. I saw 4 of the young gardeners who work at the hotel with a small bat (flying mammal). At first I saw them make the bat hang onto the tree right in front of my bungalow. At first I thought they were trying to get the bat to climb up the tree to safety. Then I saw one of the gardeners pull out a wooden sling shot and smash the bat over the head killing it. I yelled at them and they just walked away laughing. I reported it to the duty manager and later in the day he told me that he had punished them. I had asked him to have the general manager contact me to discuss this disgusting act by his staff by I never heard from the GM. As I was leaving the resort on the last day I saw 2 of the gardeners as I went to reception to check out. They both saw me and were pointing and laughing at me. So much for their punishment if they still thought it was a big joke. This really disturbed me and am still upset seeing an innocent animal being slaughtered.
I emailed the General Manager after I left but still have not received a response. I guess his management style reflects on his staff and the resort itself.
Another incident which made me question the management at this hotel (supposed to be a 4 star resort) was the receptionist when I checked in. When I checked in she questions why I was by myself. When I just said I was travelling alone she just said maybe you should meet a girl in a bar. The next day I went to reception to organise a car transfer, she saw me again and said 'Oh you are still alone. Why don't you go to the bars here, there are many girls there you can meet."
Is it totally acceptable in Thai society that foreign men just go to the bars to pick up Thai girls? It seems acceptable at this hotel for the reception staff to encourage guest to do this. Another great example of this hotels standards. 4 stars? Very questionable!