Best Pizza on Koh Chang Thailand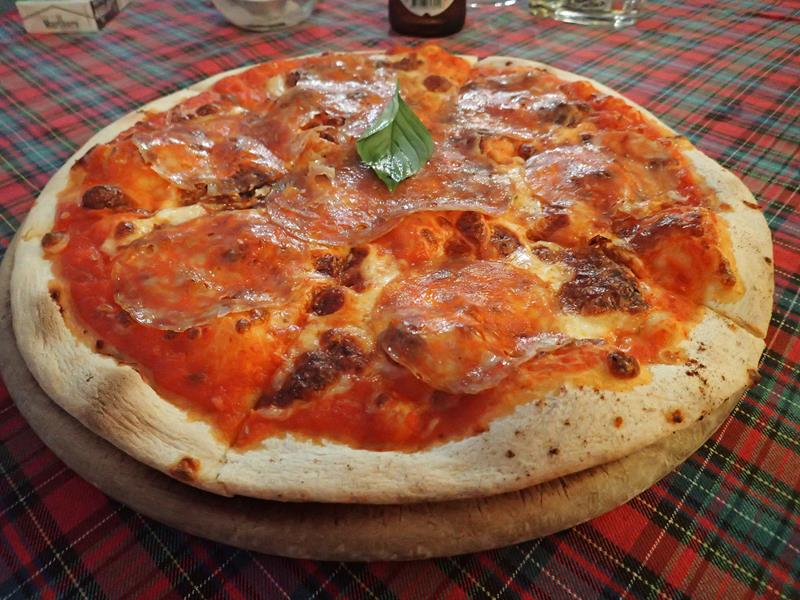 On my second night staying on Koh Chang island I wanted to go eat pizza for dinner. I did a Google search for 'pizza restaurant White Sand Beach Koh Chang'. The first result was a TripAdvisor page for La Dolce Vita Restaurant. The restaurant was ranked as #19 of 174 restaurants on Koh Chang. I read the reviews and they were all positive saying the restaurant served real Italian food, great pizza with friendly staff and a real Italian owner. My mind was made up to go try their pizza and I ended up having a really great Italian meal.
La Dolce Vita Restaurant is only a small restaurant with around 10 tables. It is located just off the main street of White Sand Beach, close to the southern end, a few minutes walk from the beer bars referred to as Little Pattaya. There is just a small sign on the main road pointing out it's location. I found it ok and took a seat. I ordered a Chang Beer and some garlic bread and a Salami Pizza. The waiter asked if I wanted to have the garlic bread and pizza together or have the garlic bread first. I had them separately. It was nice for them to ask rather than just bring them both out together. The garlic bread came out a few minutes later and was lovely toasted bread with a thick layer of garlic – really garlicy!
The pizza came out 10 minutes later and was exactly what I like about a good Italian pizza. The crust was thin and crispy and it wasn't overloaded with toppings. It was just a simple pizza with tomato sauce, real Italian salami and cheese. The pizza was delicious!
The pizza reminded me of pizza I had in Rome many years ago. When you picked the pizza up the pizza slice bent down rather than having a stiff, too crunchy base.
After I polished off the pizza I wanted to complete this Italian meal with a real Italian dessert. They had homemade Tiramasu on the menu so I ordered this with a cappuccino.
The Tiramasu was delightful, light and creamy with some lovely biscuits on the top. I asked the Italian owner what Italian dessert wines or liquors they had to go with dessert. He said either the Sambuca or Grappa. I had tried Sambuca before but never Grappa so I had a glass of the grappa. Wow! This is like rocket fuel. Just a clear liquor with a very strong alcohol taste. I am surprised the Italian's were not the first to the moon. All they needed to do was built a rocket and fill it with Grappa!
The meal was not very expensive, very reasonable and the staff were very lovely and efficient.
La Dolce Vita Italian Restaurant is located at Grand View Plaza White Sand Beach Koh Chang Thailand. For reservations call 08 9683 5057.