Bang Bao Fishing Village Koh Chang island Thailand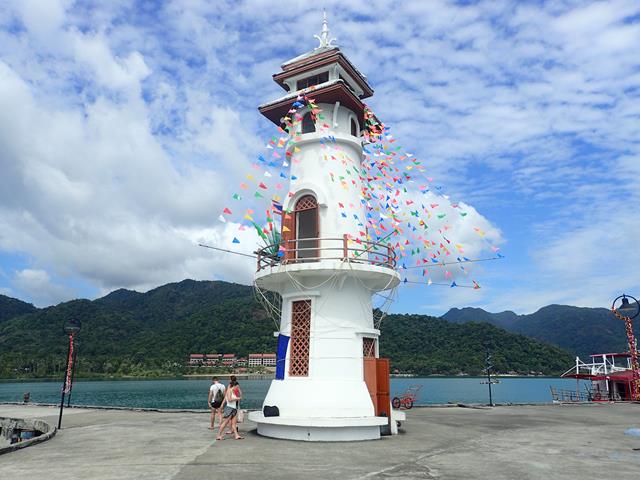 Bang Bao Fishing Village is one of the most visited tourist attractions on Koh Chang Island in Thailand. It was once the main fishing village though now the piers at Bang Bao are mostly used by the Scuba Diving and tourist boats. It is still worth a visit to Bang Bao Fishing Village. It is often referred to now as Bang Bao Pier.
Bang Bao Fishing Village is a large pier around 350 meters long which is lined with small market stalls selling tourist items and there are also loads of restaurants along the pier. Most of the restaurants at Bang Bao are Thai seafood restaurants with the fresh seafood on display at the front of the restaurant.
Once you walk to the end of the pier, past all the boats, you come to the Bang Bao Lighthouse which sits on top of the pier. From here you get a good view over the Bang Bao Bay.
There are also some very cheap backpacker style accommodation found on the pier at Bang Bao Fishing Village.
If you are interested in scuba diving around Koh Chang, there are a number of Scuba dive shops at Bang Bao Fishing Village including BB Divers which is the biggest dive company on Koh Chang.
How to get to Bang Bao Fishing Village
It is pretty easy to get to Bang Boa Pier. There are taxi vans on Koh Chang which is the main transport around the island. From White Sand Beach it will take around 40 minutes. From Khlong Prao Beach it will take around 25 minutes. From Lonely Beach it is only 10 minutes away from Bang Bao Pier.
There is a main taxi rank at Bang Bao Pier where you get dropped off. Here you will see the taxi companies have fixed prices from Bang Bao Pier back to the various areas of Koh Chang. If you are traveling to Bang Bao then the taxi driver will try to charge you more if they think you are new to the island.
Fixed Prices from Bang Bao Fishing Village (as of January 2017 – prices may change):
Bang Bao – Lonely Beach 70 Baht per person
Bang Bao – Klong Prao 150 Baht per person
Bang Bao – White Sand Beach 150 Baht per person
Bang Bao – Klong Son 200 Baht per person
Check out the location of Bang Bao Fishing Village on Koh Chang island